Guide to Working Holiday in Canada
The Guide to Working Holiday in Canada is a useful tool for those interested in applying for one of the International Experience Canada (IEC) work permits — Working Holiday, Young Professionals or International Co-op.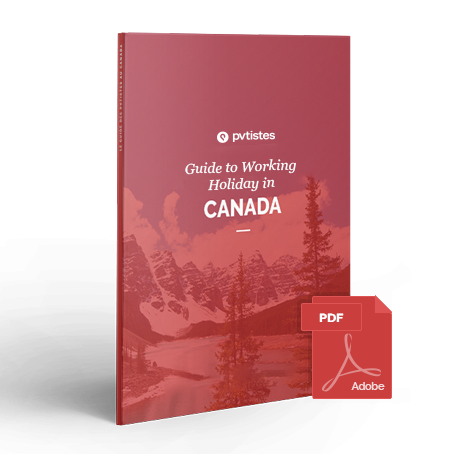 300 pages to get ready for Canada!
Dreaming of Canada? You're not the only one—it's one of the top Working Holiday Visa (WHV) destinations. Every year, thousands of travellers from all over the world spend months exploring the country and working along the way.
While this is not the ultimate and definitive guide to Canada— you'll find much of the information on our website and up-to-date tips on the forum—it still gives you a very comprehensive overview of the WHV scheme, trip planning, options to consider and more.
SUMMARY
I. WORKING HOLIDAY VISA AND CANADA 101
01. Why should you apply for a WHV?
02. One WHV, many ways to live the experience
03. The WHV experience with a disability
04. Where should I go?
05. Going off the beaten track – A few testimonies
06. An overview of Canadian provinces and territories
07. Applying for a WHV
08. The first steps to prepare for the adventure
09. How can I find the best health insurance policy?
10. Step-By-Step Pre-Trip prep
11. Last steps before leaving the country
II. O, CANADA, HERE I AM!
01. Landing in Canada
02. Applying for a Social Insurance Number
03. Registering with your local embassy or consulate
04. Opening a bank account and transferring your money
05. Choosing your internet and cellphone provider
06. Becoming a "Canadian customer" grocery shopping and more
III. MAKING THE MOST OF YOUR CANADIAN ADVENTURE
01. Improving your French or English skills
02. Finding long-term accommodation
03. Growing a network and creating a Canadian-style resume
04. Looking for job offers and going through the hiring process
05. Volunteering with WWOOF and Workaway
06. Buying a car or van
07. Canadian culture 101
08. Dealing with health issues
09. Dealing with homesickness, anxiety and financial issues
IV. EXPLORING CANADA
01. Getting around in North America
02. The best adventures in Canada
03. The best destinations across Canada
04. Road trip 101
05. Tips for crossing the US border without hassle
V. THE ADVENTURE IS OVER… NOW WHAT?
01. Dealing with mixed feelings and the reverse culture shock
02. Going back to Canada… Or travelling elsewhere!
Conclusion
Resources and useful links
Original content: Julie Meunier and Isabelle Sentana
Design and layout: Lucie Casez
Translation: Juliette Giannesini
Proofreading for the English version: Azaëlle Elliott-Bouchard
First French edition: July 2012
5th French edition: October 2018
First English edition: January 2019
A big "thank you" to the pvtistes.net staff, especially to Hélène Dezoteux, Cédric Tinteroff,
Vanessa Moussali, Muriel Julien, Elodie Rousselle, Laura Mokeddem, Marie Bérard, plus
Kenza, Anne Deverre, Sonia Idi, Anne-Catherine Grégoire and Laetitia Lamarcq for feedback and suggestions, as well as for proofing the French edition.
Copyright © 2019 by pvtistes.net.
All rights reserved. No part of this publication may be reproduced, distributed or used for commercial purposes by any means without prior authorization.
Photo credits: Shutterstock.com.
Some icons designed by Freepik from www.flaticon.com is licensed by Creative Commons BY 3.0.
306 downloads.