Mickaël went to work in the hotel and restaurant industry in Quebec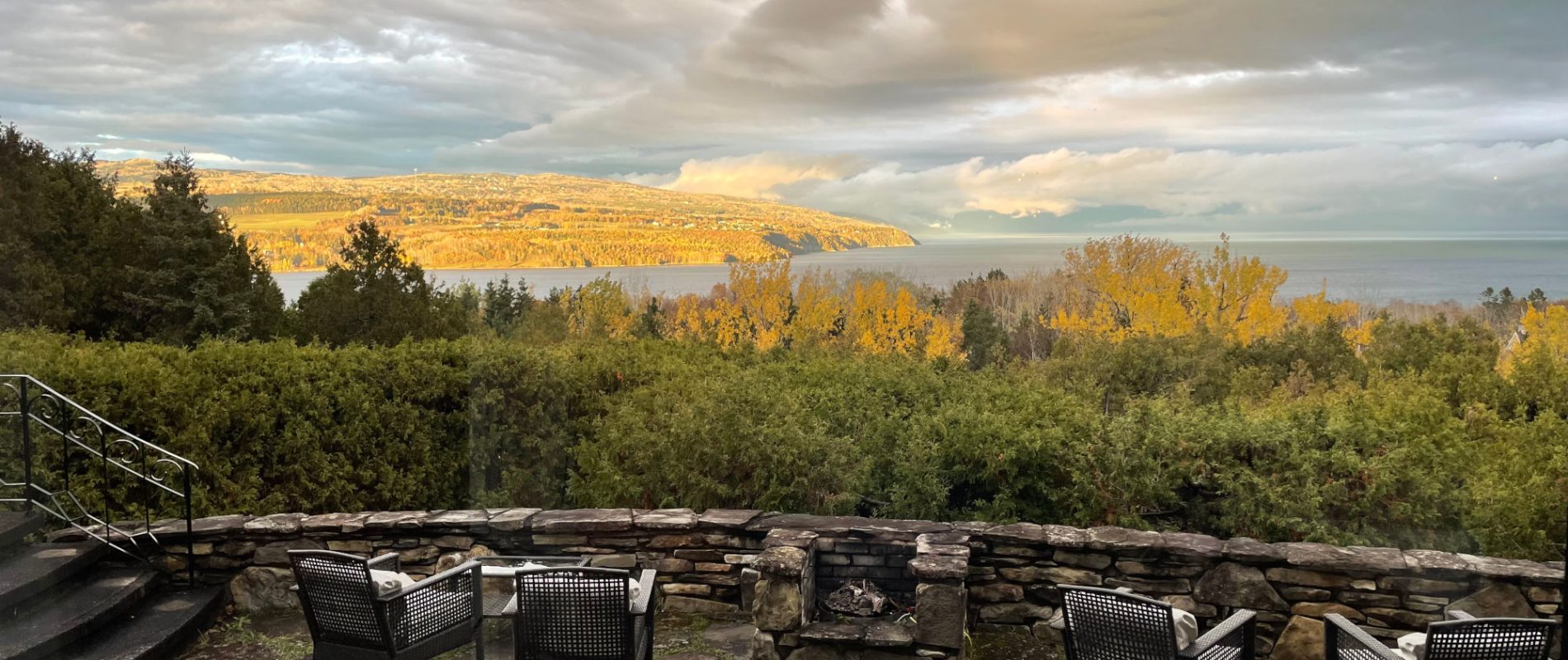 Mickaël arrived in Canada in May 2021 on a WHV (Working Holiday Visa). He was based in one of the Origine network's 36 hotels.
The hotels in this network welcome hundreds of young professionals and people on a WHV adventure every year.
. They accompany them every step of the way.
In the case of young professionals, they take care of:
Their immigration fees,
Their plane tickets,
And helping them to find reasonably-priced accommodation close to their place of work.
Origine is looking for a number of people to fill positions for the 2022 summer season such as chefs, assistant chefs, waiting staff, receptionists, room attendants, etc.
You can apply directly here if you are interested in any of these roles.
Mickaël tells us about his WHV and his experience in one of these hotels.
Hello, could you please tell us about yourself?My name is Mickaël and I'm 31. I arrived in Canada with my wife Stéphanie and my dog on May 12th, 2021. The two of us had individual WHV's since we both work in the restaurant business – me front of house and Stéphanie in the kitchen. We've been together for 13 years and married for 3.
 We spent our first six months in La Malbaie in the Charlevoix region. I worked at the Auberge des falaises and Stéphanie at the Auberge des 3 canards. Today, we've settled in Quebec to discover a new city during the winter.
You're here in Canada on a WHV. Why this destination?After we got married, we started to think about what we wanted to do, either open a restaurant or go on an adventure. Eventually, when Covid-19 came along, we decided it wasn't really the right time to open a restaurant straight away. So we started looking into how to live abroad. We found the website pvtistes.net and then it was a process of elimination. We wanted a French-speaking country with lots of nature and beautiful landscapes and a place that was suitable and welcoming to dogs. One thing led to another and we ended up in Canada.What are you doing on your WHV?We mainly came to work and discover other working conditions, other techniques and ways of doing things. We also came to explore a new country, new people, a new lifestyle… We wanted to step out of our comfort zone and see how we would cope on this adventure together, far away from our friends and family on the other side of the world.Would you advise a WHV-holder or young professional to come and join your team? Of course! It's a one-off experience where the working conditions are completely different to anything I've known before and the landscapes are beautiful. When we were in France, we thought we would begin our adventure in a big city like Quebec or Montreal. In reality, we ended up in the 'countryside' but it was an amazing experience. It's a great tourist resort in both summer and winter. It's a quiet place to live with all the necessary amenities. The city isn't too far away and we can easily hit the road and discover nature.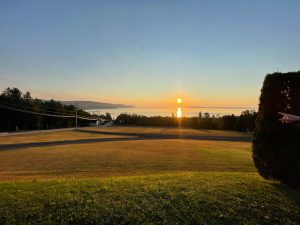 Were things difficult when you first arrived?Extremely difficult. We arrived on May 12th, 2021, in the middle of lockdown in France and Canada (that's what made it so complicated). We had to do our biometric fingerprints in Düsseldorf, Germany, because the centres in France were closed at that time. There were lots of papers to fill out for immigration and additional steps for the dog. We also had to quarantine on arrival and do two PCR tests. Once our isolation period had ended, we were able to get social insurance numbers and open bank accounts so that the adventure could finally begin! Fortunately, we had lots of help and support from the pvtistes.net site and support groups and that still helps us even now!What do you enjoy the most and the least about Canada? There are lots of things we like. The country (at least the places where we've been) are really beautiful and hitting the road is a real pleasure. We're always amazed by the landscapes and how much they change during the different seasons. There are lots of outdoor activities and huge national parks. We love to explore as much as we can and enjoy every moment. The Canadians are also really welcoming and we've met some lovely people. The thing we don't appreciate so much is the jokes about the French. We still laugh because they're often true to some extent, but we've heard so many of the same ones now. There's also the fact that the country is massive and everything is quite far away… but it means we enjoy the landscape.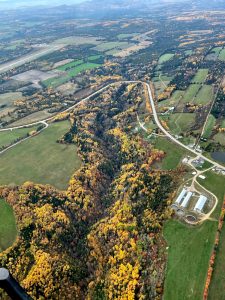 What is your best memory so far since you've been here?It's too difficult to choose just one. I have three that I can't decide between.
The first one is the whale encounter. It's really one of the reasons why we came to Canada and La Malbaie. It's amazing to see these animals that are the size of a building! We enjoyed it so much that we did it three times. Each time was different and it was so magical. The second memory is a helicopter tour! We did a tour in the magnificent Charlevoix region in the autumn. It was incredible to see all the landscapes from above, with all the different colours and terrains. We had a special package because it was my birthday, so we also got to have a picnic in the middle of nowhere with just a lighthouse and the view of Saint-Laurent. We even had the chance to see the whales again which was an unforgettable moment! The third memory was a magical day when we went dog sledding. It's a really crazy feeling to watch these dogs pulling you along! The views were amazing! In the evening, we booked a floating chalet in the middle of nowhere. Of course, this was in the middle of winter so it was actually an ice rink. To go dog sledding and sleep in a chalet heated only by wood when it's -35 degrees outside (even though it felt like -43) is crazy as it was so cold! But that's also what makes it such a unique memory.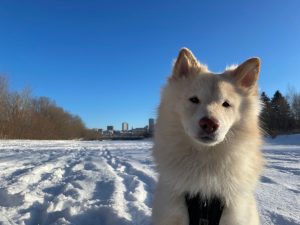 And your worst? I would say that the worst was the most recent Covid restrictions because closing the restaurants inevitably affects our work.How did your relatives react when you said you were leaving?It varied. Some were very happy for us and others were concerned about the distance and not seeing us. In the end, everyone was happy for us and they took it quite well. It must be said that with calls, social media, messages etc. that it's so easy to keep in touch with them and to hear their news.Do you have any advice for future WHV-holders, young professionals, and/or those who are thinking about doing something?  It's honestly so much fun – meeting new people, discovering the country and its landscapes, seeing how you grow as a person. It's really worth it! Obviously it's scary at the beginning when you just leave your loved ones and everything else behind to start a new life but frankly it's something that you'll remember for the rest of your life and you'll experience things that only a few people understand. Besides, if you don't like it then you can always go home!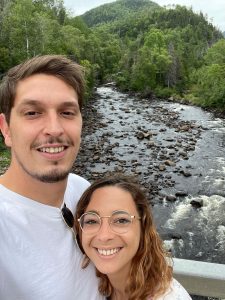 And finally, what are your current or future projects? We don't really know how our WHV will go yet, so we're taking things one step at a time. For the moment, we don't even know where we'll be this summer. We still have just over a year left on our WHV but we don't know if we'll return to France afterwards or if we'll ask for an extension. Maybe we'll get another WHV. There are several activities that we'd like to do and many places we'd like to visit or live in.
The one thing that we're certain about doing is travelling across the country from east to west. But we'll see how the adventure unfolds.
Thanks Mickaël!
If you are also interested in working within the Origine network, then there are many roles available!
Apply!
Mathieu
Je suis parti en PVT au Canada à Toronto en septembre 2005 et j'y suis toujours après 13 années...
Si mon parcours m'intéresse, vous pouvez consulter mon interview : https://pvtistes.net/interviews/interview-pvt-canada-citoyennete-canadienne/