Dear Working Holiday makers (and other travellers or expatriates), you have the chance, if you wish, to tell us about a certain experience you had while abroad (a job, a trip, an aspect of the culture in your new country, a feeling…) in the Traveller's Story section of the website. Today, Alexis is telling us about his job as a model in South Korea. Thank you for sharing this with us, Alexis!
Hi, could you tell us a little about yourself?
Hello everyone! My name's Alexis, I'm 24, I come from Dole in the Jura region of Franche¬-Comté and I've been living in Korea since May 2015.
Out of all the jobs you've done in Korea, which one are you going to tell us about?
I'm going to tell you about my modelling job.
How did you end up being a part-time model and how did it become your job?
I came to Korea thinking I would find work in my field of micro-mechanics. I signed up on the Saramin website where I submitted my CV and contact information and then received 3 calls around 2-3 days later. Two employers thought I spoke Korean and the third one, which was a CAD software company (Solidworks), offered me an interview 2 weeks later. They liked my profile but had to look into the immigration side of things because they'd never hired foreigners before. So I went back home and called 1345, the Korean immigration office, to ask them about the procedure and the papers I needed to get hired (it turns out nothing special was required). Then they told me that I couldn't work as an engineer with my working holiday visa (editor's note: some skilled jobs are off limits for Working Holiday Visa holders in South Korea) but that I could do odd jobs like working at McDonalds, etc.
This left me with two options: either I asked the company to sponsor me then returned to France to apply for an engineer visa, or I kept my WHV and did some odd jobs. Based on the fact that I only have a BTS level and the company in question asked me to make PowerPoint presentations for its new software in Korean (even though I didn't speak a word of it) and present them to its customers within 2 to 3 months, I chose the second option: stay on a WHV and look for odd jobs. I worked in a guesthouse, a café, and a restaurant… but I'll come back to that later.
One day, I saw an ad that said "looking for all types of people to be models" and I thought to myself "why not …". I then had some initial (very uncomfortable) photos taken in the agency's office (Platinum Model Management). They contacted me a few days later and said: "Hi Alexis, we have a job for Paris Baguette, are you free on this day?". I was so happy to be a model for such a big brand … unfortunately, they'd only called me to check my availability for that date and I didn't get the job in the end. They contacted me again for other shoots for the LG brand, but again, it was just to ask about my availability and nothing came of it.
I was a little disappointed but kept working part-time in the café and the restaurant… it was tough to see all my savings slowly slipping away each month… then one day a photography student contacted my Korean girlfriend (now ex-girlfriend) through Instagram and asked me if I wanted to do a test shoot for her portfolio and mine. So I said, "why not, it won't cost me anything!". I still wasn't comfortable in front of the camera but the young photographer managed to get some really good shots and I still use one of them today.
A young designer also contacted me through Instagram and offered me a paid shoot this time (but not very much). I was still uneasy during the shoot but was starting to get used to it. Another brand which makes handmade bags and shoes (Spello) also contacted my ex-girlfriend to arrange a one hour test shoot to see if a real shoot was an option in the future. It went very well and the photographer and designer were both very surprised (in a good way!) to have discovered me only to find out that I wasn't an actual model. The real shoot was then planned for the following week. The photographer taught me to relax (my shoulders in particular) and to do some poses. Even though he didn't speak much English, his gestures were still quite clear.
This time, the shoot was harder than the previous ones but the pay was heading in the right direction. I decided I would happily do this every day if I could, not imagining that I would have enough work to make it my job.
I sent the photos I'd done to agencies but 90% of my offers still kept coming from Instagram and they were few and far between (3, 4 shoots per month). Not enough to turn into a full-time job. That was until November/December when I finally had enough work to make a living and even save a little too!
One of the agencies (Souline Agency) really believed in me and gave me more and more work with a better salary than the others.
I stopped working at the café and restaurant because I had too much work coming in now. However, I still carried on at the guesthouse as the bosses were quite flexible and said I could continue to work for them during peak time.
Months went by and I kept asking for higher fees to "avoid" having too many shoots, but the brands just increased their budget. At the moment, I'm working so much that even if I'm in Hong Kong for a week, I still earn more than the previous month as I have one or two shoots a day. Sometimes agencies offer me two different shoots on the same day, so I choose the one that pays best.
Speaking of Hong Kong, I'm there at the moment to get a C4 Korean visa (celebrity, fashion model…) thanks to the agency, Souline, that sponsored me. I can then work for big brands (who refuse models without a C4 visa) like Samsung, LG, etc. but I don't know exactly what will come of that.
I'm now thinking about leaving the guesthouse (which has also grown and is becoming more popular – hardly surprising since it's one of the best rated guesthouses on booking sites like Booking, Agoda and TripAdvisor). I'm going to live in the Gangnam area where most of my shoots take place.
Why do you think that brands are so interested in you?
I think they're drawn in by my simple French face. I can have a boyish face one minute, then become a serious young man the next. Sometimes, brands like my smile but I don't like my imperfect teeth… the pictures look better when I don't smile in the photo.
The fact that I'm a freelancer also interests the clients because I'm cheaper than the agency models who often split their fees with the Korean agency and their "mother" agency in their native country.
I also try to be as professional as possible in every job I accept, especially those for agencies, because if the client is happy, they will tell the agency who will then put me at the top of the list for future jobs, knowing they can trust me.
I've had a lot of shoots for brands that use online shopping malls like Hiphoper, Musinsa and W Korea, so I'm starting to be recognised by a lot of brands that use these sites.
How does one become a model? Especially in a country where you don't necessarily know the language?
You become a model by not hesitating to seize every opportunity that comes your way at the beginning and carry on doing so for at least 6 months, I would say. You have to persevere when you're starting out, even if you don't have much money in your account at the end of the month. Then after a few months, you have to find your style(s). The more versatile you are, the better. For example, my best styles are "boy, colourful clothes, neutral/pure face, chin up, very simple pose" and "serious young man, more formal colours, serious look, chin down, more dynamic/chic pose".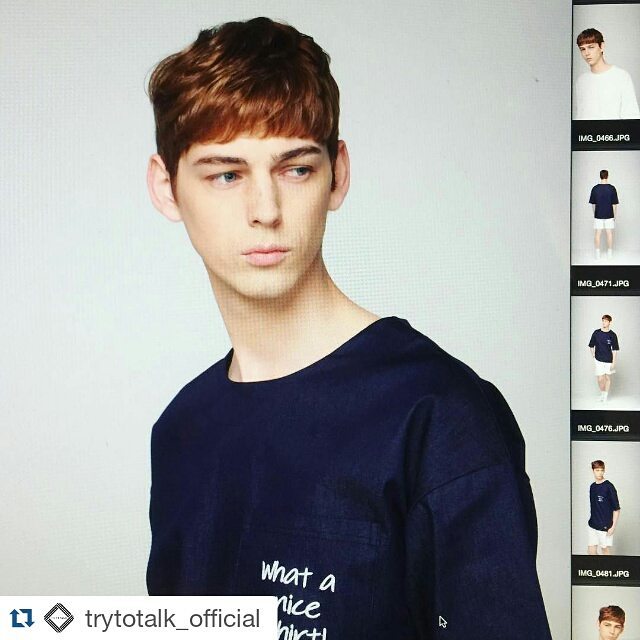 For me, it came with experience by watching other models do it and analysing my poses on the photographer's camera or the computer. And by asking myself if the pose looked good and if it went with the type of clothes I was wearing.
I'm usually harder on myself than the client is. The clients sometimes don't talk much during the shoot. I hate that because I don't know if they like the photos or not… I have to ask them what they think. And even if they say it's good, I take a look myself to form my own opinion. It also allows me to see how the photographer takes their photos. For example, if they only take portraits, I don't need to pay attention to the rest of my body. I only need to focus on my expression, my look, and how relaxed my face is (it's sometimes difficult to relax your face completely, especially when you do something repeatedly or when you're tired).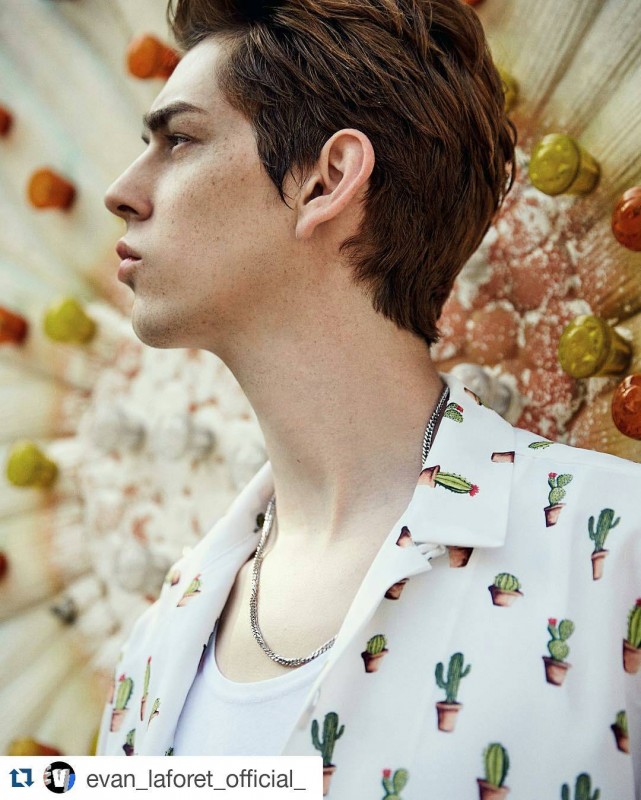 As far as language is concerned, my ex-girlfriend used to come to shoots with me at the beginning to act as an interpreter but I realised that this created added distance between me and the clients. Now, even if they don't speak much English, I prefer to talk to them directly using simple words.
What do you like and dislike about this job?
I don't like the very long wait to receive my money. Twice I've waited almost 3 months. You also come to realise that some people are just smooth talkers who want to make money without doing anything except for acting as an intermediary during the shoots.
But I do like the diversity that the job brings. The location always changes except for some clients who have new arrivals every month. Sometimes it's in the studio…
… sometimes it's outside (I found some great places in Hongdae and Itaewon, for example) …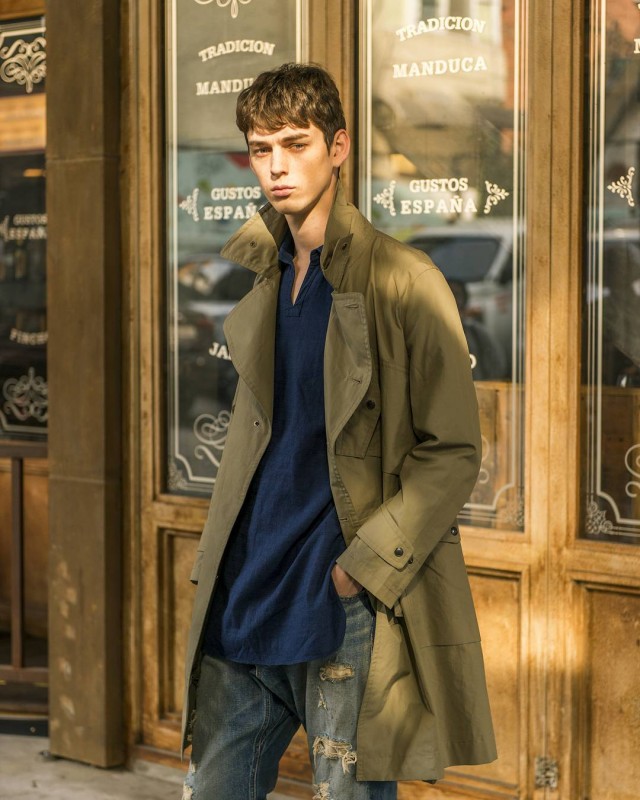 The people change even if I often have the same photographers and makeup artists/hairdressers, but that makes the atmosphere better. The clothes change but that allows you to find a style for everyday life. And then you occasionally meet the directors of big brands or highly professional photographers. It creates a network.
I love that. Starting from scratch and creating a web of professionals who know us and recognise us because they know that we are professional in our work. It's super rewarding when you hear "hi, my designer/photographer friend recommended you for my next lookbook and I'd love to work with you."
The most rewarding part is seeing my photos on popular sites or in stores and magazines, or when my friends send me pictures/screenshots asking me "Is this you?!". I'm pretty proud when I reply "yes, it's me". I've met a lot of people in Korea and it's always nice when they come back to chat on kakaotalk or Instagram saying "Hey, I've seen you everywhere! You're a really big model in Korea!".
As far as my popularity outside of the fashion world goes, I've never had a stranger ask me "Is that you?" because I haven't really tried to get on TV shows, for example. That's not my goal. If I really wanted to take that step, I would need to learn Korean for a few years first. But if the opportunity did arise to go on a TV show, why not! It could only be a good thing for my career.
What does a typical day look like for you?
The shoots usually last either a full day (around 9-10 hours) or half a day (5 hours). When I don't have a shoot, I often have meetings/castings for upcoming shoots.
For a typical half day of work, I start at 1pm, then I'm in hair and make-up until 1.45pm…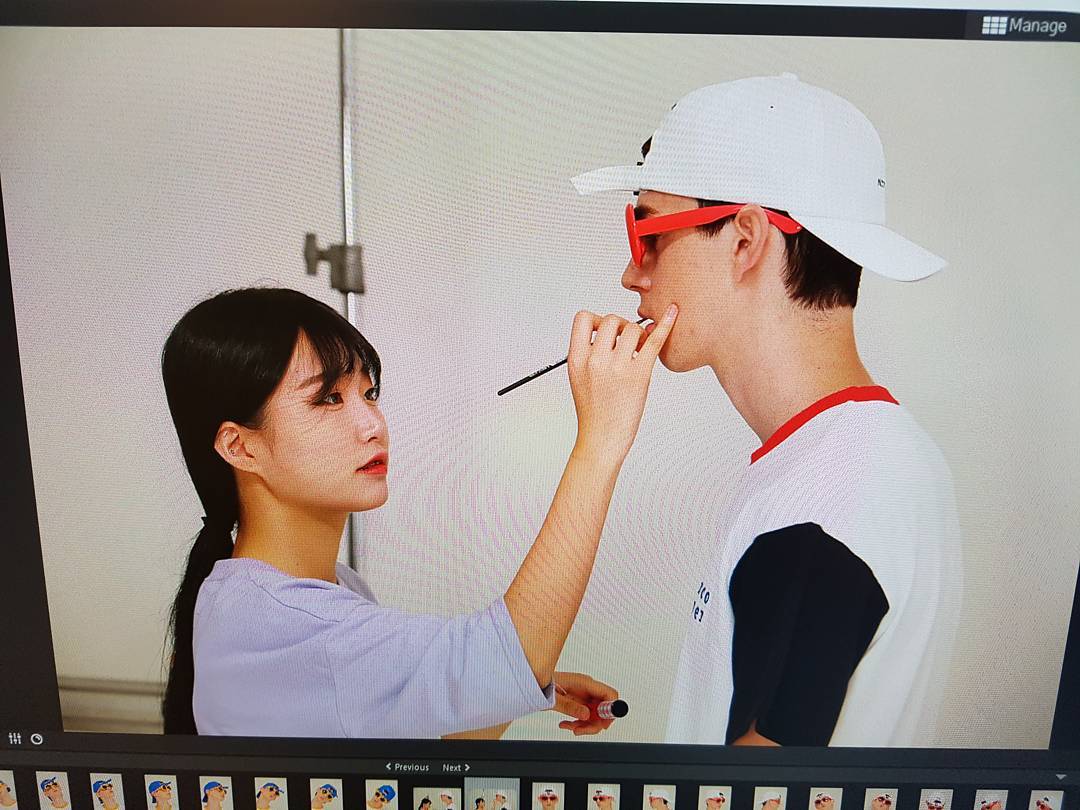 At the beginning of the shoot, we "warm up" for about 30 minutes. After the first photos have been taken, we (the photographer, the designer and I) discuss the images to see if they're ok and, if they're not, we see what we can change and which poses are the best, etc. Then I change my clothes between 20 to 40 times for the studio shoots until 6pm. For shoots that take place outside, I usually have 10 to 20 outfits instead.
In France, you worked in micro-mechanics. Now you're a model. Is this the Korean Dream?
A little bit! When I was in France, I never dreamed of finding a great job in Korea. I thought I would just work in a factory like I did there. All I'd heard was that there were more engineering opportunities in Korea … that's what I kept telling my family at least so they didn't worry too much, even though I wasn't totally sure about things myself…
I think that it's the fact of not expecting anything from such an experience that allows you to open up your possibilities. If you leave with very specific ideas of what you're going to do, then you might miss opportunities that are sometimes better than what you were initially looking for. Of course, you have to set some limits (mainly defined by the visa) but not too many. That way, you'll end up doing a lot of jobs that will allow you to make contacts to help you discover other places, other people, and that will perhaps create new opportunities for you. Don't close yourself off!
Are you living a good life in Korea on your wages?
Pretty much, yes. I can't talk about it publicly, but I earn enough to live alone in an apartment in one of the most expensive areas of Seoul whilst also being able to put some into savings too.
The salary also works on a "work more to earn more" basis because I work by the hour. And since I like to work (me, a workaholic?), I do so as much as I can. But I do also try to give myself some days to rest, to indulge my passions, to see my friends and travel.
At the start of your WHV, you did other jobs. Could you tell us a bit about them?
When I arrived in South Korea, I looked for a guesthouse to stay in for a few months by negotiating a monthly price. I lived in around 6 guesthouses in Seoul but most of them weren't ideal (10 beds to a bedroom, communal showers/water problems/unhygienic, kimchi smell, poor design, noisy environment…). Eventually I found the right one and ended up staying there for a year (Yooginong guesthouse). I asked the owners if I could have a discount for a long stay and a few days later I asked them if they wanted me to work for them. We discussed it and they agreed. I worked as a cleaner 2 to 4 hours a day, 5 days a week, so I could stay for free in the guesthouse.
I then worked in a French café in the Noksapyeong region for about 2 months. The boss had found my profile on Craigslist and gave me an interview the next day. Unfortunately, the café wasn't doing well because of its location (on a hill, round a bend, in a neighbourhood where couples stroll along) and the pay wasn't great (6000 won per hour). I was working there with some French people who were also on a WHV and we became good friends. They told me about a job they had done for a modelling agency that paid well (500,000 ₩ for a 10-hour day). That's when I thought "Wow, it would be cool if I could do that too".
I also worked in a well-known Indian restaurant in the old part of Seoul (Insadong). I was mostly dealing with foreign customers (usually American and Indian). The pay was better than at the café (7000 to 8000 ₩ per hour) but the work was hard and I had to do lots of overtime, which wasn't always paid.
I tried to give some private lessons alongside that, but it didn't last more than 3 weeks. During this time, I was looking for other jobs on Craigslist. That's when I found the ad for the agency I mentioned earlier.
With this very successful career, what are your hopes for the future?
To be healthy! I haven't taken out a new insurance policy yet (my WHV just ended, as did my WHV insurance).