Starting your application on France-Visas
The website will guide you through filling out the different sections of the blank form included in the application kit you may have downloaded. Once completed, it will be part of your application.
Note that you can't use special characters such as "ã," "ñ," "í," "ó," "ú," "ø," etc. For instance, if your name is "Sebastían," type "Sebastian." If you live in "Montréal," type "Montreal."
"Your plans" Section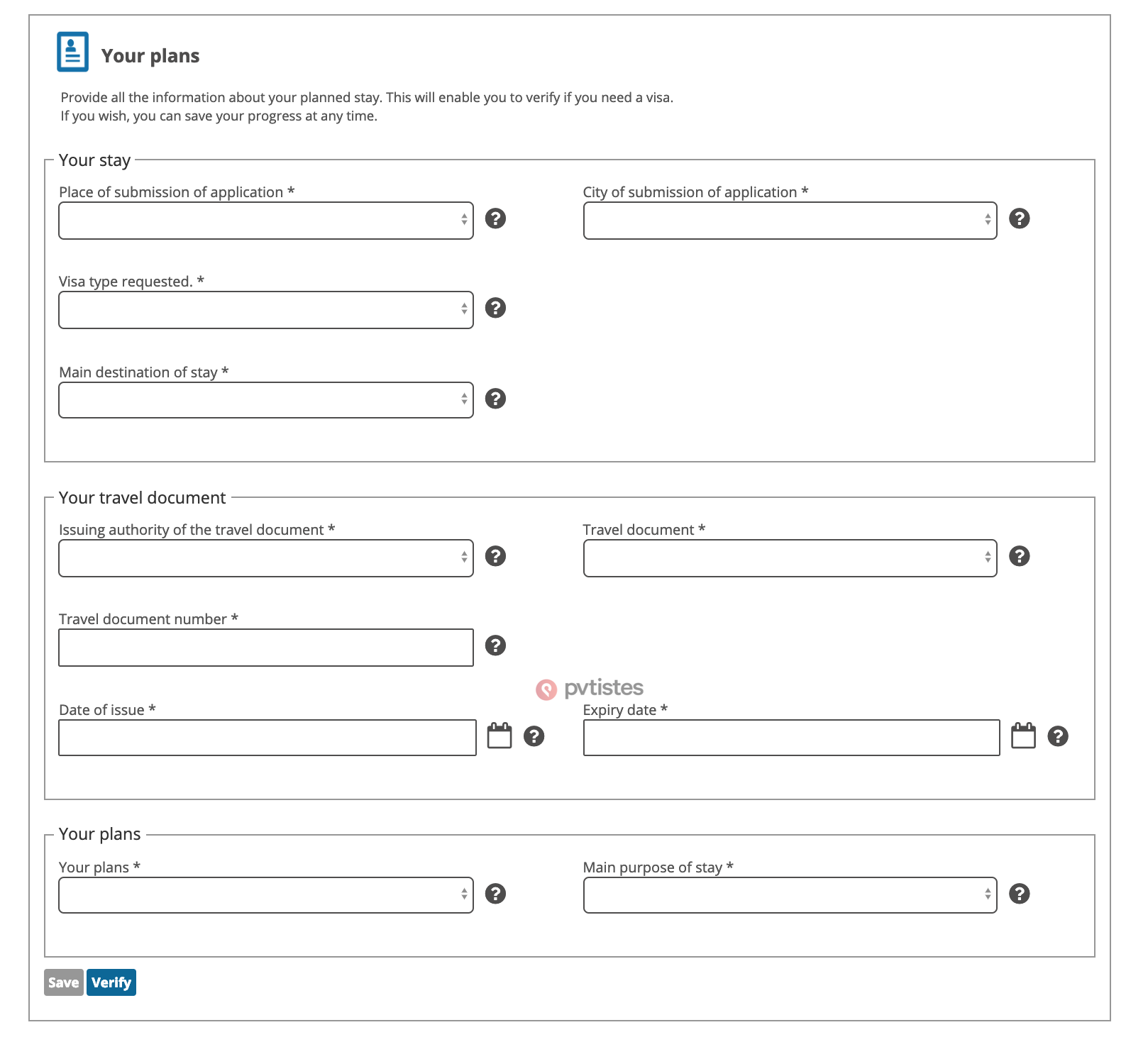 "Your stay" Section
In theory, you must be living in Canada to apply for a Working Holiday Visa to France.
You can make an appointment with one of the four following VFS Global Centres in Canada:
Toronto
Montreal
Vancouver
Ottawa
Most applicants pick the nearest centre using the drop-down menu in "Place of submission of application."
Note that if you choose the Montreal VFS Global Centre, you must provide proof of residence in one of the following provinces or territory:
Québec
New Brunswick
Nova Scotia
Newfoundland and Labrador
Prince Edward Island
Nunavut
If you live in another province or territory, you cannot use the Montreal VFS Global Centre, you must make an appointment with the Ottawa, Toronto or Vancouver centre.
In visa type requested, you must choose Long stay (>90 days)
The "Number of months of stay" drop-down menu offers two options:
A three-to-six months Working Holiday Visa ("Between 3 and 6 months")
A six-months-to-a-year Working Holiday Visa ("Between 6 months and 1 year")
If you're not sure about your plans yet, it's best to choose the six-months-to-a-year Working Holiday Visa option—no one will force you to stay in France for up to a year!
Note that the initial Working Holiday Visa allows Canadians to live in France for up to a year, but there are options to stay longer if you wish, for instance a second visa or a visa extension application once in France.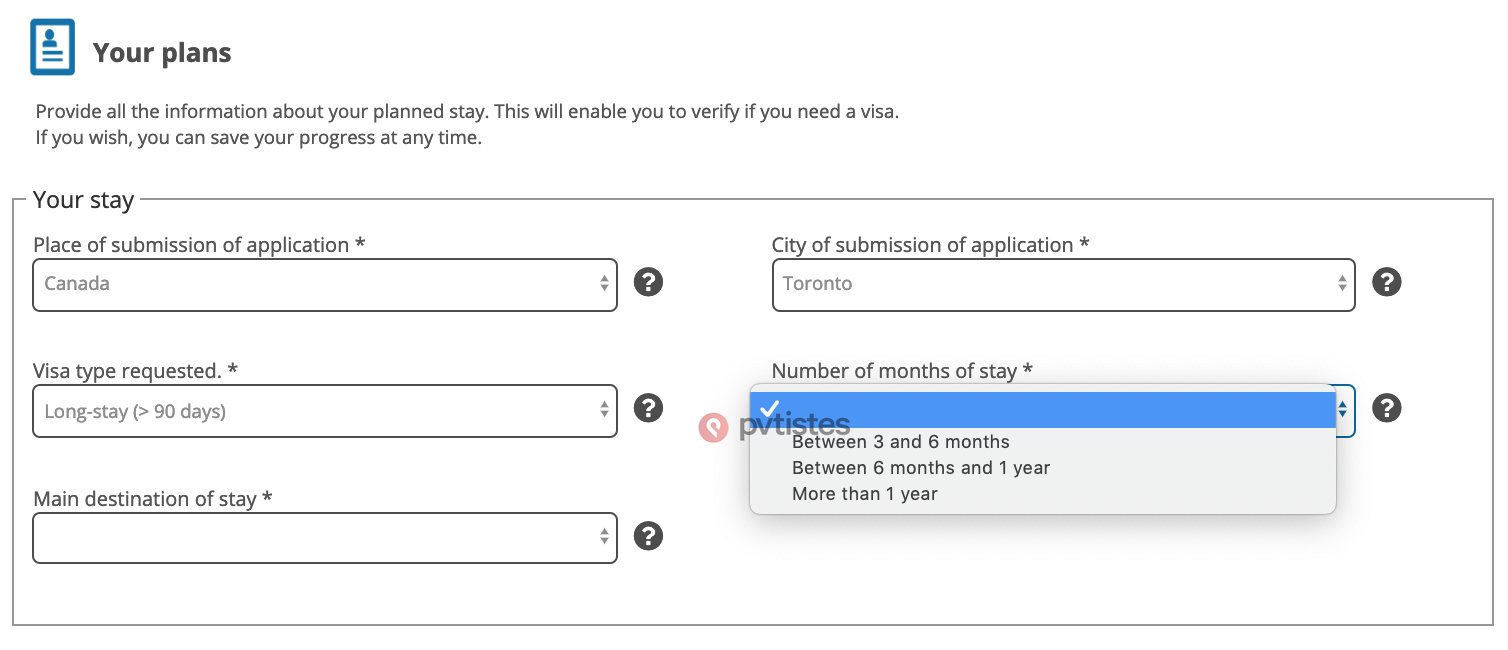 Pick your "Main destination of stay" in the drop-down menu. You can choose to stay in France or in one of the French-administered territories outside the European continent:
France (including Corsica)
Guadeloupe (Caribbean)
Martinique (Caribbean)
French Guiana (South America)
Reunion (western Indian Ocean)
Mayotte (western Indian Ocean)
Saint Pierre and Miquelon (south of Newfoundland)
Working Holiday Visa holders are not eligible to live and work in the following French-administered territories: French Polynesia, Saint Barthelemy, New Caledonia, Saint Martin, Wallis and Futuna, and French Southern and Antarctic Lands.
"Your travel document" Section

The issuing country should be "Canada." In "Travel document," choose "regular passport."
The "travel document number" is in the top right corner of the ID page, under "Passport No/No de passeport." A Canadian passport number starts with two letters followed by six digits, e.g. AB123456. Make sure you don't mix up "1" and "I," "0" and "O." If you're typing the first two characters, you must enter letters, if you're entering the six characters that follow, you must enter numbers.
Enter your passport's date of issue and the expiry date.
"Your plans" Section

Working Holiday Visa applicants must select "Other" from the "Your plans" drop-down menu, then "Working Holiday" from the "Main purpose of stay" drop-down menu.
Once completed, the "Your plans" section should look like this: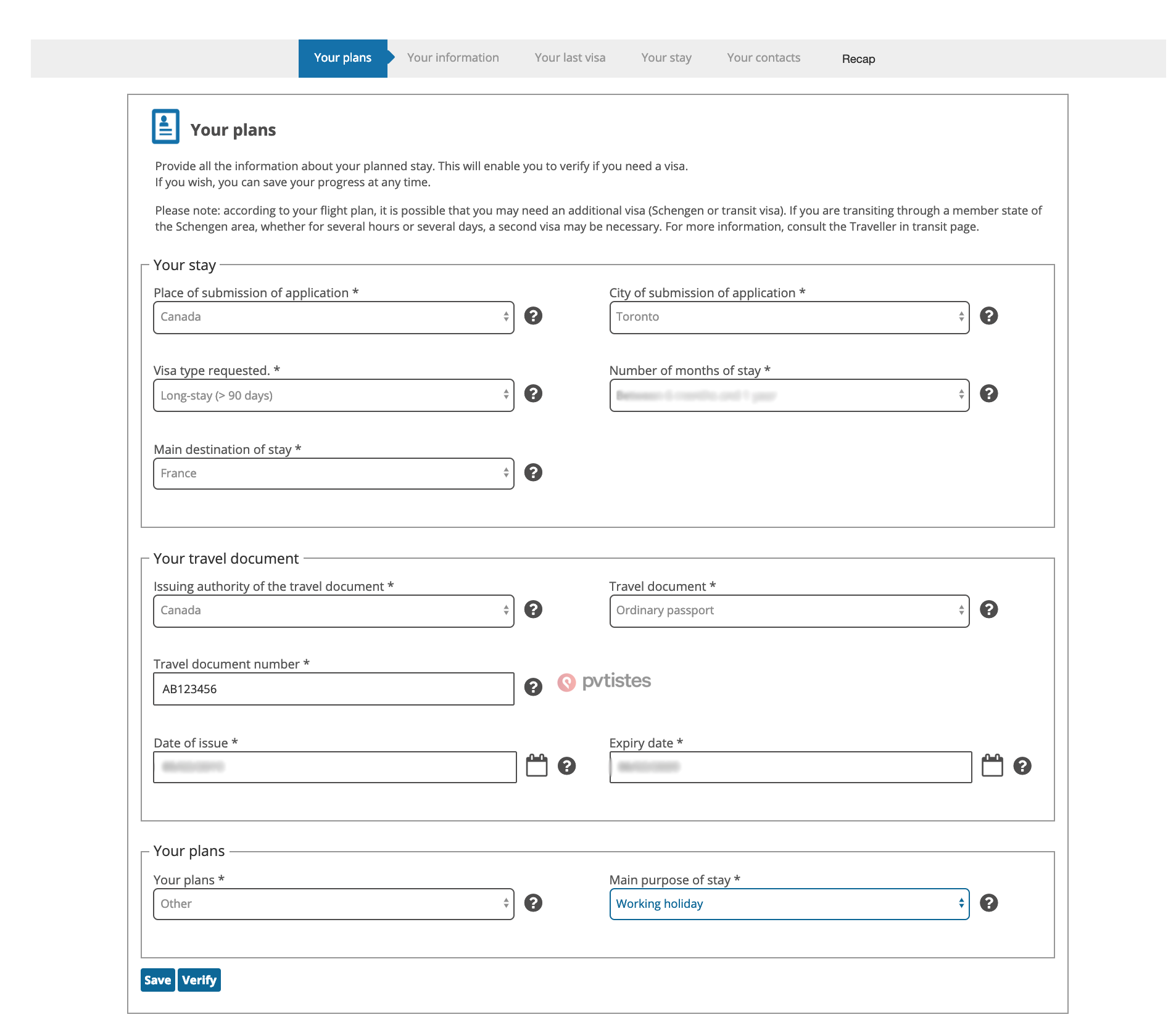 Click "Verify" in the bottom left corner. The page will reload with your information saved. A message will confirm that you indeed need a visa. Click "Next" to move on to the next section, "Your information."

"Your information" Section
"Your identity" Section

Enter your information exactly as it appears on your passport, without using special characters. If you have a middle name on your passport, enter it as well, even if you don't usually use it.
Canadian citizens don't have a "National identity no;" this field is optional and it doesn't apply to you. Don't enter your SIN.
"Your personal information" Section
This section is straightforward, simply enter your residential address. Provide a phone number and email address in case you need to be contacted.
"Details of your identity" Section

Answer "Yes" if you do not currently live in Canada, "No" if you live in Canada.
"Your family" Section
You must answer two yes-no questions:
Are any of your relatives French nationals? If "yes," you must provide details, including your relationship with this person. If this person has a French "carte d'identité" (one of the official identity documents in France), you can enter their "national identity number," or you can provide the person's passport number.
Do you have any family members who live in France? If "yes," fill out the required fields. If you have several relatives in France, you may click "Add another person" at the bottom right corner of the page.
"Your job" Section

Select your current occupation from the drop-down menu:
If you're a student, choose "Student, trainee."
If you're not currently working, choose "Unemployed."
If you're working, look for the title that best matches your current job. If you can't find it, select "Other" and provide details.
Remember that your current job (or lack of) doesn't affect your Working Holiday Visa application—there's no specific work experience requirement.
Once you're done, click "Save" and "Next" to move on to the next section.
"Your last visa" Section

You can answer "no" if you lived in France for a total of three months or more, but left the Schengen Area between each stay. Remember, the Schengen Area includes Austria, Belgium, Czech Republic, Denmark, Estonia, Finland, France, Germany, Greece, Hungary, Iceland, Italy, Latvia, Liechtenstein, Lithuania, Luxembourg, Malta, Netherlands, Norway, Poland, Portugal, Slovakia, Slovenia, Spain, Sweden, and Switzerland.
If you stayed in France for less than three months or if you've never been to France, simply answer "no" and click "Next."
If you did spend more than three months in a row in France, answer "Yes." A new series of questions will ask for further details about the visa you had.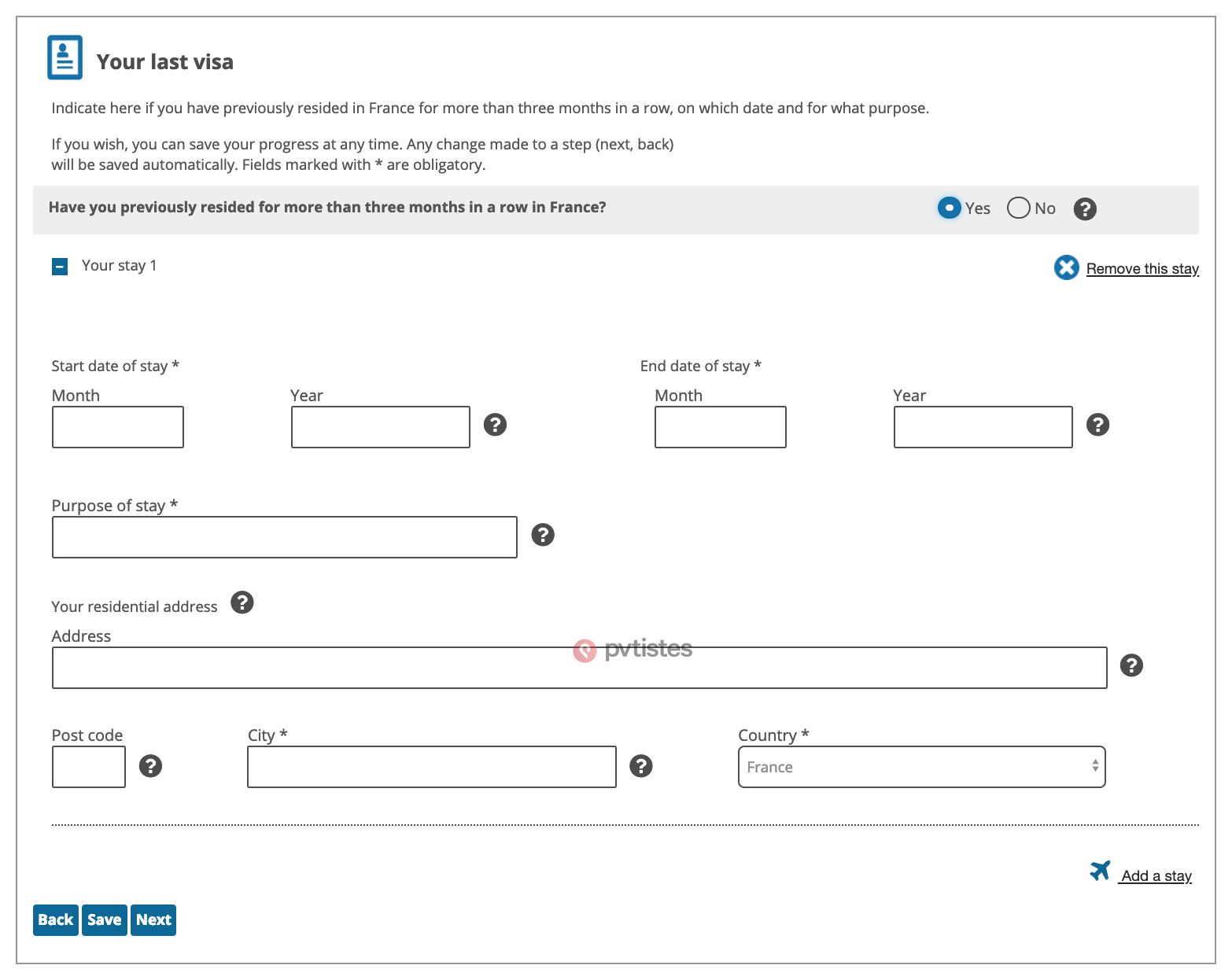 Provide the required information, including dates and purpose of your stay, as well as address in France (e.g. where you used to live).
If you took multiple three-month (or longer) trips to France, click "Add a stay."
When you're done, click "Next."
"Your stay" Section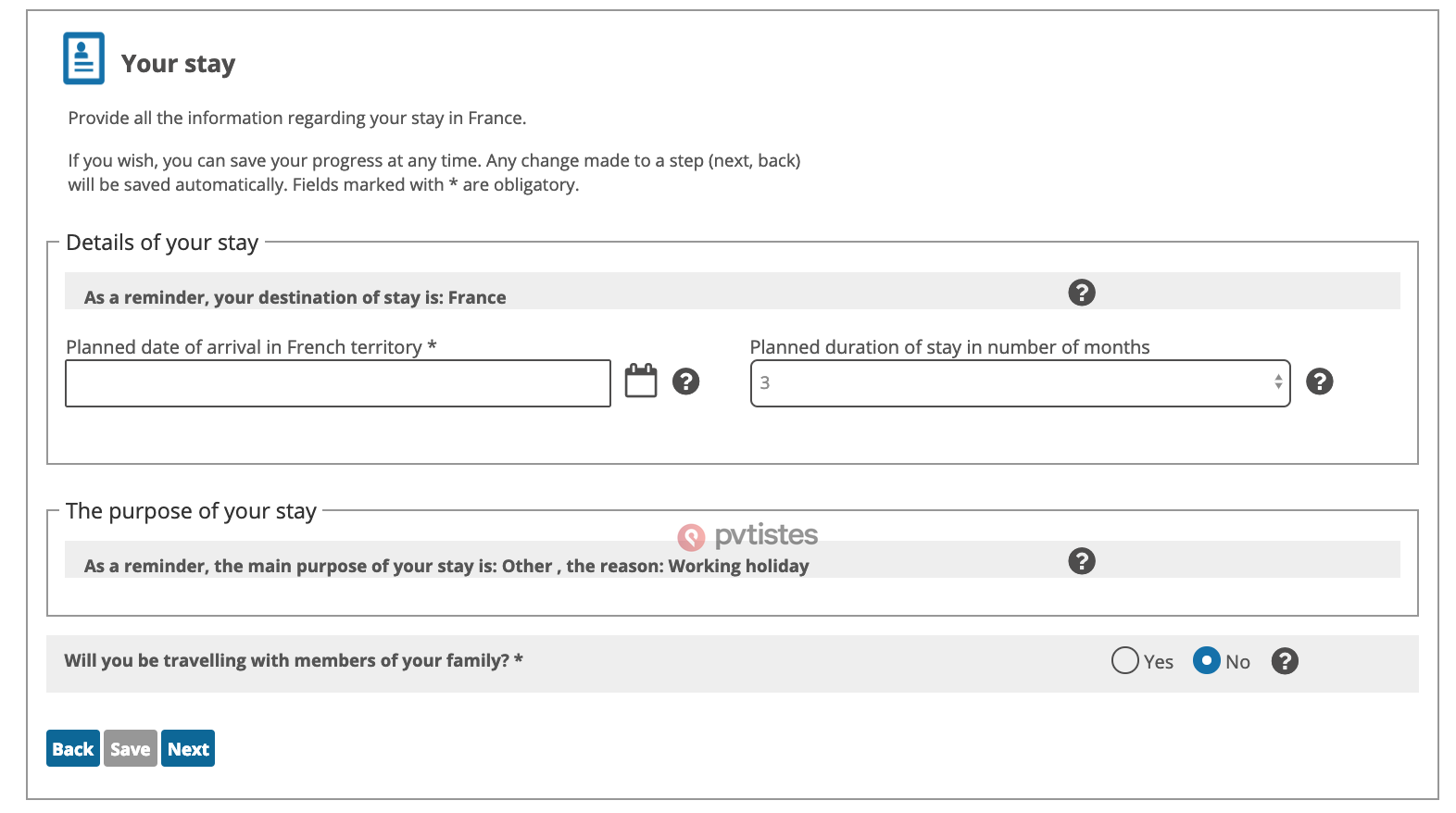 "Details of your stay" Section
Provide your planned arrival date in France. Note that it can be an estimated date, you're under no obligation to fly to France on this exact date. However, you will have to come to France three months after the Working Holiday Visa is issued, at the latest.
Use the drop-down menu to specify how many months you're planning to stay in France. You don't have to select "12," you can pick any number between 3 and 12. If you state you're not planning to stay in France for a year, the length of the Working Holiday Visa issued may reflect this. Remember that you must have insurance coverage for the entire length of your stay and that initially, you can stay up to 12 months in France. If you wish to stay longer, there are options to extend, but your first Working Holiday Visa will be issued for a maximum of 12 months.
"The purpose of your stay" Section
The first statement is just a reminder that you're applying for a Working Holiday Visa. If it doesn't say "Working holiday," you're not applying for the right visa (…or not reading the right tutorial??).
The second question is about possible family members travelling with you.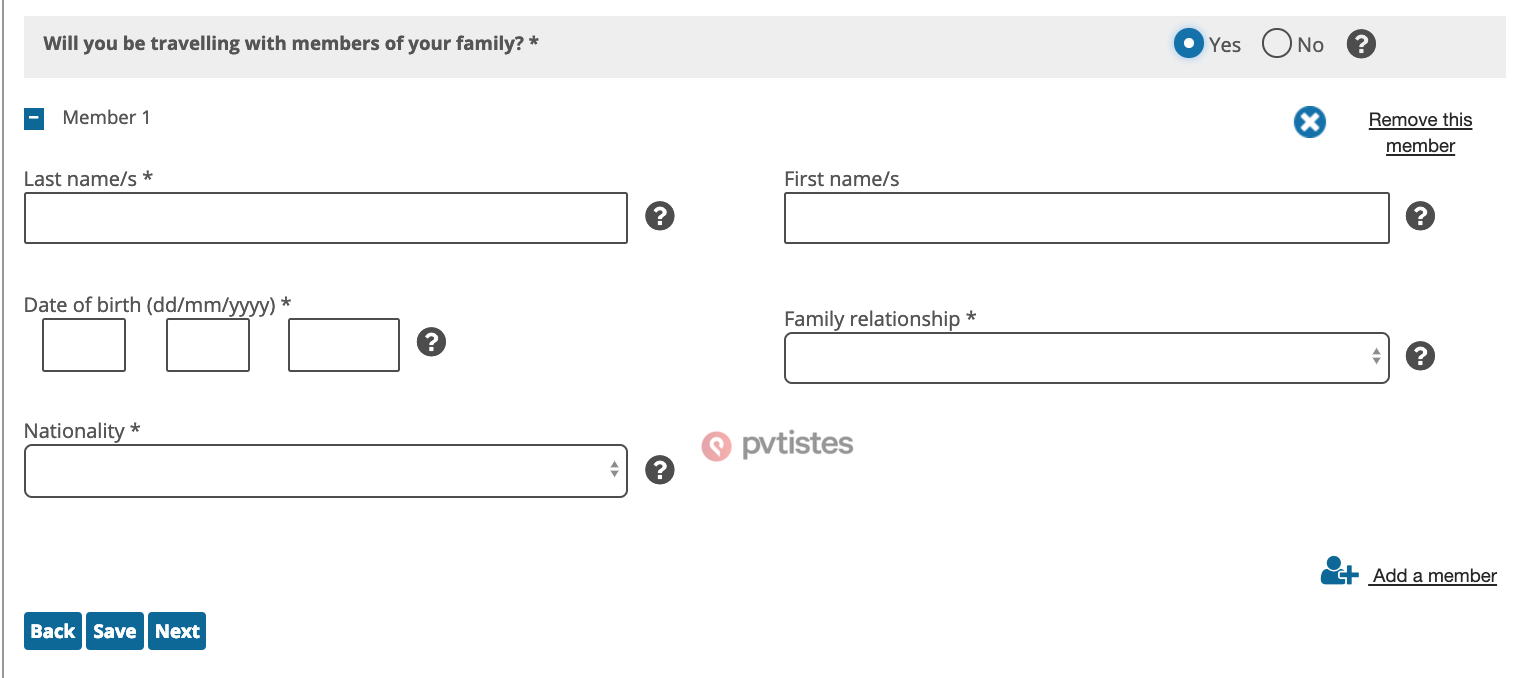 Family members (spouse or partner) must submit their own WHV application and satisfy requirements. Applications will be processed separately.
Once you're done, click "Next."
"Your contacts" Section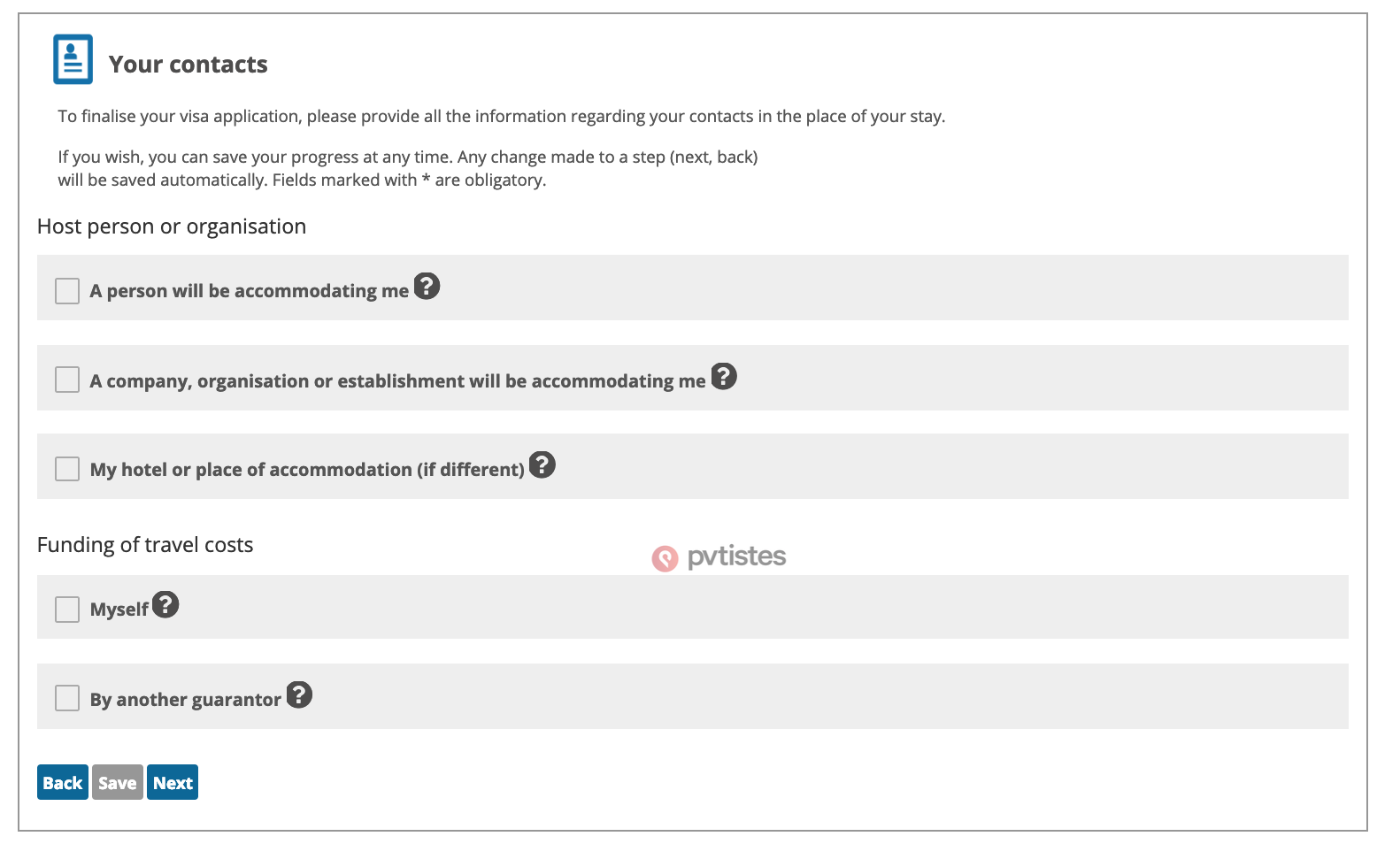 "Host person or organization" Section
You must provide a contact in France, for instance:
A person (relative, friend, acquaintance)
A company, organization or establishment
A hotel or any other accommodation service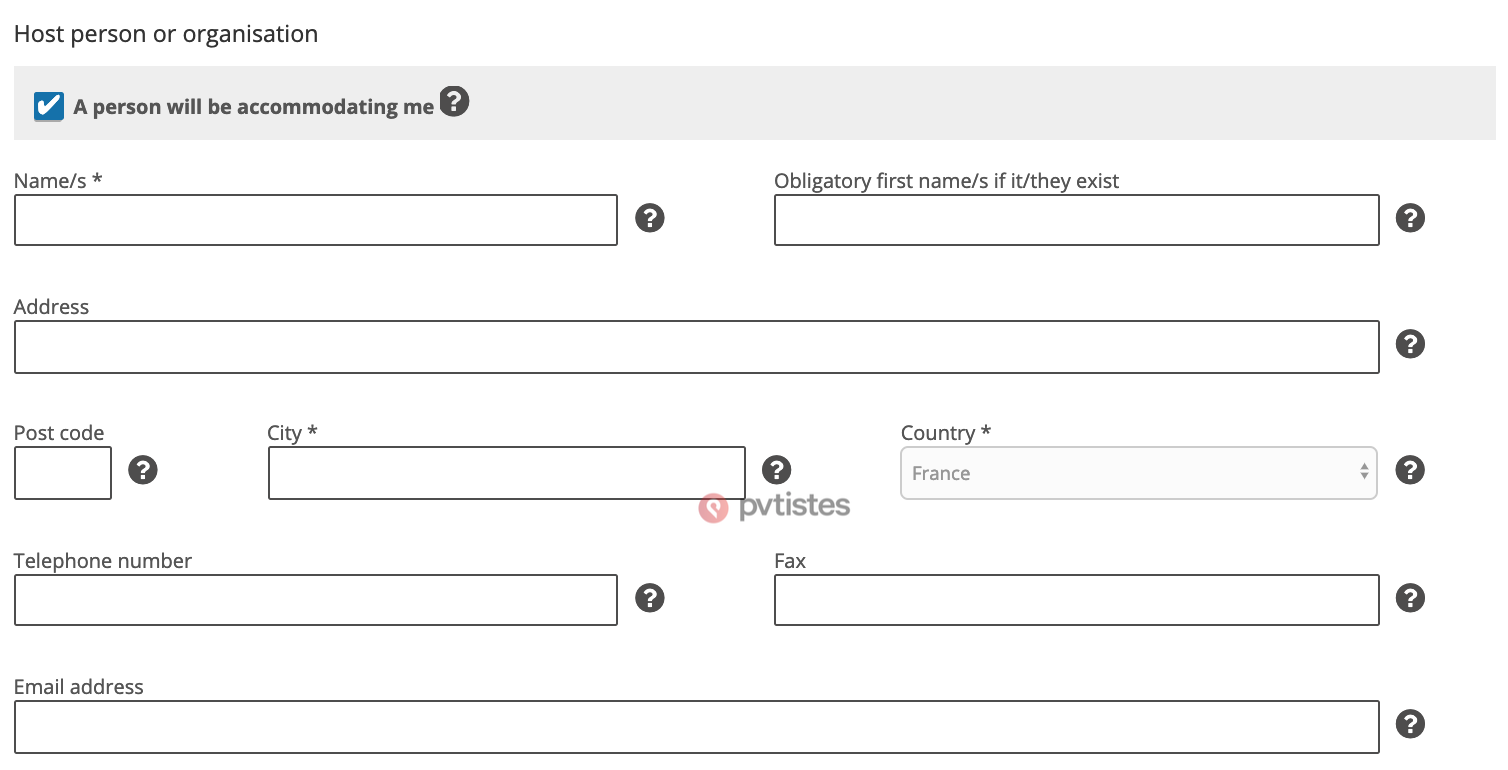 You're not required to have personal contacts or a long-term address in France. If you don't know anyone in France yet, the best option is to provide the name of the place where you will stay at first, for instance a hotel or a hostel. If you're planning on staying with a host (e.g. Couchsurfing or Airbnb), ask if you can submit their contact info in your Working Holiday Visa application. They don't have to vouch for you but they should be prepared in the unlikely event that they are contacted by the French government during a routine check on your application.
"Funding of travel costs" Section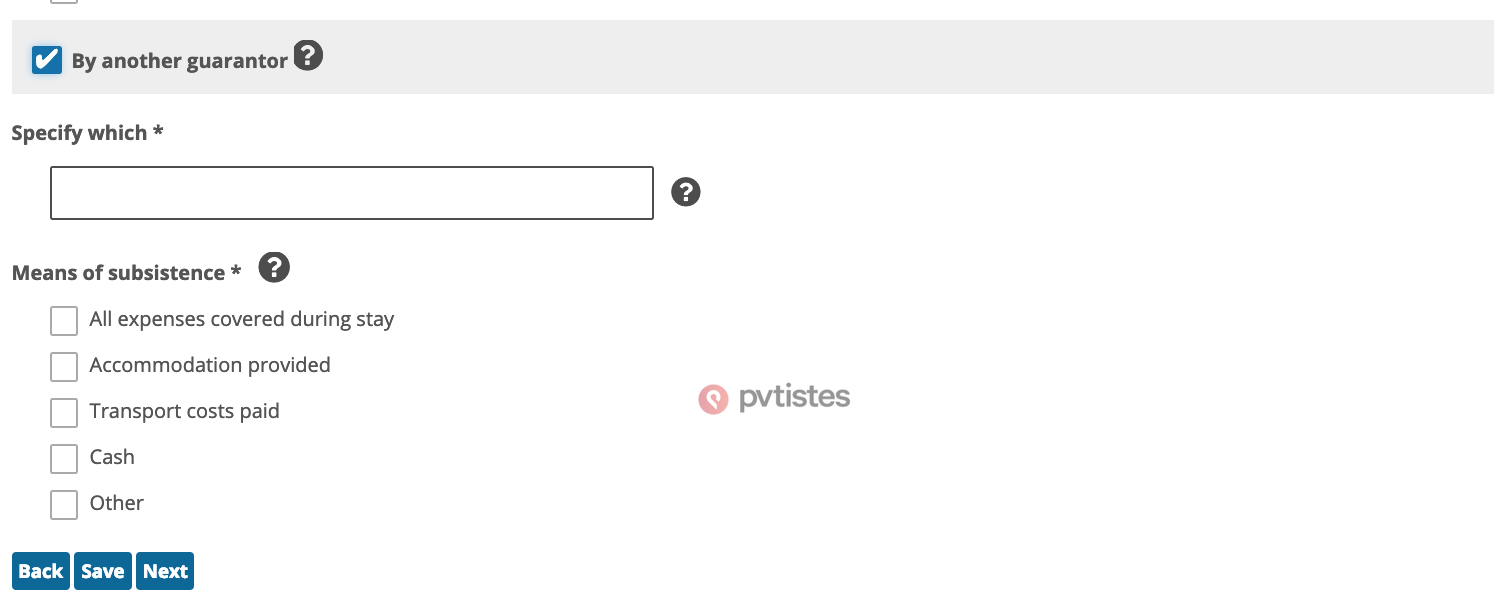 In this section, you must give details on your travel budget, starting with who will cover the costs, i.e. yourself or a guarantor.
Either way, you have to specify how you will pay for various aspects of your trip:
"Accommodation prepaid" means that you've already booked a place and paid for it.
"Transportation prepaid" means you've already paid for your plane ticket.
"Travellers' cheques" is a way to carry funds with you.
"Credit card" is way to pay for your expenses.
"Cash" means that you will arrive in France with enough cash for all your expenses.
For instance, if you're staying with a relative and relying on your savings for daily expenses, you can answer:
"Myself," then "Credit card"
"By another guarantor" and "Accommodation provided"
"Recap" Section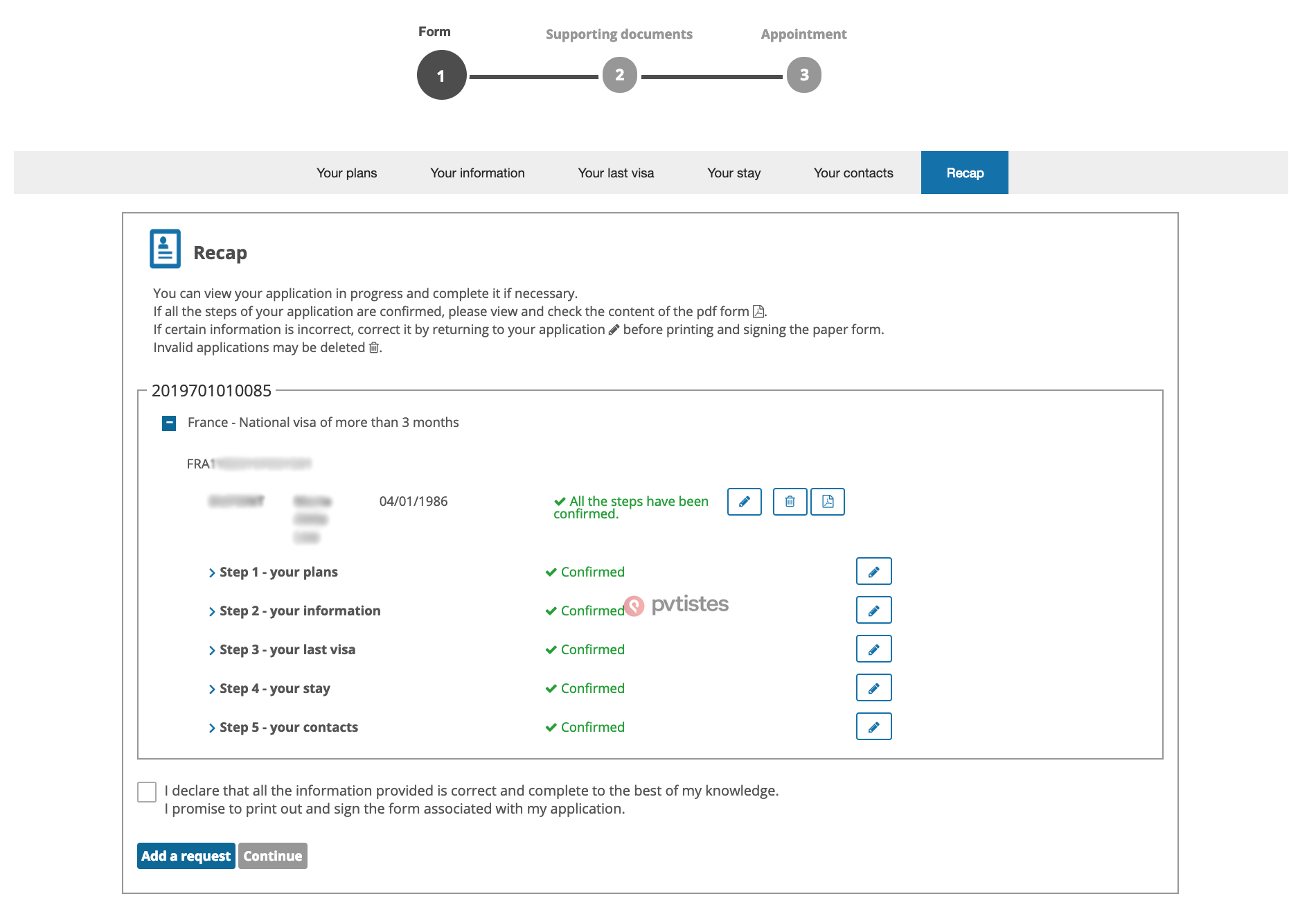 Once the different sections are completed, you'll see a summary page called "Recap." You can review each section to make sure the information is correct and all the fields are filled out. When you're done, check the box with the disclaimer and click "Continue."
A popup message will warn you that from now on, the information provided can't be changed. If you don't see the popup message, check your browser—some block them by default, add an exception for the France-Visas website.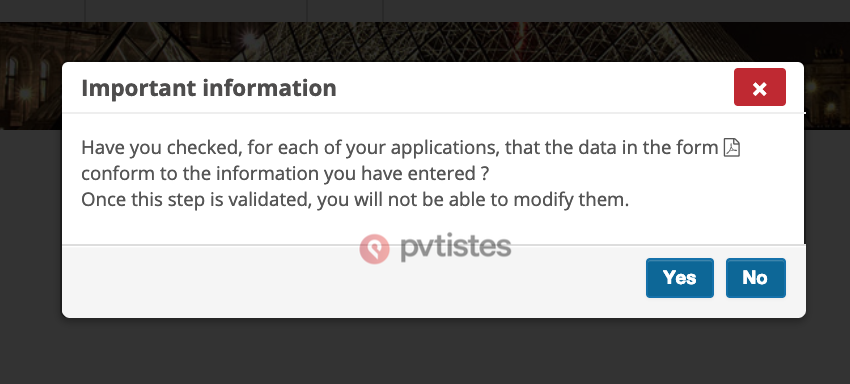 Click "Yes" if you're sure you're done your application.
"Supporting documents" Section
The next page is a summary of all the supporting documents you will have to provide to move forward with your application.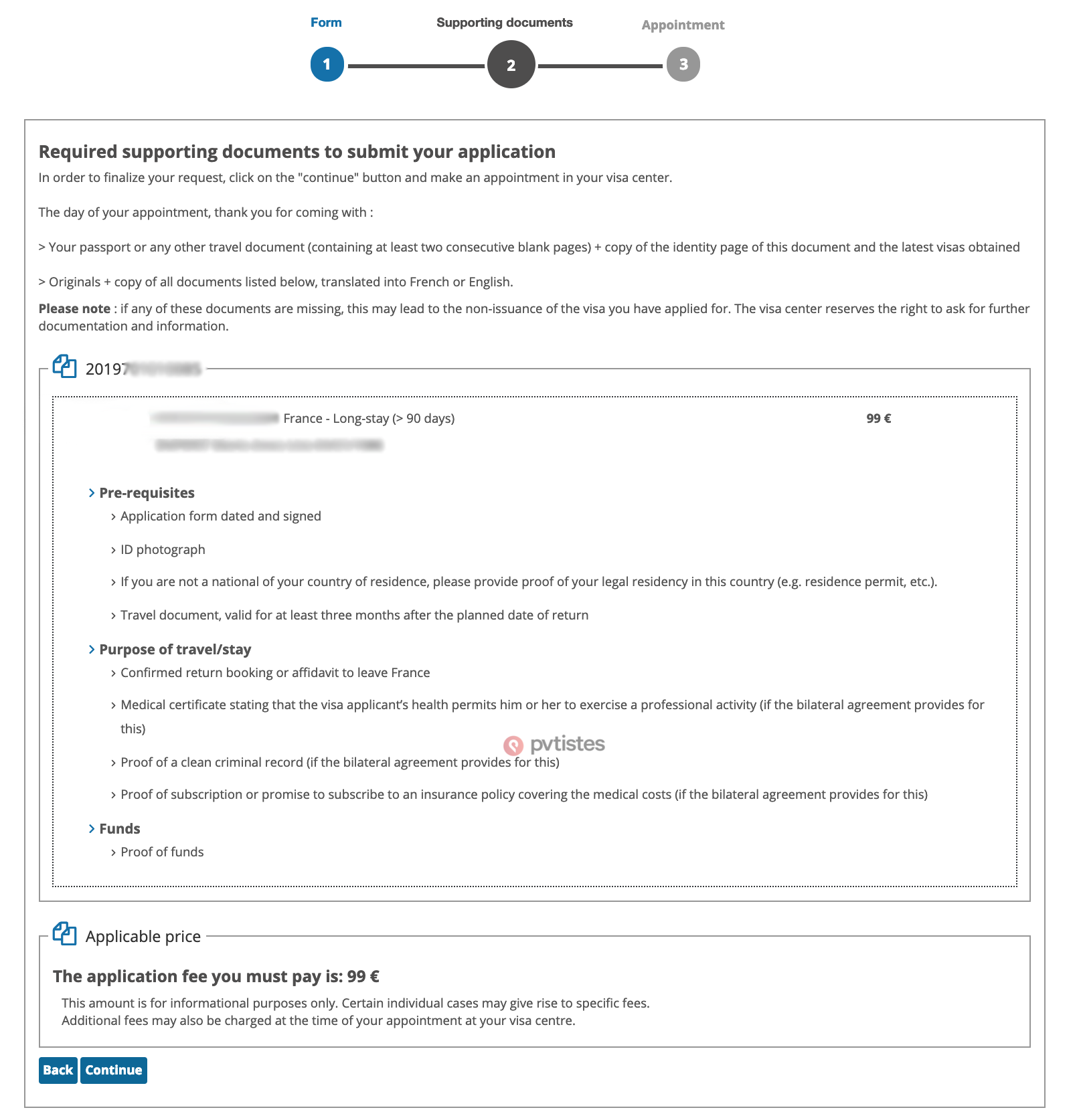 Note that:
A PDF document with the same useful list will be available to download once you send your application.
You do not need to provide a medical certificate or criminal record check when applying for a Working Holiday Visa.
In the screenshot, an application fee of €99 is mentioned. Canadians aren't charged this fee, it applies for applicants from other countries eligible for a Working Holiday Visa to France. However, remember that VFS Global Centres do charge a €25 fee (to be paid in Canadian dollars when you book your appointment).
Click "Continue" to move on to the last page of the application process.
On the last page of your application, you must check a box to certify you did contact a VFS Global Centre and that you were assigned an appointment date.
Before sending your application, you must book an appointment with the VFS Global Centre you chose at the beginning of the process.