Booking your appointment at a VFS Global Centre and finalizing your France-Visas application
VFS Global Centres in Canada
VFS Global is a private third-party service provider for governments worldwide. The company manages visa and passport issuance-related administrative tasks—for instance, it collects Working Holiday visa application and biometric data on behalf of the French government. However, applications are still processed by French consulates.
You will drop off your application, provide biometric data and collect your passport after the decision is made at your designated VFS Global Centre. Since biometric data collection is a requirement, you have to come in person.
Toronto (208 Bloor Street West, 4th floor, on the right)
Montréal (1010 Sherbrooke West, Unit 820)
Vancouver (580 Hornby Street, Unit 440)
Ottawa (2211 Riverside Drive, Unit 403)
For full contact information, business hours (by appointment only) for application and passport collection, check "Whom should I contact?" on the France-Visas website.
Note that all VFS Global Centre are closed on Saturdays, Sundays and bank holidays.
Making an appointment with a VFS Global Centre in Canada
Go to "Whom should I contact?" on the France-Visas website. There's a blue "Book an appointment" button for all the VFS Global centre listed.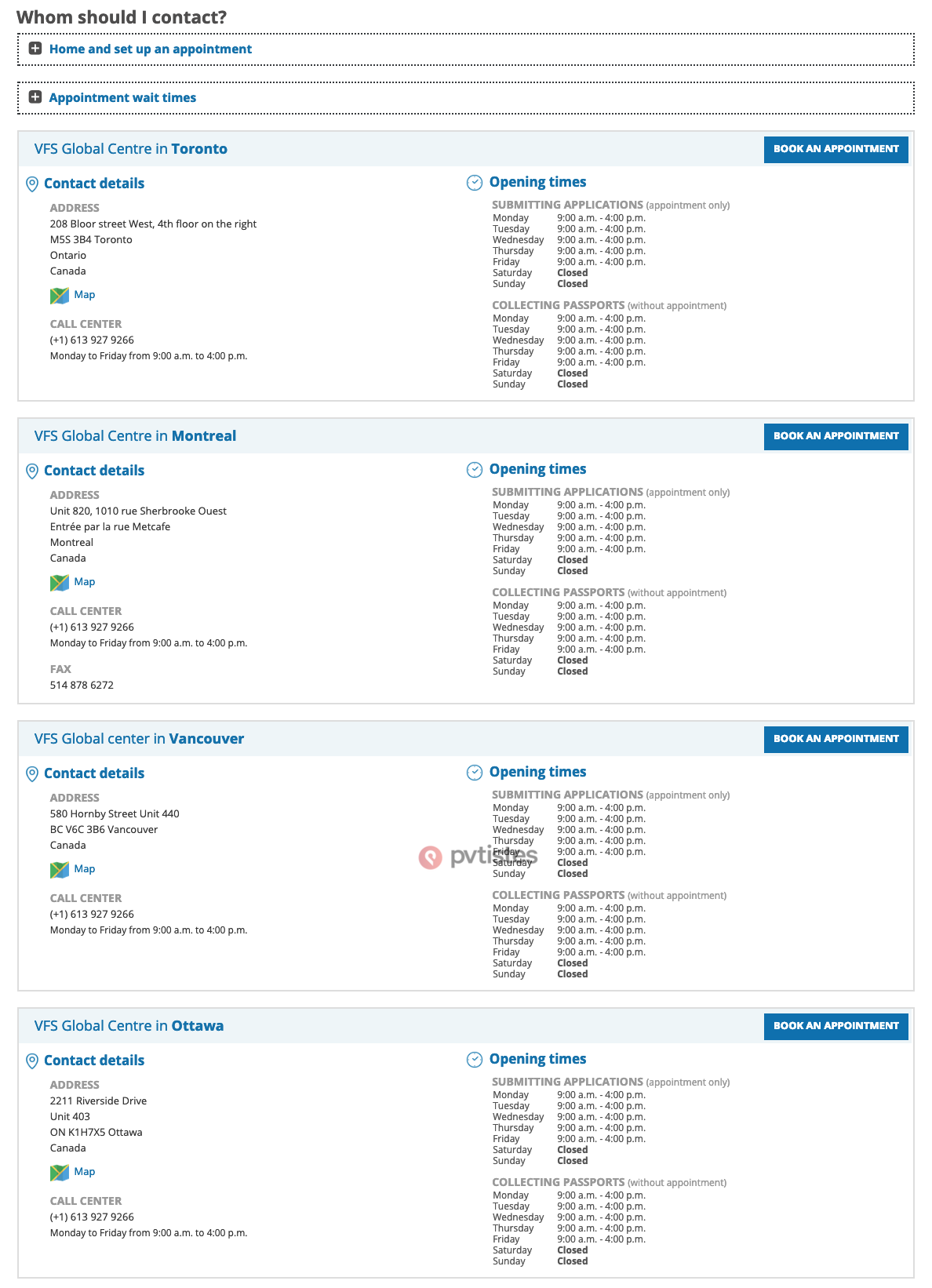 Click the "Book an appointment" button
You will be redirected to the VFS Global website.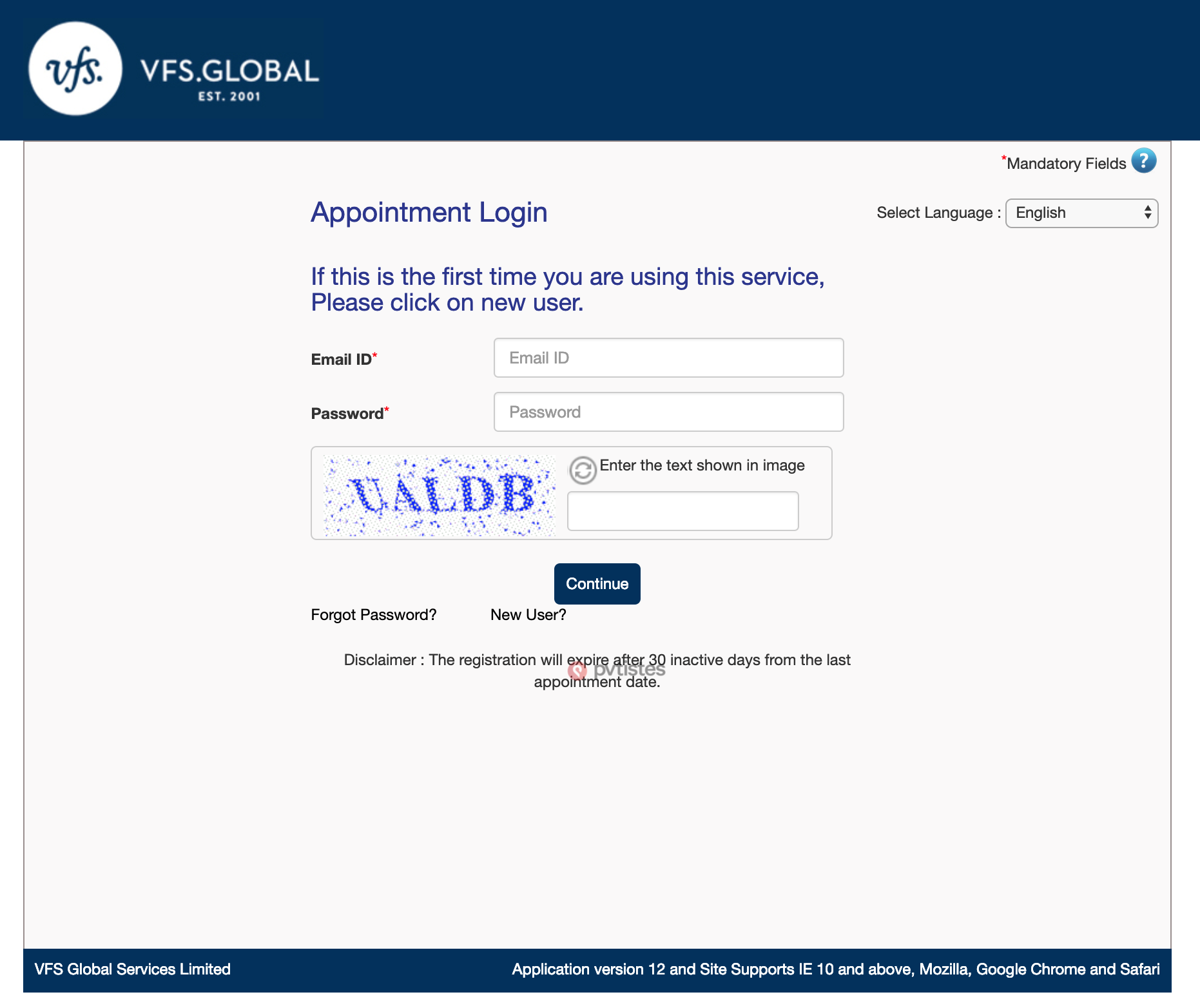 VFS Global doesn't use the same login info as France-Visas, so if you've never had a VFS Global account, you must create one. Click "New user?"
Remember, you can't use special characters.
Once all the fields are filled out, click "Submit." You will receive the activation link by email momentarily. You have two days to click the link and verify your account.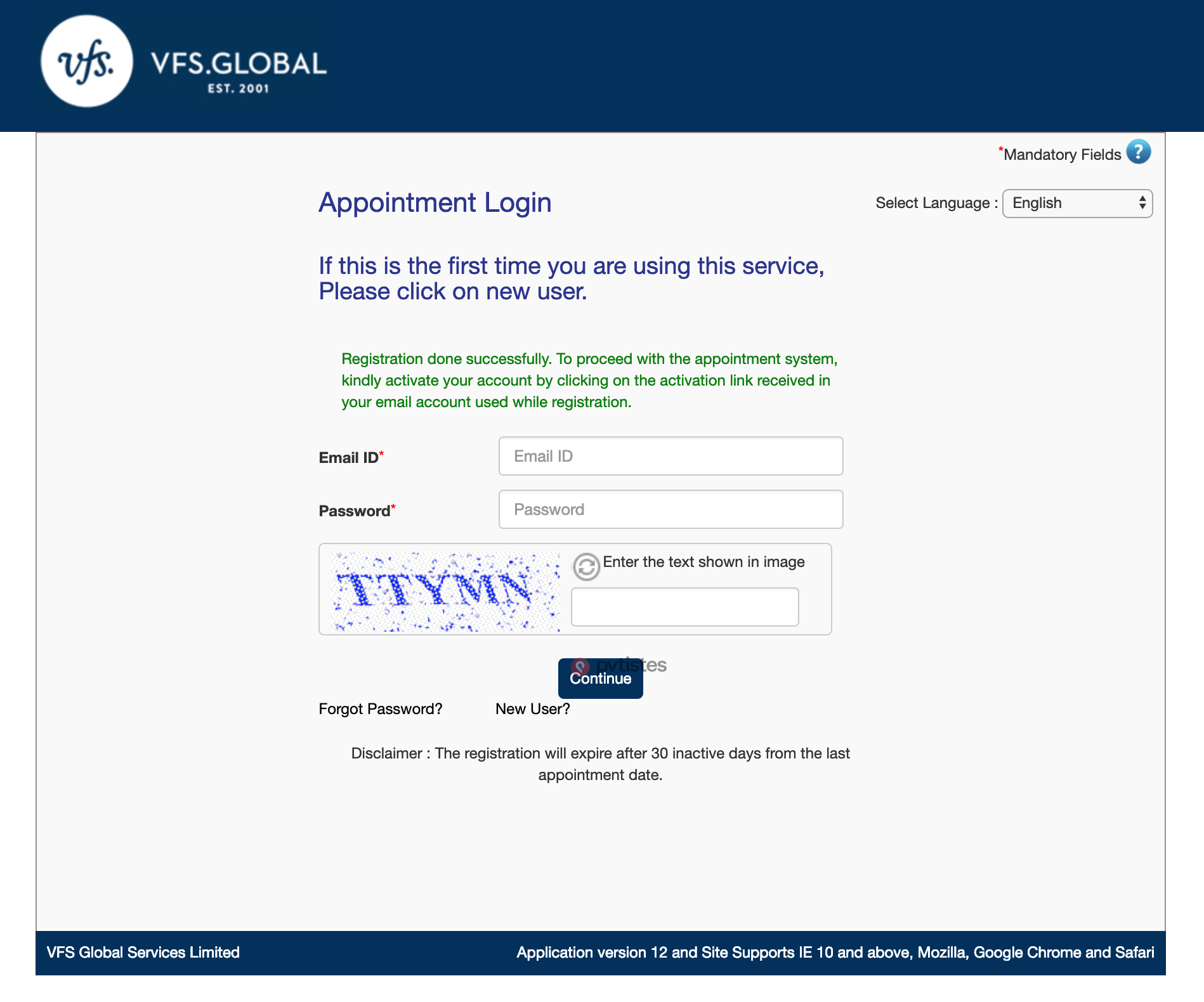 Login to VFS Global using the email and the password you've just created. On the next page, click the "Schedule appointment" button in the left column.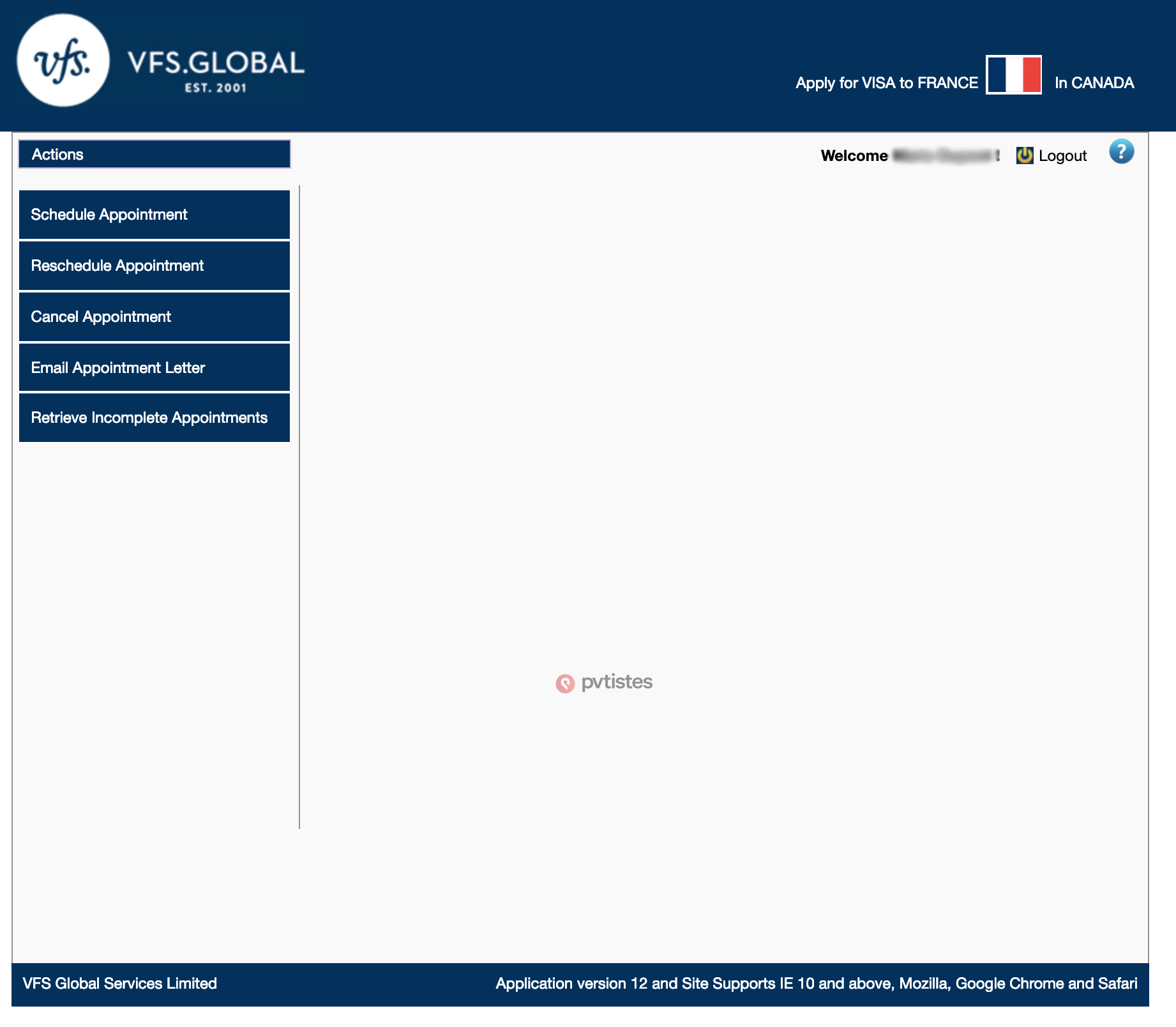 At this stage, you can't change the destination or VFS Centre (Toronto, Montreal, Ottawa or Vancouver) you chose earlier, it must match the one in your France-Visas application.
In the "Purpose of travel" drop-down menu, select "Long stay (D).
Hover over "Click here to know the earliest date available" after selecting the "Purpose of travel."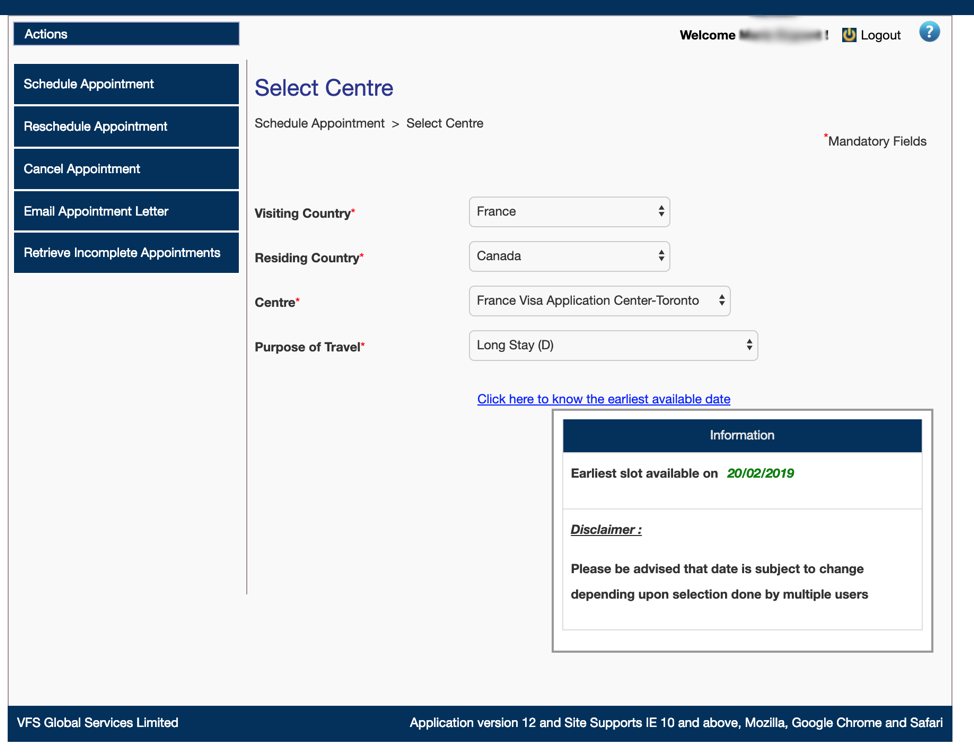 Click "Continue".
On the "Applicant list" page, click "Add applicant."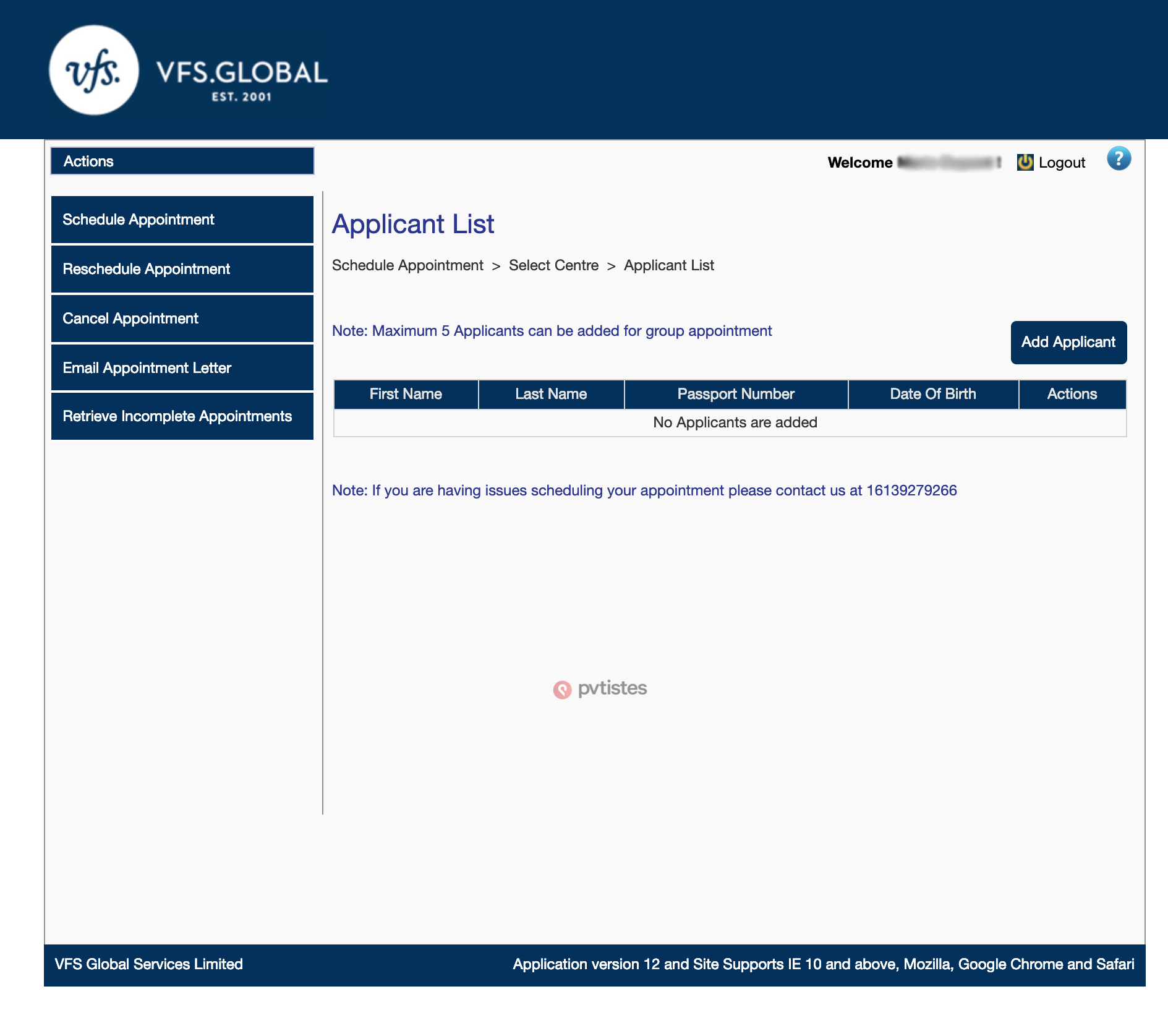 Fill out the required fields. Make sure you add your second name(s), if applicable, as shown on your passport ID page.
For "Courier Address," provide your current residential address.
Click "Submit."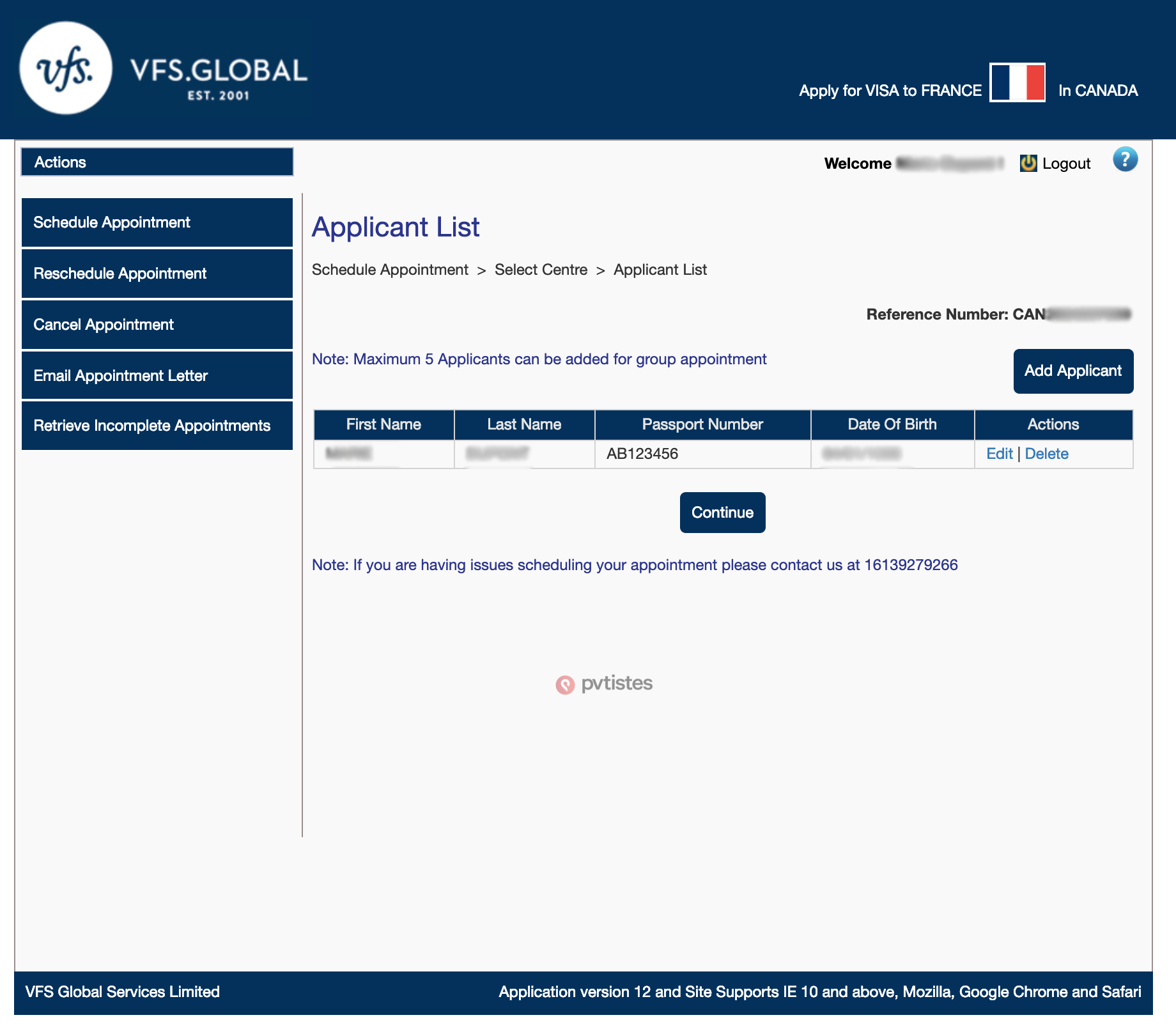 Back on the homepage, you'll see your applicant profile with your name, passport number and date of birth. Verify the information and click "Continue".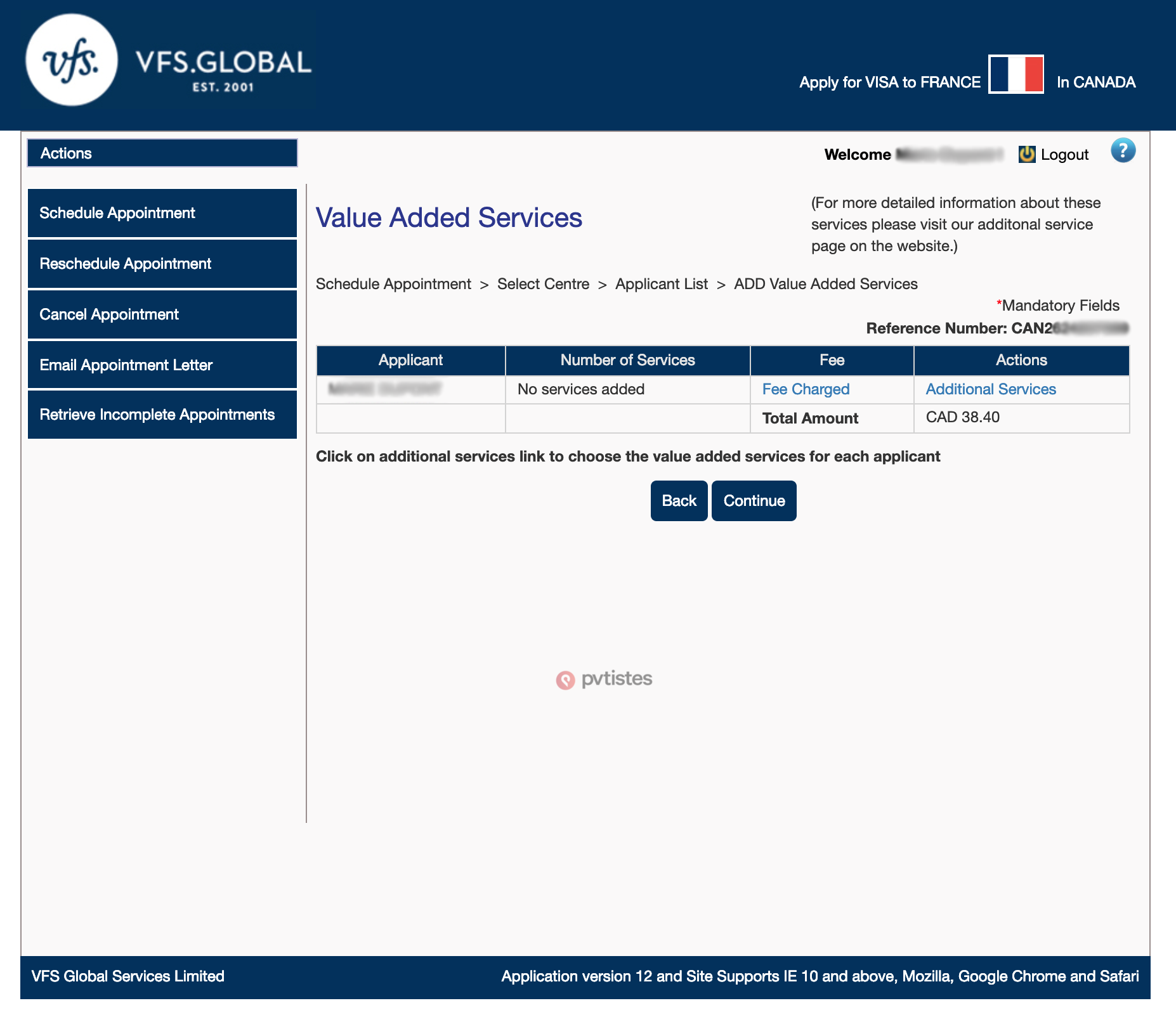 The fee is CAD38.40 (around €25). It fluctuates slightly depending on the exchange rate with the Euro.
You probably don't need "Additional services" (optional in your case). Click "Continue."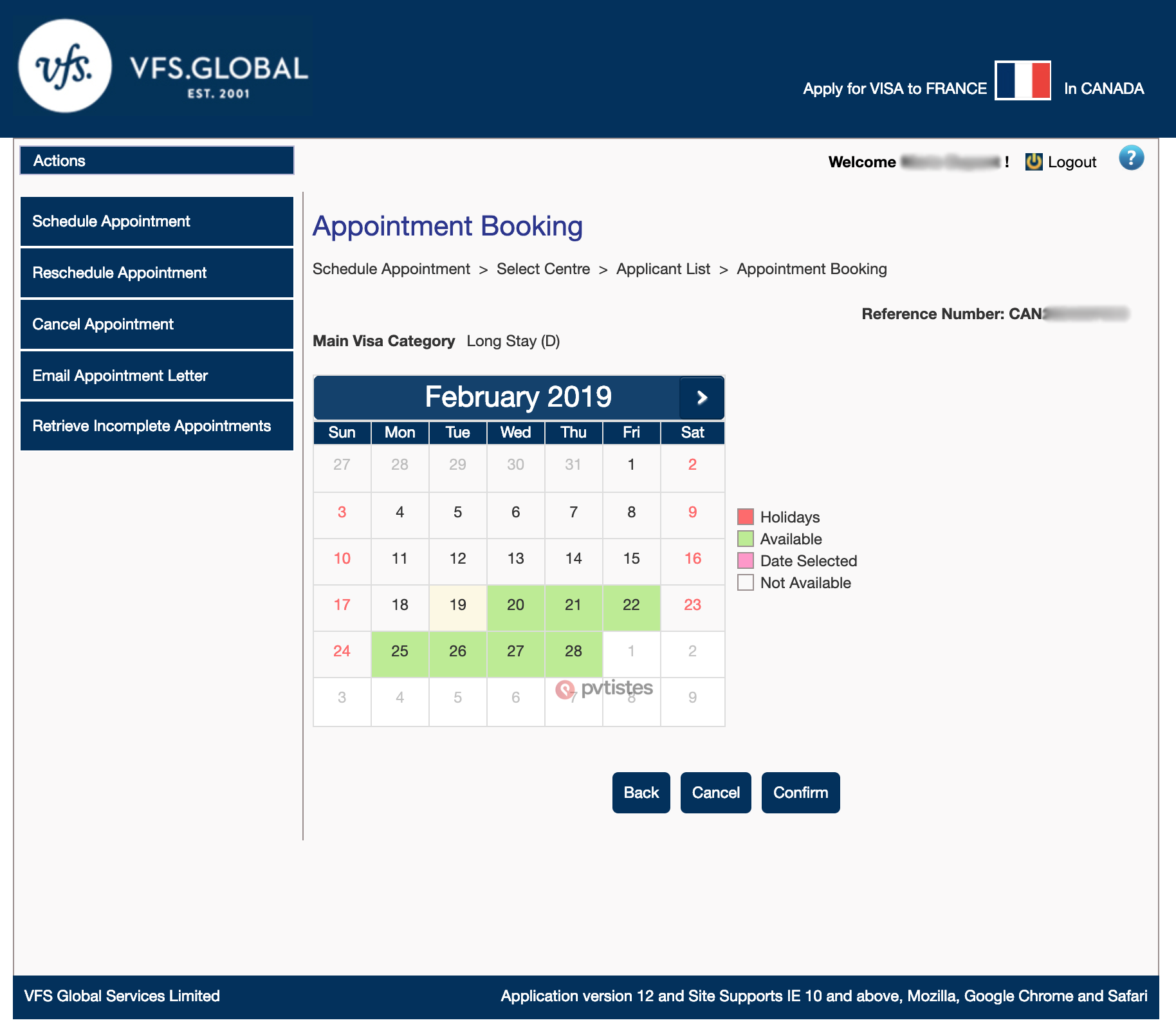 On the next page, you'll see a calendar. You can make an appointment for any available day (shown in green). Dates in white are booked or not yet available for appointment (generally, appointments can't be booked more than a month ahead).
Once the day is selected, pick a 30-minute slot for your appointment. Check the box and click "Confirm."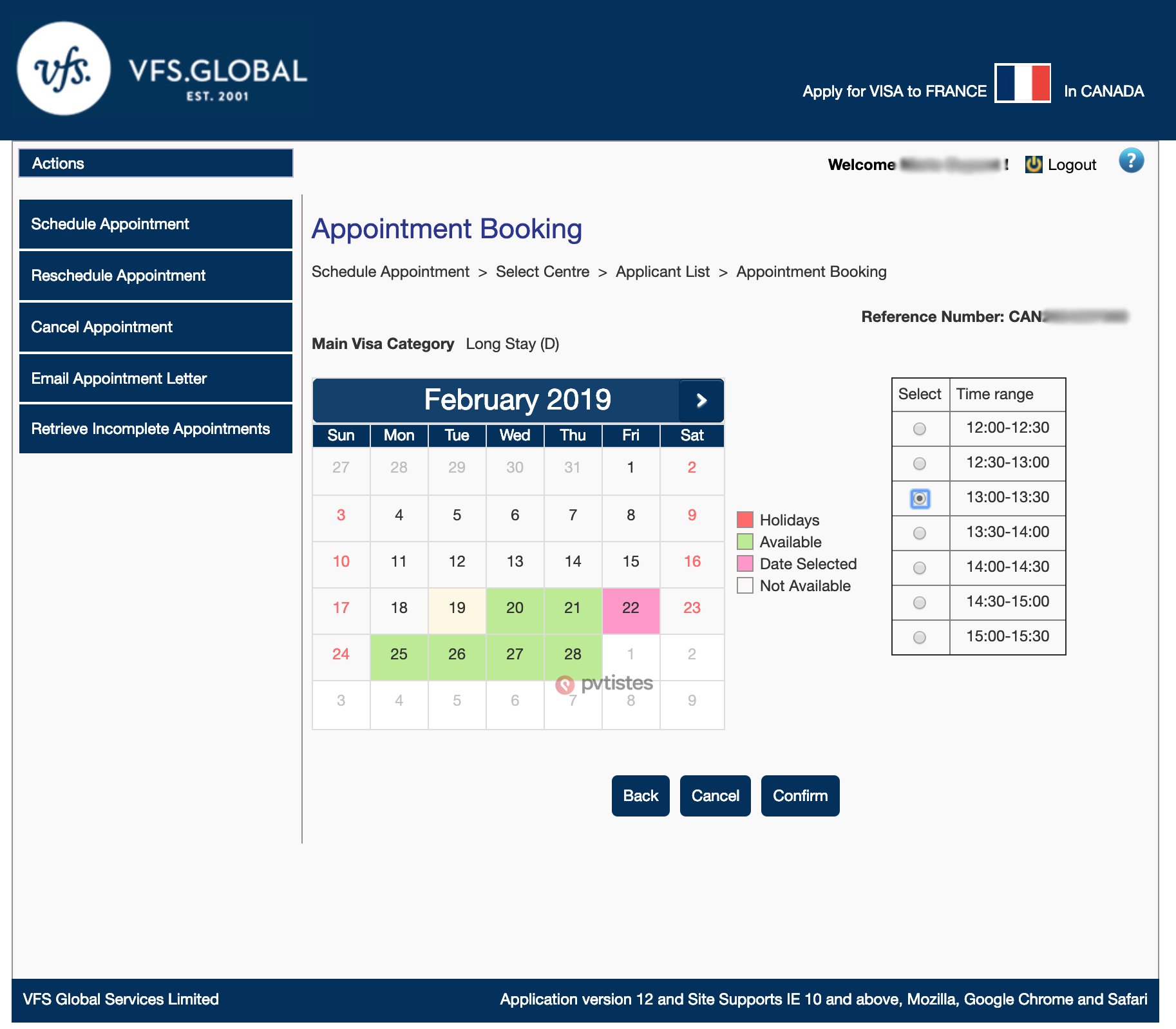 Hold on, one last step to confirm your appointment! You have to accept the terms and conditions (and you definitely don't have to agree to receive unrelated emails from VFS Global regarding "value-added services…).
Click "Confirm appointment," and you're almost done!
You will be redirected to the checkout page to pay the €25 fee (there are no other fees if you didn't add optional, additional services).
Enter your credit card information (Visa, MasterCard or American Express accepted) and click "Pay."
Once the payment goes through, you'll see an appointment confirmation page. Download it, you will need to show it at your appointment.
Completing your France-Visas application
Don't forget to finalize your application on France-Visas after booking your appointment with VFS Global!
If you logged out or closed the page, just go to the France-Visas homepage and click "My account" at the top right corner.

Enter your email address and your France-Visas password in the column to the right, then click "Log in." You'll find your ongoing application on the homepage. Just click "Continue."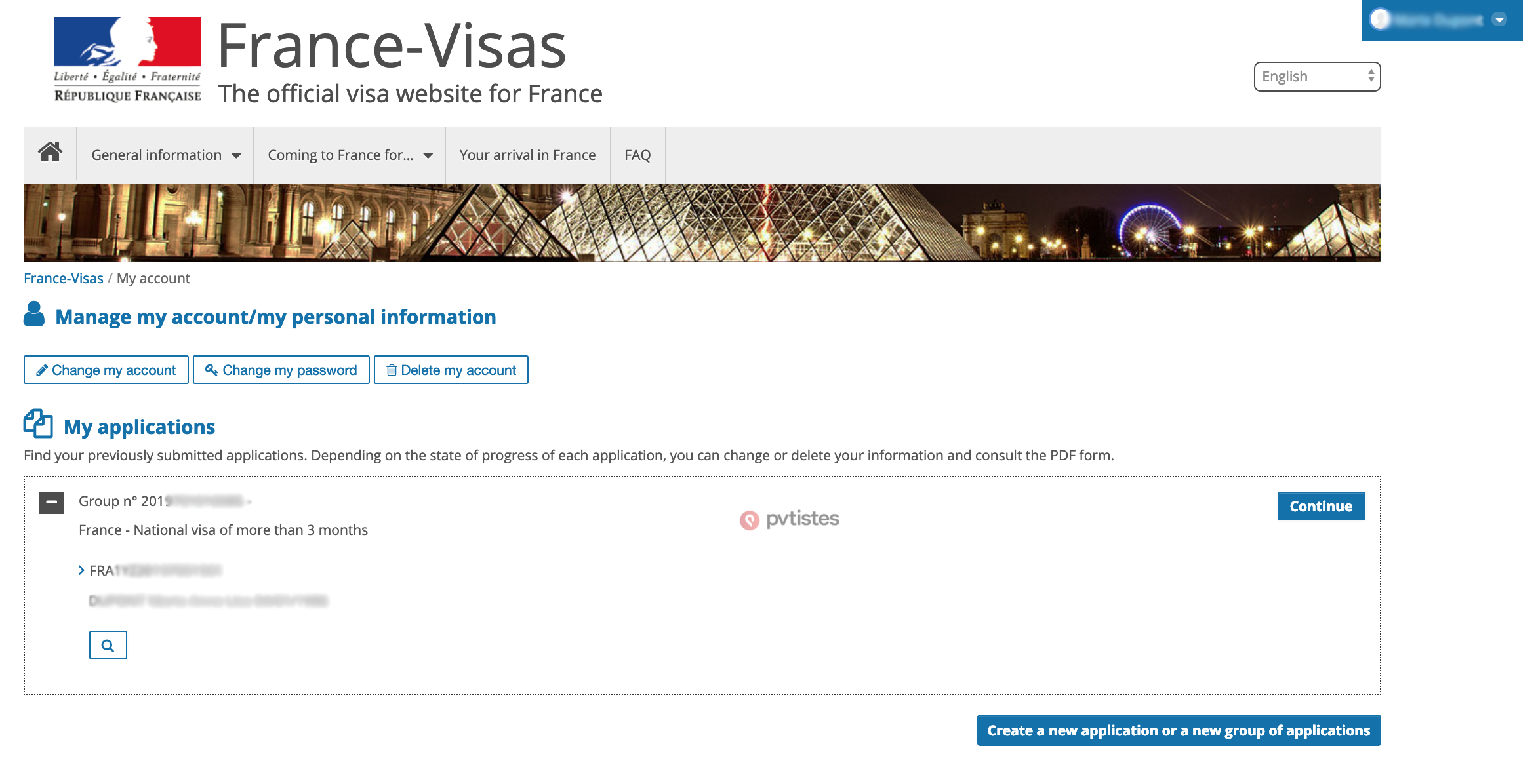 On the last page, check the box to confirm that you did make an appointment with a VFS Global Centre and that a date has been scheduled.
Click "Continue."
On the next page, download the two following documents:
The application form with all the information you provided. Print it, then date and sign. It's several pages long, make sure you print them all!
The receipt and supporting documents listed that you will need the day of your appointment with VFS Global.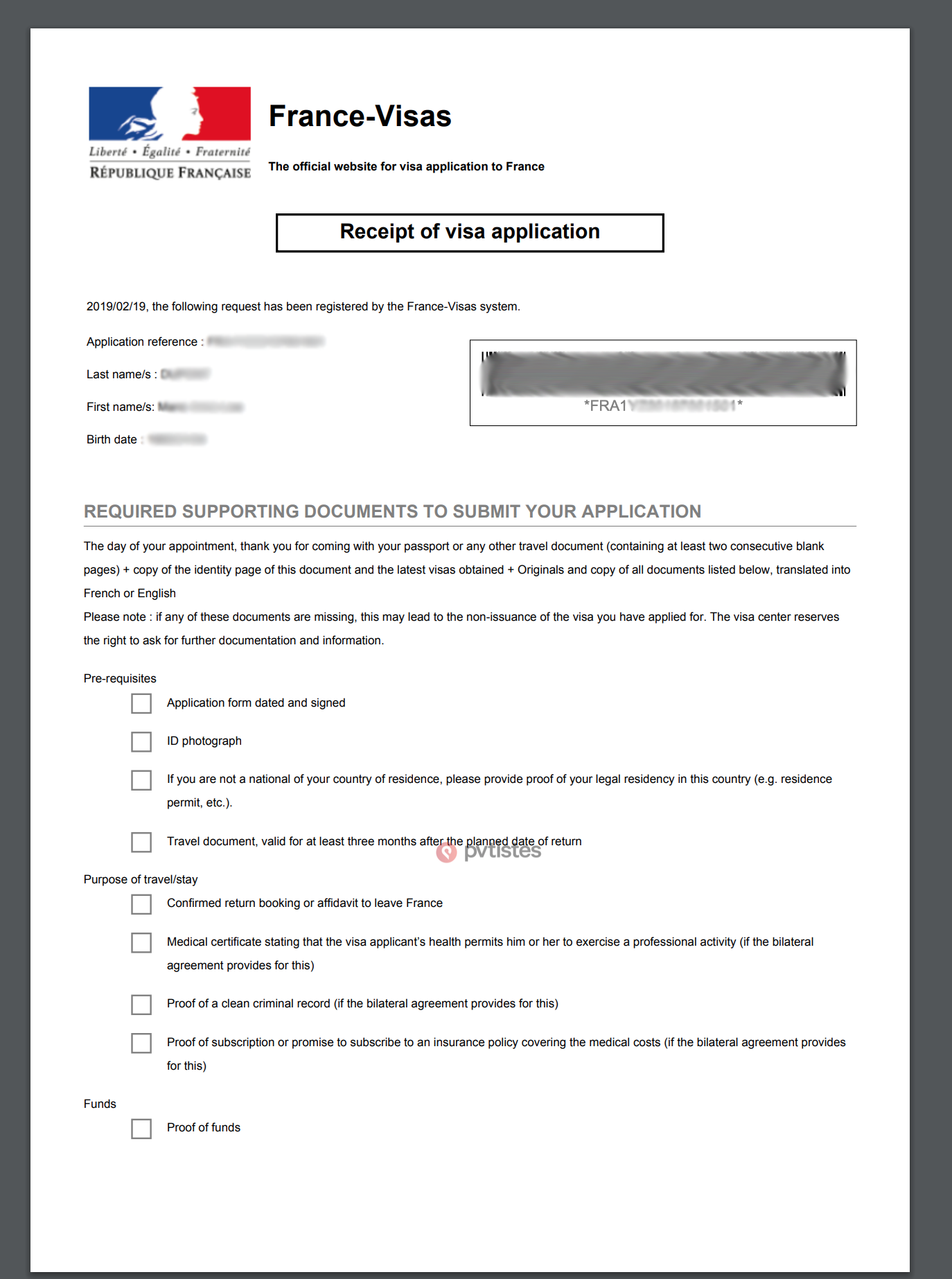 You're all done your online application!