Whether you're still preparing for your adventure or already enjoying fall up north, you're probably dreading your first Canadian winter. Don't worry, you will survive—provided you have the right gear! 
Here are a few tips to help you prepare for this (long) season.
Winter is different in each province and territory
First of all, keep in mind that weather conditions differ greatly from one province to another. On any given day in February, someone living in Vancouver won't see the same amount of snow and experience the same temperatures as someone living in Quebec City.
Case in point, these were the average temperatures for winter 2022 in different Canadian cities (actual temperatures, not "feels like"):
| City | 15 January 2022 | 15 February 2022 | 15 March 2022 |
| --- | --- | --- | --- |
| Calgary | +4.2°C | -4.2°C | 5.9°C |
| Edmonton | -2.1°C | -6.8°C | +0.8°C |
| Montreal | -22.6°C | -12.7°C | -1°C |
| Ottawa | -23.1°C | -14.1°C | -0.4°C |
| Toronto | -15.7°C | -5.7°C | +1.8°C |
| Quebec City | -22.7°C | -17.7°C | -5.1°C |
| Vancouver | +5.2°C | +6.1°C | +7.7°C |
| Whitehorse | -4.2°C | -5.2°C | -4.5°C |
| Winnipeg | -15.5°C | -17.7°C | -3.1°C |
In Vancouver, a raincoat will be more useful than a bulky Canadian winter coat, but in Winnipeg, you'd better dress warm!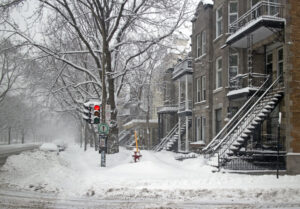 Where to buy winter gear
It's best to buy winter clothes once in Canada.
Indeed, chances are winter jackets, coats and shoes sold in Canada will meet your need—good luck finding proper snow boots in your native Costa Rica or Australia, for instance. 
Another important point to consider is that winter coats and shoes tend to be bulky and heavy. Save room in your backpack for something else!
Fall is the best time in Canada to shop for winter clothing because last season's collection is usually discounted. Don't hesitate to visit thrift stores and second-hand stores. Many second-hand items are also sold at lower prices on Kijiji, Facebook Marketplace and other specialized websites.
You can always bring your own lighter winter essentials (hat, sweater, tights, fleece, etc.)—that is, if your winters are cold enough for such clothing and accessories! 
Layering is key
Weather conditions can change every hour in Canada, and indoor places are usually pretty warm, so there's no need to keep your winter coat on in movie theatres, shopping centres, buses, etc. 
That's why it's always a good idea to layer. Hot? Take off a layer. Cold? Put it back on. This way, you can deal with pretty much any temperature. 
Need an example? Here's what you could wear:
Top: an insulated and breathable layer to stay warm + a sweater or fleece + a winter coat.
Bottom: tights or leggings (when it's very cold) + pants + ski pants if you're going hiking, cross-country skiing, downhill skiing, skating or sledding.
Head, hands and feet: a toque (a hat) + gloves + thick socks + winter shoes.
If you go on a three-hour hike in Manitoba in the middle of winter, you will need all of the above. If you're just walking to the nearest supermarket, dress warm and take off layers as needed (i.e. coat, sweater, hat, etc.) once in a warm indoor place.
Winter essentials
Winter coat
One of the reasons it's preferable to buy your winter jacket in Canada is that clothing is typically adapted to local temperatures and will keep you warm when it's -20 °C or even -30 °C.
Ideally, you should shop for a winter coat with the following features:
Knee-length, for added warmth
Roomy enough to fit several layers underneath
A stand-up collar to protect your neck and face from the wind
Cuffs that hit at the base of the hands (bonus for some kind of cuff closure)
A hood to protect your head, especially during snowstorms
Zippered pockets to keep small items warm
Winter coats can be as cheap as $100, with brand names around $1,000. Why such a big price difference? Mostly brand, style, materials, etc. And of course, second-hand coats are much cheaper than the latest fashion purchased at a department store.
You can buy a new coat for less than $200 in low-cost department stores like Winners or Marshalls, for less than $100 on Facebook, and $700 and up in upscale stores.
Of course, you can also invest in a Canada Goose down jacket if you have an extra $1,500 to spend… that said, these coats are not necessarily warmer and you're probably going to realize soon enough that they are mostly worn by tourists in warm-ish cities like Toronto!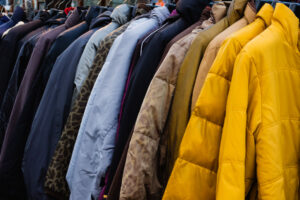 Pants 
You can keep on wearing your regular pants. Of course, the thicker, the better. 
It's always a good idea to wear tights underneath when the temperature drops below -10 °C, especially if you're going to spend some time outside.
If you are going skiing or sledding, don't hesitate to add a pair of ski pants that will keep you dry if you fall or decide to start a snowball fight!
Shoes
No point in wearing three pairs of socks in your canvas sneakers—winter boots are required.
Ideally, you should wear ankle-length or higher waterproof, insulated shoes. Non-slip soles will be helpful too because sidewalks can be really icy.
Consider trying shoes with thick socks, such as ski socks, to make sure they are roomy enough. Tight shoes are very uncomfortable, especially when it's cold.
Keep in mind that Canadians usually take off their winter boots when at the office or someone's place. Some people always have a spare pair of "indoor" shoes with them.
Here are a few popular brands of winter shoes (this is a non-exhaustive list!): Sorel, Palladium, Timberland, Pajar, Ugg, Adirondack, The North Face, Vans, Merrell…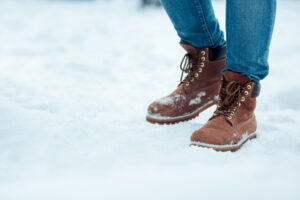 Hat
If you don't want to lose your ears, wear a hat! 
Make sure it's tight enough to block the wind. It should cover your ears.
Knitted beanies are great for the fall season, but you'll need a lined hat when it gets really cold.
Gloves 
Look for insulated and waterproof gloves. If you can afford it, you can even get heated gloves.
Mittens are not as stylish but having all your fingers in the same space keeps the heat better.
Remember that in winter, comfort and warmth are more important than style!