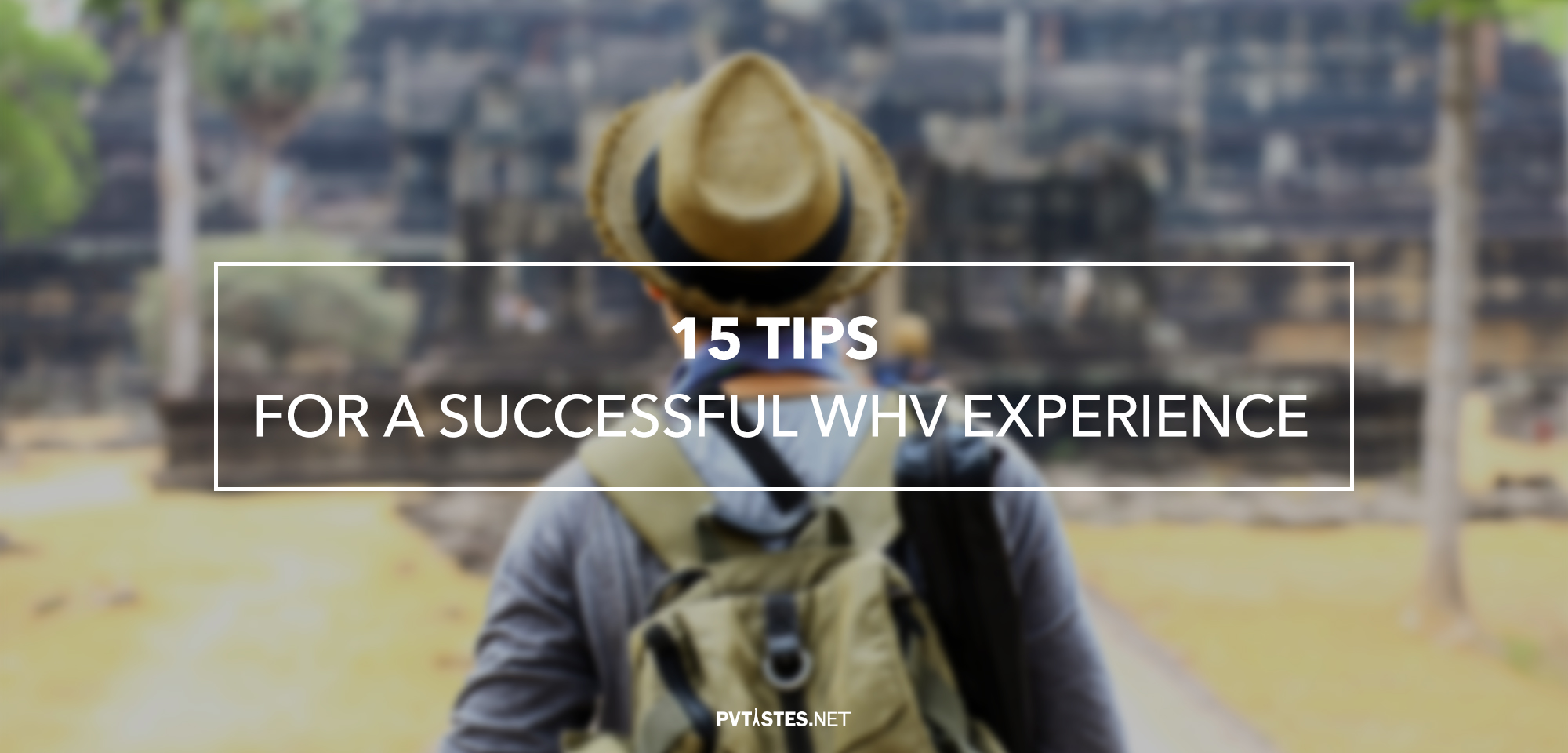 In a previous article, we gave you 16 good reasons—as if just one wasn't good enough!—to apply for a working holiday visa (WHV). Now, we're going to share valuable tips to set you on the right path. Indeed, even though a WHV experience is an unforgettable journey full of magical moments for the most parts, there are still some traps to avoid!
1. Money—You Need to Bring Some
Every destination advises WHV holders to leave home with some savings. The recommended amount is around €2,500, but a few countries with a higher cost of living require a higher balance as proof of funds—AU$5,000 for Australia and €3,100 for Japan. Having money in your savings account is really important. You'll need funds for your first few weeks, especially if you don't find a job right away.
2. Opportunities are everywhere but "the beach" doesn't exist
Travel shows, friends' social media accounts and a wild imagination make us believe XYZ destination is a complete paradise. However, many WHV holders are in for a rude awakening after a few weeks abroad. No country can boast a 0% unemployment rate, you won't always be welcomed with open arms and some fields hire more than others, depending of the country.
3. Learn About Your Destination Before You Land
We offer tons of articles on how to prepare before embarking on a WHV adventure. We also have focused articles where you can learn the ins and outs of most WHV destinations. Yet, despite all the info available online, we often hear and read the same questions at travel fairs, WHV meetups or on the website's forum and social media channels:
Can I buy a one-way plane ticket if I have a WHV?
Are all WHV issued through a lottery system? (Nope, only those for Canada.)
How do I find accommodation? How difficult is it?
4. Purchase a WHV Insurance Policy For the Duration of Your Stay
It can't be stressed enough: do buy a comprehensive insurance policy for the entire duration of your stay. It should provide coverage for medical emergencies in case of sickness (i.e. flu, tonsillitis, etc.), accidents (including hospital stay) and emergency evacuation expenses, unfortunate yet common enough events that can cost tens of thousands of euros. Insurance coverage is mandatory for most WHV destinations and a proof of insurance is usually required in the application or upon arrival. However, for a few places like Australia, it's only "highly recommended."
5. Be Aware of Upcoming Challenges If You Don't Speak the National Language
This is especially true in very popular WHV destinations. Going to South Korea, Hong Kong, Taiwan or Japan without speaking the language is a challenge but on the plus side, there won't be much competition. It's a different story in the South Pacific where New Zealand welcomes nearly 60,000 WHV holders every year, while Australia hosts about 220,000 WHV holders from 39 other countries in total, including Irish, English, Swedish citizens who speak English better than most French/Spanish speaking (for instance) WHV holders.
6. Investigate the Local Job Market
This is especially true for those interested in working in a specific field. If you are willing to take any job opportunity, there are still challenges but the market is bigger.
However, if you're aiming for a particular industry, research the current local job market to avoid disappointments.
7. Use Your WHV Before It Expires!
Each country signed a different bilateral agreement, so terms and conditions depend on your citizenship and destination. Age limits (29 to 35 years old), visa quotas and application processes (in person or online) do vary.
8. Bring Along Important, Required Documents
Some documents, including proof of savings and a copy of your insurance policy, are sometimes required during the visa application process.
9. Don't Rely Too Much on Other WHV Holders' Experiences
"A friend of mine loved her WHV experience. She landed a job an hour after she unpacked her bags."
"My buddy just came back—what an awful experience, he couldn't find a job, he ran out of money and he had to take the next plane home after a month."
Of course, both of these examples are exaggerated but they show that for some people, life is easy and for other, a challenge can turn the experience into a complete disaster.
Don't rely too much on hearsay. Your experience will probably be "normal," i.e. a mix of adventure, fun and yes, challenges too. People just deal with issues differently.
10. Focus on Positive Feedback
One of the longest threads on the forum is the one that started with this question: How did your family and friends react when you told them about your WHV project?
11. Come Out of Your Shell
Are you shy? Do you find the concept of small talk terrifying? Do you find it impossible to picture yourself sharing a ride with three travellers you've just met? Are your language skills abysmal? Put yourself out there and start right now!
12. Don't Give Up Too Quickly
From time to time, we read stories of WHV holders who had planned to stay for a year but who head back home after a couple of weeks or a couple of months.
13. Consider Volunteering Options
Volunteering at the beginning of your stay can be a great idea:
It's instant cultural immersion as you interact with locals
You can quickly improve your language skills
It's a way to lower living expenses and gain professional experience
14. Try to Mingle With Non-Anglophones
You probably don't want to avoid people who speak your language because, well, they are also great people who can be travel buddies, roommates or precious sources of information.
15. Have a safe WHV experience!
A gap year is a very freeing experience. Yet, it's important to be careful and stay safe. Respect others and take care of yourself.
Have an awesome WHV experience!
Interesting links: