One morning, I woke up and decided to hitchhike from Quebec to Alberta. I was looking for a unique adventure, and I had the feeling a long-distance hitchhiking challenge would deliver.
I gave myself 10 days to get to Grande Prairie, northwest of Edmonton, where I had found a HelpX volunteering opportunity.
I started looking at potential routes, cities to avoid, and the best way to leave Montreal. There wasn't much info about hitchhiking—the only tip I found was to avoid getting dropped off in Wawa, Ontario, between Sault Ste. Marie and Thunder Bay. Apparently, it's easy to get there but it's the worst spot ever to wait for a ride.
This is the itinerary I had in mind after doing some research: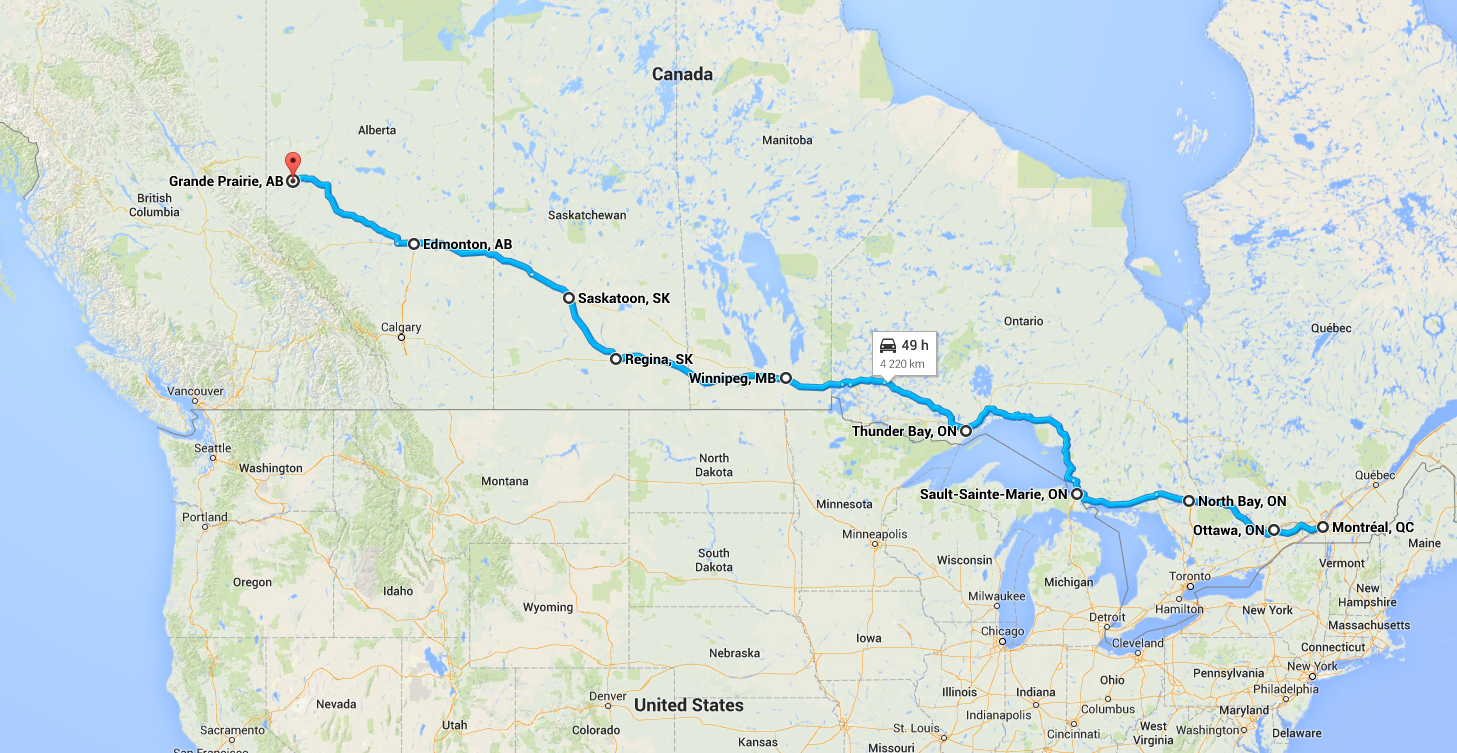 I premade signs to avoid making them on the road. I wrote my destinations on pieces of cardboard, with one city on the front and another city on the back, to halve the number of signs I would need. I managed to slip them into one of my bags.
Day 1 – Montreal to Sudbury 
It took me three rides to get from Montreal to Sudbury. I started with a 10-minute ride from Vaudreuil to Saint-Lazare. Then I waited for 45 minutes for my second ride—Andrew, the driver, took me from Saint-Lazare to Pembroke. We stopped at his place where I enjoyed a quick shower and a beer. He even bought me a coffee at Tim Hortons. Andrew was a really nice guy.
My third driver was Frederick, a guy from Quebec who was on his way to Calgary, Alberta. I found him weird. He told me he hated Quebec, that he was his friends' favourite scapegoat, and that he was moving to Alberta because there was money to be made.
I slept outside that night. He parked at a truck stop and I tried to pitch a tent but the ground was too hard and I couldn't find any big rocks to use as a hammer. So I just lay my sleeping bag down on the ground. 
I didn't sleep much but I did rest a bit. It was humid and the driver of a noisy refrigerated truck parked nearby kept starting his vehicle every half hour.
Day 2 – Sudbury to Thunder Bay
I woke up at 5:30 a.m. and waited for the gas station convenience store to open at 6 a.m. The employee offered me a cup of coffee.
Frederick was supposed to take me to Thunder Bay. Bad news, though, he suddenly changed his mind and decided to spend a few days in Sudbury instead. I found another ride but I got dropped off on the wrong road. It took me a while to find a gas station and another ride to take me back to the road to Sault-Sainte-Marie. This was my first ride of the day. Another driver (a taxi!) took me 10 kilometres further.
This is where my luck ran out. I spent two hours waiting for a ride—nothing. I decided to walk to a truck stop—no luck again, all the drivers were heading to Toronto. I spent the next two hours waiting close to the highway again—nothing. I was tired but I still walked along the Trans-Canada Highway for four or five kilometres until I found a spot that looked promising. This time, 90 minutes later, a car stopped less than 100 metres from me. I ran to it.
It was a lovely couple, and they took me to a truck stop a 30-minute drive away. This is where I met a young guy who offered me a ride all the way to Thunder Bay. I joined the other passengers—his brother and one of their friends. All three of them had found better work opportunities in Thunder Bay.
I saw the Great Lakes on the way, as well as a stunning sunset. We arrived in Thunder Bay around 2 a.m. and I was exhausted by then. Hitchhiking is tiring but I enjoyed meeting so many different people on the way. This was the adventure I was looking for—I was having fun and I felt pretty good about my decision to hitchhike.
At the end of day 2, I considered myself lucky. Thanks to the many drivers who had given me a ride, I reached Thunder Bay earlier than planned. The next day, I would probably leave Ontario and start the Manitoba part of the trip to get to Winnipeg.
I sleep under the stars again, close to the highway entrance ramp where my ride had dropped me off. It was late and it wasn't a great spot so I figured it was best to skip the tent to avoid attracting unwanted attention. It was a lovely starry night, anyway.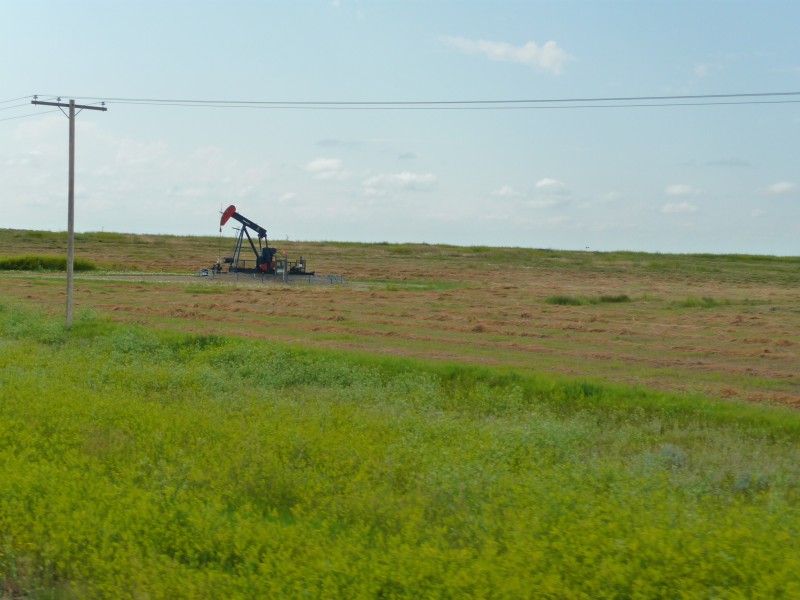 Day 3 – Thunder Bay to a pit stop on the way to Calgary 
The day didn't start well—wrong spot, not enough traffic. Two construction workers eventually gave me a ride to the road going to Winnipeg. A truck driver stopped an hour later. Hurrah, he was going to Calgary to deliver the truck he was driving!  
Yves, the driver, was a very nice guy. We went to a Chinese all-you-can-eat buffet for dinner and he insisted on paying for part of my bill. Then he offered me the sofa bed in his hotel room. It felt amazingly comfortable after two nights spent sleeping directly on the grass. I even got to take a shower. Perfect!
Day 4 – Pit stop to Calgary
It was a restful night. We enjoyed a full breakfast with waffles, eggs, sausages, muffins, orange juice… I hadn't feasted like that in ages!  
Calgary was not on my initial itinerary, but I was flexible. We set off for a long and boring all-day drive. That night, Yves discovered his room came with a double bed, so I got to sleep in a real bed!
And then I arrived in Calgary four days after leaving Quebec. Hitchhiking was a great decision—it's a fun way to travel and it gives you the chance to really appreciate how big Canada is. I saw pine forests and the Great Lakes in Ontario, endless fields in Manitoba and Saskatchewan, for example, and the scenery was stunning.
I took the bus from Calgary to Grande Prairie, then I'm planning to hitchhike again to Jasper or Kelowna—why not, it seems to be working out just fine for me!
My hitchhiking adventure in numbers 
I crossed 75% of Canada during this unique, amazing experience.
It took me 3 days, 9 hours and 40 minutes to travel from Montreal to Calgary. The longest and hardest part of the trip was crossing Ontario.
I travelled an average of 935 km/day.
A taxi driver gave me a ride for… 10 km!
It took me 9 separate rides to complete the trip. The shortest was 5 minutes long and the longest was the final two-day ride. 
A few tips
Be patient! Patience is not one of my strengths, which is partially why I wanted to try hitchhiking.
Try to look neat. If you're sweaty, use deo and fix your hair. 
Always keep some cash with you.
Pack enough snacks, sandwiches and drinks for two days.
Don't even try to hitchhike within Montreal, start in the outskirts. I picked Vaudreuil as my starting point because it's on the road to Ottawa. To get to the Vaudreuil highway entrance, take the train at Lucien L'Allier station (a $7 commuter train) to Vaudreuil, and then walk for 30 minutes until you reach the ramp. I'm sure there are other good spots but this one worked for me.  
Never turn down a short ride! However, if the driver looks a bit weird, on drugs or tired, just decline or get out of the car—safety first.
Ask to be dropped off at truck stops where you'll be able to find long-distance truck drivers. Some drivers like to have company and rides are easier to find at truck stops where you can chat with drivers—they won't be able to stop easily if they see you on the side of the road. Don't hesitate to ask truck drivers—or even car drivers directly—for a ride. PVTistes staff reminder: Never stand on the side of a highway, it's super dangerous and illegal. Stick to truck stops or on-ramp entrances. 
In cities, the best spot is 20 metres past a light, so that drivers have time to see you and weigh the pros/cons while they wait at the light.
Should you use a sign? I did, but I also did the thumbs up and it worked pretty well. If you have a sign with a distant destination, drivers may think someone else will take you farther than they are.
Even if the wait is long, keep smiling and stand with your bag at your feet. You may feel a bit lonely… but it won't last, someone is bound to stop!
Have fun!