Spectacular wide-open spaces, preserved nature, and remote wilderness—I've always felt that Canada was a country made for adventures. Why did I want to explore this faraway land? Because the sheer size and the long list of diverse landscapes felt like an endless list of opportunities. I was already picturing myself on long, solo hikes, walking on never-ending trails, climbing tall mountains, and camping in remote areas surrounded by amazing scenery.
And to make my dream come true, I applied for a Working Holiday permit. Would my expectations meet reality?
Long story short, yes, they did. Canada didn't disappoint me—this country is the perfect playground for explorers at heart.
I wrote this series of articles to help other explorers who want to follow in my footsteps.
I prepared an "at-a-glance" list for each hiking adventure. This is how it works. 
Trail name – Name of trail explored.
When – Hike dates.
Starting point – The nearest town picked as a starting point and possible base camp.
Rating – Hiking difficulty level, my own opinion based on my own experience.
Trail type – Loop, out-and-back trail (starts and ends at the same location), or a point-to-point trail (starts and ends in different locations).
Distance – The total distance of the trail.
Hiking time – The recommended time to complete the entire hike (given as a guideline, depending on your hiking experience and preferences).
Registration and fees – Registration and permit requirements, as well as access fees, if applicable.
How to get there – How to get to the starting point (without a car) and move on to the next destination (non-exhaustive list given as an indication).
Highlights – My favourite parts of the experience.
Warnings – Lessons learned along the way.
Tips – Advice and insights to plan and complete the hike.
Grizzly Lake Trail – At-a-Glance 
Trail Name – Grizzly Lake Trail, Tombstone Territorial Park.
When – August 1 and 2, 2017.
Starting point – Dawson City, Yukon Territory.
Rating – Intermediate to advanced.
Trail type – Out-and-back trail with a single starting point.
Distance – 26 km.
Hiking time – 2 days.
Registration and fees – Registration is required and you will need to reserve and purchase a special camping permit online ($18/night/tent pad). Bring your online registration confirmation to the Interpretive Centre where you will receive your backcountry camping permit. 
How to get there – Getting around the Yukon Territory without a vehicle would be very challenging—it's a huge place and public transportation is practically non-existent. It is therefore recommended to rent a car. Bring a spare tire and a jack, it's common enough to get a flat tire on the Dempster Highway. Hitchhiking can work… if you do see other vehicles! Don't expect high traffic, you could wait for hours without seeing a car. However, there is some traffic on the Dempster Highway during peak travel season as it's on the bucket list of many road-trip enthusiasts.
Highlights – There are few people on the trail, except for the first half to Grizzly Lake, which is a traditional Sunday walk for many families and groups of friends in summer. The scenery is very unique and very different from what we are used to seeing, even in the Yukon. It's stunning if you are lucky enough to be hiking on a sunny summer day when nature is in bloom.
Warnings – This is an out-and-back trail you will take twice, i.e. on the way there and on the way back. It may sound boring but as the saying goes, "you can never step twice in the same river." It applies to hiking as well—what you see on the way out is very different from what you see on the way back. The perspective, the light, what you're feeling, everything changes as you're walking. So it's not so bad, it's just good to know.
Tips –
You will have to be completely self-sufficient for this hike. Bring everything you need for sleeping (tent, mattress, sleeping bag) and for cooking (small stove, cookware, cutlery, etc.). You will have to pack food as needed since there's no pit stop to buy supplies.
Keep in mind that you are in bear country (grizzly and black bears), so find out what to do if you come across one. Bear-resistant food canisters are mandatory. You must purchase or rent your own canister before you arrive in the park.  
Plan your hike carefully! Consider the weather, your fitness level and hiking experience, wildlife presence, etc. Get information and the latest updates before your adventure. Check out the park's website, the various useful documents available (including Plan a camping or day trip) and talk to the park employees at the Interpretation Center. The backcountry campsites are only accessible in summer (from the end of June to the beginning of September), but there are other activities to discover in fall, winter and spring.
Give yourself enough time (3 to 5 days) to hike the entire trail (about 25 km round trip) past Grizzly Lake to Divide Lake (difficult, with some very challenging sections), and then to Talus Lake (relatively easy final section). All the hikers I met kept telling me that Talus Lake was by far the most beautiful of the three lakes and the best campsite. Apparently, the scenery is stunning. I'm planning to come back to the Yukon to finish the trail and see Talus Lake with my own eyes!
I had been in the Yukon Territory for over a month already. I was starting to know Whitehorse and the surrounding area very well. I had completed many short hikes in the area and I almost felt at home. The time had come to leave this new comfort zone and go explore the rest of the territory!
I was lucky enough to have a car and I was planning to make full use of it. And here I was, driving to Dawson City on a whim on this beautiful Sunday morning.
Located 530 km northwest of Whitehorse, the "City of Dawson"—its official name– is quite famous in the Yukon. This boom town peaked during the 19th-century Klondike gold rush. In 1896, Dawson experienced an unprecedented influx of visitors and the population increased a hundredfold for three years with the massive arrival of young gold-diggers hoping to strike it rich.
Today, Dawson is a small town with a population of just over a thousand but it's still a lovely place to visit. As you walk down the main street, you get the weird feeling that (almost) nothing has changed since the gold rush era. Every block has a story to tell and the locals, proud to live in this vibrant town, are always happy to share anecdotes.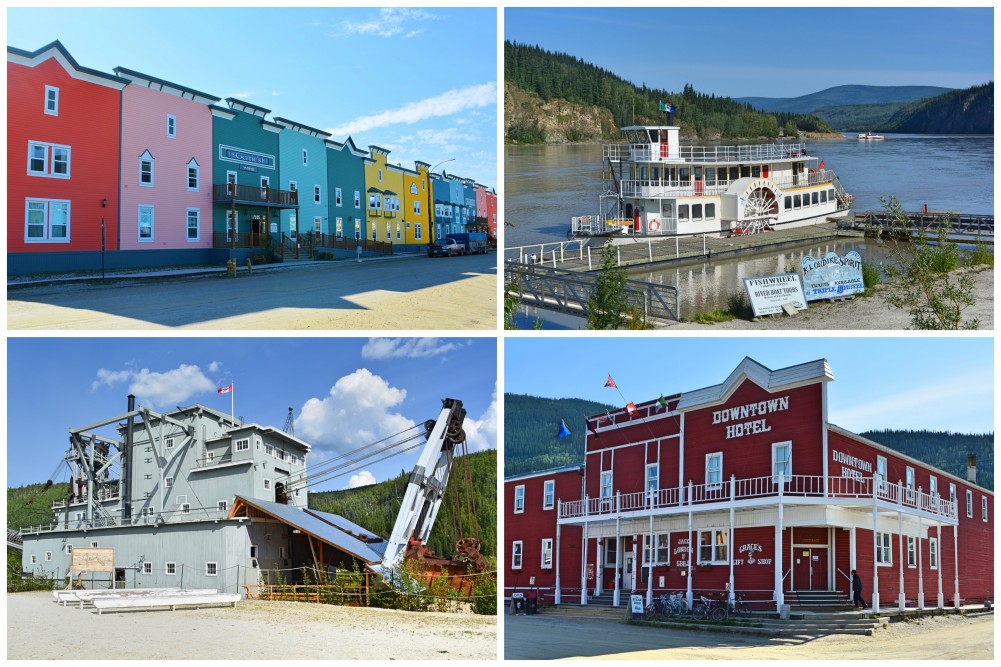 A stay in Dawson is therefore undeniably punctuated with a series of more or less "authentic" tourist activities—a guided tour of the city to discover how people lived in 1898; a cancan show at Diamond Tooth Gerties Dancing Hall for a taste of Gold Rush-era nightlife; a sip of the famous Sourtoe cocktail to become a member of the club founded in 1973 and which has since become an institution; a visit to Jack London's log cabin to better understand The Call of the Wild; a tour of the Dredge No. 4 Historical Site to discover the inner workings of this giant, gold-digging machine; and a ride on the famous "Klondike Spirit" paddlewheeler for a new perspective on the Yukon River. These are just a few of the activities available, making each trip to Dawson a journey through time and an adventure full of surprise and amazement.
So yes, Dawson City can keep you busy. But I didn't drive for seven long hours alone behind the wheel just for museums and bars. It was time to get down to business—obviously, the only purpose of this last-minute road trip was to go hiking!
My goal was to spend a few days exploring Tombstone Territorial Park. It was the middle of the summer, the perfect time to explore a few trails and enjoy backcountry camping.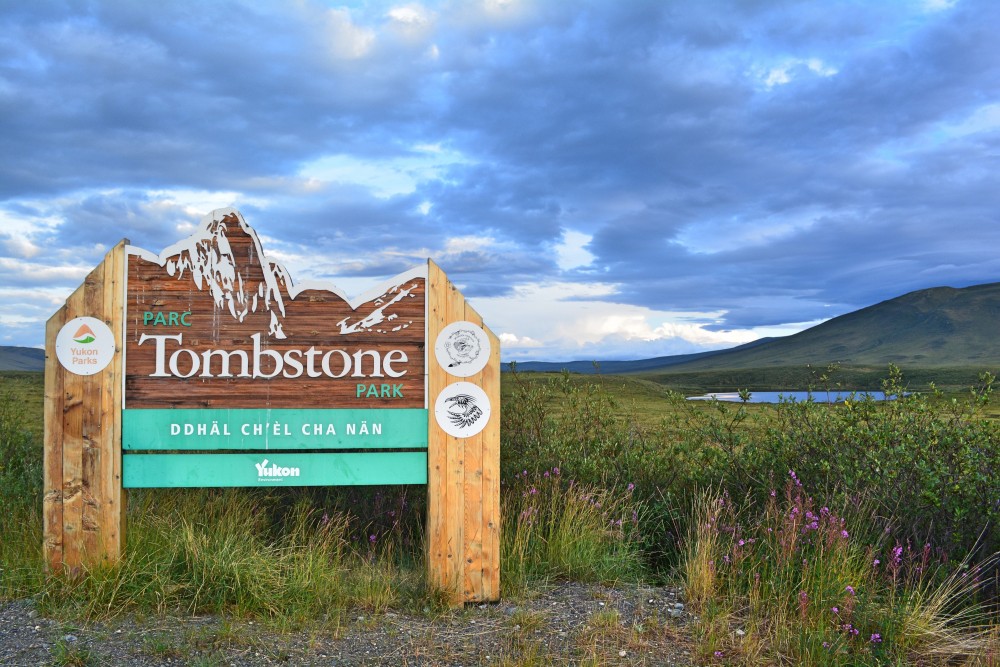 However, I did need a camping permit and since this was a last-minute trip, I didn't have one—bad planning on my part, I know. When I finally arrived at the park's Interpretive Center after a two-hour drive on the Dempster Highway, I found out it had closed just a few minutes earlier. I had to wait until the next day to get my permit and start this new and long-awaited adventure.
I sighed and decided to sleep at the campsite a few hundred metres from the Interpretive Centre. This is when the wind began to pick up, the sky turned dark and it started to rain. I told myself that considering the weather, calling it a night and getting some sleep was the best possible option. At least, I would start the hike the next morning well-rested. I set up my alarm early to go to the Interpretive Centre first thing in the morning, get my camping permit, and start my hike without rushing. 
Easier said than done. I couldn't drive the stakes into the ground because it was very, very hard. Mind you, I couldn't pitch my tent properly either because of strong wind gusts. I eventually gave up and opted for a backup plan—sleeping in the car! Unfortunately, I was lent a Ford Focus, not a van or an SUV. I tried to find the best position to stretch my legs without much success. Oh well, it was only for one night, I just toughed it out.
I woke up at dawn the next morning. In fact, I can't really say I "woke up" because I don't think I actually got any sleep… I chose to believe that "it is the early bird that catches the worm"—this early morning start gave me the chance to drive an extra stretch of the Dempster Highway to the northern end of the park.
It felt as if I had just stepped into another world. Vast, tundra-like grassy plains dotted with flowering shrubs and grey lakes were stretching in front of me. In the distance, green mountains were covered by what seemed to be a second skin of moss leaving almost no rock visible. And cutting right in the middle, a gravel road that winds tirelessly, like a river, and disappears on the horizon. I watched the sunrise feeling much better about having slept so little, dazzled by so much beauty for my eyes only to see.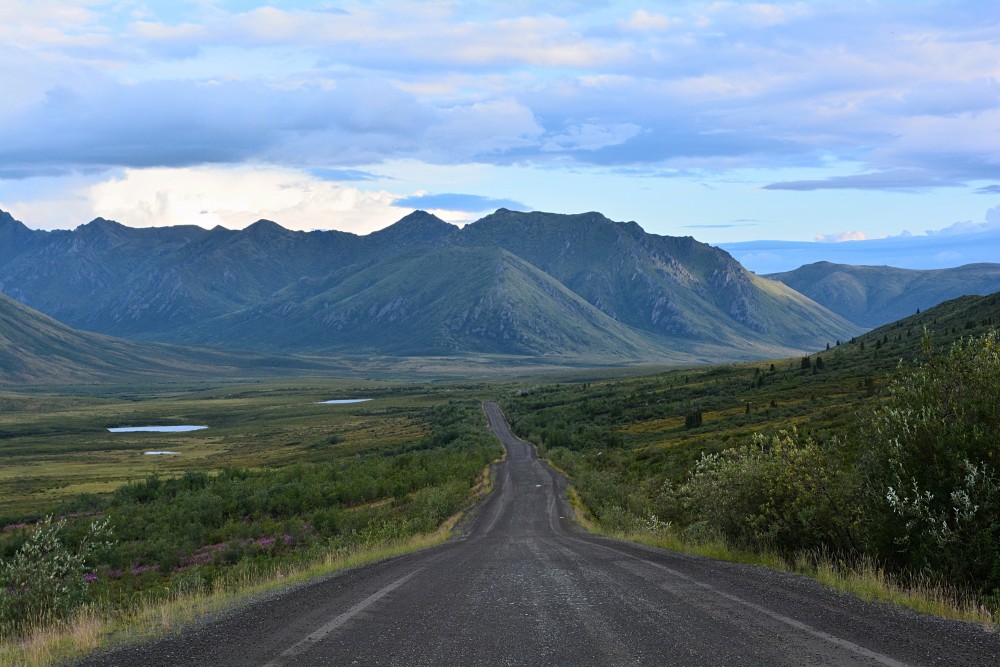 I drove to the Interpretive Centre where five other hikers were already waiting in front of the building. I joined the queue, hoping that we would all get a permit and that I wouldn't have to turn back—only a certain number of permits are issued daily on a first-come, first-serve basis.
Fortunately, a Yukon Parks employee arrived and welcomed us with a wide smile. He immediately confirmed that we would all get a precious permit. This mandatory step was followed by a long presentation of the trail, a reminder of the safety rules and Q and A session on the specificities of Tombstone Territorial Park. We were all ready to start the hike. Well… almost, the starting point was still another 20-minute drive away! 
The first part of the trail was nice but not spectacular. It cuts through the forest with a gradual elevation gain. By the way, there's a reason why the trail is named Grizzly Lake Trail—there are tons of brown bears around! It's important to make noise when hiking to let bears know you're coming. I was singing to myself and I also had a bell on my backpack jingling with every one of my steps. I crossed paths with a few hikers, already on the way back. They only went up to the first viewpoint just a little bit higher, above the treetops, where you can gaze at the vastness of the Yukon Territory. "Larger than life" is the Yukon's motto, and it lives up to it.
It starts to get interesting as soon you're past the forest. This is when, suddenly, the scenery makes you lose all bearing and track of reality. I realized that I was just a tiny ant roaming around the globe when I found myself alone in this landscape that seemed to stretch endlessly in front of me. What a wonderful feeling it was to imagine I was alone in the world for a few seconds…!
I met very few hikers at this section of the trail. Not exactly surprising considering that there are only ten camping spots available at each lake. This is not a social adventure and I appreciated that—I wasn't looking for crowds.
That said, countless groundhogs were roaming across the plain, playing hide and seek in rocks. I saw groundhogs of all sizes, of all kinds of ground squirrels—it felt like a rodent parade. Most of them were running away as soon as they became aware of human presence, but others were taking advantage of the mild weather and basking in the sunshine without paying me the slightest attention. Makes sense, I would do the same!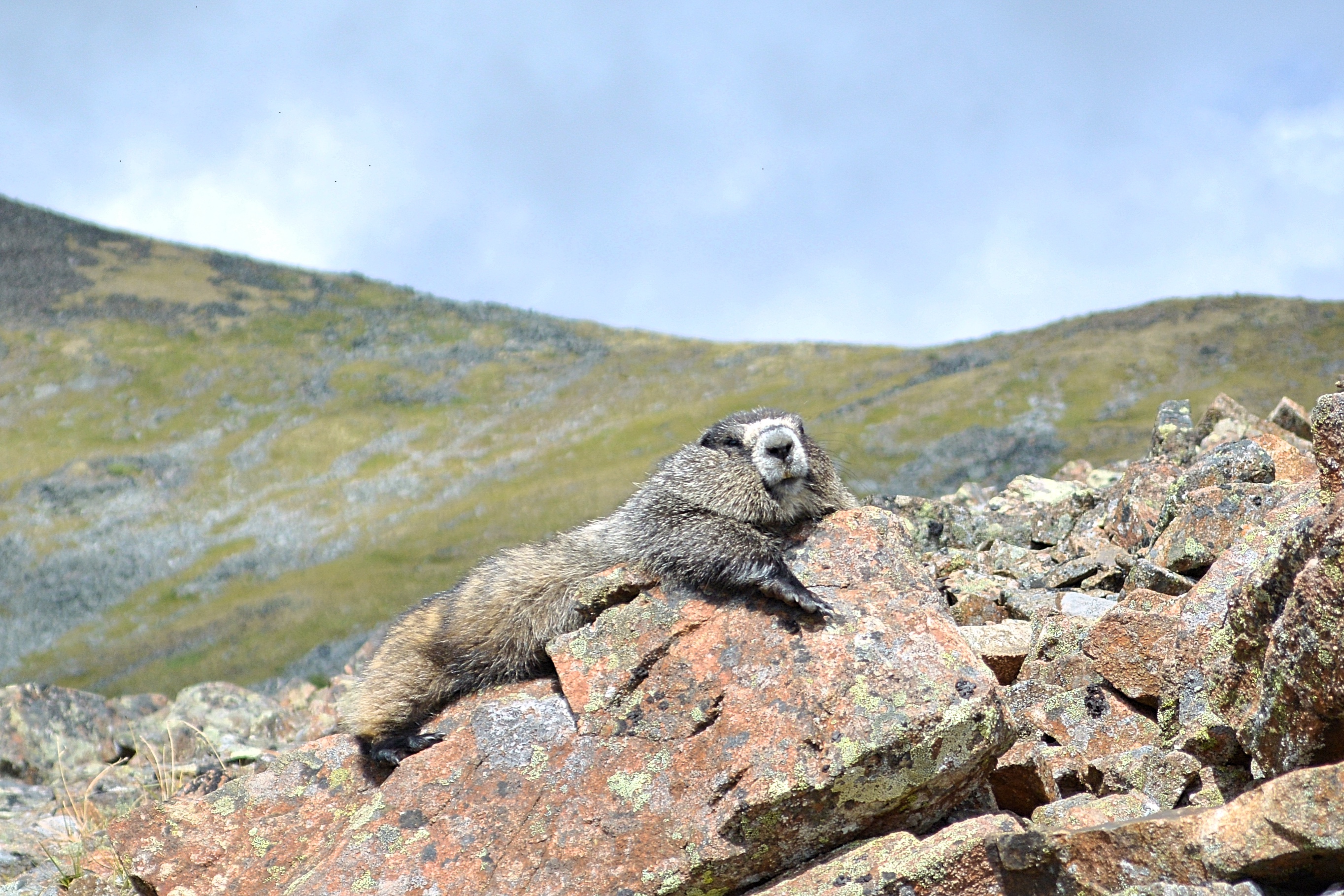 Sadly, I'm not a groundhog and I was on a tough hike—no dolce vita lazing about on a rock for me. I had reached the difficult part of the hike with plenty of fallen boulders. I had to step over rocks, negotiate talus slopes, follow the narrow mountainside trail and keep on climbing. It was exhausting.
But then I caught a glimpse of Mount Monolith and Grizzly Lake.
The scenery was beyond postcard-perfect. It was also different from anything I had seen so far. I found the shape of the mountains particularly amazing—straight jagged peaks and a smooth base polished by the winds and probably numerous rainfalls. The blue sky was reflecting on the surface of the small alpine lake, a natural mirror revealing the beauty of the surrounding landscapes.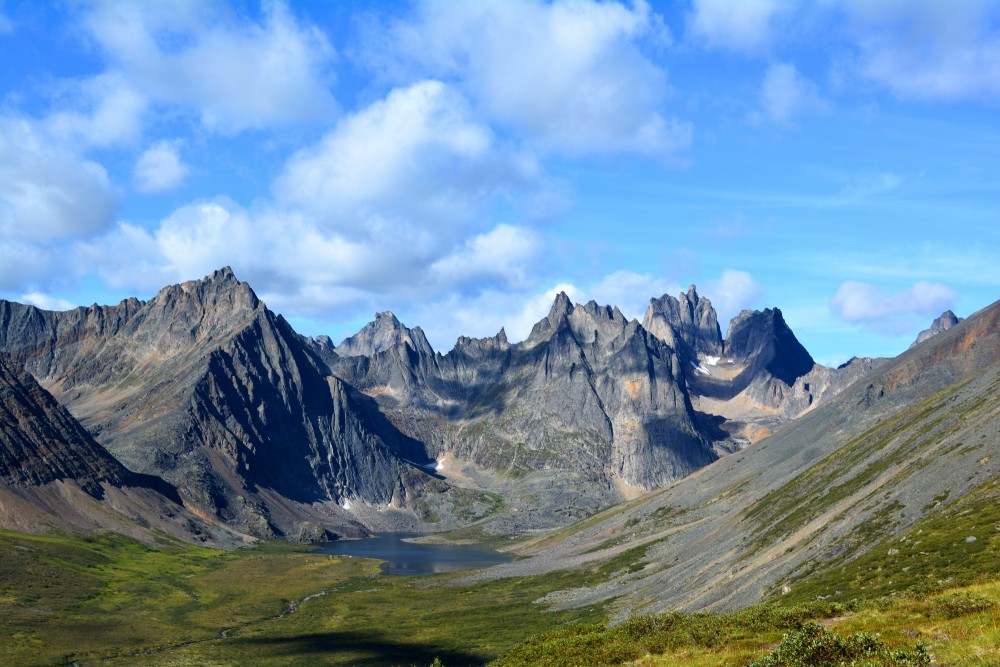 I was in awe. I couldn't keep my eyes off the scenery, just as well because the lake was still a long walk away. I would have to hike for a few more hours before taking a deserved break.
And then the trail started dropping down. It was hard on my knees. But the lake in front of me didn't seem to get any closer. Damn horizon! It seemed like I was walking toward a mirage. I started wondering if I would ever reach Grizzly Lake.
I felt like I had been walking for hours. Well, I had, actually, for seven hours. Seven hours is a long time, especially when the goal seems unreachable. Every step should have brought me a bit closer but I felt held back. Suddenly, I heard bursts of laughter and I snapped back to reality. It was a group of five hikers going in the opposite direction. They were coming back from the lake. So it was not a mirage and I wasn't too far from it!
After interminable hours of walking, the last hour spent getting desperate and disillusioned, I finally completed this section of the trail! I was so excited! The camping spot was simply perfect. It was at the edge of the lake, super close to the water, surrounded by these rocky giants, with a breathtaking view of the valley behind us.
It was also a perfect evening. My tent neighbours and I gathered around a makeshift feast. We shared travel anecdotes, hike stories and other wild adventures to relax and laugh before going to bed.
I took the same trail back to my starting point the next morning. I didn't have the time to explore the park further. But on my way back I was already planning my next Yukon hike—I was in love with the territory and I knew leaving would be hard.