Your Working Holiday adventure in Canada is your chance to discover a huge country made for exploring. Vibrant cities, fascinating wilderness, unique outdoor activities and very Instragram-worthy fauna are waiting for you.
So, where to start and what to put on your bucket list?
We have a few suggestions!
Enjoy an outdoor spa in a snowy forest
Yes, the keyword is "outdoor" for the true Canadian experience. You'll find plenty of spas all over the country, most of them located relatively close to cities despite the "into the wild" vibe—granted, you never have to drive far in Canada to find a forest… 
Spas usually offer a thermal bath circuit with several outdoor baths ranging from cold to a balmy 39 °C. Alternate with a cold plunge for an invigorating experience and relax in hot water to watch snowflakes dancing in the wind. Don't forget your hat if it's really cold (yes, the hat-bathing suit combo is part of your Canadian spa experience!). 
Budget: From $50 (plus tax) to soak your tired muscles in a bath, more for add-on treatments (massage therapy, etc.).
Gear up and paddle your heart out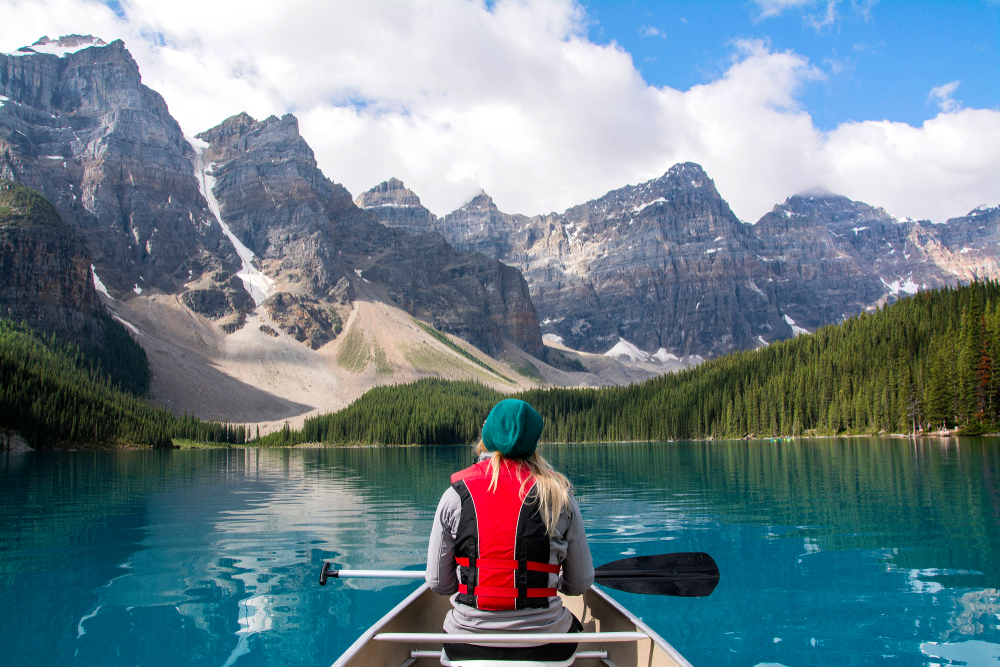 Canoeing or kayaking is so popular in some parts of Canada that a boat is an essential hiking accessory. In fact, keep an eye on parking lots—a sure sign summer is coming in Canada is the number of canoes strapped to the roof of SUVs. 
The most adventurous (and fittest) travellers can join a multi-day trip that mixes hiking and canoeing. This is the chance to discover remote places and true Canadian wilderness. But since we all have to start somewhere, you can also drive to a lake and rent a canoe for a few hours, it's a popular weekend activity in cottage country. 
Kayaking offers a range of sea-based adventures along the coast (unless you'd rather venture on the St. Lawrence River!). It can be a rather challenging activity depending on water conditions, but it's a great way to get up close to marine life.
Budget: Depending on the location, usually $15/hour (plus tax) and better deals if you're renting for a day (from $30/day).
Rent a cottage for a long weekend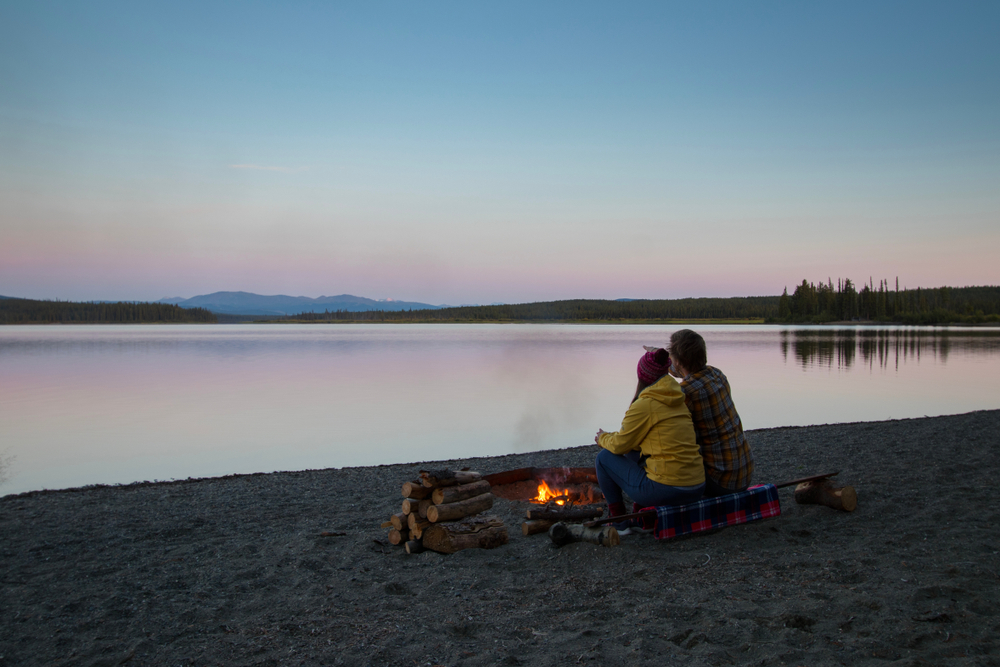 "Cottage life" is a thing in Canada, but no two cottages are alike. The fancy version is basically a fully equipped house, while the most basic ones have … ahem, "green" toilets.
Lakeside cottages are highly sought after because they offer both summer and winter activities—canoeing, swimming, ice skating, skidoo, cross-country hiking, etc. 
A perfect Canadian cottage weekend includes an epic BBQ meal and campfire s'mores in summer or cozy evenings sipping hot chocolate by the fire in winter. 
No need to invest in the Canadian real estate market to enjoy a cottage weekend, you'll find plenty of rentals on Airbnb and other specialized websites. Split the cost between a few friends if you find a big cottage. If not, camping is always an option (and a Canadian experience in itself!).
Budget: Varies greatly depending on amenities, location and season. The closer you are to cities and main tourist destinations (such as provincial or national parks), the more expensive they get. Browse Airbnb, Kijiji, Craigslist and similar websites for rentals and compare prices.
Test your ice fishing skills
Ever tried catching fish through an opening in the ice? Here is your chance, there's no shortage of frozen lakes in Canada! 
Ice fishing is part of First Nations culture and identity but it's an activity plenty of non-indigenous Canadians enjoy as well. Don't start drilling a hole into the first frozen lake you see unless you know what you're doing—ice has to be thick enough to support a person, so usually four inches thick. 
Budget: It depends on whether you're fishing in the open or in heated enclosures, with a guide or alone, etc. Hut rental for half a day usually starts at $100 for four people.
Speed through snow on a dog sled or snowmobile adventure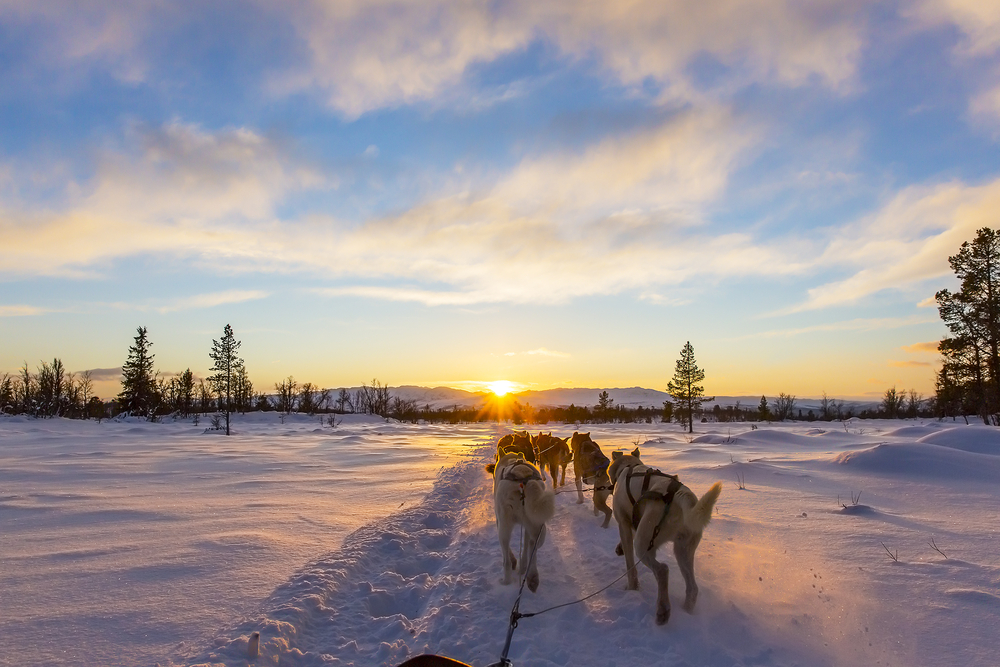 Dog sledding is on many people's bucket list—and for good reason, it's an exciting activity led by a team of lovely four-legged creatures through a winter wonderland. Pick your tour company carefully, a few are occasionally under fire for animal welfare concerns. 
A snowmobile adventure on trail is also guaranteed to give you goosebumps and make you love winter.
Budget: Dog sledding starts at $100 (plus tax) for a 30-minute ride. The total experience usually takes 90 minutes to two hours with a tour of the facilities, the dog team meet-and-greet, dog sledding 101 instructions and sometimes a hot drink and snack after the ride. You can also choose a more expensive but very rewarding multi-day adventure. A snowmobile adventure starts around $150/hour. You can get a better value with half-day and full-day packages. 
Hit the slopes and trails
Canada is a treat for winter sports addicts. You'll find plenty of snowshoe and cross-country trails around the country, including in city parks. Soon, you'll be looking forward to the next snowstorm as well!
Despite all that snow, downhill skiing remains a relatively pricey activity. There are plenty of ski resorts in the Rockies and quite a few in Quebec and Ontario as well, but passes aren't particularly cheap (unless you're working at a resort!).
Budget: For snowshoeing and cross-country skiing you'll need proper equipment (easy to rent in Canada) and pay the entry fee if your playground is a provincial or national park. 
Get high on maple syrup at a sugar shack
Let's be honest, "spring"—or rather what should be spring—isn't the best season in Canada. It feels like it's been winter for years, sidewalks are slushy, trees are still bare, and the rest of the Northern hemisphere is reopening patios while you're dealing with yet another snowstorm. 
Feeling low? Time to hit a sugar shack. In Quebec, New Brunswick and Ontario, the sugary sap from the trees is extracted between February and April to produce delicious maple syrup you will soon add to your breakfast pancakes. Visiting a sugar shack is a chance to learn more about maple syrup production, touring a farm, and mostly to enjoy a hearty maple-soaked meal in a rustic atmosphere. 
You'll find sugar shacks of all sizes offering various activities in these three provinces. Call ahead and book your spot!
Budget: From $20 per person (plus tax and tip) for a traditional weekend meal.
Take a boat tour to meet marine life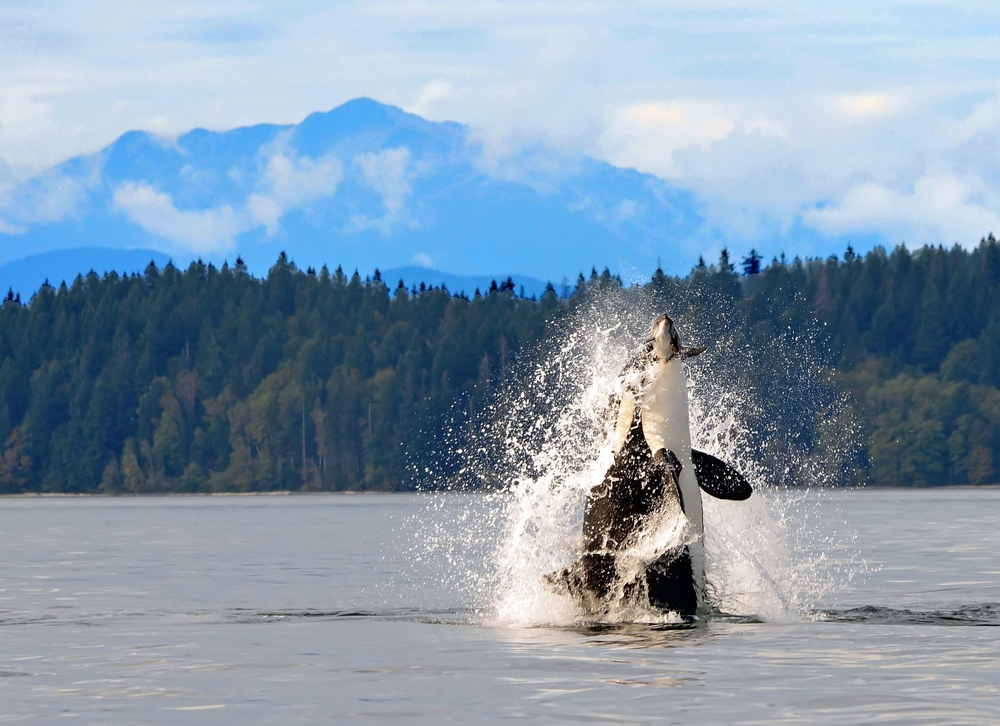 Get to know Canada's marine life from a kayak or a larger vessel with an observation deck! British Columbia and the Maritimes offer plenty of whale-watching cruise opportunities (you could even spot killer whales in BC!). In Quebec, you could see beluga and blue whales swimming in the St. Lawrence River. 
The best season for wildlife watching is June to May. Pick your tour company carefully to make sure responsible practices are followed.
Budget: From $80 (plus tax) but it varies greatly depending on the experience—private cruise, guide, boat category, etc. Check out group and family rates for a better deal. 
Get to know Canada's fauna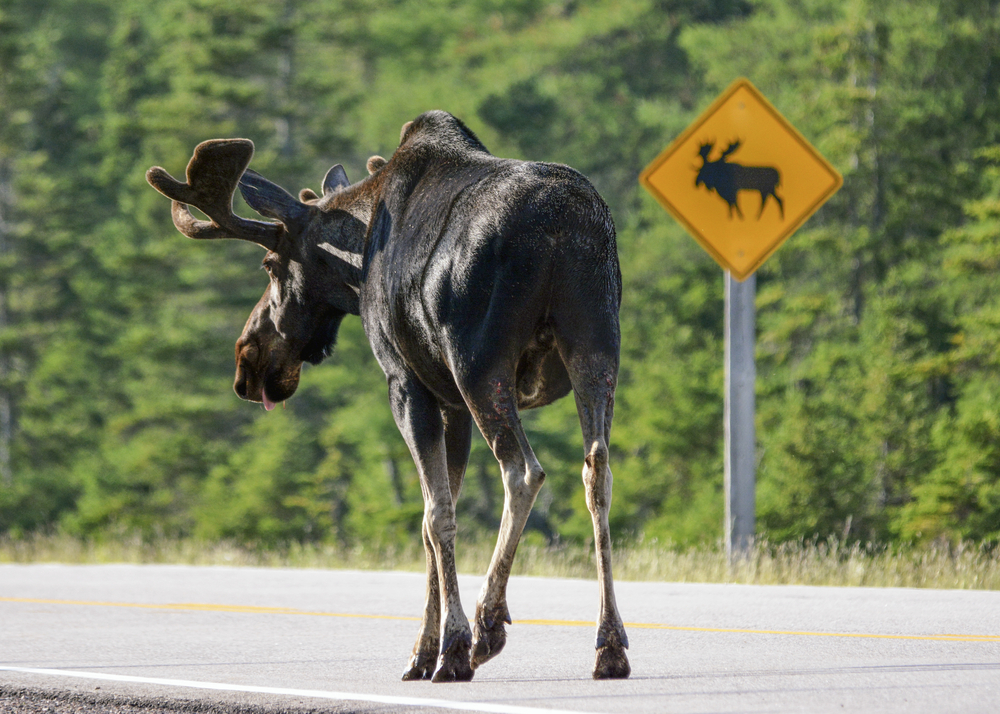 You will meet squirrels, rabbits, skunks and raccoons pretty quickly in most big cities (especially on garbage pickup day!). But your chances of seeing bigger animals increase as soon as you leave civilization behind, which isn't terribly hard in Canada. Keep your eyes wide open for beavers (especially if you're a morning person and you know where to find them), bears (beware and be prepared!) and maybe moose if you're lucky.
No luck? Head to a wildlife reserve where Canada's most famous animals roam around freely.
Take an epic road trip on a scenic drive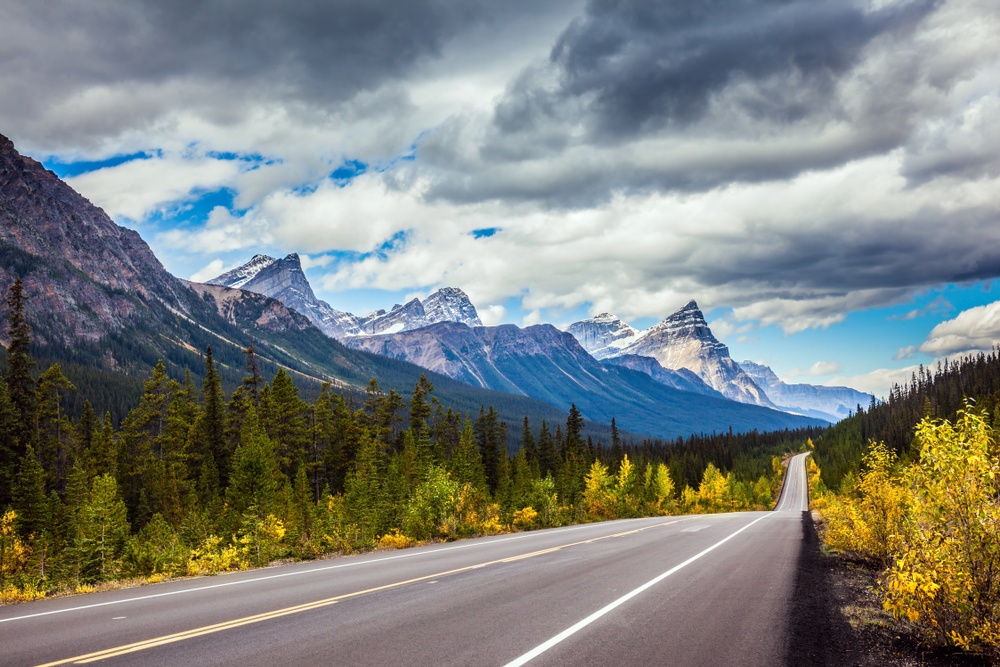 For better or for worse, Canada is made for driving. There are dozens of world-famous scenic drives to discover, from the remote and challenging Dempster Highway in Yukon to the Cabot Trail loop that takes you through the Cape Breton Highlands in Nova Scotia. You can even plan a classic cross-country trip from East to West or from West to East to fully appreciate what Canada has to offer!
Discover Eastern Canada's fall rhapsody
Most of Eastern Canada has a period of "Indian summer" in late fall, when the weather is unusually dry and warm. Not only is it an enjoyable mini-season before gearing up for winter, but trees turn red, orange and yellow, and the scenery is gorgeous. 
Only Mother Nature knows the exact moment when magic happens, so it's hard to plan ahead. There are different fall colour progression reports online—usually from major national and provincial parks—you can use to figure out when and where fall foliage is peaking. 
Budget: Free! You can enjoy fall colours wherever there are trees and forests, so even city parks are an option. 
Stick your fork into a big bowl of poutine
Quick, name Canada's most famous dish—it's poutine, of course! 
"La poutine" was created in the 1950s in Quebec but you can find it pretty much anywhere in Canada. Picture crispy fries smothered in gravy and topped with cheese curds and you have the perfect dish to help you recover from a boozy night or a long hike in winter wonderland. Try this cheap, hearty and comforting alternative to fast-food French fries!
Hunt for the mystical Northern Lights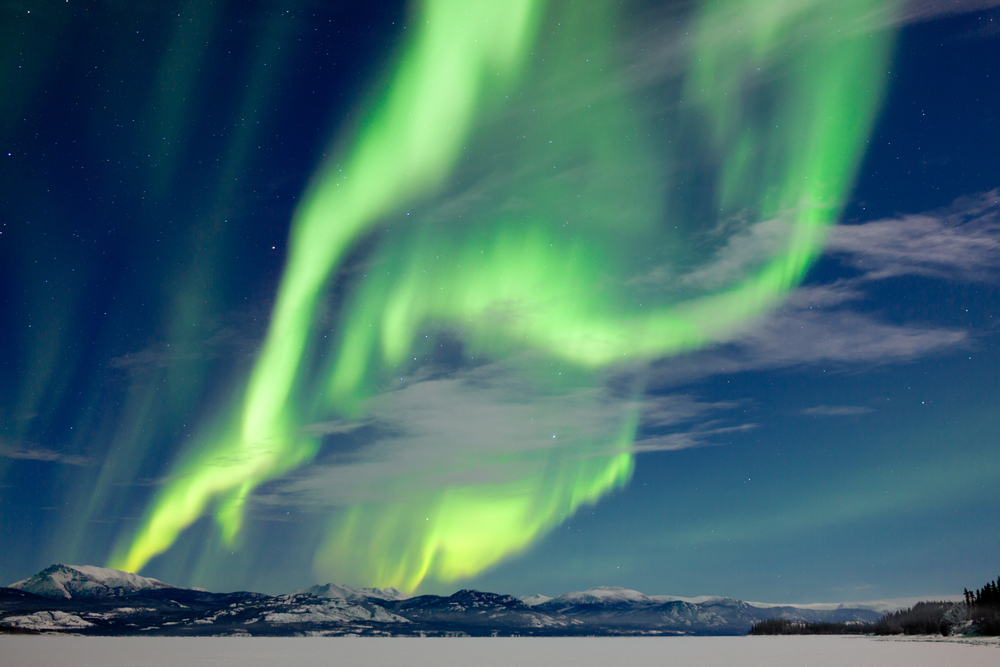 Don't expect to spot Northern Lights in Toronto or Vancouver—not only is the sky not dark enough, but the aurora zone also starts above the 60-degree north parallel. This natural phenomenon is best viewed from September to April in Yukon, the Northwest Territories, and in the northernmost regions of Quebec, Ontario, Manitoba or Alberta. 
To see the night sky painted with unearthly, surreal colours will take planning, luck and possibly a decent budget.
Budget: Free if you're backpacking in Canada's northernmost regions—but most travellers will have to join a northern lights tour and they don't come cheap.
Learn to skate and play hockey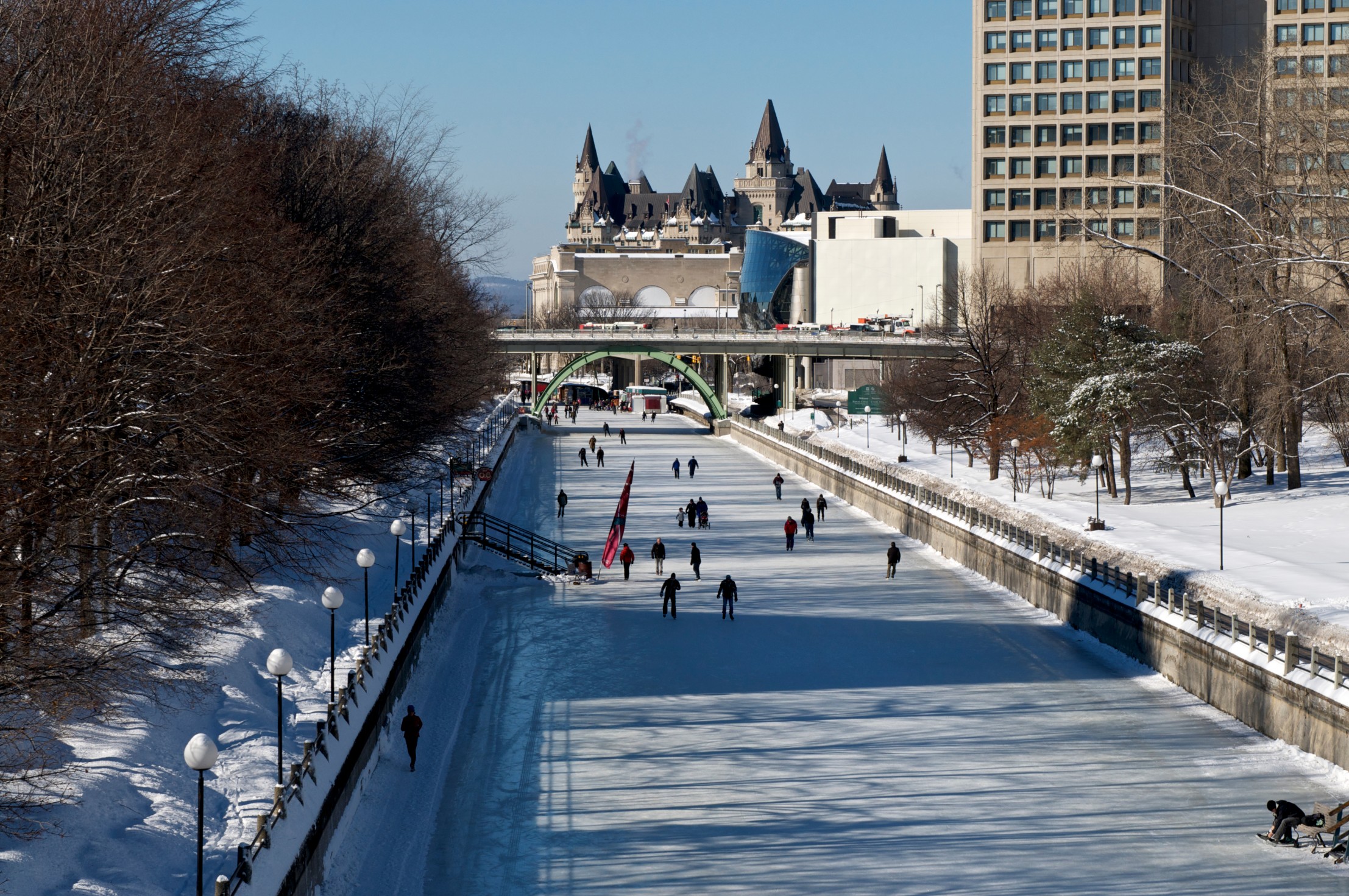 Ice skating is Canada's favourite winter activity! You'll find plenty of free outdoor city rinks in winter, plus the world's largest skating rink in Ottawa on the historic Rideau Canal. Buy or rent skates and test your balance and agility before getting into hockey or curling. 
Budget: Buy your own pair of skates or rent them for about $10.
Explore the Canadian microbrewery scene
British Columbia and the Niagara Region produce decent wine, but most Canadians tend to drink beer. There's a thriving craft brewery scene with over 1,000 small companies all over the country, including one in Nunavut. Join one of the many craft beer tours and enjoy! There are low-alcohol and non-alcoholic options as well.
Don't forget to check out what to do in Canada in summer and winter for more inspiration.
Have fun!