What can epitomize winter in Canada better than a fun dog sledding experience?
I was dreading cold Canadian winters, but after discovering the joy of skiing, ice skating, sledding, snowy hikes and now dog sledding, I'm this close to wishing that winter lasts longer! Canada is still fun during the coldest months.
My dog sledding experience was a Christmas gift to my partner and me from our relatives. We had no idea what to expect until D-Day. To be honest, we were a bit scared because we're not exactly dog sledding pros, and we had heard that some companies are under fire for animal welfare concerns. But don't worry, read on—we had a great experience and the company our relatives picked truly loved their dogs!
Warm welcome and dog sledding 101
The tour company was located an hour's drive north of Montreal. We received a warm welcome and we joined other dog sledding newbies around a cozy bonfire which made waiting outside comfortable enough despite a temperature of – 15⁰C that day.
A 4WD picked us up and drove us higher up the mountain, where the dogs were waiting for us.
But first, the guide gave us a quick "driving lesson." It was a supervised self-driven experience, so one of us was going to sit in the sled and enjoy the ride while the other would be the musher, standing on runners at the back of the sled.
We learned to lean when turning to balance the sled and we were shown the brake to keep the sled from overtaking the dogs on a downhill. Going uphill, the musher has to get off the sled to push it and help the dogs—phew, what a relief, dogs wouldn't have to suffer! We also noticed the dogs were in great shape and we learned that it's a healthy activity for them. We were super motivated to help them the best we could throughout the experience!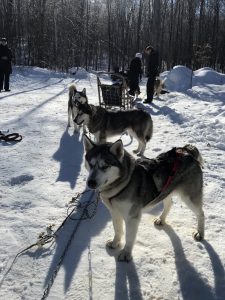 Meeting the sled dogs
Each sled is pulled by five amazing dogs. Before leaving, our guide introduced them to us one by one. I think we were the luckiest team, the one blessed with the most affectionate and the softest fur of the 110 sled dogs of the centre.
As I said, dogs work in teams of five. We were told that the musher is considered the sixth dog because we have to help our furry buddies the best we can and make their job easier.
Snowmobiles followed us during the trip to ensure a smooth ride and coach us with the dogs if needed.
And off we went!
An exhilarating experience
It was very cold but sunny! The scenery was gorgeous. We cut through a forest and ended up on a frozen lake covered with a thin layer of snow. I wasn't exactly confident in my mushing skills but I did okay. We took several breaks during the tour to let the dogs rest and switch musher and passenger roles. 
Do you know how the dogs stay hydrated? They eat snow!
I thought it was going to be a relaxing ride through a winter wonderland but it turned out to be a physically demanding, adrenaline-filled adventure—it takes energy to lead, brake, bend and push the sled uphill to help the dogs. It's actually a lot of fun to fully participate in the activity. I enjoyed every minute of it and I felt lucky for the opportunity.
We drove back and thanked the dog one by one. Petting time, yay! Our guide gave us treats for our trusted four-legged partners—they deserved it!
If you ever get the chance to try dog sledding, jump on the opportunity and make memories. Just make sure to read reviews and find a tour company that keeps dogs happy and healthy.