pvtistes
:
Hi Stéphanie! Can you tell us a bit more about yourself? 
pvtistes
:
Why did you pick Canada as your new Working Holiday destination?
Stéphanie
:
It's a bit of a long story! I lived in Finland and Sweden for a while, then I tried to apply for a Working Holiday permit to Canada but my profile wasn't drawn from the pool of candidates. So instead, I went to Chile, then to New Zealand, and I eventually ended up in Australia—with a Working Holiday permit for each. I was considering Argentina next when borders started closing because of the pandemic. 
Canada reopened the Working Holiday program on March 1, 2021. For this specific season, candidates had to provide proof of a valid job offer to receive an invitation to apply. I found a job in Tadoussac, Quebec, got my Working Holiday permit, and I spent my first summer in Quebec. Then I drove across the country to Banff, Alberta, where I'm currently working.
pvtistes
:
How did you find your ski resort job, and what are you doing, exactly?
Stéphanie
:
I browsed Western Canada ski resort websites for "help wanted" ads and leaned on my network. I applied for jobs at several resorts, and I eventually accepted a position at Sunshine Village in Banff, because I had heard the scenery was absolutely gorgeous.
I work at the ski resort's hotel. I'm a houseperson, which means that I am in charge of housekeeping in common areas of the hotel, dealing with customer requests, and preparing and receiving linens (sheets, towels, etc.) and the various necessary cleaning supplies.
My job comes with a few perks. First off, I get to live right in the middle of the Canadian Rockies. The work shifts (morning, day or evening) plus days off offer me enough time off to go skiing or just take a break. I get a free ski pass and various discounts at the resort and in Banff, plus passes and discounts at other ski resorts in the area, as well as discounts on winter sports and outdoor equipment brands.
But there are downsides as well. Staff turnover, for instance, with team members quitting or being let go. I'm lucky though, I work with a small, reliable team. The season is seven months long, which is quite long and tiring considering employee turnover/shortage… and the number of tourists has been steadily increasing with COVID restrictions being lifted.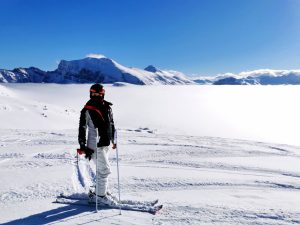 pvtistes
:
Can you tell us more about your daily life at a ski resort?
Stéphanie
:
To get from the base area to the village uphill, we rely on a gondola that runs from 7:30 a.m. to 5:30 p.m. every day, and until 10:30 p.m. on Fridays. That said, I'm not stuck up in the mountains—if the gondola is closed, I can always ask a coworker for a ride. We use vehicles with caterpillars, much like those used for snow grooming.
Since my shifts can start before the gondola opens or end after it's closed, I get to live in "the village," up the mountains. This is one of the reasons I chose to work here. I can go skiing as soon as I have some time off and I'm surrounded by stunning mountain scenery. This is the best part of my job.
There are three different buildings for staff accommodation. I share my room with one of my coworkers from another department. Each building has common areas.
There are small fridges in every room and a big fridge in the staff lounge. There is also a staff restaurant but it's not exactly a perk. Western Canada isn't exactly famous for its amazing food culture and not being able to cook is a bit frustrating at times. But I'm an experienced traveller and I've lived in remote places with few facilities around, so I was mentally prepared for this kind of lifestyle.
pvtistes
:
Have you been able to explore the area?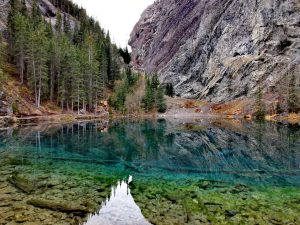 pvtistes
:
Your mother tongue is French. How good was your English before coming to this corner of Canada where English is the dominant language?
Stéphanie
:
My English was already pretty good before coming to Alberta, so I didn't have any major problems. However, I did discover that there are several "dialects" of English—once in a while, I have to "translate" what my Australian coworker says to other Canadian members of the staff because they have some different vocabulary!
pvtistes
:
How do your friends and family back home view your globetrotter lifestyle?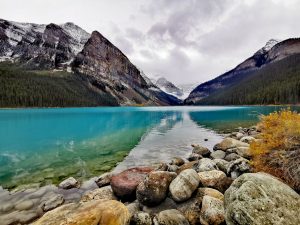 pvtistes
:
What do you like best in Canada? And what don't you like? 
Stéphanie
:
I can't get enough of the awe-inspiring scenery and gorgeous nature all around. Canada's wide-open spaces are just stunning. I don't think I can ever get tired of it.
On the other hand, I'm not a big fan of Canadian food culture—think big portions and zero flavour. It's your typical North American food stereotype, especially in Western Canada. 
pvtistes
:
What's your best travel memory so far in Canada?
Stéphanie
:
It's a tie between my East-to-West road trip across Canada, or my dog sledding experience. Driving across the country was really unique, not only because I love road trips, but also because each province is truly unique—hilly roads and big lakes in Ontario, the flat horizon and hopelessly straight roads in Manitoba and Saskatchewan, and finally the Rockies upon crossing into Alberta.
Dog sledding was awesome because it's amazing to team up with dogs. The event was organized by the ski resort, and my coworkers and I mushed (led) the dogs and sled.
pvtistes
:
What has been your worst Working Holiday experience in Canada so far?
pvtistes
:
Can you tell us a bit more about each of your Working Holiday experiences?
Stéphanie
:
The one that stands out the most is clearly Chile since it was my only Working Holiday permit in Latin America (so far). I've been considering Argentina for a while and it would be my last Working Holiday experience because I'm getting close to the age cutoff. It's also my only Working Holiday permit in Spanish.
My other three Working Holiday permit experiences were in Commonwealth countries so even though they are all unique, there are still cultural similarities.
Let me try to summarize each experience…
Chile, to me, was defined by the Spanish language, South America, lovely locals, pisco, wine and a diversity of landscapes ranging from the desert in the North, to the glaciers in the South, through more Mediterranean climates and the lake region.
New Zealand was life on an island. South and North Island are relatively big yet it was still an insular lifestyle. The highlight of New Zealand for me was also Maori culture since I worked in a school with three bilingual sections—French-English, Maori-English and Samoan-English. I was really immersed in South Pacific culture through all the events organized by the school. It was also differences in the landscapes and climate between the more tropical North Island where people go around barefoot and the mountain scenery on South Island.
Australia is also an island but a very big one! I didn't feel the insularity I experienced in New Zealand. It's a mix of temperate climates in the South and tropical ones in the North, red earth in the centre and incredible beaches and sea beds in the West and life in sandals, except in Tasmania. Even if the government is trying to change things for the better, the aboriginal struggle in the predominantly "white" culture is still very obvious.
And finally, Canada. So far, I've noticed a major difference between Quebec where you can feel a European influence and Alberta where the North American culture is more predominant—big portions and big pickup trucks. It's also a country where you stay in the same place but experience a completely different landscape in summer vs winter.
I also experienced each Working Holiday adventure differently:
I worked in only one location in Chile and travelled around in my free time and before leaving the country.
I had only one employer in New Zealand as well, then took a road trip in a van.
I adopted the backpacker lifestyle in Australia. I was constantly on the road with various travel "mates," using cars, vans, and boats. I was working and volunteering whenever I had the chance.
In Canada, I had to find an employer to be eligible for a Working Holiday permit (because of the pandemic restrictions for the 2021 season). I spent the entire summer working in an amazing location—a beautiful fjord world-famous for whale-watching. Then I drove across the country for my winter job in the Rockies, a very different setting, but just as stunning.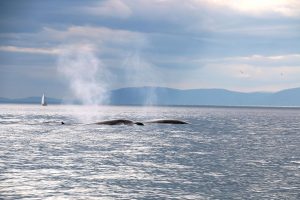 pvtistes
:
What has been your favourite Working Holiday experience so far?
Stéphanie
:
That's a tough question, as I mentioned, each of these countries is very different. Each of these trips happened at different stages of my life as well. I've changed a lot over the years, both in the way I travel and in the way I see life.
Regardless, I absolutely loved Chile. It was my first trip to Latin America and a true immersion in a Spanish-speaking corner of the world—I spoke the language, I spent ten years learning it. It was also my first Working Holiday permit experience, the first time I was away from Europe for a long time and a real culture shock. 
As I said above, it is also an amazing country with diverse landscapes, and bus service is great, you can literally travel across Chile from North to South.
pvtistes
:
Do you have any advice for future Working Holiday permit holders or travellers?
Stéphanie
:
Don't overthink and do what you want to do. Going travelling is scary at first, but it's very rewarding because what you will find along the way is unique. Each experience is different because we're all different. 
So go ahead, give it a shot! Maybe you'll love travelling, maybe you'll hate it, but either way it will be an unforgettable experience that will help you learn more about yourself.
pvtistes
:
Finally, what are your plans for the future?
Stéphanie
:
I have just applied for a position as a trail host at the same resort for this summer. If I'm hired, I would help maintain the resort's many hiking trails and manage hiking activities. 
This is something I like in Canada by the way—each place is completely different in winter and summer, so two experiences for the price of one in this huge country!
The resort was closed for two years because of COVID but apparently, activities can now resume for the summer. So I think this job could be a good opportunity!
I'm also considering a road trip to the Yukon with a coworker who became a friend. I should be able to take some time off between winter and summer. And if I don't get the summer job, I'm planning to travel around Western Canada during summer and fall.