13
Health exams and chest X-rays
Health exams and chest X-rays
Not all WHV applicants have to take a health exam and/or a TB screening test, a HIV test, a Hepatitis B or Hepatitis C test, etc. The need for health examination(s) is determined by your answers during the application process, including your general health, past trips abroad and work plans.
If you do need a medical exam, you'll be notified on your ImmiAccount AFTER submitting your application and no decision regarding your WHV will be made before the exam or test results are received. Consequently, your WHV process can be delayed for several weeks.
You're responsible for arranging the health exam and paying all related fees. You must see a panel physician appointed by the Department of Home Affairs to do health examinations outside Australia at an approved clinic. See how to contact a panel physician by finding the immigration office nearest to you.
If you're abroad, you can go see a local panel physician. You don't have to take the medical exam in your country of citizenship.
Do not book an appointment until explicitly told to do so. You will need a list of the examinations you must have and an identifier called a "HAP ID."
To see if a medical exam is required, log into your ImmiAccount a few days or a few hours after submitting your application. Click on "View details"—you may see "Health examination," if so, click on the link for further instructions. You will get a HAP ID that you will need to arrange your medical appointment.
Health examinations are processed through eMedical, an electronic system which removes the need for paper-based examination reports. To access your eMedical account, you need to enter your HAP ID, name and birth date.
You will have to answer a number of questions regarding your medical history:
Have you ever been diagnosed with, or had to take treatment for, Tuberculosis (TB)?
Have you ever been in close contact at home with a person known to have Tuberculosis (TB)?
Have you ever been admitted to hospital and/or received medical treatment for an extended period for any reason (including for a major operation or treatment of a psychiatric illness)?
Do you suffer, or have you ever suffered, from mental health problems?
Have you ever been told you are HIV positive?
Do you have, or have you ever had, hepatitis, problems with your liver or yellowing of the skin?
Do you have, or have you had, cancer in the last 5 years?
Do you have high blood sugar/diabetes?
Do you have heart problems, including high blood pressure or a heart condition that you were born with?
Do you have a blood condition?
Do you have bladder or kidney problems?
Do you have a physical or intellectual disability that makes it difficult for you to function (for example, to move around or learn) or work full-time?
Do you need to take drugs or drink alcohol regularly?
Please list any prescribed pills or medications (excluding oral contraceptives, over-the-counter medication and natural supplements) you are taking.
For female applicants – Are you pregnant?
Once you answer all the questions in eMedical, you will be able to download a two-page PDF document and a Referral letter. Print all documents.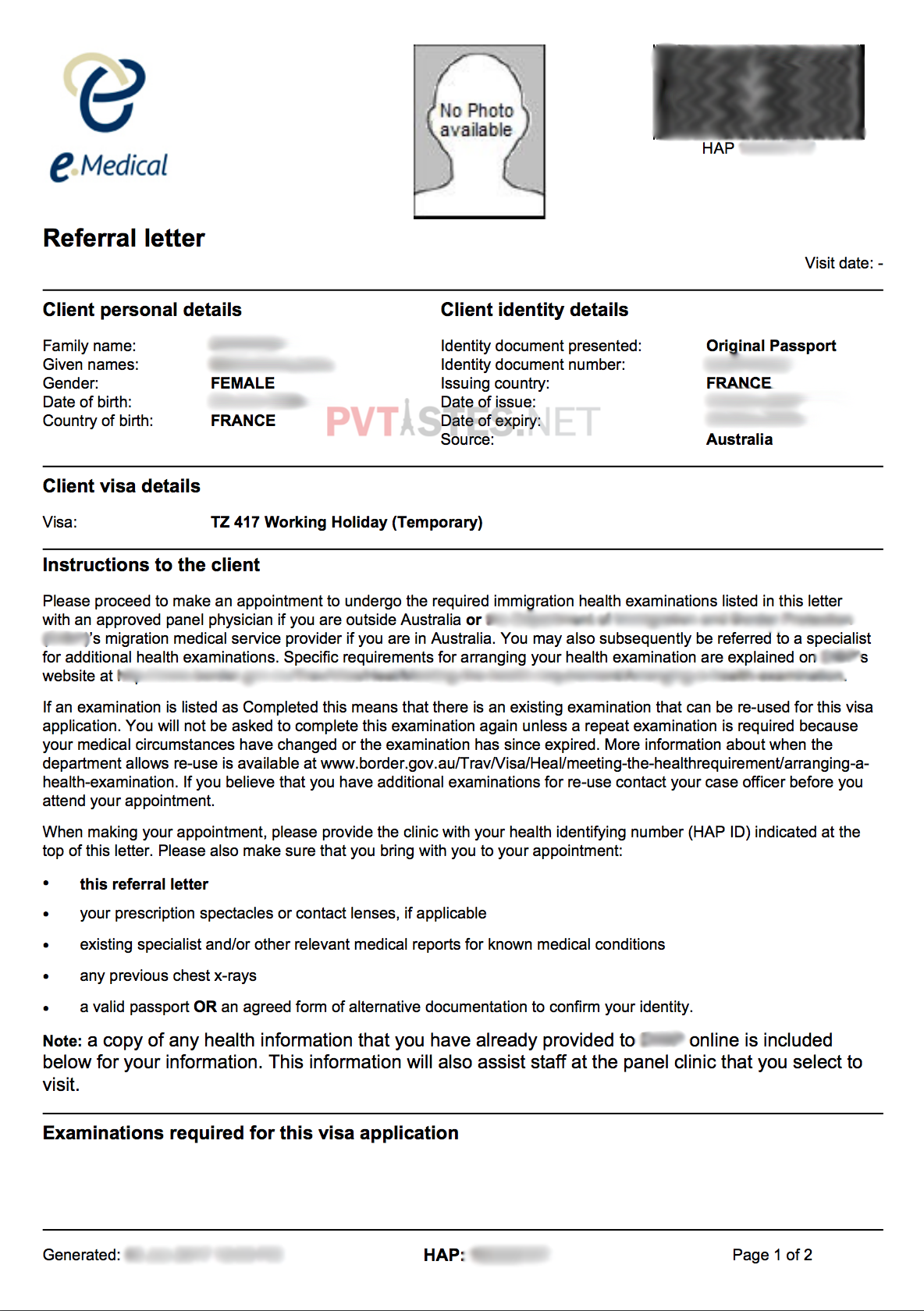 Book your appointment with a panel physician and don't forget to bring the two-page referral letter. If you have a medical condition, it's recommended to take reports from your usual specialist or physician.
The exam may feel like a comprehensive physical exam (height and weight, blood pressure, eye exam, urinalysis, blood test, etc.). You may also have to take a chest X-ray.
The panel physician will not tell you whether they think you meet the health requirement–the results and recommendation will be submitted directly to the Department of Home Affairs for assessment. Now you just have to wait! If you don't get your eVisa by email, read section 9 for two alternative options to check the status of your application.
Note that your WHV processing time will be longer (add 2 or 3 weeks, at least) than for applicants who don't have to take a medical exam.