Creating your ImmiAccount and starting the WHV application process
Creating your ImmiAccount
Go to Homeaffairs.gov.au and find the Working Holiday Visa (Subclass 417) page, then click on the blue "Apply" button.
On the next page, click on "Create an ImmiAccount."
OR
Click this direct link to the Create an ImmiAccount page.
If you didn't pay attention to the tips above, you'll get the following error messages.

Click on the screenshots to enlarge them!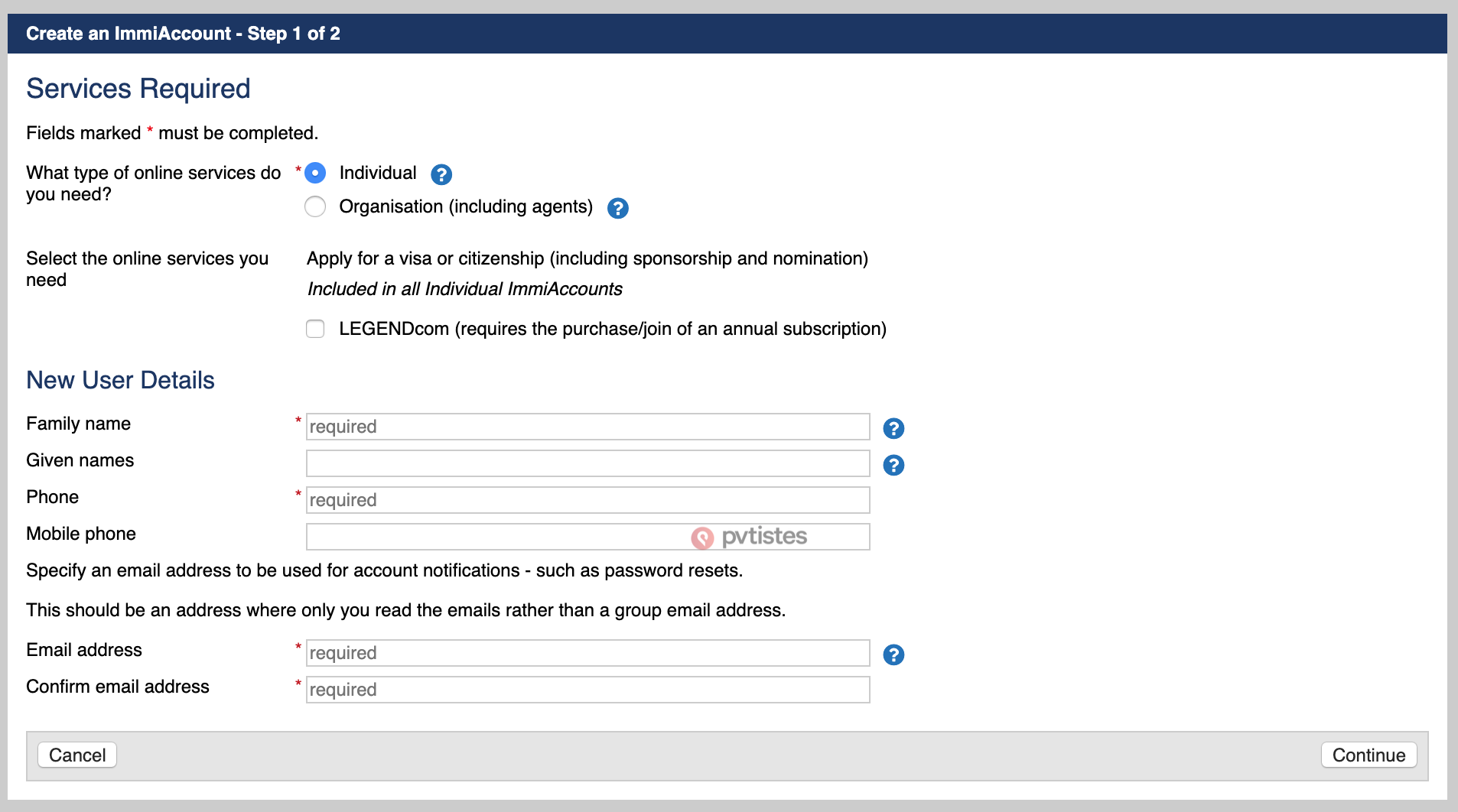 For the first question, select "Individual," since you're submitting an application for yourself.
Don't bother ticking the "LEGENDcom" box, it doesn't apply here.
Next, you enter your personal information:
Family name — If you have a hyphenated name, type both.
Given names—Type your middle name as well, if applicable. Don't use commas.
Phone — Your phone number.
Email address—Make sure it's an address you use and check often! Enter your address a second time below to confirm.
When you're done, click the "Continue" button at the bottom right corner of the page.
Username
By default, your username will be your email address, but you can also choose any username you like. However, we recommend you use the default option—it's easier to remember an email address you use than yet another cute but random username.
Password
Make sure it meets the security requirements—at least one uppercase, lowercase, number or special character—otherwise you'll get an error message. Write it down somewhere… and not on a loose piece of paper you'll lose!
Three secret questions and answers
The key is to come up with easy questions and answers you won't forget while avoiding super obvious info someone could guess easily to hack your account.
You can choose suggested questions from the drop-down menu or write your own questions, for example the name of a sibling or a pet or a significant place. The answer doesn't have to be in English but remember you can't use special characters (e.g. é, ê, ç, etc.).
Take a few minutes to pick the best questions and answers, you may need them to recover a forgotten password… and since this is not an account you will log into often after you get your WHV, it's easy to forget your password!
Security alerts
As an extra layer of security, you can choose to receive an email if:
Your name is changed
You or someone else logs into the account
The password is changed
Read (… or at least skim through!) the ImmiAccount terms and conditions and tick the box to acknowledge them. You may also have to tick the "I am not a robot" box.
Finally, click on "Submit ."
Congrats, you now have your very own ImmiAccount! You can start the WHV application process.
Shortly after creating your account, you will receive an email from the Department of Home Affairs ([email protected]). Simply click on the link to confirm your email address. You have 28 days to finalize this step.
Starting the WHV application process
If you're ready to proceed with your application, click on "Continue." You will be directed to your ImmiAccount homepage.
If you'd rather wait to start the application process, keep this direct link to ImmiAccount handy. Whenever you're ready to proceed with your application, click on the link, enter your username and password, then click "Continue."
Click "New application," then "Work & Holiday." Select "Working Holiday Visa (417)."
You will be directed to the first page of the application process.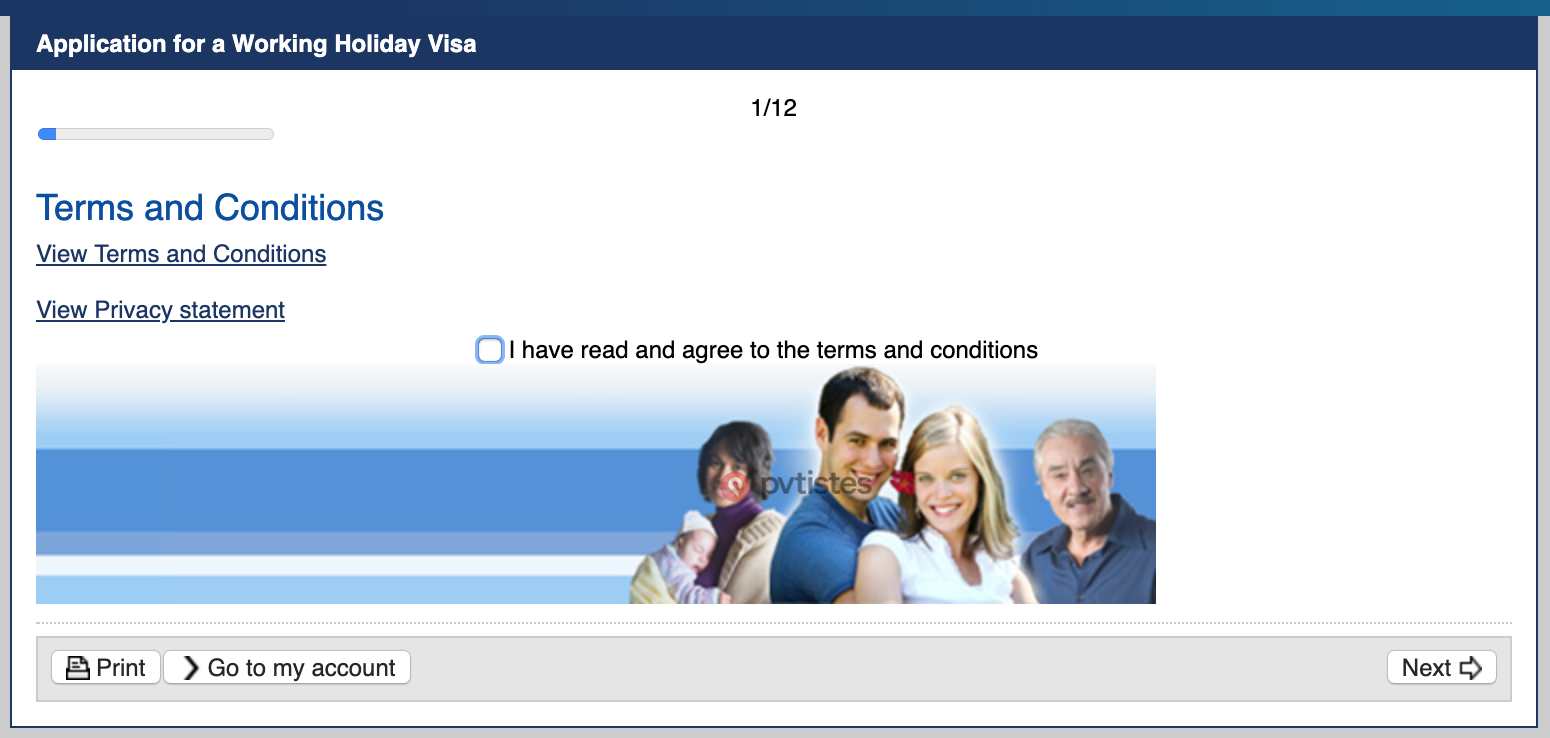 Pause for a second—check that it says "Application for a Working Holiday Visa." All good? Now you'll also notice you're at page 1/12. Good job!
Now, if you see "Application for a Work and Holiday visa" and "1/16," you started an application for a WHV Subclass 462. It may be the right visa for you if you're from Argentina, Spain or Chile, among other countries, but you're reading the wrong tutorial!
If you started the wrong visa process but are eligible to a WHV Subclass 417, go back. Otherwise, if you continue applying for a visa you're not eligible to, you'll get the following message:
Can I save my application and finish it later?
You bet! From page 3/12, you can save your application in progress by clicking the "Save" button at the bottom of the page.
The next time you log in, you'll see your ongoing application on your homepage. Just click "Edit" to go back to the last completed step.
You can pick up where you left off.

Ready to fill out all the required fields? Click on the next page of this guide, we're going to walk you through the application.