Working Holiday Visa (Subclass 417) eligibility requirements
Before you start your application, make sure you meet the following requirements.
Being a passport holder of an eligible country
You must be a citizen of Belgium, Canada, the Republic of Cyprus, Denmark, Estonia, Finland, France, Germany, Hong Kong Special Administrative Region of the People's Republic of China, the Republic of Ireland, Italy, Japan, the Republic of Korea, Malta, the Netherlands, Norway, Sweden, Taiwan or The United Kingdom of Great Britain and Northern Ireland… and hold the relevant corresponding passport.
Your passport must be valid for the entire duration of your stay. If it's expiring soon, make sure to renew it before applying for your WHV. And if you're already considering a second-year or third-year visa to Australia, it's best to have a passport that's still valid for two or three years—renewing it abroad is always a hassle.
If you get a new passport between when your WHV is granted and your departure to Australia, you must contact the Department of Home Affairs to request a passport details update. Your visa has your passport details, so if you show up at the airport with a passport that doesn't match your visa info, you will be denied boarding.
Being 18 to 30 when you apply
You cannot apply for your WHV before turning 18, and you have until the day before your 31st birthday to apply, even if you will be 31 by the time you leave for Australia. Note that Irish and Canadian citizens can be up to 35 (inclusive).
Your visa is taking forever to be processed (i.e. a medical exam is required)? Don't worry! As long as you applied before your 31st (or 36th) birthday, it's all good.
However, don't play with fire—avoid applying minutes before your 31st (or 36th) birthday. First of all, you should be eating cake. Second, and most importantly, the website is on Australian time, so plus XYZ hours… you may be already 31 (or 36) in Sydney! Finally, Internet occasionally breaks and the website could be down for maintenance—imagine missing the cut-off date for such a silly reason…!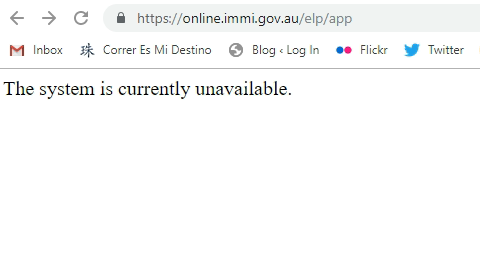 Conclusion, it's okay—and common—to be 31 (or 36) by the time you leave for Australia since you have up to a year after the visa is granted to use it. The 12-month visa officially starts the day you land in Australia.
We know WHV holders who apply just before turning 31 and who had to do a medical exam, so they were 31 by the time they got their visa. And since they waited a few more months to leave for Australia, they were 32 by the time they arrived Down Under!
Not already be in Australia when you apply for your visa (or receive it)
You can apply for your first WHV from anywhere you want—your country of residence or elsewhere—EXCEPT Australia. You can't enter Australia before your WHV is granted either, you must wait for a decision abroad.
However, this condition is waived for a second-year or third-year visa. In these cases, you can apply from anywhere in the world, including Australia.
Not have previously entered Australia on a Subclass 417 visa
Just completed a WHV year in New Zealand? No worries. Spent 12 months in France a few years ago? It's all good! Even serial WHV holders who spent a year in all the countries participating in the program are welcome to apply for an Australia WHV… as long as it's their first Australian WHV application.
Australia does offer a second-year and a third-year visa but you must meet a number of requirements to be eligible. To apply for a second one-year Working Holiday visa (subclass 417), you must have already completed at least three months of specified work in regional Australia. For a complete overview, including approved industries and how to calculate specified work, read Specified work for Working Holiday visa (subclass 417).
As of July 1, 2019, subclasses 417 and 462 visa holders who undertake 6-months of specified work in a specified regional area during their second year may be eligible for a third-year visa.
This step-by-step guide applies to first WHV applications.
What if you did apply for a WHV to Australia a few years ago but never actually went to Australia after the visa was issued? It's okay, you can re-apply, it will count as a first-time application! This is unique to Australia, all other WHV countries won't let you apply a second time if you didn't use your visa.
Note that:
It only applies if you didn't go to Australia (if you stayed there for a couple of weeks, your WHV is considered "used").
You must start the application process from scratch online like everyone else.
You must still meet eligibility requirements.
You must pay the fees again.
Going to Australia at most 12 months after your application
If you're planning to go to Australia next month, apply immediately. If you're considering a trip 14 months from now, wait a bit—once the visa is issued, you have a maximum of 12 months to land in Australia.
Note that unlike many WHV countries—looking at you, Canada…—there's no cap on the number of WHV issued every year, so don't rush to apply! As long as you meet the requirements, most applications are processed quickly and WHVs are granted. This is not a competition. Make sure you will actually go to Australia before applying for your WHV.
Not travel to Australia with a dependent child
The Department of Home Affairs defines "dependent children" as your or your partner's child from a current or previous relationship, who is not married, engaged or in a de facto relationship, wholly or substantially reliant on you for their basic needs of food, clothing and shelter and is under 18 years old.
Your dependent child cannot accompany you to Australia, however, you may travel to Australia without dependent children. If you have children who won't come with you, you can't apply for your WHV online, you must contact the Department of Home Affairs through the Working Holiday maker application enquiry form.
Buying travel insurance covering medical care, hospitalization, and repatriation
Buying travel insurance isn't mandatory, but the Department of Home Affairs strongly encourages it: "We recommend you take out health insurance to cover any unforeseen medical treatment you might need in Australia. You are personally liable for all your health care costs while you are in Australia. Insurance can help limit your financial liability."
If you're thinking "yay! I don't need insurance, then!" think again.
Australia has reciprocal health care agreements with a handful of countries, including Belgium, Finland, Italy, Malta, the Netherlands, New Zealand, Norway, Ireland, Slovenia, Sweden and the United Kingdom. If you are a citizen of one of these countries and if you meet the requirements, the agreements cover medically necessary care, which is care for illness or injury that can't wait till you get home and care that Medicare covers.
Citizens from other countries will have to cover all medical expenses—sure, you can probably afford Advil, but what if you have a more serious health problem or an accident during your stay? For most of us (except maybe Kiwis!), Australia is far from home, wherever home is. Repatriation fees can be sky-high and family may not be able to rush to Australia to help out.
Buying travel insurance is a smart investment. Not sure where to start? Check out Globe WHV! PVTistes.net has been working with them for years and they get consistently good feedback from WHV holders for their value and their awesome customer service. You can contact them easily, including on PVTistes.net, on the forum or by private message. Check out their rates and packages and make a wise decision before your trip!
Convinced? Great! Now, wait until your WHV is issued before buying your insurance policy—you can even buy it just a few days before the big trip.
[What if…] I have to take a medical exam?
The Department of Home Affairs sometimes requires "health examinations," i.e. a medical exam , if you travelled to a country with public health concerns or if you stated you have a health condition. Medical exams are apparently also randomly required, so don't worry about it! See section 13 of this guide for more details.
[What if…] I have to provide a police certificate?
The Department of Home Affairs may ask for a police certificate from every country you lived in for more than 12 months.
Having a criminal record doesn't mean you will be denied a WHV—applications are reviewed on a case-by-case basis.
Having at least AUD5000 to cover initial travel and living expenses
You must have at least AUD5,000 to cover your initial living and travel expenses in Australia. This is around EUR3150 or CAD4750—check the exchange rate below for a more accurate conversion.
Since April 2019 , you must provide evidence of funds as part of your application. It must show that:
you have at least AUD5000 (or the equivalent amount in local currency) to support yourself while you're in Australia;
if you don't have a return/onward ticket, you will have enough money to leave Australia at the end of your stay. No specific amount is mentioned in addition to the mandatory AUD5000 but note that a plane ticket from Australia to Europe is around EUR700-1000.
This proof of funds may be checked again upon arrival in Australia, so make sure you have a recent bank statement or a letter from your financial institution as well as a return/onward ticket or additional funds.
You can, of course, save more than AUD5000 (it's actually a good idea!)—this is the bare minimum required.
Sign the Australian values statement
This is an easy step, you simply have to acknowledge the Australian Values Statement that confirms you will respect the Australian way of life and obey Australian laws when you apply for the visa.​ Simply click on "next" and it's done!
Anything else?
Are you meeting all the above requirements? Then you can apply for a WHV to Australia!
"But I don't speak English that well!" No worries, no language test required for this visa. "But I don't know anyone in Australia!" You will soon if you stay in a hostel ! "But I don't have much work experience and I'm only halfway through my degree!" That's fine, plenty of WHVs are in the same boat! "I'm unemployed right now!" Irrelevant for this visa!
We told you, the WHV is a super flexible and easy-to-get visa—your education and work experience don't matter! You're not competing with anyone, if you meet the basic requirements highlighted above, you can get a WHV. The information you will have to provide is only used for statistical purposes and to determinate if a medical exam is required—the WHV application is not a test nor a selection process!