Article publié le 28-06-2019.
Accessing the Department of Home Affairs Website
This section introduces the very comprehensive Department of Home Affairs of the Government of Australia website: www.homeaffairs.gov.au. It's a useful website with plenty of relevant info and tools, but if you want to start your application right away, click on the next page .
Type or copy the following URL: Homeaffairs.gov.au.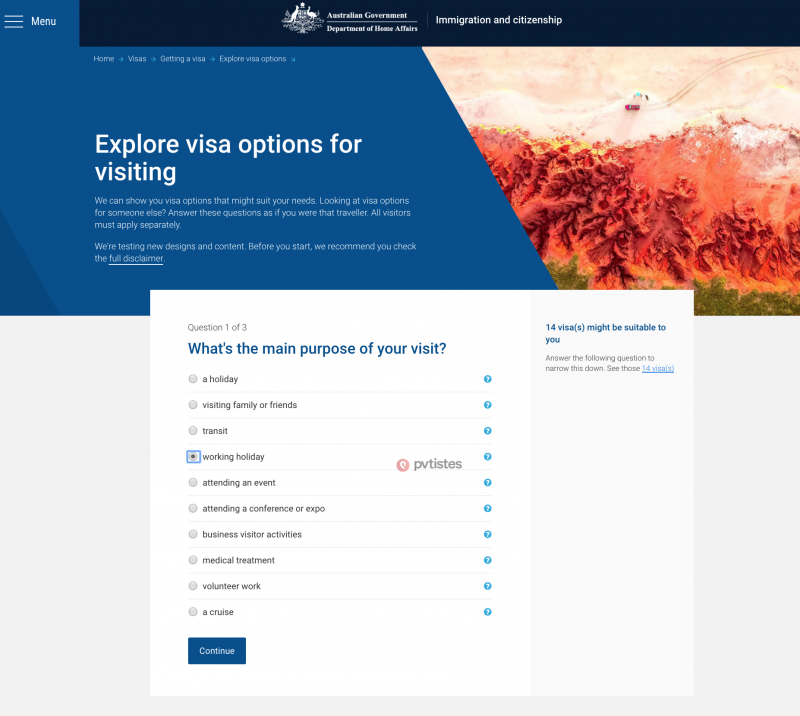 Click on "Immigration and citizenship," then on "Explore visa options," and then "Visit and tourism." Select "working holiday" as the main purpose of your visit, as shown below:
Select your citizenship from the drop-down menu:
Depending on the country of citizenship you chose, you will see either the Working Holiday Visa (subclass 417) page or the Work and Holiday Visa (subclass 462) page. For instance, a Canadian citizen will be directed to the Working Holiday Visa (subclass 417) page but an Argentinean or Spanish citizen will be directed to the Work and Holiday Visa (subclass 462) page.
You can also use the following direct links:
In the "First Working Holiday visa" column, click on the blue "Details" button. You will be directed to a page with all the basic info you need to know—READ IT!
From this page, you can:
Start your WHV by clicking on the "Apply" button
Find more info about the WHV by clicking on "About this visa"
Review eligibility requirements by clicking on "Eligibility"
Take a look at the entire application process by clicking on "Step by step"
Get basic pre-trip and visa conditions reminders by clicking on "When you have this visa"
Take a moment to read the different tabs, the info is very useful.
Ready? Now click on "Apply" and let's start the application process!
Plus d'astuces, de témoignages et d'expériences
Préparez sereinement votre PVT et vivez-le pleinement grâce à
nos bons plans
! Ils vous permettront de bénéficier de réductions et d'avantages !