Going on a one- or two-year Working Holiday adventure means jumping into the unknown and preparing for new experiences—and for some of you, the first new experience will be boarding a plane to fly to your destination.
There's no shame in being a first-time air traveller at 18, 25 or even 35 years old! Flying is easy, especially when you're not the one flying the plane. However, getting ready for the trip, navigating airports, as well as meeting airline and security requirements takes a bit of practice. 
Start with this comprehensive guide that describes the entire process and offers tips for first-time flyers that even veteran air travellers may find useful.
Still in the planning stage? We have great deals, including a special luggage allowance with Air Transat that Canada-bound Working Holiday permit holders will love!
Before the flight
The fine art of flying with luggage
Most travellers have a backpack or suitcase, plus a smaller handbag or daypack. Find out what you can bring for free on board and what has to be checked. The following applies to many airlines but not all, especially if you're flying with a low-cost carrier—always double-check with them before your trip to avoid extra fees and last-minute headaches!
Carry-on
A carry-on is a small backpack or suitcase that you can bring on board. Because space is very limited, it has to fit in the overhead bins or under the front seat. The exact maximum dimensions and weight depend on the airline and many of them do enforce the rules. That said, your carry-on is unlikely to be weighed and measured at the airport as long as it looks reasonable. Think "school backpack" or small weekend getaway suitcase that you can lift easily.
Keep security restrictions in mind when packing. Sharp objects (scissors, razors, etc.) are a big no-no, they must be in your checked luggage. Liquids are limited to travel-sized containers of 100 ml each, up to 1 litre (so 10 × 100 ml travel-size containers), and must be placed in a clear plastic bag. Other liquids (shampoo, cream, etc.) must be packed in your checked luggage. Check the airline's website for more information. For instance, Air Transat details restricted and prohibited items.
So, what should you pack in your carry-on? Basically, anything fragile and/or important such as electronics (laptop, camera, tablet, etc.), IDs (passport, wallet, immigration papers, etc.), medication, jewellery, etc. You may want to pack a change of clothes just in case your checked luggage is delayed.
Keep your carry-on organized because you will have to take electronics out and place them in a separate bin when going through security screening (the X-ray machine). Make sure they are easily accessible.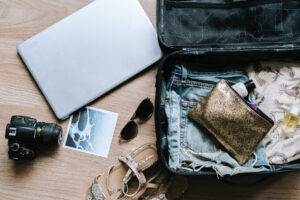 Checked luggage
Checked luggage is a piece of luggage that goes in the cargo hold under the plane during flight. Check your airline's baggage allowance and maximum weight and dimensions before the flight. Travellers are typically entitled to one piece of checked luggage for free and extra fees apply for extra weight or extra pieces. That said, it may not be included in your ticket—in this case, always prepay for your checked luggage, it's invariably more expensive at the airport on the day of the flight.
Checked pieces of luggage aren't usually measured but they are weighed when you drop them off. typically, the maximum weight is 23 kg, sometimes more. If it exceeds the maximum weight, you will have to pay an extra fee. 
Make sure that all pieces of luggage are properly tagged with your name, email address, phone number, and address. It will make things much easier if your luggage is delayed or misplaced. 
Personal item
Airlines usually allow a small "personal item" on top of your carry-on. It's typically a handbag, a laptop bag or a tote bag.
Note that any duty-free purchases will be accepted on board. It's neither a personal nor a carry-on item.
What to wear on a plane
You're going to spend several hours in a seat and you won't be able to control the temperature, so think "comfort" rather than "style."
Avoid tight clothes, high heels and other impractical items. Even if it's hot when you leave or at your destination, don't be that person flying in shorts—it can be freezing in airports and on board when the air con is on. Wear long pants, long sleeves, and bring a sweater.
You may have to take your shoes off at the security checkpoint so you may want to avoid knee-high lace-up boots.
Make sure to check in
Most airlines encourage passengers to check in before the flight. It used to be done at the airport at service counters or with the airline staff but now the check-in process is mostly done online.
You should receive an email from your airline between 48 and 24 hours before the flight. If you don't, go to the airline's website directly, there's usually a "check-in" option.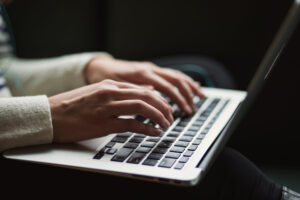 You will need your booking code and passport at this stage.
You will have to enter personal information (name, passport number, citizenship, etc.), confirm whether you will have checked luggage or not, and maybe confirm or choose your seat number, and meal option (a hot meal is usually included on long flights), etc. Some options may have extra fees and the airline may try to sell you upgrades as well. 
Make sure to enter all personal information correctly!
At the end of the process, you will get a boarding pass with your flight and seat number, the boarding and departure time, maybe the gate number and a fancy QR code. Print your boarding pass if you can and keep a PDF copy on your phone or tablet as well (just in case you can't go online and retrieve it from your mailbox when needed!). 
If for whatever reason you can't complete the online check-in process, don't panic. You're still on the flight, your ticket won't be cancelled. Just come to the airport a bit earlier and check in at the airline counter or self-service kiosks. 
Planning your trip to the airport
Just assume that 1) the airport will be busy 2) there may be traffic or other delays on the way 3) everything will take longer than planned. Leave home early enough!
Airlines typically recommend arriving three hours before an international flight. If this is your first flight, aim for three or four hours before the flight, especially on weekends or during busy times of the year (school holidays, national holidays, etc.).
Keep in mind that there are many unknowns that you have no control over, such as how busy the airport is. You may have to queue for an hour to drop off your luggage, and security screening can be very slow. It's better to be early at the gate and wait around with a magazine than to run through the airport or even miss your flight.
Make sure to keep your passport and boarding pass handy. You will have to show them at several checkpoints. 
Double-check your terminal number and location. Many large airports have several terminals and they can be far apart. There's always a way to get to the right terminal but this is not something you want to find out last minute when you're running late!
At the airport
Going through check-in or luggage drop off
You made it to the airport and you're in the right terminal—congrats! 
Now, you have two options:
If you have luggage to check (and if you weren't able to check in online), head to the airline service counter. Read the signs to find it. Note that counters typically open three hours before flight departure. Your luggage will be weighed, tagged and you will be issued a paper boarding pass.
If you only have a carry-on and you already have your boarding pass, you can go straight through security. 
It's now time to say goodbye to friends and relatives because only boarding pass holders are allowed to the next step, the security checkpoint. Note that you can linger in the public departure area of the airport for a little while but do allow enough time to go through security and find your gate before boarding starts.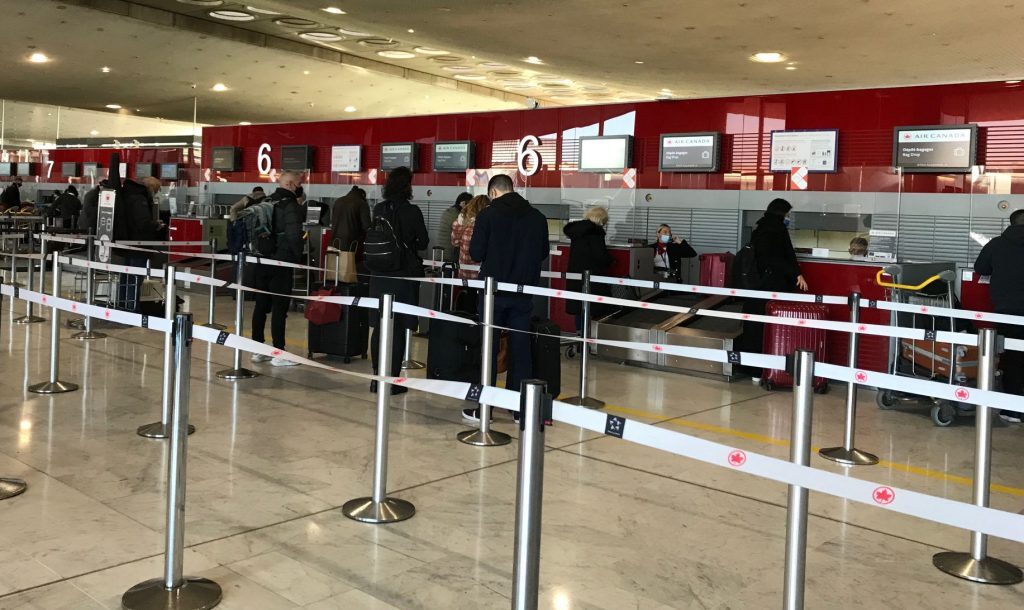 Going through security
The airport security checkpoint is often the most stressful part of the journey for first-time travellers. Relax! People make mistakes all the time ("Oops, forgot I had a water bottle in my bag!"). Don't have an attitude, do what you're told and everything will be alright—and throw away the water bottle before security!
Join the lineup. You may have to show or scan your passport and boarding pass again. Once in front of the X-ray machine grab two or three bins. Take out your laptop and other electronics as instructed. Put it in one bin. In the second one, place your jacket and your clear bag with travel-size liquid containers. Then use the third one for your bag.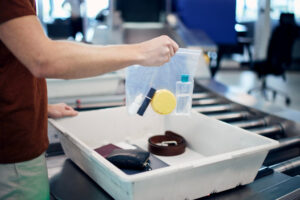 Instructions and scrutiny levels vary depending on the country and airport. You may or may not have to take off your belt and shoes, for instance.
Wait for your turn and walk through the metal detector when you're told to. 
The bins with your personal items should be waiting for you on the other side of the metal detector. Make sure to grab everything.
Occasionally, electronics are screened manually. Your bag may be searched as well. Don't take it personally—it's not fun but it only takes a minute or two.
And if you've packed something you weren't supposed to (nail clipper, a 150 ml bottle of shampoo, etc.) it will just be confiscated but you won't get into trouble.
Now, your next mission is to find your departure gate!
Waiting at the gate
Your departure gate might be printed on your boarding pass. If not, check the departure screen. It's always a good idea to double-check your departure gate anyway since sometimes they change.
Depending on the airport size and layout, your gate may be just past the security checkpoint or a 20-minute walk away. Give yourself enough time to get to it before boarding starts.
Now is the time to check out duty-free shops, grab a coffee and maybe fill up your water bottle. Liquids are allowed past security.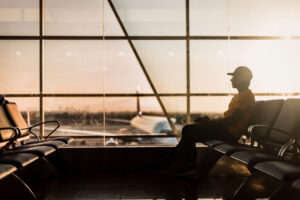 Boarding your flight
Always keep an eye on the clock, you don't want to be late for boarding. Boarding usually starts an hour before departure time, sometimes earlier. Pay attention to public announcements as well just in case your gate changes or your name is called for whatever reason.
Most airlines have a boarding policy with different zones. Yours will be printed on your boarding pass. The first passengers invited to board are usually those in business class, then people with special needs, families with young children, then the various zones are called.
When it's your turn, show your boarding pass and passport (this is the last time, promise!) and follow everyone to the aircraft.
Find your seat, stow your carry-on in the overhead bin or under the front seat for easier access, buckle up and breathe—time to enjoy the flight!
During the flight
Eating and drinking
A hot meal and a snack are usually served on all long-haul flights. You will be offered water, soft drinks and maybe a glass of wine. Food and drinks are complimentary in this case.
On shorter flights and with some budget airlines, there's a "menu" (usually simple snacks) and prices. Do yourself a favour, and pack your own food to avoid disappointing snacks and high prices. It's perfectly okay to take a sandwich, cookies, crackers or chips, etc. It won't get flagged at security. 
Note that some countries (for instance Australia) don't allow you to take certain foods through customs, including many fresh fruits and airplane food. Eat during the flight or throw it away when you arrive.
Sleeping 
If you're determined to get some sleep, bring earplugs, an eye mask, a neck pillow and a light blanket or a throw. Lights should be dimmed at one point during the flights but serving meals, offering duty-free products, etc., takes time, sometimes hours. 
Some airlines offer a complimentary "comfort kit" with a pillow, blanket, etc., but not all of them. 
Dealing with boredom
Most airlines have a built-in entertainment system, i.e. a touch screen in front of you with preloaded movies, TV series, some music, etc. Earphones aren't always complimentary, bring your own just in case (old-style earphones, not Bluetooth, to plug them into the entertainment system).
No entertainment system? Bring a book or an e-reader, or watch your own movies on a tablet or a phone. Remember that you will be offline, download anything you need before the flight!
After landing
Catching a connecting flight
You should leave a minimum of two hours between connecting flights. Deplaning takes time, and so does finding your new gate.
You should have a different boarding pass for each flight. If not, go to the airline service counter. 
Check if you have to pick up your luggage and check it again or if it goes straight to your final destination.
Landing in Canada with a Working Holiday work permit? You will have to activate it as soon as you land in Canada, even if this first city isn't your final destination. For instance, if your flight is London-Toronto-Halifax, you will have to go through immigration in Toronto and then catch your connecting flight to Halifax. Make sure to leave a few hours between flights!
If you have a stopover or a layover in a different country (for instance travelling from Chile to Canada through the USA), check if you need a visa or travel authorization.
Going through customs and immigration
Your final airport chore will be to go through customs and immigration. Follow the signs and keep your passport and supporting documents handy. 
Once it's done, you can pick up your checked luggage and exit.
Welcome to your destination, and have a fun trip!