Like many newcomers, winter was the Canadian experience I was dreading the most. I landed in November, so I didn't have much of a break before experiencing what turned out to be one of the coldest winters in years in Montreal. But don't worry, turns out that you can (and will) survive these legendary Canadian winters.
It's cold … but surprisingly sunny!
In Canada, you will experience temperatures you've probably never seen on a thermometer before. The infamous "feels like XX⁰C"—what the outdoor temperature will feel like for the day—is actually scarier than the actual temperature.
First of all, this cold is drier than what I was used to in France. A temperature of -10 °C in Canada is clearly more bearable than the same temperature in Europe, so it's hard to "translate" temperatures. It does feel painfully cold for the first days. But I can't even count the number of times I said to myself, "crazy how quickly the body gets used to it!" It's also worth stressing that some provinces are colder than others—winter will be milder in British Columbia, for example. Take note if you're planning to travel around Canada, adapt your itinerary according to the seasons!
Oh, and did I mention that it's cold, but otherwise pretty sunny? Most of the time, I enjoyed sunshine and a big blue sky, an instant mood booster. Of course, on snowy days, it's hard to tell the colour of the ground from the colour of the sky… but it's still better than weeks of weeks of rain, i.e. your typical French winter weather.
I landed just a few weeks before the start of sub-zero temperatures so I didn't get the chance to see any flowers in Montreal. I basically witnessed the last few leaves falling and the city felt very gloomy. But Montreal started looking gorgeous again right after the first snowfall.
Finally, I have to admit that temperatures of -20 °C or -30 °C are very rare—or at least, it won't happen day after day for months. In fact, the temperature range is quite baffling in Canada. You can go from +4 °C to -18 °C in less than 24 hours, as if Mother Nature has momentarily lost her mind.
"Gear up" and "dress for the weather" are the best tips ever
The key is to dress for the weather. On one (cold) evening in December, I went shopping at a Christmas Market and I forgot to bring my gloves. Oh, and I was wearing sneakers. Well, I thought I was going to lose both hands and feet, silly me…
I would recommend buying winter clothing in Canada—winter jackets and boots are typically cheaper than what you'd find at home and you can be sure clothing is designed to withstand true winter weather.
Most cities have plenty of second-hand stores or affordable outdoor equipment stores (check out Decathlon if there's one in your city!) You can also shop online on Kijiji or browse ads in various online communities, such as Pvtistes.
You can pretty much spend winter outside once you have a warm winter jacket, a reliable pair of boots, gloves and a hat. The body loses most heat through your hands and feet, so gloves and winter boots are a priority—unfortunately for fancy hairstyles!
Enjoy winter!
Yes, it's -15 °C … but it shouldn't be an excuse to stay home!
First, you signed up for Canada—surely you knew you wouldn't be spending winter on a tropical beach, right?
Second, there's a lot to do during winter! Canada has tons of amazing national parks and they look picture-perfect in winter. Again, as long as you dress for the weather, don't hesitate to explore the country and cities as much as you want regardless of the weather (alright, if it's -25 °C, feel free to make some hot chocolate and veg out in front of the TV!) Otherwise, you could try going skating, cross-country skiing, sleighing … and you probably won't have to travel far outside cities for these activities. You'll find tempting slopes close to every major city such as Montreal, Quebec or Vancouver.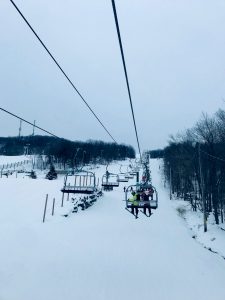 Meanwhile, festivals don't stop during the coldest months—check out Montréal en lumières and the Igloofest in Montreal, Winterlude in Ottawa, and more.
You could also discover a passion for dog sledding, skidoo, ice fishing and more, who knows!
Patience is a virtue
Spending winter in Canada is an amazing experience but at one point, like most Canadians, you will look forward to spring. It can be disheartening to see pictures of your friends abroad enjoying a drink outside, in the sun, when it's still -15 °C by mid-March in Canada.
But patience is a virtue. Also, never trust April, a month of false hopes. One day you wake up and it's 10 °C—awesome, time to put your boots and winter jacket away!
Yeah … no. A few days later you find yourself shovelling 15 centimetres of snow. It has to be the last snowstorm, right?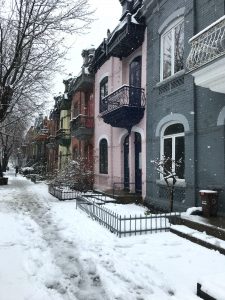 Temperatures go down. Again.
Oh, wait, now you're getting a mix of rain and snow… IT HAS TO BE THE LAST TIME, RIGHT???
Learn to appreciate each season
This Canadian winter experience is unique and it's part of what the country has to offer.
And when it finally ends and when it's time to put your winter jacket away for good, when bars and restaurants start to set up their patios and when it feels warm again … there's no word to describe it, it's like rediscovering another side of life.
Winter, spring, summer and fall are like a completely different chapter of life in Canada. My only regret is that time goes by too fast, so make the most of each season!