There's only one way to get to Alaska from Dawson City, and it involves a ferry ride across the Yukon River to get to the Top of the World Highway. This is where you start an epic 105-kilometre-long drive on a dirt and gravel road through stunning scenery.
Don't expect any gas stations or mechanics conveniently located along the way—fill up before the road trip and bring a spare tire or at least a tire inflator for a quick, temporary fix.
Luc and I spent two days in Dawson City before boarding the ferry at the terminal located at the end of Front Street. It operates from May to September and the ride across the river is free for passengers and vehicles. No need to book either. We joined the queue and waited to board. How do people cross the Yukon River in winter? Well, they just drive on frozen water!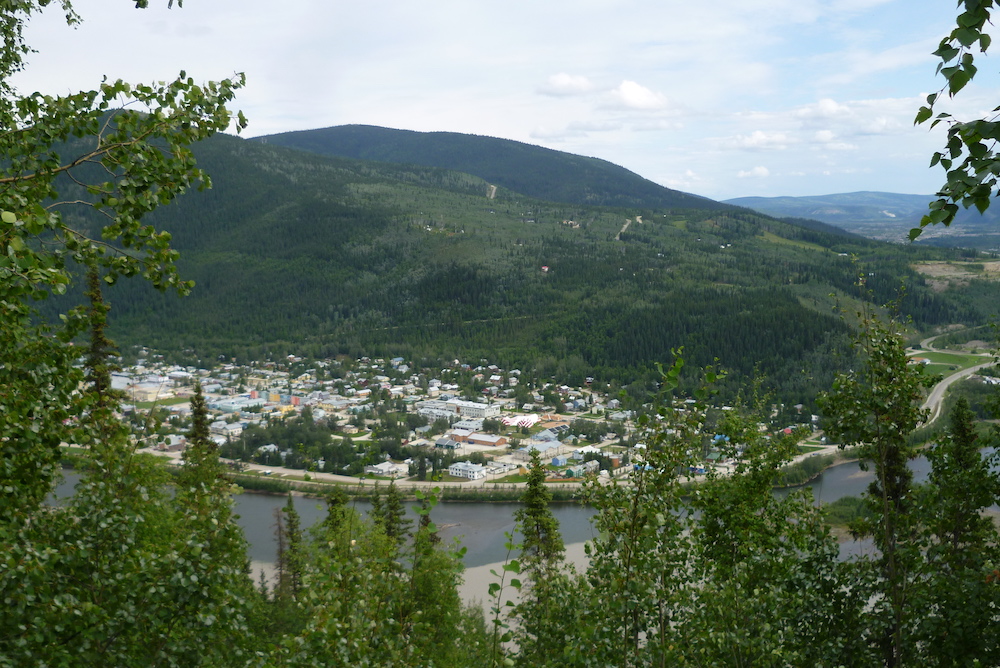 There's an amazing view of Dawson City from the other side of the river. We paused for a few minutes to admire this mythical and legendary town one last time, then we started our Top of the World Highway road trip. 
Along hillcrests, just below the sky
The Top of the World Highway has long been ranked one of the world's most beautiful drives by National Geographic magazine. Technically, we're not exactly on top of the world since the elevation "only" averages 1,200 metres. But it's not a misnomer—the road is above the treeline and skirts the crest of hills along most of its length, offering a look down on the valleys and views of endless wipe-open spaces. It does feel like being on top of the world, somewhere just below the sky. Picture kilometres and kilometres of rolling hills flanked by spruce forests, snow-capped mountains in the background and this seemingly endless thin stretch of road. It is stunning… but we drove carefully. It's a gravel road, after all, and the last thing we needed was a flat tire that we would have to fix all alone in the wilderness. 
And then suddenly we spotted a small man-made structure in the middle of the road, a surreal oddity in this natural landscape. This was the border crossing facility and Alaska was just behind it. We were about to exit Canada and enter the United States.
Poker Creek, a unique border crossing experience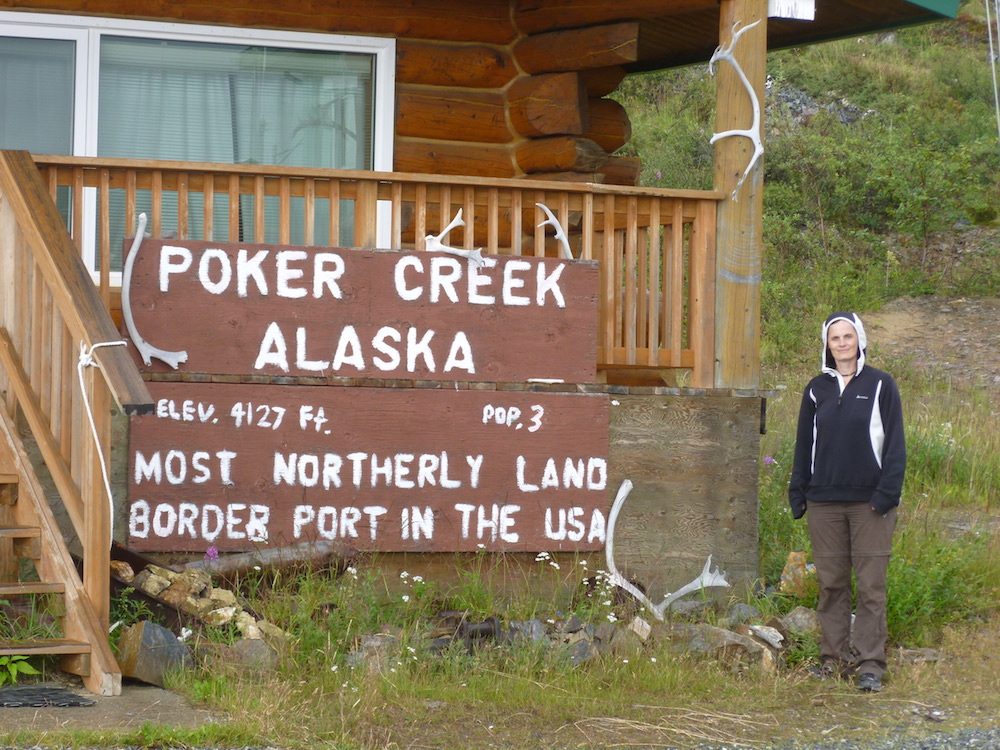 We showed our passports and "Jonathan's" paperwork (yes, my van has a name…) to a U.S. border services officer, then he asked a few routine questions. As foreign visitors entering the U.S. for the first time, we were required to pay a paper processing fee of $6 per person payable in US dollars only. We got a brand-new moose stamp on our passport and authorization to stay up to 90 days in the US.
Note that this border crossing facility is open daily from 8 a.m. to 8 p.m. (Alaska time) or 9 a.m. to 9 p.m. (Yukon time) from May to September, but it can close anytime depending on the weather and road conditions. It closes for the winter from mid-September until May—during these months, it's not possible to enter Alaska from the Top of the World Highway. 
We stepped inside the facility where some big guy in uniform came over to take our fingerprints. He introduced himself by stating he had spent two years in Iraq, and he started ranting, comparing a few wandering moose that were making their way across the border—without proper documentation!—to "refugees, the kind of bastard you get in France." He felt the need to add he liked moose better "because they don't cause fucking trouble, whereas refugees take everything and don't give nothing back". Just imagine the look on our faces… We didn't want to argue with him because we didn't want to be denied entry to the U.S., so we tried to change the subject.
I heard him saying "eh, those guys were nice!" to his colleagues as we were walking out after being officially granted entry to the U.S.
He joined us outside and offered to take a picture for us in front of the border crossing sign—"Poker Creek, Alaska – Most Northerly land border port in the USA, elevation 4127 ft." It also says "Population, 3"—it had to be the three border services officers! Three guys living up there on the Top of the World Highway, in the wilderness, for four months at the time… Now, do you think this posting is an attractive promotion or a punishment? The jury is still out on this one!
A breathtaking "Welcome to Alaska" moment
And there we were, in Alaska. The weather was a weird mix of clear skies and dark clouds. We parked at a large "Welcome to Alaska" sign 500 metres from the border crossing. It was the perfect spot for breathtaking views of scenery stretching for kilometres in front of us. We were all alone and everything was quiet around us. The unsettled weather stuck halfway between sunny and stormy was producing a unique glow. We even spotted a few rainbows. What a welcome!  
We got back inside the van. There were still 50 kilometres to go before "Chicken," the first town on the way. But the Top of the World Highway is in worse shape on the American side than on the Canadian side. It's very hilly and the drive was super stressful because we kept on being passed by giant trucks carrying sand or God-knows-what. Each time, they were unknowingly sending gravel flying on the van's windshield. It felt like being on a "world's most dangerous roads" documentary. It took us almost two hours to reach Chicken and we were exhausted when we finally made it.
Chicken, the quirkiest town ever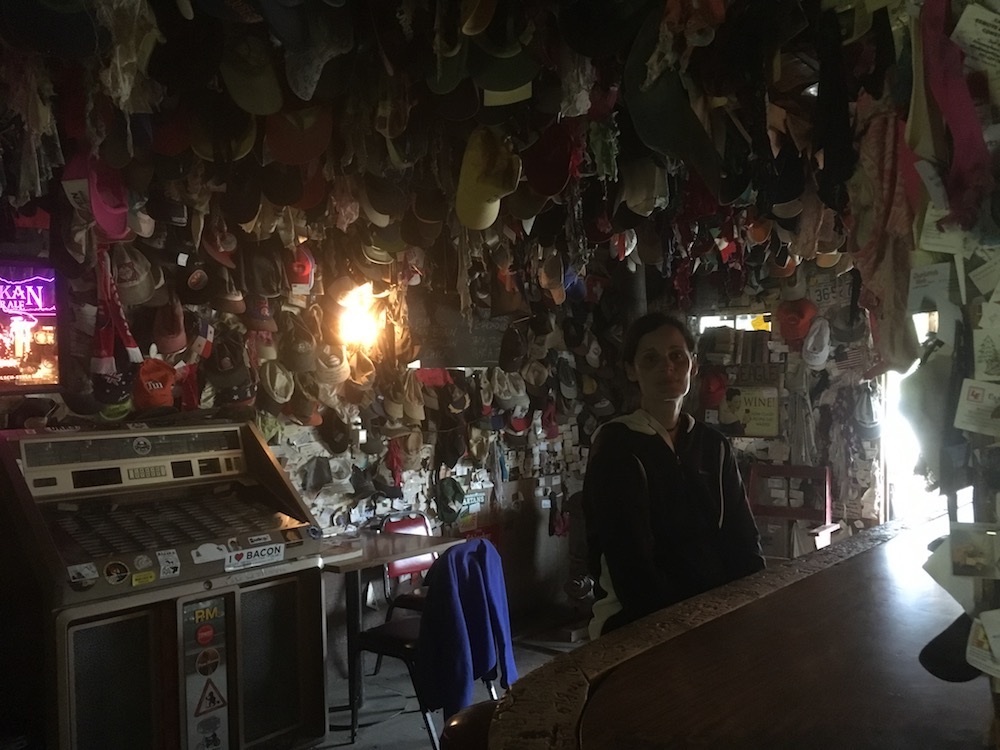 There's no other way to put it, Chicken is the quirkiest town ever. I mean, it's named "Chicken" in the first place. Originally, it was supposed to be named "Ptarmigan" (it's a game bird), but since nobody could write or pronounce it properly, then "Chicken" it became. 
Total population of Chicken? Fifteen in winter, up to 30-50 in summer. There is no phone service and forget about cellphone coverage. There are no flush toilets. Snow plows don't bother coming over until April. The temperature goes down to -65 °C in winter. Mail arrives by plane every Tuesday and Friday, weather permitting. It is the only surviving Gold Rush-era town in Alaska. Some people still look for the precious yellow metal around here—imagine that…
The town was basically three log cabins—a souvenir store, a saloon and a restaurant. Only the saloon was open. Inside, the walls were covered with caps from floor to ceiling. The bartender was accommodating and he fixed us something to eat even though the kitchen was closed. He looked like a cross between Harry Potter and Ron Weasley with his red hair and round glasses. What on earth was this twentysomething doing in Chicken, Alaska? 
He heard us speaking French and he chimed in perfect French. Harry Weasley was indeed from this town, but he had spent six years in Paris as a foreign student! It was hilarious to spend a summer evening somewhere on the 64th parallel north having a conversation in French about the Sorbonne Nouvelle University in Paris and the subway line 7 with a guy from Alaska. He told us that the two men sitting behind us were full-time two gold miners. 
This very unusual day ended at the free camping site located just next to the three buildings. Well, actually, the day never really ended—the sun doesn't set up north and we had "night." For once, we didn't have to use flashlights, but we were glad the van had curtains!