Current location
Québec, QC, Canada
Occupation
Gestionnaire Médias Sociaux / Créateur de contenu
pvtistes
:
Hi, David and family! Can you introduce yourselves?
David
:
Hi, I'm David, 33 years old. I've been living in Quebec City with my wife and son since July 5, 2022. I work as a social media manager and content creator for an agency in Quebec City.
Jennifer, my wife, is 35. She's a web communications manager and she is currently looking for work opportunities.
Our son Jules is almost 7 years old, and he is a first grader here in Quebec City.
pvtistes
:
What brought the whole family to Canada?
David
:
We embarked on a Working Holiday experience in Canada for several reasons.
First, I had always wanted to live abroad to discover other cultures and ways of living and working. In fact, I was considering applying for a Working Holiday permit to New Zealand after graduating from high school in 2008-2009 but instead, I went to university.
Then, before the pandemic, our 3-year-old son watched a documentary on whales and asked us if we could go and see them in Tadoussac. He gave us the idea of a Quebec road trip in the fall of 2020. Enter border closures, lockdowns and restrictions…
Meanwhile, what was initially supposed to be just a trip to Quebec turned into "eh, how about moving to Quebec?"
We started wondering where to go between Quebec and New Brunswick. We had tons of questions. How does the Working Holiday permit work for families? What about school for Jules? How do you even get a work permit? And should we apply for a Working Holiday permit, a Mobilité Francophone work permit or directly for permanent residence through Express Entry? 
We spent a lot of time on Pvtistes.net. And on Facebook Marketplace and other French classified websites as well—we had to start clearing out the house a bit.
We started focussing on New Brunswick—it's a bilingual province, a pretty quiet place, and also because it could be a path to permanent residence status later on with local work experience (there's a Provincial Nominee Program for instance as well as opportunities through Mobilité Francophone). But after some research and a few job interviews, we realized it was going to be tough—low salaries, high rents, and no major international airport. Not being able to travel easily to and from New Brunswick was an issue for me.
We wrote down the pros and cons on a post-it note we stuck on the fridge door. Eventually, we started considering Quebec and Quebec City again, our initial plan.
pvtistes
:
How did you start planning the adventure? And how did you find a way for the three of you to go to Canada?
David
:
Pvtistes.net was a goldmine of information when we were doing research, before submitting our profiles to the pool. We also followed a few French families in Quebec on social networks. 
We learned that because we were married, either my wife or I—basically whoever didn't get a Working Holiday permit—would be eligible for an open work permit as long as we were meeting the requirements (NOC skill type 0, A or B occupation, three pay stubs, marriage licence certificate as a proof of the relationship, etc.). As for our son, he could go to school in Canada with a visitor status without needing a study permit.
Jennifer and I submitted our profiles as soon as the pools opened in January 2021. I was drawn on February 28 and a few weeks later, I was giving my biometrics in Paris.
From there, we planned the next steps carefully from our departure date. First, we had to buy plane tickets, then we worked backwards from there to schedule all the tasks—vaccines for the cat, selling our cars, finding a place to stay and a school for Jules, applying for jobs in Quebec City and around, etc. 
Plot twist two weeks before flying to Canada—my wife's profile was drawn as well! We rushed to complete the application process. Crazy times, especially considering we were still working in France and we were busy packing.
pvtistes
:
Let's talk a bit about travel insurance since it's a requirement for Working Holiday permit holders to Canada… and other insurance as well!
David
:
We bought insurance coverage from ACS for the three of us. We chose Globe WHV for my son and me. Jennifer started with Globe Partner coverage, then she signed up for Globe WHV coverage as well when she became eligible after activating her open work permit.
Our cat is covered by Pets Plus Us, a Canadian pet insurer.
Desjardins, our bank, provides home and vehicle insurance coverage, so we went with that.
pvtistes
:
Does your son go to school in Quebec City? How is it going?
David
:
My son is in first grade. Registering for school from France was a bit tricky. We had to use a VPN several times, for instance, to sign him up for the school bus system.
We're super happy about the local school system. The teacher is attentive to the needs of her students. We feel that the staff truly cares and wants to help kids reach their full potential.
Jules takes the bus at 7:30 a.m. We registered him for the lunch and after-school programs, so he stays at school until 4:30 p.m. when we get off work.
We've been here for almost six months and he hasn't complained once about having to go to school.
The only downside of school in North America for us, parents, is that making school lunches is quite tedious. We do miss the French cafeteria system with a set hot meal for all kids, it was easier on us!
pvtistes
:
Did you face any challenges when you first came to Quebec?
David
:
We had a hard time finding a place to live—landlords are not super happy to deal with potential tenants with a cat who aren't in Canada yet and who don't have a job or a credit score. And once we found a place, it was a headache to transfer the first month's rent from France.
On the practical side, our schedule was very tight the day we arrived. We landed in Montreal and drove right away to Quebec City so that we would only have to spend one night in a hotel, then it was a rush to get the keys to our place and buy mattresses the next day. Yeah, not the best idea.
pvtistes
:
What surprised you the most in Canada?
David
:
What surprised me the most here:
How quickly I was hired. I applied in mid-August and I started on August 29.
Canadian pharmacies. It's quite confusing to step into what should be a pharmacy but turns out to be more like a convenience store! But you get used to it quickly, especially since you can often find everything you need, discounted.
Life is sweet. I'm from southern France and people often say that we enjoy life more than the rest of the country. But Quebec takes life to a different level. People take their time and seem less stressed out than back home. Even on the road, drivers are more relaxed than in France.
Prices without taxes included. It takes a while to get used to it because, well, you don't know the final price. And it's tricky because taxes apply on most purchases but not all—like, most fruits and vegetables are zero-rated, but I think it depends on the way they are packaged… The sales tax is always included in France so this is new to me.
Moving day! Leases in Quebec generally start on July 1 and end on June 30 of the following year. This means that everyone has to look for their new home at the same time and move on or around July 1. We will probably "celebrate" Moving Day this year, considering the rent increase notice I've just received!
Lastly, one of the downsides of Quebec City is that you always have to pay some kind of fee to visit a place—like, admission is free, but parking isn't. National parks aren't free and neither are major tourist attractions. Fortunately, some places are actually completely free of charge—Île d'Orléans, Marais Léon-Provencher nature reserve, and all the city parks.
pvtistes
:
How did your family and friends react when you announced you were moving to Canada?
David
:
My relatives on my side knew I had always wanted to explore the world. They also knew that we had been working on this project for a while, so they weren't that surprised.
It might have been a bit more of a shock for my in-laws. We did mention our plans but they didn't think it would happen so quickly!
pvtistes
:
Do you have any advice for future expatriates or for anyone still wondering whether going abroad is the right move?
David
:
The two main pieces of advice I can give to families who want to immigrate to Canada is to plan everything as much as possible. You need a calendar with deadlines to sell furniture and vehicles, wrap things up at your current job, complete paperwork, etc. You also need budgets, plural. Like, one budget for landing in Canada (plane tickets, car rental, hotel, meals, etc.), one budget for the first month in Canada, then for the second month, third, etc., in Canada.
Do create a Canadian version of your resume and gather info on car purchases and current market prices (which have skyrocketed). 
Basically, plan what you can plan as much as possible.
Browse pvtistes.net and Facebook groups for info. It should become second nature. Ask questions to people who are already there if you need to, on forums or directly. The expatriate community is quite nice and you can get help to push your project forward.
pvtistes
:
Any specific advice for families?
David
:
Be honest with your kids about your expatriation project. "Sell" them your future country and explain the various steps you're going through before departure. Engage them whenever possible (they can sort out their toys for example).
You can register your kids for school from abroad but you may need to use a VPN.
You can register your child with the RAMQ for the provincial health insurance plan. Don't hesitate to connect to the website super early to book your phone interview—we logged in at 5 a.m., Eastern time.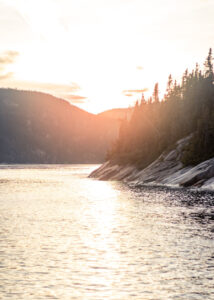 pvtistes
:
And finally, what are your plans these days?
David
:
In the short term, we are looking for our next home. In the medium/long term, we will cross the US border in July to activate Jennifer's Working Holiday permit, and then a year later we will cross the border again so that I can get an open permit as a spouse at the end of my own Working Holiday permit. This should give us time to start the permanent residence application process.