Once you've received your port of entry (POE) letter (congrats!), you have up to 12 months to travel to Canada and activate your Working Holiday permit. 
If you've secured a job or an internship, you probably have a start date and you will plan your trip to Canada around it. But if you don't have any commitments yet, you're probably wondering what the best month to start your adventure is.
Read on for insights and tips!
Travelling to Canada in January
Landing in Canada in January? Winter weather won't be a mystery for long! January is one of the coldest months across most of the country, so gearing up will be one of the first tasks on your newcomer to-do list. 
Keep in mind that cold temperatures and snowstorms can slow you down at first, especially if you're exploring various neighbourhoods to find a place to stay. But unless there's a major winter weather event—ice rain, blizzard, etc.—it's business as usual in Canada even in the dead of winter.
And once you have a good winter jacket, snow boots, gloves and a cozy hat, you will be able to enjoy plenty of winter activities and festivals! This is the perk of coming to Canada in January—you won't have to wait to go skiing, ice skating, sledding and more.  
Winters are usually milder in British Columbia, so you could start on the west coast if you're not looking forward to -20⁰C temperatures.
Travelling to Canada in February
Travelling to Canada in February is a good compromise because you're still going to experience winter right away, but you're already halfway to spring. However, do keep in mind that February is one of the coldest months across most of Canada.
Just like backpackers coming in January, you will have to invest in warm winter clothing and learn how to walk across snowbanks!
For "milder" February weather, the coast of British Columbia is your best bet. 
Travelling to Canada in March
Most Northern Hemisphere countries are starting to welcome spring but March is still winter in Canada. This is your chance to experience Canada's most famous season knowing that you will only have to deal with a few more weeks of ice, snow and slush before proper shorts and t-shirt weather. 
Just like Canadians, you will have to wait patiently for the snow to melt and for flowers to bloom—expect bare trees and a winter landscape, in the meantime. 
Travelling to Canada in April
Temperatures are starting to creep up with a few days above 0⁰C, maybe up to 10⁰C or 15⁰C if you're lucky and if you're in a "warmer" corner of Canada. However, you'll probably get to experience a few flurries—maybe even a blizzard.
Much like November, April is a transition month. Winter is almost over but spring isn't there yet. The streets are slushy but you can wear sneakers instead of snow boots, a lighter jacket instead of your thick winter coat. 
April is a good month for those who would rather skip most of the winter and start their adventure with spring weather. However, most of the country looks a bit grey and depressing with bare trees, melting snow and leftover road salt.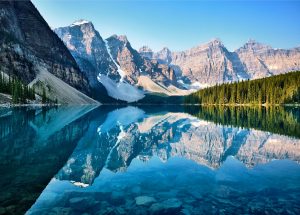 Travelling to Canada in May
It's spring, or it certainly looks like it! Patios are reopening, parks are getting busy again, and people are wandering around, rediscovering their city after the long winter months spent mostly indoors.
Trees are sprouting, flowers are blooming, the grass is growing and Canada is getting ready for spring and summer festivals. Wait until June for backcountry hiking in Alberta or British Columbia but you can already enjoy a number of outdoor activities without winter gear.
Coming to Canada in May is a good strategy if you're not looking forward to experiencing winter—there's plenty of time before the next blizzard!
Travelling to Canada in June
It's officially summer, and it's hot in Canada! Quebec celebrates Saint-Jean-Baptiste Day on June 24 and Canada is partying on July 1 for Canada Day.
In Quebec, July 1 is known as "Moving Day" because leases typically expire on this day. It's an artificial rental schedule that doesn't apply to all leases or to the rest of the country. However, there may be more apartments for rent in July—it's easier to move in and out during the warmer months and the university spring session is over so many students are moving on with their lives.  
July is also the beginning of the summer tourist season, with jobs available in hospitality, travel, customer service, etc. It may be easier to find your first job in Canada when the demand is high. 
Do keep in mind that plane tickets to Canada may be more expensive during peak travel season (and don't be surprised if hostels are booked solid on June 24 in Quebec and on July 1 in Canada for the reasons mentioned above!).
Travelling to Canada in July
You may be picturing Canada as a winter wonderland, but it does get very hot and humid in most of the country in summer. Don't fly to Canada in July if you hate hot weather, thunderstorms and mosquitoes…
However, this is the best season to go out, enjoy festivals and outdoor concerts, and hang out with plenty of Canadians dedicated to making the most of the season. 
But July comes with a few caveats. It's prime tourist season, so plane tickets are more expensive. Book ahead for your Airbnb, hotel room or hostel bed because they fill up fast. Finding your first job may take more time as well because plenty of students are also looking for summer employment.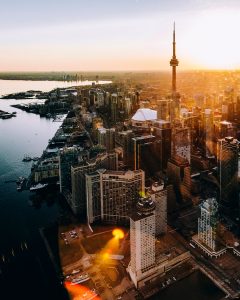 Travelling to Canada in August
Much like in July, you can expect hot weather, pricey plane tickets and fewer cheap accommodation options. Still a fun month, though, with festivals and summer activities in full swing.
September may be a better choice to skip most heat waves and still get plenty of sunshine.
Travelling to Canada in September
It still feels like summer but nights are breezier. Students are going back to school so there is less competition for open positions in the job market. Plane tickets are starting to be more affordable after Labour Day (the first Monday of September).
September is the perfect season for hiking and many other outdoor activities. Enjoy, because "winter is coming"!
Travelling to Canada in October
It's "fall colours" season in Eastern Canada, with leaves turning red, orange and yellow. Canadians are starting to put pumpkin spice (a beloved seasonal spice mix) in everything, from latte to cookies. It's also the harvest season with fresh corn, squash and tons of pumpkins that will be carved for Halloween—don't miss this scary night if you're coming by the end of the month!
Most of Canada is enjoying the last warm days before the quick descent into winter. October is a transition month and a good choice if you'd rather explore your new city in sneakers rather than in snow boots.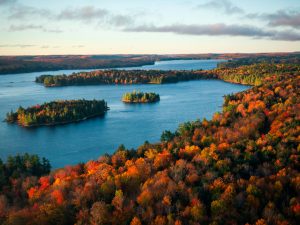 Travelling to Canada in November
Much like April, November is half-fall, half-winter, sometimes both on the same day. Trees are shedding their leaves, it's getting colder, but there isn't much snow on the ground yet—if at all.
It's definitely not the most festive month and cities look greyish but arriving in November gives you the chance to adapt to Canada and colder temperatures before winter. And on the bright side, many businesses are hiring for the holiday season so it's a good time to apply for retail, customer service or restaurant jobs.
Travelling to Canada in December
If you've always dreamed of a white Christmas, you're probably going to get lucky! The first few snowfalls are magical, even for Canadians—watching flurries dancing in the wind while sipping hot chocolate could be the recipe to happiness. 
Ski resorts are opening for the season, many businesses are hiring extra staff for the holidays, and the atmosphere is overall pretty cheery. However, some travellers will find it hard to spend Hanukkah or Christmas far from home, and plane tickets are more expensive after December 15.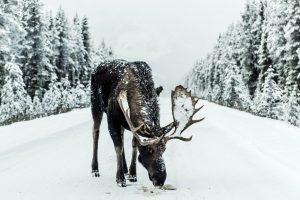 So, when do you think is the best time to travel to Canada and start a Working Holiday adventure?