The landing process at the airport
After getting off the plane
Non-Canadian passport holders will be directed to a first Canada Border Services Agency (CBSA) checkpoint—expect a lineup. Have your passport, Port of Entry (POE) Letter of Introduction and Declaration Card (handed out by flight attendants, don't forget to fill it out before landing!) ready. During this "primary inspection," the border services officer will examine your Declaration Card and passport, then you'll be sent to another CBSA booth a few metres further to have your Working Holiday Permit activated.
Note that it's perfectly fine to land in Quebec with a Port of Entry (POE) Letter of Introduction written in English or to land anywhere in Canada with a Port of Entry (POE) Letter of Introduction written in French—the two official languages in Canada are French and English.
The CBSA checkpoint
The CBSA officer will review all your documents carefully and may ask you a few questions about your plans. Answer truthfully and politely—now is not the time to make jokes.
At the end of the process, the officer will staple your Working Holiday Permit into your passport.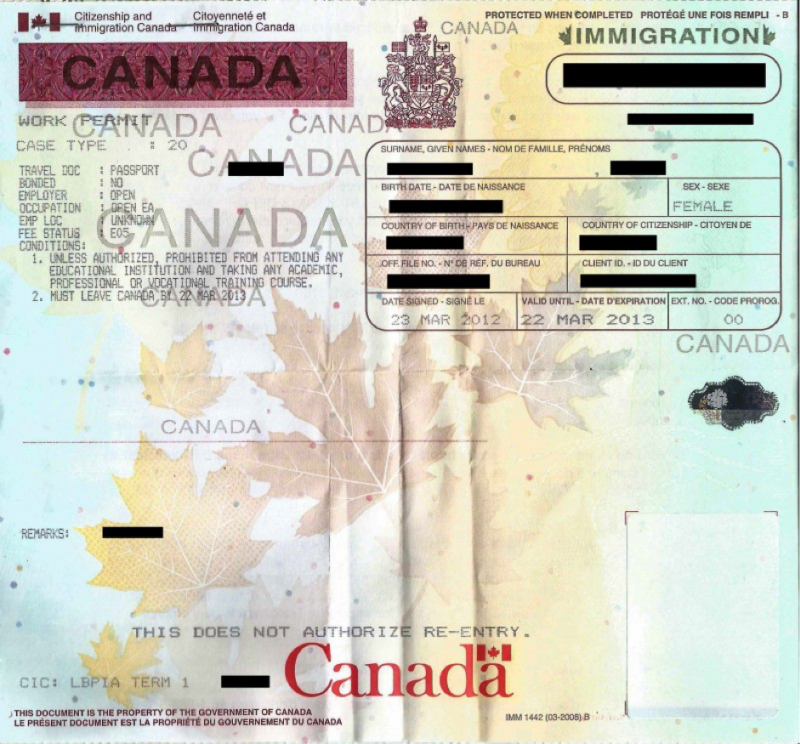 Issuance of your work permit
Check your work permit carefully right away. Make sure your name is spelled correctly, pay attention to the passport number and work permit expiry date printed. There shouldn't be specific conditions regarding the type of work you can do or where you can work written on your Working Holiday Permit.
A few Working Holiday Permit holders discovered the mention "Not authorized to work in 4) agricultural occupations" on their work permit, so read every line carefully!
If you think there's a mistake on your work permit, tell the border services officer—at this stage, it can be corrected easily and quickly.
The following info appears on your work permit:
Your name
The date it was issued and the date until it's valid (check these dates carefully!)
The mention "This does not authorize re-entry"/"Ceci n'autorise pas la rentrée ." Don't worry, you can still leave Canada and come back while your Working Holiday Permit is still valid! It simply means that you can't cross the border with just the paper—you need your passport too.
"Work permit" and "must leave Canada by DD MM YYYY" to indicate your status in Canada is temporary.
"Occupation: open" to indicate that your work permit isn't tied to a specific employer (unlike Young Professionals or International Co-op work permits, where the name of the employer is printed).
Working Holiday Visa holders may see the following conditions on their work permit:
"Unless authorized, prohibited from attending any educational institution and taking any academic, professional or vocational training course." You can still take a course shorter for six months or less—and of course, you can take dance classes, cooking classes, etc.!
If you didn't take a medical exam, you will see the mention "Not authorized to work in 1) child care 2) primary or secondary school teaching 3) health services field occupations." If you did submit a proof of medical exam, make sure the condition was removed (i.e. that it doesn't appear on your Working Holiday Permit). Changing your work permit conditions (including taking the medical exam in Canada) can be an option but it's a long and expensive process.
Other documents to show
You may have to show:
A proof of funds, e.g. a bank statement issued no more than one week before your departure for Canada. It must clearly show that you have enough money to support yourself for the first three months of your stay in Canada—the equivalent of CAN$2,500.
A proof of health insurance covering medical care, hospitalization and repatriation. Your insurance policy must be valid for the entire duration of your stay in Canada. If your insurance policy is valid for less time than your expected stay in Canada, you may be issued a work permit that expires at the same time as your insurance. We've heard of travellers who were issued a three-month or six-month work permit—they can't be extended or renewed.
If you don't have these documents, the border services officer may refuse to issue your work permit.
It's also a good idea to bring original copies of the documents you provided in your work permit application, e.g. the forms, a copy of your resume, digital picture, and if applicable, the proof of medical exam and police certificate.
Once the work permit issued and stapled into your passport, you can go pick up your checked-in luggage in the baggage claim area.
The final stop is the second CBSA checkpoint, where you will show the officer your Declaration Card and your receipt if you paid duty and taxes. Most of the time, you'll be waved through, but you could be directed to a secondary inspection area where you'll be asked to present your luggage and goods for examination.
This is the last step before the arrival hall. You made it, welcome to Canada! Your adventure starts now!
Note that there's a Service Canada booth at Toronto Pearson International Airport (YYZ) and Vancouver International Airport (YVR) where you can apply for your Social Insurance Number (SIN) during regular business hours. If you're offered this service, take advantage of it!