Pour vivre ses premiers jours au Canada dans des conditions optimales, voici la liste des choses à bien avoir en tête au moment de partir !
Join us on:
And benefit from discounts on pvtistes.net (plane ticket, banking services, money transfer, car rental…)!
The landing process at the airport
After getting off the plane
Non-Canadian passport holders will be directed to a first Canada Border Services Agency (CBSA) checkpoint—expect a lineup. Have your passport, Port of Entry (POE) Letter of Introduction and Declaration Card (handed out by flight attendants, don't forget to fill it out before landing!) ready. During this "primary inspection," the border services officer will examine your Declaration Card and passport, then you'll be sent to another CBSA booth a few metres further to have your Working Holiday Permit activated.
Note that it's perfectly fine to land in Quebec with a Port of Entry (POE) Letter of Introduction written in English or to land anywhere in Canada with a Port of Entry (POE) Letter of Introduction written in French—the two official languages in Canada are French and English.
The CBSA checkpoint
The CBSA officer will review all your documents carefully and may ask you a few questions about your plans. Answer truthfully and politely—now is not the time to make jokes.
At the end of the process, the officer will staple your Working Holiday Permit into your passport.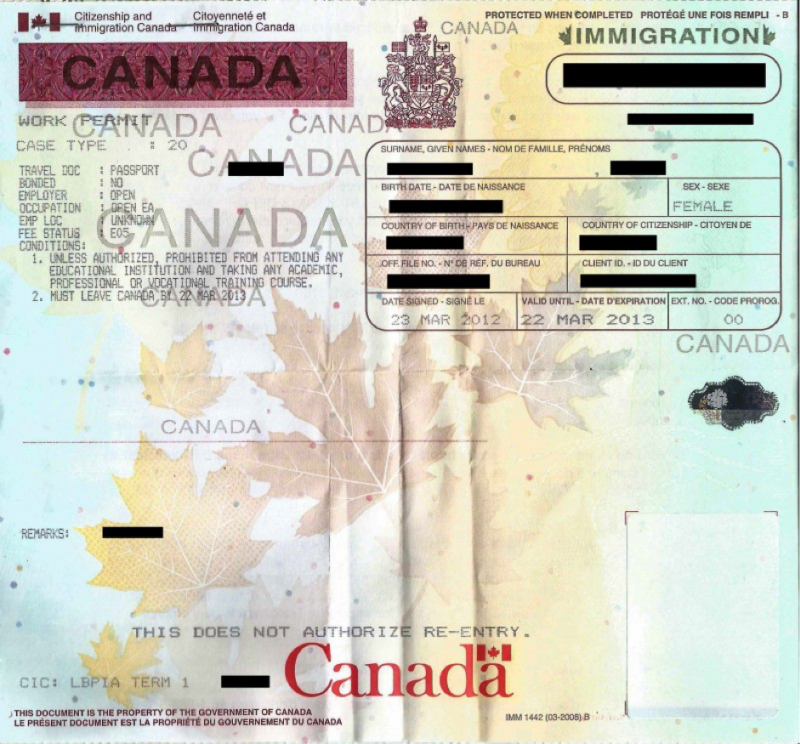 Issuance of your work permit
Check your work permit carefully right away. Make sure your name is spelled correctly, pay attention to the passport number and work permit expiry date printed. There shouldn't be specific conditions regarding the type of work you can do or where you can work written on your Working Holiday Permit.
A few Working Holiday Permit holders discovered the mention "Not authorized to work in 4) agricultural occupations" on their work permit, so read every line carefully!
If you think there's a mistake on your work permit, tell the border services officer—at this stage, it can be corrected easily and quickly.
The following info appears on your work permit:
Your name
The date it was issued and the date until it's valid (check these dates carefully!)
The mention "This does not authorize re-entry"/"Ceci n'autorise pas la rentrée ." Don't worry, you can still leave Canada and come back while your Working Holiday Permit is still valid! It simply means that you can't cross the border with just the paper—you need your passport too.
"Work permit" and "must leave Canada by DD MM YYYY" to indicate your status in Canada is temporary.
"Occupation: open" to indicate that your work permit isn't tied to a specific employer (unlike Young Professionals or International Co-op work permits, where the name of the employer is printed).
Working Holiday Visa holders may see the following conditions on their work permit:
"Unless authorized, prohibited from attending any educational institution and taking any academic, professional or vocational training course." You can still take a course shorter for six months or less—and of course, you can take dance classes, cooking classes, etc.!
If you didn't take a medical exam, you will see the mention "Not authorized to work in 1) child care 2) primary or secondary school teaching 3) health services field occupations." If you did submit a proof of medical exam, make sure the condition was removed (i.e. that it doesn't appear on your Working Holiday Permit). Changing your work permit conditions (including taking the medical exam in Canada) can be an option but it's a long and expensive process.
Other documents to show
You may have to show:
A proof of funds, e.g. a bank statement issued no more than one week before your departure for Canada. It must clearly show that you have enough money to support yourself for the first three months of your stay in Canada—the equivalent of CAN$2,500.
A proof of health insurance covering medical care, hospitalization and repatriation. Your insurance policy must be valid for the entire duration of your stay in Canada. If your insurance policy is valid for less time than your expected stay in Canada, you may be issued a work permit that expires at the same time as your insurance. We've heard of travellers who were issued a three-month or six-month work permit—they can't be extended or renewed.
If you don't have these documents, the border services officer may refuse to issue your work permit.
It's also a good idea to bring original copies of the documents you provided in your work permit application, e.g. the forms, a copy of your resume, digital picture, and if applicable, the proof of medical exam and police certificate.
Once the work permit issued and stapled into your passport, you can go pick up your checked-in luggage in the baggage claim area.
The final stop is the second CBSA checkpoint, where you will show the officer your Declaration Card and your receipt if you paid duty and taxes. Most of the time, you'll be waved through, but you could be directed to a secondary inspection area where you'll be asked to present your luggage and goods for examination.
This is the last step before the arrival hall. You made it, welcome to Canada! Your adventure starts now!
Note that there's a Service Canada booth at Toronto Pearson International Airport (YYZ) and Vancouver International Airport (YVR) where you can apply for your Social Insurance Number (SIN) during regular business hours. If you're offered this service, take advantage of it!
Register with the embassy or consulate of your country
Many countries encourage their citizens to register with the appropriate embassy or consulate in Canada. This is a free service and the registration information you provide allows your government to notify you in case of an emergency abroad (e.g., during a natural disaster) or a personal emergency at home.
Being registered also makes it easier to seek consular assistance in case of trouble (lost passport, etc.)—but don't forget it won't help much in case of arrest or legal troubles.
Apply for your Social Insurance Number
Why do I need to apply for a SIN?
A Social Insurance Number (SIN) is a unique nine-digit number that identifies Canadian citizens, permanent residents and temporary residents when they apply for benefits and services from government programs. As a temporary resident, you will mostly need a SIN to work since your it's also used for income tax reporting purposes. Employers are required to request your SIN and record the number within three days of your start date.
There is no fee to apply for a SIN.
Despite a reference to "social insurance", the SIN has little to do with health services or health insurance, which is handled by individual provinces and territories. In other words, it's not because you are issued a SIN that you're being granted health coverage in a province/territory. This is why one of the requirements when applying for an IEC work permit is to buy your own health insurance plan with coverage for the entire duration of your stay in Canada.
You will be issued a SIN that begins with a "9," which means that you're neither a Canadian citizen nor a permanent resident. Your SIN is valid only until the expiry date indicated on your work permit. Most employers will know you're not a permanent resident when they see your SIN starting with a "9", so don't lie about your status in Canada! If you want to show long-term commitment, you could share that you're applying for permanent residence.
How do I apply for a SIN?
For more information, read Getting your Canadian Social Insurance Number.
Canada is temporarily closing in person Service Canada Centres. Non urgent SIN applications are no longer accepted.
More info…
Open a bank account
There are five large banks in Canada, plus a number of credit unions and other smaller financial institutions (such as Desjardins, mostly in Quebec, with a few branches in Ontario):
Bank of Montreal (BMO)
National Bank of Canada (BNC)
The Bank of Nova Scotia (Scotiabank)
The Canadian Imperial Bank of Commerce (CIBC)
The Royal Bank of Canada (RBC)
Toronto-Dominion Bank (TD)
Before choosing a bank in Canada, check if your financial institution at home has a partnership with any of them. For instance, HSBC has a subsidiary in Canada.
Special offers on pvtistes.net
Desjardins – Open your Canadian bank account before your departure and get free banking service for 12 months in Canada + (United Kingdom, Ireland, France and Belgium citizens only) one month of Globe WHV insurance offered (CA $ 45). More information…
National Bank of Canada – Get up to three years without monthly fees + a $50 cashback deposited directly to your new account. More information…
How to open a bank account?
Opening a bank account in Canada is a relatively straightforward process. You can do it online or in person. You will need to provide your passport (and your work permit stapled into it), your SIN and a mailing address. You will usually get a debit card (or a Visa/MasterCard debit card you can use to make online purchases) and a few cheques provided free of charge. If you need more cheques, you will have to order them for a fee through your bank or a third-party company.
With your debit card, you can withdraw money directly from your checking account and pay for goods and services through Interac, the Canadian debit card system. If you see a "no Interac" sign in a small business (e.g. bars and restaurants), it means you have to pay cash. Beware of surcharge fees in non-bank ATMs (typically, ATMs located in airports, bars, etc.).
Review your banking package carefully. Some banks offer unlimited ATM withdrawals, others charge a high fee for out-of-network ATM withdrawals. You may also be charged a fee to make transactions (using debit, making a transfer, etc.) or to receive bank statements.
Spend your first Canadian dollars wisely
The government of Canada requires International Experience Canada participants to show proof of financial resources to cover initial expenses. So, what are those CAD$2,500 supposed to cover?
Transportation
You will have to take a taxi, a shuttle or a bus from the airport to the place where you will spend your first night in Canada. Airports are usually located outside the city and rides aren't cheap—budget between CAD$15 and CAD$70.
If you plan to rely on public transportation during your stay, you'll probably buy a monthly pass. For example, a Toronto Metropass costs $146.25 and in Vancouver, a two-zone pass sets a transit rider back CAD$124.
Short-term and long-term accommodation
Unless you arranged to rent a place before coming to Canada, it's likely that you'll spend a few nights in a hostel. A bed costs around CAD$25 a night, so CAD$175 for a full week.
If you're new to Airbnb, you can use 
this link
 (or any referral link) to get a discount on your first booking.
Once you find a more permanent accommodation solution in Canada, such as an apartment or a room to rent, you'll have to pay first and last month's rent. Rent prices vary dramatically from city to city but you should budget between CAD$450 and CAD$1,500 per month. For more information, read Finding accommodation in Canada.
Finally, if you're renting a semi-furnished apartment or if your room is bare, you'll probably have to buy basic furniture and other bed, bath and kitchen essentials. Cheap out on a few items (e.g. clothes hangers, waste basket, etc.) by shopping at Dollarama, Dollar Tree or any other discount store company (where everything is NOT always CAD$1!).  You can also browse Kijiji and Craiglist for used furniture but check them for bed bugs.
Other basic expenses
The cost of living varies across Canada and the amount you spend on groceries, clothing, entertainment, etc. depends on your lifestyle.
You can find restaurants, bars and clothing for every budget (and there are good deals too!). American (and of course, Canadian) brands are usually cheaper in Canada than in the rest of the world.
To find good deals, don't hesitate to use coupons and price-matching apps—they are very popular and big-box stores honour them.
Remember that a wire transfer from your bank account at home to your new checking account in Canada takes between 4 days and 2 weeks. Money transfer services are usually faster . Since most banks set a daily withdrawal limit, make sure you have enough cash for your first few days/weeks in Canada.
Look for a long-term accommodation solution
Kijiji and Craigslist are the two biggest free online classified services. Even if it's tempting to start looking for a place before you come to Canada, it's best to wait and visit it in person to avoid scams and bad surprises.
If you want to settle in a specific neighbourhood, take a walk and look for "For Rent" signs—you can even walk into apartment building lobbies where you may find "apartment for rent/room for rent" posters.
For more information, read Finding accommodation in Canada.
Start the job hunt
Your first task is to review your resume and turn it into a Canadian-style resume. Research what you should include and leave out—for instance, you shouldn't provide a picture or mention your age and marital status.  Ask someone—preferably a new Canadian friend!—to proofread your resume.
To gain a precious first work experience in Canada, consider volunteering. This is a common rite of passage for newcomers and new grads, and volunteer work can boost your career. Remember that applicants looking for a volunteer position often go through a hiring process similar to the one used to hire permanent, paid staff—a professional attitude and some commitment are required!
You will find paid and volunteer opportunities online, on websites such as Job Bank, Workopolis or Monster. Pvtistes.net also has a section where job offers are posted.
If you want to work for a specific company, check out their website—there's often a "career" or "work with us" page. To find companies in your field, you can use the search tools available from Innovation, Science and Economic Development Canada .
Staffing agencies can be a good way to secure short-term (and possibly temp-to-hire) contracts.
For restaurant and retail jobs, you can also bring your resume to the manager.
A key aspect of your job search strategy is networking. Let everyone know you're looking for a job—without being too pushy!—and work on your "elevator pitch," a quick synopsis of your background and experience.
Finally, for a complete overview of the job hunt process and for more tips, read How to find a job in Canada.
Get a cellphone and Internet access
Generally speaking, cellphones and Internet plans are much more expensive in Canada than in Europe and Asia. Budget at least CAD$65 for a smartphone plan with minutes and data, CAD$45 for a home Internet package and CAD$25 for a landline. On the plus side, local calling is usually unlimited from landlines (including calls to cellphones). On the downside, Canadian cellphone plans charge users for placing and receiving calls, as well as for "options" such as call display, voicemail, etc.
The three main telco companies are Rogers, Bell and Telus—you'll notice the suspiciously similar pricing…—as well as their respective low-cost flankers, Fido, Virgin Mobile, Koodo, regionals like SaskTel, MTS, Videotron, Eastlink; and national upstarts like Wind.