Yukon is a remote territory and a land of extreme weather, but also an extremely rewarding corner of Canada. Sure, you're pretty much guaranteed snow-based adventures and plenty of wilderness anywhere in Canada and yes, ice skating, dog sledding, ice fishing opportunities are available in most provinces and territories. But Yukon just takes it up a notch. 
Here are nine unique experiences and moments you will only enjoy in the "land of the midnight sun"… and they are worth their weight in gold!
Watch the world-famous Yukon Quest sled dog race
Along with the Iditarod in Alaska, the Yukon Quest is one of the two world-famous dog sled races. The 1,600-kilometre race between Whitehorse, Yukon and Fairbanks, Alaska alternates starting points every year—the USA on even-numbered years and Canada on odd-numbered years. It always starts on schedule on the first Saturday in February, regardless of weather conditions (hello, blizzard!).
The race is a true test of the bond between mushers and dogs. It takes courage, faith, trust and some planning to cross these unforgiving subarctic lands, including frozen rivers and mountain passes battered by extreme winter weather conditions. 
In 2019, winner Brent Sass made it to the finish line with his 14 dogs in nine days, two hours and 34 minutes!
Many people show up to cheer for their favourite team at the beginning and at the end of the race. But fun fact, race operations are largely supported by volunteers—and you could be one of them! Just imagine how fun and unique it would be to help out during an international dog sled race as a start or finish checker, in logistics support or as a trail marker painter!
The Yukon Arctic Ultra—the world's coldest and toughest ultra—starts the same weekend. Athletes run, bike or cross country ski on the Yukon Quest trail between Whitehorse and Dawson. There are three different marathon categories; 160, 480 and 682 (!) kilometres.
Cheer on the annual Yukon River Quest marathon paddling race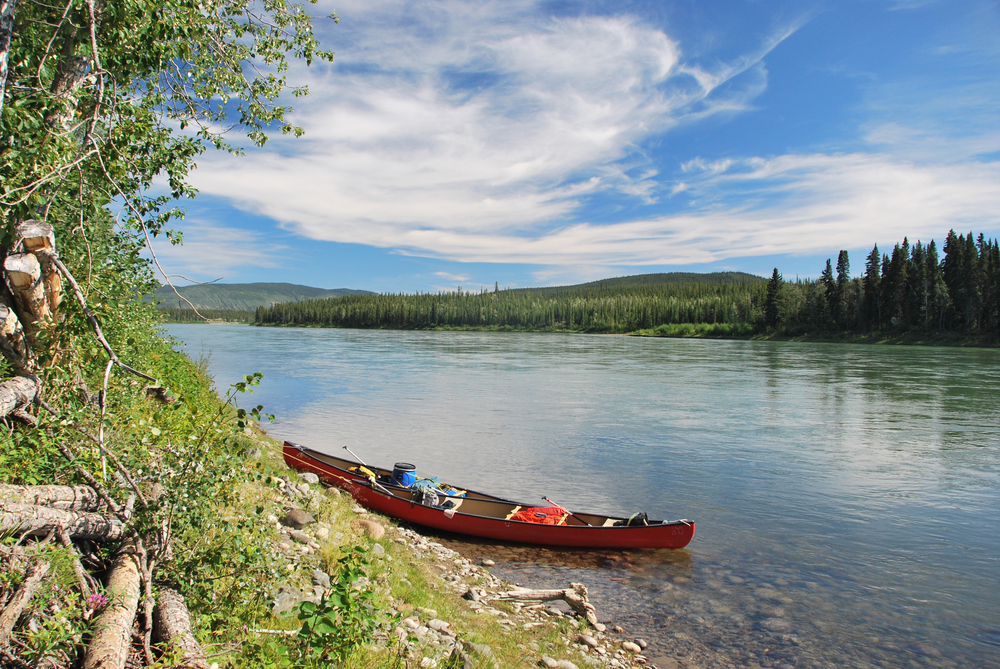 The Yukon River Quest is the world's longest marathon paddling race. Participants from 60 teams from all over the world grab their canoe, kayak, or stand-up paddle board to cover 715 kilometres of the Yukon River through remote Northern wilderness areas from Whitehorse to Dawson City. Sure, it takes place in late June or early July so weather conditions aren't as harsh as during the Yukon Arctic Ultra. But we're still talking about a crazy race in remote wilderness!
Volunteers are always needed, so here's another chance to contribute to a world famous sporting event.
And even if you're not ready to join the fun as a participant, you can still paddle on the Yukon River alone or with a guide for a day or half a day. You could even travel between Dawson and Whitehorse without racing, it takes about ten days. Check out Kanie People or Up North Adventures for gear, rentals and tips. 
Enjoy plenty of unique wildlife viewing and photography opportunities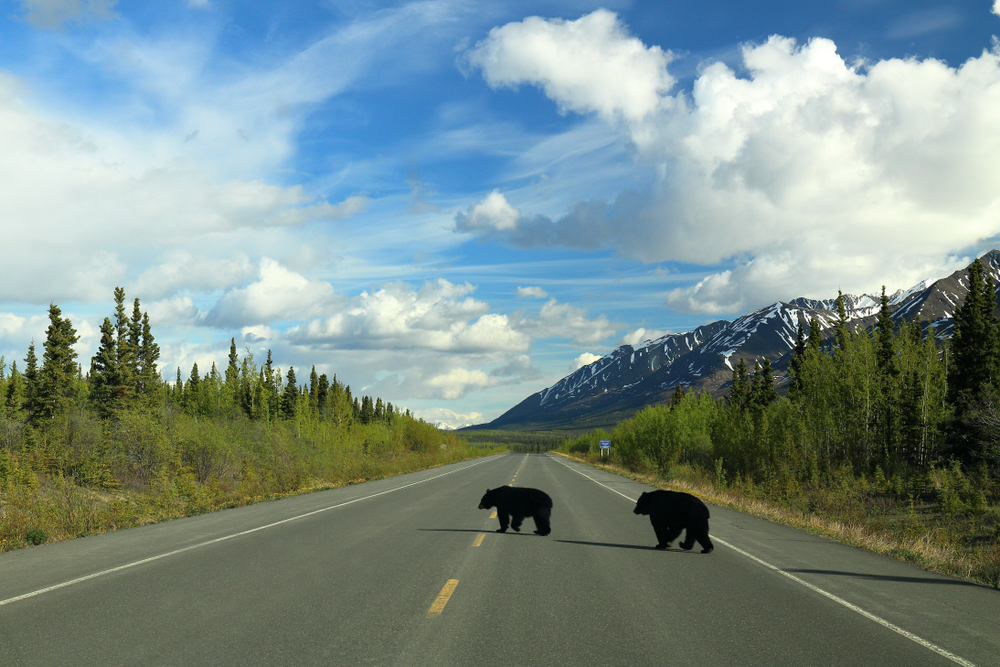 Yukon is a remote territory of wilderness with plenty of… wildlife! Yes, there are bears. No, you should not attempt to cuddle with a cub if staying alive is one of your goals. More seriously, check out Stay safe in bear country, How you can stay safe in bear country and Travel safely in the Yukon wilderness for life-saving advice (literally…). 
Three bear species roam around the Yukon Territory:
You may also meet Arctic ground squirrels, moose, wolverines (these ones are hard to spot!), porcupines, coyotes, muskoxen, thinhorn sheep and more—the list of Yukon wildlife is long!
Keep in mind that the keyword is "wild." Keep your distance for your own sake and to protect all the creatures you may meet. 
If you're just taking a short trip to the Yukon Territory and can't wait to see wildlife, head to the Yukon Wildlife Preserve, a 25-minute drive from Whitehorse to meet 12 iconic species in their natural habitat. This is not a zoo, it's a research centre with a wildlife rehabilitation program for injured animals—much better, right?
Keep a cool head during the annual Takhini Hot Springs hair freezing contest
Don't just tell your friends you're freezing in Yukon—prove it!
Takhini Hot Springs is a short 20-minute drive from Whitehorse and, of course, it's a great place to soak in, you guessed it, a hot spring. But from January to March, when temperatures dip below -20⁰C, you can also enter the unique Hair Freezing Contest. 
When it's this cold, wet hair tends to freeze. Yes, it's a fairly slow process, but you'll be just fine immersed in a hot outdoor bath. Once frost and ice have built up, ring a bell and the staff will come over to take your picture!
Not only is it fun but you could win some money and free soaks. 
Watch the Northern Lights and experience the midnight sun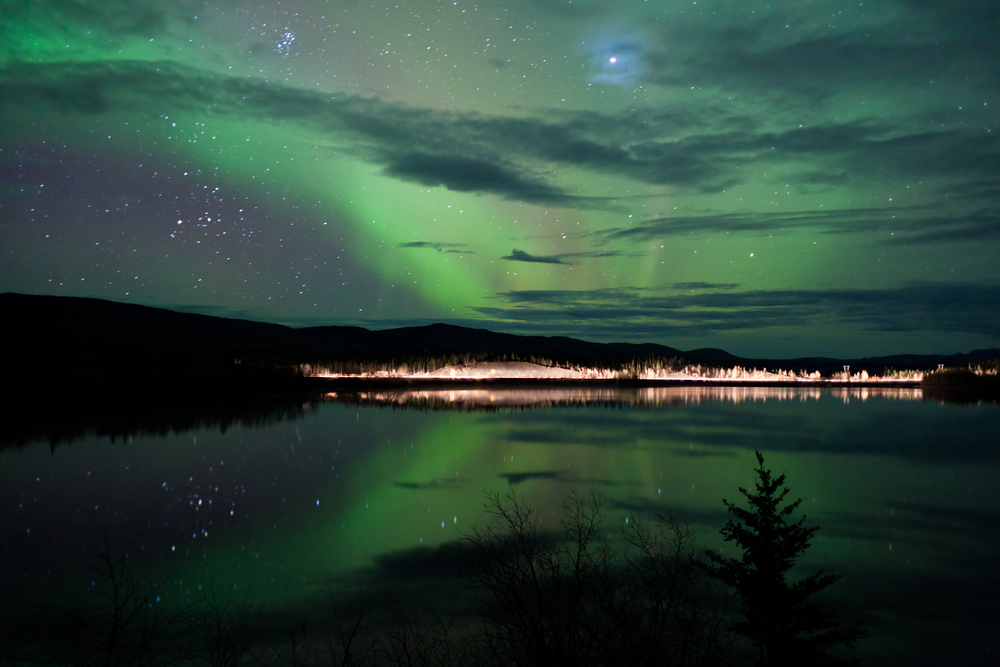 Both summer and winter offer unique experiences in the Yukon Territory. Two are world-famous—the northern lights in winter and the midnight sun in summer. 
Northern Lights, also called Aurora Borealis, paint the sky with bright dancing lights from September to April. The sky has to be very dark, with few clouds, without light pollution. Check out the Aurora Forecast to monitor aurora activity and plan accordingly. And to learn more about this unique phenomenon, go to the Northern Lights Centre in Watson Lake.
You can experience the midnight sun if you're visiting the Yukon Territory in the summer. North of the Arctic Circle, the sun can remain continuously above or below the horizon for 24 hours. On June 21, the sun is in the sky for a full 24 hours! It's still going to be a bit dark at night in Whitehorse, but in northern regions, it does feel like daytime. 
Take the ultimate road trip on the Dempster Highway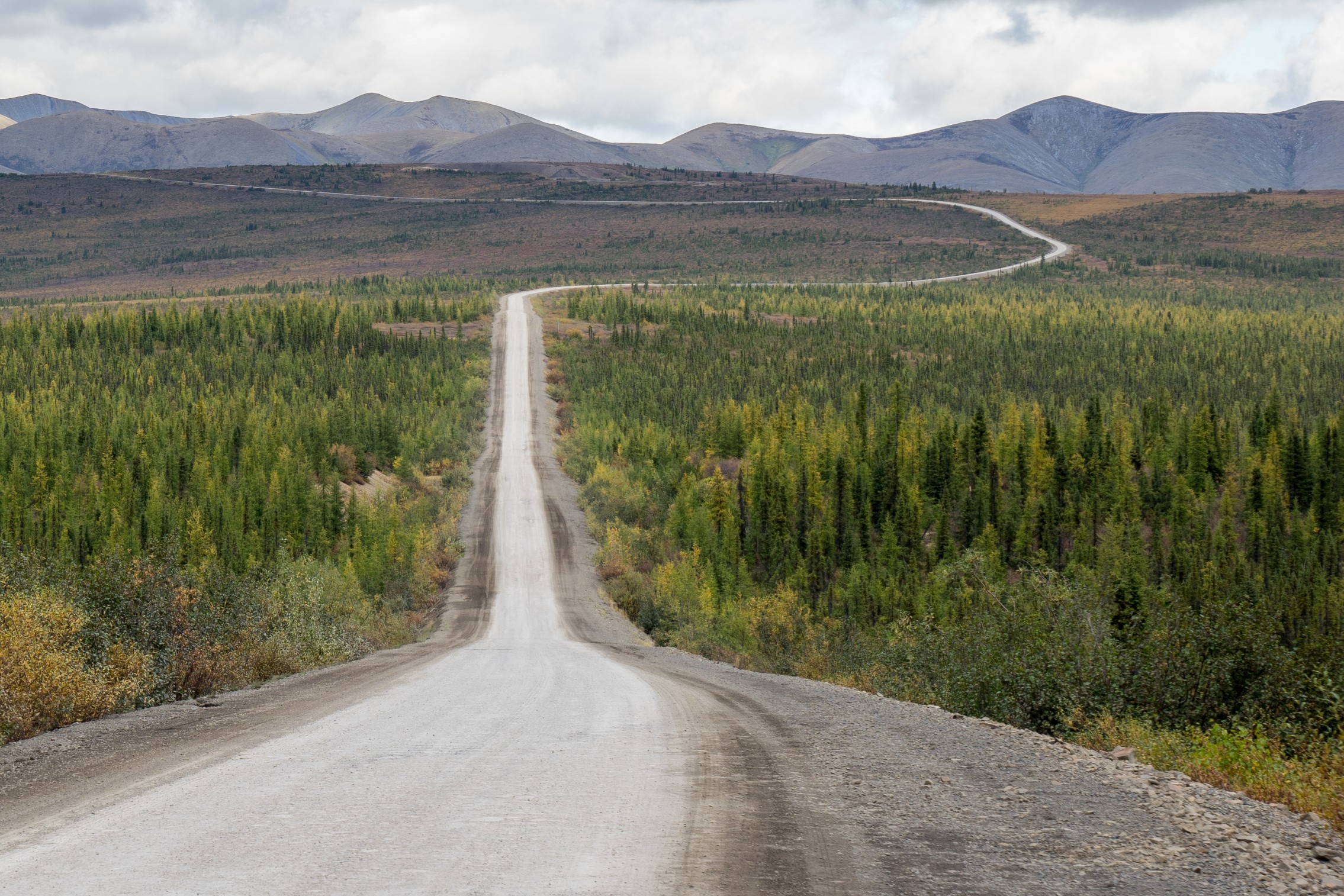 Picture a 740-kilometre bucket-list journey from Dawson City, Yukon to Inuvik, Northwest Territories on a gravel and crushed-stone road—yes, it's rough, and yes, you need to plan accordingly. 
You will need to take an on-demand ferry service on both the Peel and Mackenzie Rivers and make sure you have enough gas because there are only a couple of stations along the way. Expect an epic, lonely journey through wilderness, mountains and rivers, basically an unforgettable experience. 
The Dempster Highway takes you through Tombstone Territorial Park, the Arctic Circle (close to Eagle Plains, the main pit stop for gas) and the Yukon/Northwest Territories border. 
If you're considering the trip, check out the following links for info:
Explore Tombstone Territorial Park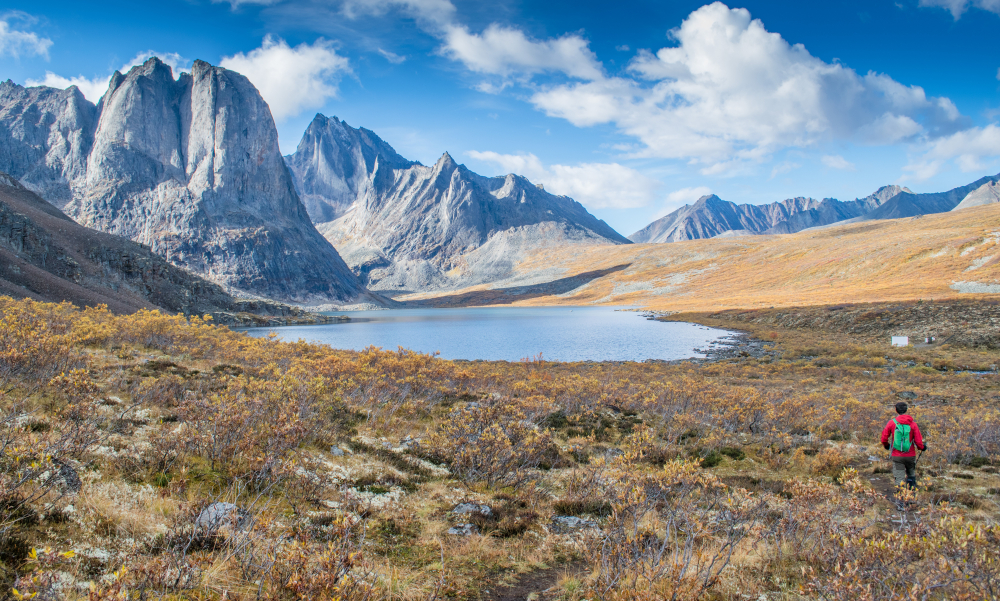 A trip to the Yukon Territory is a chance to access Tombstone Territorial Park, 2,200 square kilometres of rugged peaks, permafrost landforms and wildlife. Yes, it's remote, but at least, it's on the Dempster Highway, 1.5 hours from Dawson City or 7 hours from Whitehorse.
The park is home to moose, grizzly, black bears and other iconic species. It offers great hiking opportunities, including the famous Grizzly Lake Trail, the only official backcountry trail. You can camp anywhere as long as you pay the fee and register at the Interpretive Centre. 
Keep in mind that you're in a remote "bear country" part of Canada known for extreme weather conditions. Don't expect a leisurely hike! You will need proper equipment, including bear spray. 
Discover exceptional national parks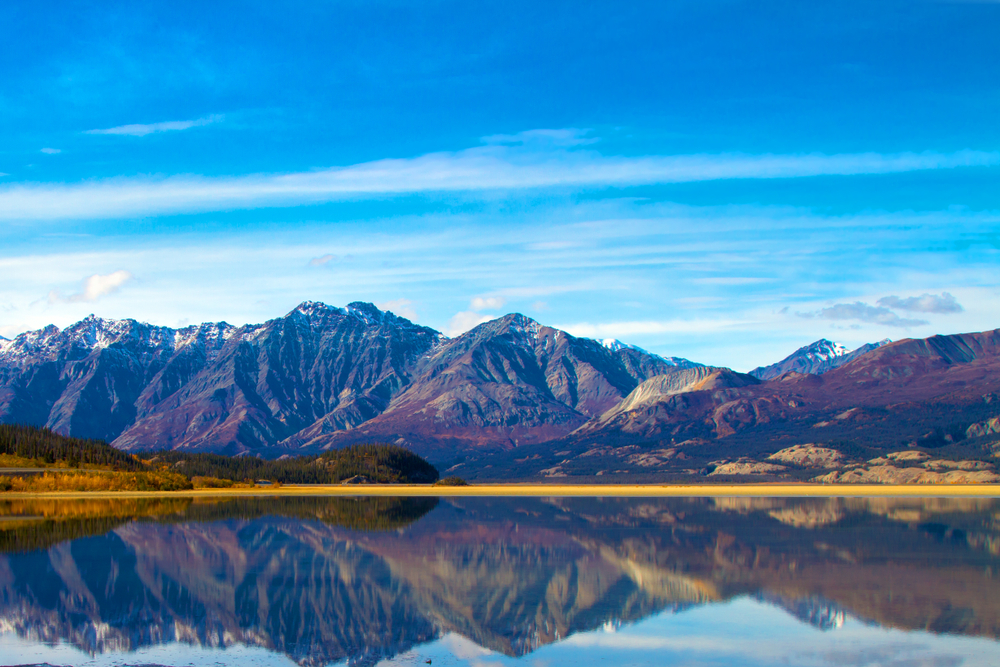 The Yukon Territory is home to three national parks—Ivvavik National Park, Vuntut National Park, and Kluane National Park and Reserve. There is no road access to the first two, so your best option is the Kluane National Park and Reserve located 160 kilometres from Whitehorse.
This UNESCO World Heritage Site of 22,000 square kilometres offers many snow-capped peaks, the world's largest nonpolar icefields, crystal clear lakes, glaciers, an abundance of wildlife and tons of outdoor activities. It's also home Canada's highest peak, Mount Logan (5950 m). It's worth splurging on a breathtaking flightseeing tour to see the Icefield Ranges, with Canada's highest peaks and largest icefields. Note that only one tour company touches down in the midst of the icefields while many simply fly over.
Ivvavik National Park and Vuntut National Park are also two amazing UNESCO World Heritage Sites but both are very isolated—as in, accessible only by charter plane, only for self-sufficient, self-reliant visitors. 
Cross into Alaska to say "hi!" to the Eastern neighbours
The Yukon Territory borders Alaska, "America's Last Frontier"—Skagway is only a two-hour drive from Whitehorse—so plenty of Americans and Canadians cross the border for fishing, hiking or tourism. 
Make sure to check the latest travel requirements to the United States. You may have to apply for a visitor visa, and if you don't, you will probably need valid Electronic System for Travel Authorization (ESTA) approval before your trip.
Anchorage, Fairbanks and Juneau are "just" big cities but the rest of the state offers once-in-a-lifetime travel experiences:
Enjoy the four-day Golden Circle road trip through natural beauty and Gold Rush history. The loop takes you from Whitehorse to Skagway, Skagway to Haines (by ferry), Haines to Haines Junction, and finally through Kluane Country back to Whitehorse. 
Follow the Chilkoot Trail National Historic Site lined with alpine lakes and century-old gold rush artifacts or take the scenic White Pass train ride. 
Take the Top of the World Highway from Tok to Dawson.
Visit the Denali National Park and Preserve (remember Into the Wild?) and see Mount Denali (formerly Mount McKinley). 
Tour Haines—go salmon fishing, visit the Hammer Museum and go for a hike.
Take a trip back to the Gold Rush era in the Town of Chicken, a former mining hub.
Explore the Kennecott Mines and Wrangell-St. Elias, America's largest national park.
Drive on the Whitehorse-Dawson-Fairbanks-Denali-Anchorage-Dawson loop (plenty of different options!).
Travel to Kodiak Island to see the world's largest grizzly bears. 
Take the legendary Dalton Highway, a remote 666-kilometre stretch of road through forest, tundra, and mountains (expect extreme weather and zero network coverage and no facilities along the way!).