More and more WHV holders are familiar with the Couchsurfing community, some even joined it as guests or hosts. For anyone new to this alternative accommodation option, here's a quick overview of a friendly and practical concept imagined over ten years ago.
Couchsurfing, A Concept and A Community
In "Couchsurfing," there is "couch," as in the place where you'll probably spend the night, free of charge—unless your host, a registered member on CouchSurfing.org, has a spare room.
Couchsurfing is a global network that connects locals eager to meet people and help out, and travellers who need a place to stay and want a unique perspective on local life. When a couch isn't available, it's still a great community with local members who will take you out for coffee, share tips or show you around their city. The motto of the community? Meeting new people, sharing slices of life.
Joining the Community
As of May 14, 2020, to be part of the CouchSurfing community, you have to pay $2.39 per month or $14.29 per year.
Contacting Local Hosts
Before contacting a host, take a few minutes to complete optional fields in your profile. This shows other members you're interested in joining the community (i.e. you're not just here for free accommodation!) and it helps them know who you are. Consider uploading a few profile pictures—this could make a difference when you're competing with other travellers for the same host. Maybe you share the same passion, have a language in common, work in similar fields—small details that may ultimately make a difference when a prospective host decides between several guests.
Use the website to search hosts by city. Make sure that your prospective host:
can indeed host you if you want to spend the night. A host can be away on holiday, busy with other guests, doing renovation work at home or maybe he's just interested in showing you around and have a drink.
can welcome all of you if you're travelling with friends.
speaks your language (if this is one of your requirements) or any other language you would like to practise.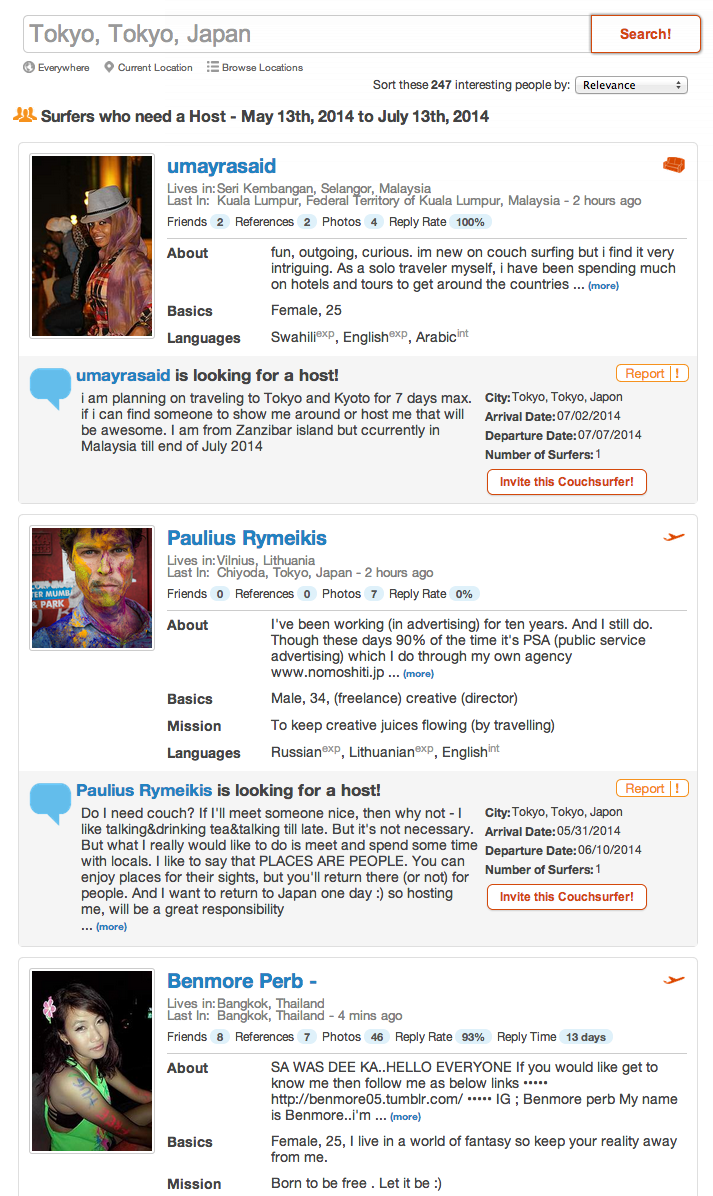 You will probably contact several hosts and send the same email to each of them. Wait a second before you hit "send"! It's better to personalize your message. You can copy and paste the practical info part (introduction, arrival and departure dates) but take a minute to write a message each host can relate to (a common interest, language or job). Sending a very standard email won't yield as many positive replies as messages with a personal touch.
Don't invite yourself for a week or more as a long-term commitment can scare hosts away. Suggest a night or two at first, and see if the host is willing to let you stay longer after you meet.
After you stay, hosts will leave comments on you and you can also give feedback about your experience with them. Positive comments on your profile page will likely make it easier to find other hosts willing to welcome you in the future.
Do not hesitate to buy food and offer to cook a meal or two during your stay, most hosts appreciate the initiative!
My Experiences with Couchsurfing
I was a guest three times, twice in New Zealand and once in Australia, and these have all been great experiences.
The first time it was in Christchurch, I was hosted by an American who shared the place with Kiwis. The heating system was broken and since it was July, we froze all night but it was worth it because we had a great evening.
The second time was in Nelson, in a place shared by three Americans and one Quebecer. A paint job was scheduled for the house so we took the opportunity to write stuff all over the walls. They were truly awesome hosts.
Finally, I was hosted by Australian who had been sent to Darwin for a six-month work assignment and who was staying in a hotel. After spending two weeks sleeping in the car, these two hotel nights were a nice, cozy change. We spent hours talking about travelling in the evening, it was pretty cool.
Becoming a Host
As a member of the Couchsurfing community, you're also invited to host guests as well once you're back home or settled somewhere in the world. Make sure that you have enough room and time to welcome guests if you state you're willing to do so on your profile, because requests will pour in, especially if you live in a big city. If you still want to meet people from all over the world and practise another language, you don't necessarily have to host guests to do so—you can also offer to show them around and spend some time with them. Many people travel solo, so it's always nice for them to see new faces and for you to be a small part of their trip. You can read stories of Couchsurfing members here.