12
WHV application mistakes and passport renewal issues
WHV application mistakes and passport renewal issues
"Help! I made a mistake in my WHV application!"
Case #1 – Your application hasn't been finalized yet
If your application hasn't been finalized yet (i.e., a decision hasn't been made yet), you can log into your ImmiAccount:
To update your mailing address
To update your email address
To update your passport information
To update your situation
To correct a mistake in your application
To withdraw your application
Simply click on "Update details" at the bottom-right corner of the table and choose the applicable option.
Case #2 – Your application has been processed and you were granted a WHV
You can make a limited number of changes, including to:
Update your mailing address
Update your email address
Update your passport details
Request the cancellation of the WHV
Log into your ImmiAccount and click on "Update details."
Case #3 – Changing your passport details after the WHV was issued
If for whatever reason, you get a new passport after your WHV was granted, you must notify the Department of Home Affairs and update your passport details. Just before boarding the plane, the airline will check your immigration status, especially when flying with a one-way ticket. If you're handing a brand-new passport, your travel document isn't linked to any WHV.
Don't wait until the last minute to change your passport details—it may take a bit of time for the information to be updated.
The easiest way to notify the Department of Home Affairs of a change of passport details is to log into ImmiAccount, select "Update details" and "Change of passport details."

If you made a spelling mistake in your name or changed names, answer "Yes" to "Is the name in the applicant's passport different to what they have previously advised the department?"
You should normally be answering "No" to the second question regarding the country issuing the passport. If you did become a dual citizenship, the answer should still be "No" because you didn't apply to the WHV with your new citizenship.
You can now update the following details: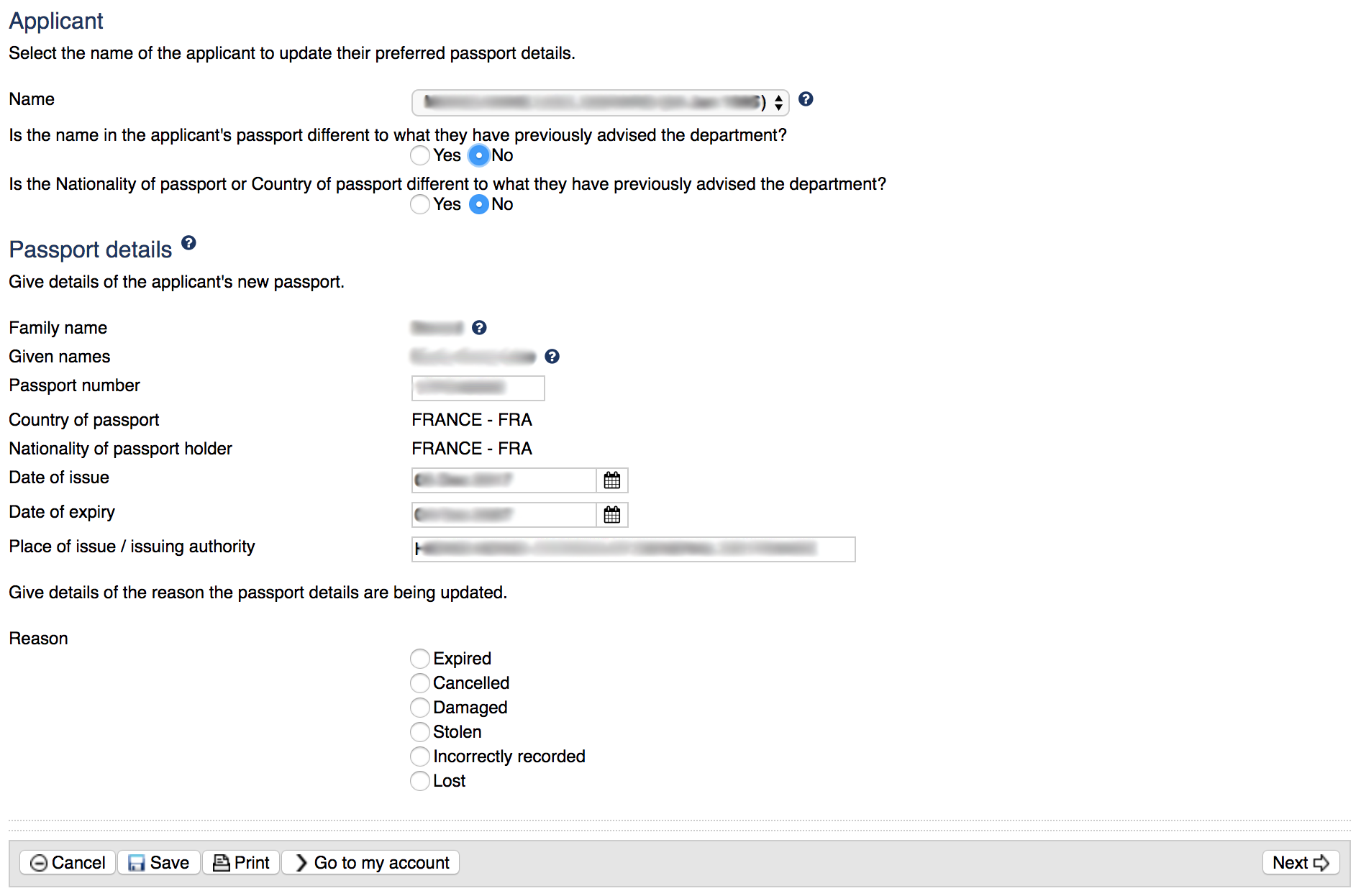 If you ticked "No" to the first question, you can't change your first or last name. If you ticked "Yes," you can.
You also have to explain why you're changing your passport details. Was the document:
Expired
Cancelled
Damaged
Stolen
Incorrectly recorded
Lost
Usually, no further documentation is required after you made the necessary changes. However, we do recommend keeping all documents related to your new passport application and a copy of your previous passport information pages. The Department of Home Affairs may eventually contact you. Take the copy of your previous passport to the airport as well, just in case.
You may not get a message from the Department of Home Affairs to confirm that the update or change was received, which can be a bit unnerving ("Did they get it or not?!"). You can always go back to "Update details" a few days after you made the initial change and click on "Change of passport details." Answer the first two questions to check the information recorded:
If you see your old passport information (or the same mistake you corrected), it may be a good idea to wait for a few more days. Don't repeat the step to update or correct the info yet, it may just take time for the original modifications to be recorded.
If you see your new passport details (or the mistake corrected), it means that the Department of Home Affairs has the right information now. You're good to go!
In any event, you can print your update question (you can download the PDF document available on your ImmiAccount) and take it with you when you leave home.
Case #4 – Other situation changes
You can contact the Department of Home Affairs through the Working Holiday maker application enquiry form to inform them of any other major change (e.g. pregnancy, marriage, divorce, etc.).