Current location
Vancouver, BC, Canada
pvtistes
:
Hi Chloé, can you introduce yourself?
pvtistes
:
Why did you choose Canada as your Working Holiday destination?
Chloé
:
I've had this project in mind for years! As a student, I was already considering travelling and working abroad after graduation—and more specifically in an English-speaking country. Canada was an obvious choice for me. I've always found the territory itself and the weather completely fascinating—I can't stand hot weather, by the way. I went there as a tourist with friends in 2017, and even though we only stayed in Quebec and around Toronto, I totally fell in love with Canada.
So I took the plunge after graduating, I submitted my profile for a Working Holiday work permit and it was drawn five months later. I received my letter of introduction in July 2019. But suddenly, it seemed too tight to travel to Canada in September 2019 as I had initially planned. Two months was too short to organize the whole trip. I decided to work as an architect in France for a few months first and I set my new departure date for the end of April 2020, because early spring seemed like a good time to arrive in Canada.
And then, the pandemic disrupted everything. I was almost done carefully organizing my trip, and suddenly all my plans were falling through. My work contract had ended at the beginning of March, I had even left my apartment! In the end, I realized that I had to give up on Canada for a while, and I was lucky enough to be rehired at my previous job.
I ended up waiting patiently for two years—every now and then, the Government of Canada extended the deadline for the Letter of Introduction that had been issued, but not for everyone at the same time, and it was driving all Working Holiday permits holders crazy. 
Eventually, I flew to Canada on April 21, 2022—almost exactly two years after my initial departure date.
pvtistes
:
You spent the first part of your Working Holiday on a road trip adventure. Please, tell us about it!
Chloé
:
From the beginning, I had a very precise idea of what I wanted to do during my Working Holiday adventure. I did want to explore the country but I couldn't picture just bumming around and taking up jobs here and there for two years—the main goal for me in Canada was to work in my field.
I'm planning to stay in Canada after the end of my Working Holiday permit and I know Canadians don't get much time off, so it made sense to take advantage of the "holiday" part of the work permit at the beginning, and then find a permanent job… and eventually, keep it after applying for another work permit. So I decided to spend five months on the road during the warmer months, from the end of April to the beginning of October, to enjoy some freedom before starting the more "serious" part of my stay.
I should mention that I'm super organized and love to plan everything. I started listing all the places I wanted to visit in 2019! So I sat down, took a calendar, and organized my trip. I wanted to stop for about three weeks in the following places: Montreal, Gaspé, New Brunswick, Nova Scotia, Newfoundland, Yukon, Alaska (a small detour through the USA), the Rockies, and Vancouver Island.
I didn't include the Prairies because I think this is the least interesting part of Canada. I didn't have that much time and it was hard to fit them into my route. I decided to find volunteering opportunities through Workaway to make the most of each place and travel as cheaply as possible—basically, getting free accommodation and meals for working a few hours a day. It's great because you just spend money on transportation between each stop. Then I left a few days between each Workaway experience to travel and explore the area on my own.
The planning process was smooth after picking the stops and organizing my schedule. First I looked for a Workaway opportunity, then I booked transportation and hotels/hostels if needed between each stop. Everything was planned until July when I started my trip at the end of April. I know that planning that much doesn't work for everybody, but I found that knowing exactly where I was going gave me and my family peace of mind. Plus, my travel time was limited, so it was a way to make sure I'd be able to do everything I wanted. I was able to enjoy every moment instead of wondering where I should go next. I was going with the flow. That's not to say that everything was set in stone, I was still flexible. Let's say I had the big picture, but during each 2-3 week stop, I could still organize a short last-minute road trip—and I did just that often enough. I don't regret planning my trip, it worked just fine for me, I was able to do everything I wanted, and more!
I had decided I wouldn't buy a car in Canada. Honestly, I was afraid to make a such big purchase in Canada (I've never bought a car in France either) and I didn't want to drive across the entire country, especially not from Newfoundland to the Yukon! So I decided to find an alternative way to travel, using mainly public transportation and getting rides.
I'm not going to lie, it was a real headache, but I always managed to get where I needed to be!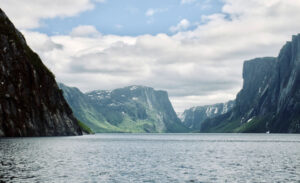 My trip was divided into 3 main regions—the Maritimes, the North and the West. I flew from one region to the next, which was the fastest and cheapest way to travel. The rest of the time, I tried to travel overland or by ferry.
I landed in Montreal because I knew the city, which gave me some peace of peace. It was also easier for me to get the paperwork done in French. The Maritimes are "relatively" connected to Quebec by bus. Let's say that there are bus routes, but most of the time, it's just one bus a day, so I had to plan ahead. And when there was no bus going where I had to go, I had to rely on my Workaway hosts—a few of them drove several hours to pick me up or drop me off! Occasionally, I rented a car (with more or less success) to drive to more remote places like Newfoundland. I also had to take chances, like the time when I took a ferry that arrived in the middle of nowhere—I ended up asking around for a ride.
There's just no public transportation in the Yukon, it doesn't exist up there. Once again, I relied on my Workaway hosts to pick me up. But what was even better was that they lent me their car so that I could explore the territory alone—I even drove the 500 km to Dawson City! Alaska was a trip within the trip. I was a complete tourist for a week. It's in the US, so I wasn't allowed to work but it was a childhood dream of mine to go there and this state borders the Yukon. Contrary to popular belief, it's not that remote, and there are options for tourists who don't have a car, like me. My week in Yukon was intense because everything is much more expensive. After that, I felt tired for the first time on the trip—I had been on the road for three months by then.
Fortunately, I stayed a little longer at my next stop, the Rockies and I tried another way of travelling—going on a road trip with other people I met along the way. And honestly, your mileage may vary. It's hard to get to Jasper from Banff without a car. I met a group of girls and we planned to go together and stay for three days. At first, we hit it off, but during the road trip, I quickly realized that we didn't share the same way of travelling. In the end, we weren't a good fit and I don't have very fond memories of this trip. I hitchhiked my way back for the first time ever, and it went really well! On the other hand, when I was looking for someone to cross British Columbia all the way to Vancouver, I met a Czech guy on a Working Holiday in a Facebook group, and we had a great three-day road trip together!
I used a mix of transportation on Vancouver Island—bus, car rental, hitchhiking and carpooling with someone I met on the road. I ended up staying longer than expected because my end date was not really set and I started to look for a job in Vancouver while I was still on the island.
In the end, my five-month trip turned into an almost six-month adventure from the end of April to the middle of October. In total, I travelled more than 23,000 km across eight provinces and territories. My favourite stops? Newfoundland, Yukon and Tofino.
Check out my YouTube channel for videos of each stop!
pvtistes
:
Was it hard to find Workaway opportunities?
Chloé
:
Not at all, I always found opportunities very easily! I focused on Workaway because I find the platform more user-friendly than HelpX or Woofing—and for me, it offered the widest variety of options. This was my process: After deciding where to stop, I would search the specific geographic area and see what inspired me. I was very lucky, every time I messaged my first choice, I got a positive response! As I explained above, I organized everything in advance. I think I started looking in January—February for my first Workaway in April-May. I'd say this is a good time frame when you really have a specific Workaway opportunity in mind. That way, you won't miss your chance, because some hosts only welcome one volunteer at a time.
I only had a hard time finding something once, and that was at the last minute on Vancouver Island. I wanted to fill a week in September and I started looking several weeks ahead but it was tricky to get potential hosts to reply to me. The date was approaching fast and I was getting more and more insistent with my messages. I must have sent about 20 messages that went unanswered. I was really surprised, considering my previous experience.
I had ten different Workaway experiences in total. All of them went fine, and as you can see below, they were all unique.
Gaspe: I spent 2.5 weeks at a youth hostel in Forillon National Park. When I arrived, the busy season hadn't started yet, the hostel wasn't open and it was still snowing! So I mostly helped get the place ready for opening—I put a fresh coat of paint on the walls and I helped freshen up the hostel. Amélie, the owner, was just adorable, and we're still in touch. Two other volunteers arrived during my stay, the atmosphere was very good, and we were able to explore Forillon National Park together during our spare time.
New Brunswick: I spent a week painting the entrance of a house for a thirty-something guy. I would like to point out that as a solo female traveller, I look for positive comments from other women when I consider a Workaway experience where the host is a single man. But it was a good experience and the task wasn't exactly difficult. There wasn't much to do in the small town, but my host did take me on a day trip to the Acadian Peninsula.
Halifax: I spent a week refreshing the paint at a thirty-something woman's place (yes, paint jobs are a recurring theme…). The perks here were that she lived just across the shore from Halifax, a 10-minute ferry trip, and her house had incredible views of the skyline.
Cape Breton: My host was a fifty-something guy and again, a paint job, a pretty straightforward one-week commitment. He was living in an amazing cliffside house where could see the whales go by all day long! When he realized I was fascinated by whales, he even got me on whale-watching tours for free twice!
Newfoundland: This 2.5 week experience was the most relaxed of all—it was a hostel, but really more of a bed and breakfast considering how small it was. It was still early in the season, there weren't many guests, and cleaning never took more than an hour a day. It was a far cry from the "five hours a day" Workaway guidelines! And the awesome perk was the car I could use to explore the beautiful surroundings as much as I wanted.
Yukon (first experience): I spent two weeks on a small family farm and this time, it was hard work—pretty exhausting and physical farm work. But the family was nice and the mountain setting was beautiful. There was another volunteer with me, a German woman, turned out she was living 10 km from me when I was in France, just across the border! A car was available from time to time so we used it to go hiking together.
Yukon (second experience): I helped a family for a week. Again, light work, I didn't do much except watch the kids and help with some cleaning. The family lent me their car so I could visit Dawson City, 500 km away!
Banff: These three weeks in a youth hostel were by far my least favourite experience. This hostel was nothing like the previous ones I've been to, it was busy and impersonal with about 30 volunteers and permanent staff members. The work was easy—room cleaning 4 hours a day, 4 days a week. But I learned the hard way that I was in a "party hostel." Many people might like that, but I didn't. I was hoping to meet new travel partners to explore the Rockies, but I didn't connect with anyone. It was also the only Workaway experience where meals weren't provided (not exactly surprising considering there were 30 staff members).
Victoria: These three days in a small community is the Workaway experience I secured at the very last minute as I explained above. My host was a woman who lived with her son and other roommates. There were three or four other volunteers. I helped with a painting job but it was a short experience.
Nanaimo: I spent a month hosted by a guy in his fifties, and it was the most perfect transition into my professional life! He was doing home renovations, so I used my experience to offer design advice and colour options, and we were really working together, which was super satisfying. I even drew up plans for the basement to be turned into an apartment. I was supposed to stay for a couple of weeks but it was extended while I was looking for a job. The location was perfect, on a direct ferry line to Vancouver—I could dash into the city for interviews and to check out apartments.

pvtistes
:
And now, you're living in Vancouver. Why this city and what are you doing there?
Chloé
:
I found Vancouver very attractive before even going there. It's always listed as one of the "top cities in the world to live," I liked the idea of being between the ocean and the mountains, and compared to the rest of Canada, winters and summers are mild—perfect for me! There seemed to be good work opportunities for architects, and I was looking for an English-speaking environment. I decided I would settle in Vancouver even before landing in Canada. And I was not disappointed when I visited for the first time. Vancouver was my first option, plan B was Montreal even if it didn't meet the "English-speaking environment" criteria.
Eventually, finding a job as an architect turned out to be easier than expected. I was ready to compromise as a French citizen with a French architect degree and no Canadian experience I was mentally ready to sign up for the first job I was offered. I was lucky because my field is in demand right now. I guess the few years of experience I had in France during COVID also helped, so it was a blessing in disguise. I must have sent about 30 applications and had 10 interviews for six job offers, I even had the luxury of choice! I decided to work for a firm mostly specialized in theatres.
I was also lucky to find a place to live in a real estate market known to be expensive and competitive. Indeed, when I had my first interview, I started to check out Facebook Marketplace ads and I realized that not only was it tricky to find a "decent" place in a relevant neighbourhood, but also that getting replies to inquiries was next to impossible. In the end, I managed to schedule four rental tours on the same day. One of these places was a big shared house that I loved right away. I was the first and only person to show up and I was told I'd be accepted as one of the roommates. And that's where I live today, in Kitsilano, a very quiet neighbourhood close to some shops and the beach.
pvtistes
:
Are you planning any other trips during your Working Holiday experience?
Chloé
:
I'm not sure yet. I visited all the places I wanted to see in Canada and it feels good to settle down and focus on Vancouver after six very intense months on the road. 
That said, I have two trips in mind—the northern part of Vancouver Island that I haven't explored yet and going back east next fall to admire the seasonal foliage we don't have out west. And I'm close to the US, so it's quite tempting to maybe plan a weekend in Seattle… I'll figure something out!
pvtistes
:
What do you think are the biggest differences between France and Canada?
Chloé
:
The most striking difference for me is the working conditions, compared to my experiences in France, anyway. Working time is shorter and more flexible, but above all, people RESPECT your work schedule. In France, I was technically supposed to work from 8:30 a.m. to 6:00 p.m., but leaving at 6:00 p.m. was frowned upon, yet no overtime was paid. Here, I work from 8:30 a.m. to 4:45 p.m. and I am often one of the last to leave. Even the bosses sometimes kick us out! Not to mention that the wages are much higher. But on the other hand, I find it less easy to socialize at work, the work culture is different and it was hard to get used to it at first. I learned that coffee breaks to chat with coworkers and long lunch breaks where everybody sat at the same table are French concepts.
And you've probably heard it before, but Canadians are extremely nice, polite and always ready to help. People thank the bus driver when we get off, even when using the back door. I attended a presentation on respect at work and the topic of "microaggressions" came up—basically how to be a good person and how to make sure you're not using harmful language. It doesn't get any more Canadian than that!
pvtistes
:
What do you appreciate the most in Canada? The least?
Chloé
:
As I've explained above, working hours boundaries and salaries are among the big positive points. On the topic of Canadian kindness and open-mindedness, I find the country very safe in general. I've always felt safe as a single woman and solo traveller, both on the road and in Vancouver.
On the negative side, everybody knows that the cost of living is high in Canada, especially in Vancouver. Groceries, eating out, activities, gas, rent… It's at the point that most expatriates can't imagine staying here for the long term because real estate prices are just crazy.
I also miss the fact that France is generous when it comes to paid time off. In Canada, I only get two weeks off a year, which is also why I find it hard to plan other trips in Canada, especially considering I have to travel to France next year for a wedding.
pvtistes
:
What is your best travel memory in Canada so far?
Chloé
:
It's hard to pick just one! I've made some amazing memories along the way but there is one that I think epitomizes the perks of solo travel. When I was hiking in Newfoundland, two Canadian retirees started a conversation with me. And two minutes later, the couple was inviting me to their place on Vancouver Island! I did come four months later, and I was welcomed like a queen in their sumptuous property overlooking the sea, where you could hear and see whales passing by all day long. They even had kayaks that I used to paddle among the seals. It was really a few days out of time and it was a great symbolic end of my trip since it was my very last stop before moving to Vancouver.
pvtistes
:
What has been your worst experience?
Chloé
:
I have plenty of good memories but I also faced numerous challenges during my trip. In New Brunswick and Newfoundland, I was turned down by car rental companies a few times because of credit card issues. It was super stressful at the time—I even had to find a last-minute hotel option in Newfoundland because, without a car, I was stuck for 24 hours. But eventually, I always managed to find a way to get to places only accessible by car.
Air Canada lost my suitcase twice, which really sucked. I remember thinking there was a 50% chance it could happen when I booked three different flights for my cross-country Newfoundland-Yukon trip. So I didn't have any luggage when I arrived in the Yukon and it took no less than 5 days to get my suitcase back, which was hell. But I always managed to adapt and keep calm and today all my "bad" memories are anecdotes that spiced up the trip.
pvtistes
:
Do you have any advice for future expatriates or anyone still wondering whether going abroad is the right move?
Chloé
:
Don't hesitate! Honestly, I know that it can be scary to leave everything behind to travel to the other side of the world, especially alone. 
When we started emerging from the pandemic and borders reopened, saying goodbye to my job, my family and steady life in France was the hardest decision I've ever had to take. But today I can also say that it was the best decision ever. My life wasn't that great in France and I was not 100% happy. Moving to Canada became a need, a path to freedom, and I have never been as fulfilled as I am now. I feel more confident, I've rediscovered myself.  It's clearly the experience of a lifetime.
pvtistes
:
And finally, what are your plans these days?
Chloé
:
The future will tell! I've only been in Vancouver for a month, it's still very new to me and I still have a year and a half left on my Working Holiday permit. I'm open to the idea of staying here longer through a Mobilité Francophone permit for example, but there are still too many unknowns for me to be able to plan for the long-term—will I still like the city and my job in several months, will I meet new people, will I feel homesick… For now, I'm taking it one day at a time and I enjoy my new Canadian life.