16
Completing your application — Application detail
Completing your application — Application details
Previous participation in IEC tab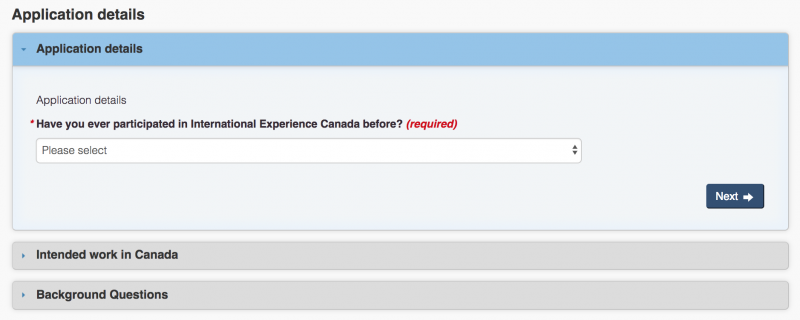 You are asked if you have already participated in IEC. A "participant" in IEC is a candidate who receives a Port of Entry (POE) Letter of Introduction (sometimes called the Introduction or Introductory Letter) which is the confirmation the application for an IEC work permit has been approved.
If this is your first application for an IEC work permit, answer "No."
If you've already been to Canada with an IEC work permit (Working Holiday, Young Professionals or International Co-op) answer "Yes."
If you are currently in Canada with another IEC work permit, answer "Yes."
If you received a POE Letter of Introduction informing you that your application for an IEC work permit has been accepted but never travelled to Canada, you're still considered a former participant and you must answer "Yes."
If you submitted an application in one of the IEC categories but never received a Letter of Introduction, answer "No."
If you submitted your profile to one or more pool(s) of candidates in 2016 or 2017 but never received an Invitation or Apply, answer "No."
If you answer "Yes," you must indicate the date the border services officer issued the IEC work permit upon arrival in Canada.
If you arrived directly from your home country, enter the date you landed in Canada and had your Working Holiday, Young Professionals or International Co-op work permit issued at the border.
If you were already in Canada when you got your work permit, enter the date you left Canada and re-entered to go through Canadian immigration and have your work permit issued.
If you didn't validate your IEC work permit and never used it, we suggest you enter the date you received your Letter of Introduction. You can attach a letter to explain your situation (i.e. why you didn't use the work permit).
Intended work in Canada tab (Working Holiday work permit applicants only)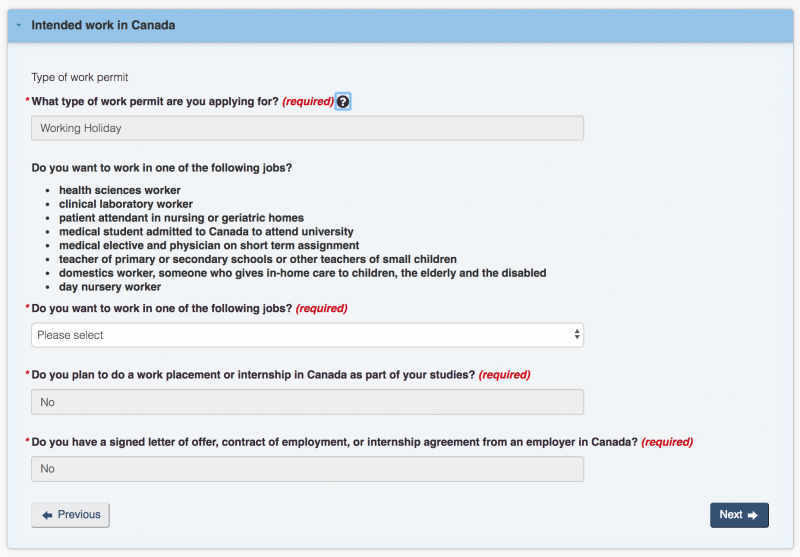 You can see the type of work permit you're applying for in grey (i.e. can't update it).
You have to answer the "Do you want to work in one of the following jobs?" question. If you plan to apply for any of the jobs listed, you must take a medical examination performed by a panel physician.
If you do plan to work in one of these fields but prefer to answer "No" to this question to skip the mandatory medical examination, note that your work permit will have the following condition: "Not authorized to work in 1) child care 2) primary or secondary school teaching 3) health services field occupations." Changing your work permit conditions (including taking the medical exam in Canada) will be long and costly.
If you answer "Yes" to this question, you will be required to submit a proof of medical exam with your other supporting documents. This medical exam must be performed by a Government of Canada-approved "panel physician." There are designated physicians all over the world.
Intended work in Canada tab (Young Professionals or International Co-op applicants only)
Type of work permit
The type of work permit you're applying for is at the top of the page, in grey. Make sure it's correct.
You're also asked if you want to work in health care, with children or with elderly people to determine if you need to take a medical exam with a designated doctor.
The answers to the following two questions are prefilled. They were used to determinate category eligibility.
Offer of employment number and compliance fee payment

First, enter the offer of employment number your employer received after submitting the job offer through the Employer Portal. Ask your future employer for this number and enter it twice in this form. The number format is A9999999 (one letter followed by seven digits). Employers hiring a temporary employee with a Young Professionals or an International Co-op work permit must pay an employer compliance fee, even if the offer is an unpaid internship. Make sure your employer paid the fee before answering "Yes" to the next question.
Information about the job offer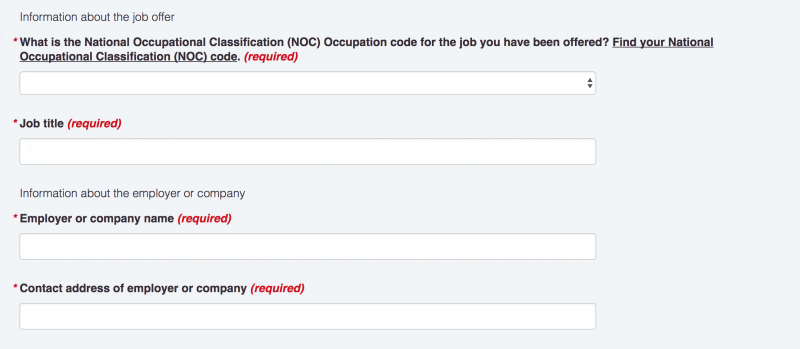 Enter the four-digit National Classification of Occupations (NOC) code matching your job or internship offer. Check with your employer for the code, they used it to submit the offer through the Employer's Portal. For more information about occupations, job titles and typical tasks, read National Occupational Classification—Resources & Tools.
Note that there are several job titles for each unit group. For example, in the unit group "2175 Web designers and developers" there are six different job titles—e-business (electronic business) Web site developer, e-business Web site developer, e-commerce (electronic commerce) Web site developer, e-commerce Web site developer, Web developer and Web site developer. Enter your job title, the name of your employer or the name of your company and their contact information. Don't use commas in the address.
Intended location of employment and duration of contract
Enter the address of your future employer or company as well as start and end dates.
Background questions tab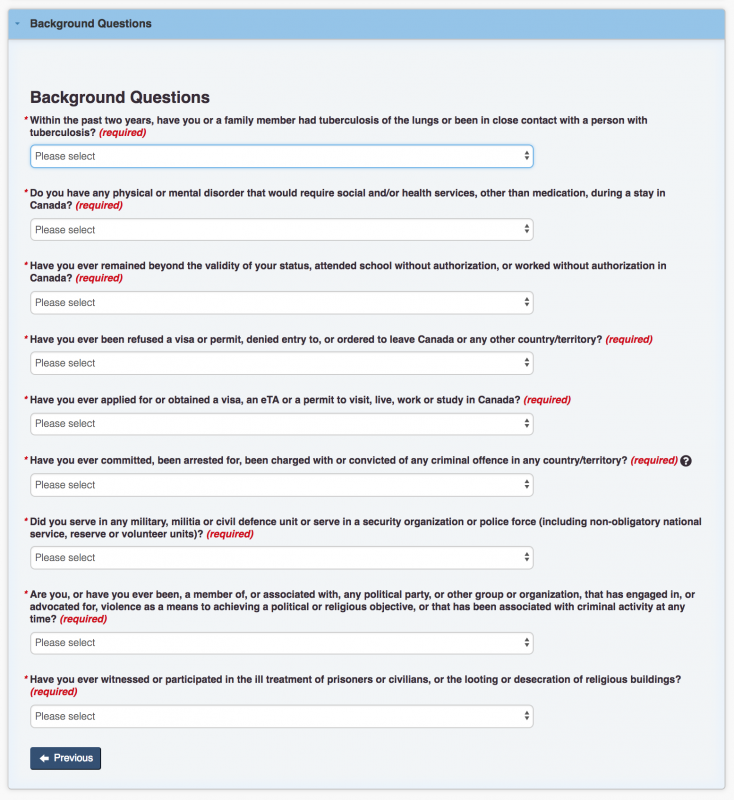 Questions regarding your medical history
If you answer "Yes" to one of these two questions, you must provide further details in the field below. You will be required to take a medical exam with a panel physician and you could also be asked to provide a letter from your family doctor (i.e. your usual general practitioner).
Can I be denied a work permit if I disclose a medical condition?
Canadian immigration officers don't usually deny a Working Holiday Permit or refuse entry to Canada on health grounds (serious or chronic illnesses) as long as the person isn't contagious. A past serious health issue that has been resolved isn't an issue either. However, be aware that costs and management of treatment in Canada may be an issue. Neither the Canadian nor your home country's healthcare system will provide coverage in Canada, and most travel insurance doesn't cover pre-existing conditions.
Regardless of your condition and no matter whether you answered "Yes" or "No" to this question, you may have to take a medical exam as part of your IEC work permit application.
Questions regarding any failure to comply with Canadian immigration laws
Read these three questions carefully if you've been to Canada before. Candidates who applied for or obtained a Canadian visa in the past must answer "Yes" to one of these questions and provide details in a new field below the question.
Criminal record
If you have a criminal record, you'll be asked to provide a copy of an official record of criminal conviction. You may also want to provide documents that show the payment of a fine or prove you finished serving the sentence. Note that failure to disclose information can have serious consequences, such as inadmissibly or prosecution. Remember that you're about to certify and electronically sign this document—and remember that immigration officers can also perform background checks on applicants.
Court documents or some other kind of proof of conviction will help the Canadian immigration check what decision would have been made in Canada in a similar case. You will be granted or denied your work permit based on this.
Important note regarding DUIs and DWIs
In Canada, driving while under the influence of drugs or alcohol (aka "DUI" and "DWI") is considered a crime. If you've been convicted of a DUI or a DWI, you are criminally inadmissible to Canada and you will be denied a visa, work permit or refused entry to Canada. In 2009, one of our members was denied a Working Holiday work permit on these grounds. American tourists are routinely turned away at the Canadian border because of a DUI conviction.

Last few questions regarding public safety
Answer "Yes" or "No" to various questions regarding your background, any potential service in a military group or any involvement with groups engaging in or advocating for violence as a means to achieving a political or religious objective. The last question asks if you have ever witnessed or participated in the ill-treatment of prisoners or civilians, looting or desecration of religious buildings.
Take the questions seriously and answer honestly. If you answered "Yes" to any of them, read Form IMM 5257 Schedule 1 in case you have to complete it later on in the process.