8
Entering a pool of candidates — Application details
Entering a pool of candidates — Application details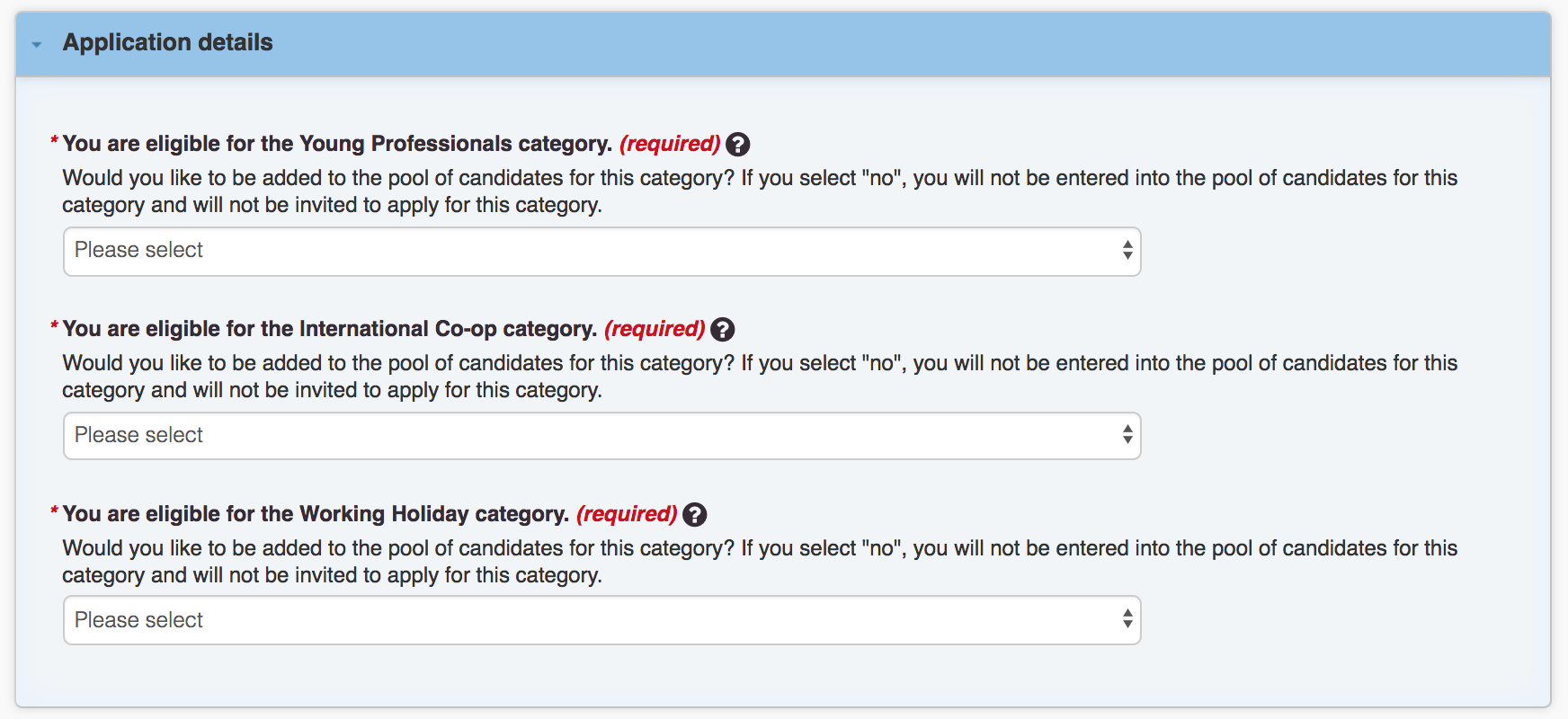 Based on the answers you provided, you will be shown the category/categories you're eligible for. You are being asked if you would like be added to the pool of candidates for the categories available to you. Select "Yes" or "No" from the drop-down menu.
If you are eligible to enter two or three categories, you can answer "Yes" to enter several pools of candidates. You can only submit one profile but you can enter multiple pools of candidates.
Keep this in mind before answering the question(s) and making a decision:
The International Co-op and Young Professionals categories are usually less popular than the Working Holiday category and the random selection process doesn't apply. This means it's very likely you'll get an Invitation to Apply during the next "round of invitations" as long as there are still spots available.
However, in 2016, the work permit quota in the Young Professionals category was reached by June 2016 for nationals from Croatia, Greece, Czech Republic, Lithuania, Slovakia and Slovenia. The IEC season had started in December 2015.
Invitations to Apply are sent in a specific order—first to the International Co-op Internship category candidates, then to the Young Professionals category candidates, and finally to the Working Holiday category candidates. Therefore, if you apply in both Young Professionals and Working Holiday categories, you could be sent an Invitation to Apply for the Young Professionals first—in this case, you won't be sent an Invitation to Apply in the Working Holiday category as Immigration, Refugees and Citizenship Canada doesn't send Invitations to Apply for two categories.
If you're mostly interested in a Working Holiday work permit, it's strategically best to join that pool only.
If you join the Working Holiday pool and get an offer of employment in the meantime—thus becoming eligible to the Young Professionals and/or the International Co-op categories—you have to delete your profile and start over again to enter more categories.