Traditional indigenous cuisine
The traditional diet of the indigenous people was made up of the animals and plants found on the land and in the sea around them. This included moose, caribou, elk, seal, whale, buffalo, rabbit, all kinds of fish and many species of bird. Indigenous cuisine is under the spotlight again and you'll find many restaurants in Canada offering specialties like bannock (fried or baked bread), dishes featuring "the three sisters" (winter squash, maize [corn], and climbing beans), bison burgers and more.
Traditional Acadian food
Acadian cuisine often features fish and seafood, especially cod and Atlantic herring, but also mackerel, berlicoco, lobster, crab, salmon, mussels, trout, clams, flounder, smelt and scallops. Most fish is consumed fresh, but some are boucané (smoked), marinated or salted.
Lobster rolls are probably the most famous specialty from the Maritimes—who doesn't like delicious lobster meat served on a grilled hot dog-style bun?
Fricot is a big part of Acadian food culture. It's a dish with potatoes, onions, and whatever meat available, cooked in a stew and topped with dumplings.
End your meal with "pets-de-sœurs," i.e. "nun's farts." Don't worry, we're talking about dough layered with butter, brown sugar and cinnamon, then rolled, sliced and baked.
Traditional Quebec food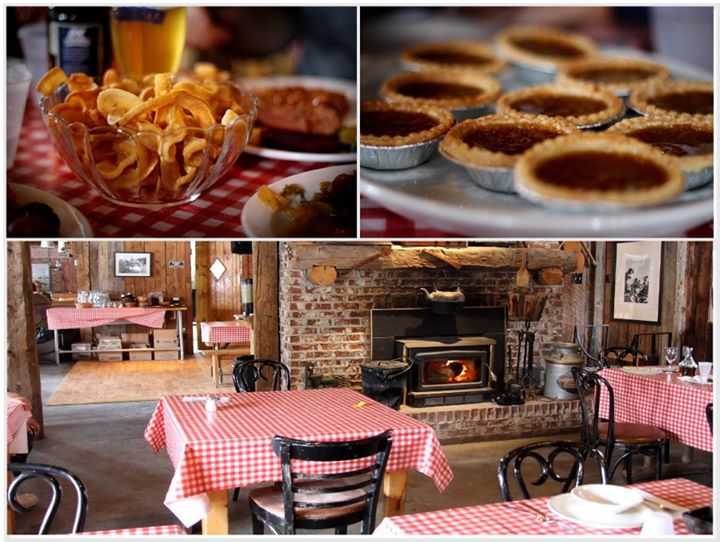 The best way to explore Quebec's culture and gastronomy is to head to a sugar shack in the spring. You'll get wonderful (and filling!) dishes in a unique setting. A typical menu can include "soupe aux pois" (pea soup), "fèves au lard" (baked beans), "cretons" (a spread made with minced pork and spices), "oreilles de crisse" ("Christ's ears," deep-fried pork jowls), ham and sausages soaked in maple syrup, "tourtière" (meat pie)… oh, sorry, you're full already? Come on, just one maple taffy! You pour maple syrup on snow, then wrap it around a stick as it hardens. Ta da!
Pâté chinois may remind you of an English shepherd's pie. As for pouding chômeur, it's basically a simple cake covered with maple syrup.
Bagels were introduced to Canada by Jewish immigrants and are now a huge part of Montreal's food identity. You'll find tasty ones in Mile End, on St Viateur Street. Don't think for a second you're eating the same bagel as in New York—these are hand-rolled, boiled in sweetened water, and baked in a wood-fired oven. They are thinner, smaller, and much sweeter than the American version. Bagels are typically cut in half and served with smoked salmon and cream cheese or smoked meat.
Enjoy!