9
A few ideas to make the most of your summer in Montreal
A few ideas to make the most of your summer in Montreal
If you landed in Montreal in winter, get ready for a whole new city as soon as temperatures go up. The summer version of Montreal is a green, lively place where people slow down and enjoy picnics in lush parks, where patios take over the streets, and where it's fun to just wander around or head to a fun festival.
Relax in city parks and botanical gardens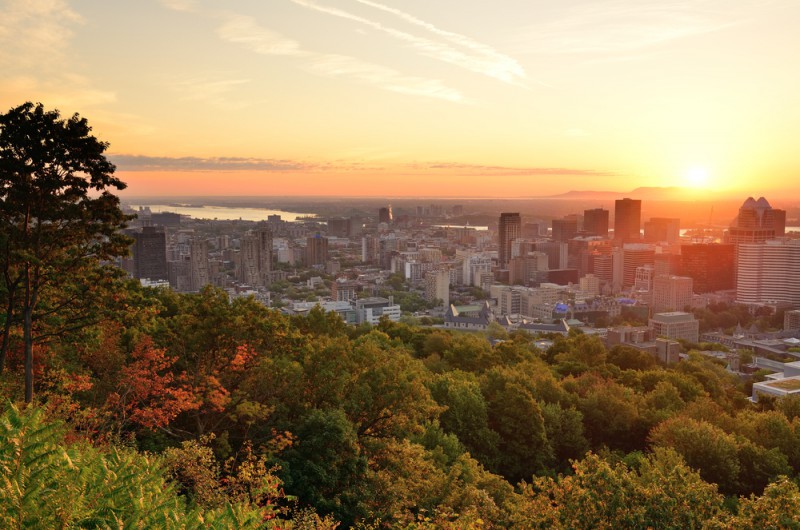 Head to Mont Royal Park or Jean-Drapeau Park for endless choices of outdoor activities. These two parks are perfect for leisurely strolls or hikes. Lachine Canal is also a great place to escape, complete with sandy beaches. Check out the map, you'll see that there are many parks and green spaces in or just outside the city. 
Each neighbourhood usually has a sizeable park—Lafontaine, Jarry, Maisonneuve, etc., all kinds of activities are welcome, from picnics to dog walking. Go out and find your favourite green hangout place!
The Botanical Garden is also a great place to explore and discover various ecosystems. The five Space for Life museums charge an entrance fee (cheaper for Montreal residents), so getting a yearly pass may be a good deal. 
Finally, Montreal specializes in lively block parties that can rock a street or an entire park. The Fête des voisins (Neighbour's Day) is taken very seriously in Montreal, so grab a drink and spend an evening chatting with neighbours to connect with the community. 
Take a dip to cool off
Contrary to popular belief, it can get really hot in Canada in summer. The weather tends to be humid and stuffy in Montreal from June to August. One of the best ways to beat the heat is to head to a public swimming pool. Entry is free for residents (some do charge a fee on weekends). There's a choice of outdoor swimming pools as well!
Try a floating spa 
Canadians love the outdoor spa experience to beat the winter blues but you can treat yourself in summer as well. Try the Bota Bota spa-sur-l'eau for a unique experience. This floating spa is moored at the Old Port and you can enjoy a water circuit, a massage, various body and facial treatments in a one-of-a-kind environment.
Explore bike trails
Rent a BIXI for a fun, healthy, affordable and green way to explore 560 kilometres of bike trails around the island. You'll be able to access faraway neighbourhoods like Senneville and Pointe-Claire and really get to know the city.
You can also rent a pedal boat at the Old Port, Jean-Drapeau Park and the Lachine Canal.
Watch a live game
Shockingly, you won't hear about hockey for a few months, but you'll be able to cheer for the CF Montréal during MLS games—that's soccer, or football in Europe. Ever watched a sandball game or roller derby? This is your chance!
Tennis fans won't want to miss the National Bank Open, part of the US Open Series. It changes venues each year between Montreal and Toronto. Tickets are pricey but it's a major event.
Go to a festival
Montreal hosts several world-class summer festivals:
You could also plan your summer around one or more of the following:
Check out the full summer festival guide here.