8
A few ideas to make the most of your summer in Toronto
A few ideas to make the most of your summer in Toronto
Take the ferry to Toronto Islands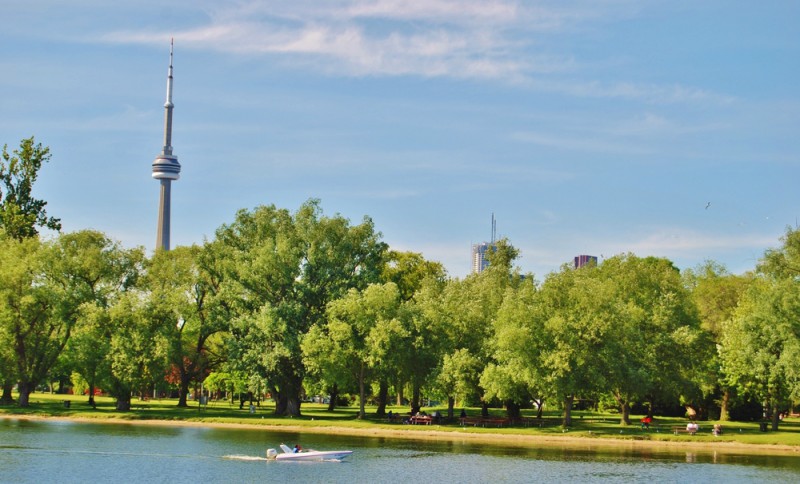 Toronto Park is located in Lake Ontario, a 13-minute ferry ride from downtown Toronto, and it's a great escape from the hustle and bustle of the city. The ferry ride itself is a treat, with great views of the Toronto skyline.
Check the schedule and take the ferry on Bay Street. A ticket is $8.70 return. Once on the island, you can go for a hike (head to Ward's Island) or rent a bike by the pier on Centre Island. You can also rent a canoe, play tennis or volleyball, enjoy a drink on a patio (there are several restaurants and cafés on the island), and enjoy a nice picnic in one of the many grassy areas. 
And since you're on an island, you can also go to the beach—there are three to choose from, Ward's Island Beach, Centre Island Beach and Hanlan's Point Beach (one kilometre of it is considered "clothing optional"!).
Explore city parks
Toronto isn't just tall glass buildings, there are plenty of city parks where you can take a relaxing walk, run with or without your dog, organize a picnic with friends and more. High Park (High Park and Keele stations) is said to be the best park for picnics—it's huge, with grassy areas, many trees and a lovely pond.
Toronto Island is also a great option (see above), especially Ward's Island. And don't forget Sunnybrook Park, north of Toronto.
For parks closer to the downtown core, head to Trinity-Bellwoods Park on Queen Street West (foodies should stop at Nadège Pâtisserie for French pastries, and book lovers at Type Books, it's on the way!), Queen's Park (by the Legislative Assembly of Ontario) or to St. James Park (smaller, but lovely).
Enjoy Lake Ontario at the Harbourfront
Take a trail walk along Lake Ontario between Bay and Bathurst in the Harbourfront area. You can also rent a canoe or a kayak.
The Harbourfront Centre host many free public events and activities, like classical music concerts at the Toronto Music Garden, dance classes and performance with Dancing on the Pier, free outdoor movies with Free Flicks, DJ performances with DJ Deep Fried Friday, street art performances and more. 
Make The Beaches your top hangout
The Beaches is one of Toronto's most laid-back neighbourhoods. It has a small-town feel and it's perfect for tons of summer activities—sunbathing, swimming (in Lake Ontario or at the free public pool), biking, canoeing, paddleboarding, windsurfing, picnics gathering, volleyball games and more. And for all your shopping needs, there's Queen Street East.
Check out this video for an overview:
Oh, and don't forget The Beaches International Jazz Festival, an annual month-long music festival with a great lineup of artists!
Participate in a summer foodie event
Twice a year, with Winterlicious in January-February and Summerlicious in July, many restaurants in Toronto offer a three-course menu for a very affordable price. Book ahead for a chance to taste fine foods from famous chefs in fancier and fancy restaurants.
Go to a summer festival
Summer is festival season in Toronto! Here is a selection of the best events: 
Shake your body to the sound of dance and hip-hop music at the VELD Music Festival for three days of loud beats.
Toronto's International Jazz Festival offers ten days of live music in the heart of downtown Toronto.
The Beaches also hosts an international jazz festival. It's not as famous as the one above, but it's free and concerts are held outdoors all over the neighbourhood (Woodbine Park, Kew Gardens, Beach Boardwalk). Even if you're not (yet?) a jazz fan, it's a chance to listen to good music and drink with friends in one of the beer gardens in a beautiful setting close to Lake Ontario.
Join North America's largest cultural festival during Caribana Toronto—this free festival celebrates the Caribbeans with dance, music, delicious food and flamboyant costumes. The parade is the event's highlight, don't miss it!
The Corso Italia Festival is a free event on St. Clair Avenue West (between Westmount and Landsdown) to celebrate Italian culture. Enjoy a pizza, grab a cappuccino and listen to live music—la dolce vita!
Love tango? Try the Toronto Tango Festival, a four-day celebration of Argentine Tango, with workshops for all levels.
Celebrate the arts at the Luminato Festival—drama, music, dance, visual arts, this event has it all.
Try the NXNE (North by Northeast) festival for live music, an eSports gaming tournament, comedy, a conversations series, a flea market and more.
Practice your French at the Franco-fête to celebrate French culture in Toronto.
Toronto Taste is dubbed as a "culinary extravaganza" and it's a great way to explore the local food scene.
Enjoy African music at the Afrofest, a community event held in Woodbine Park.
Try the Open Roof Festival, an outdoor music and film festival with weekly summer screenings.
Explore a fun neighbourhood at the Dundas West Fest, dubbed as "a summer celebration like no others."
If you've never tried a proper Canadian BBQ sandwich, the Toronto Rib Fest at Centennial Park is your chance to discover how delicious ribs can be.
Watch a baseball game at the stadium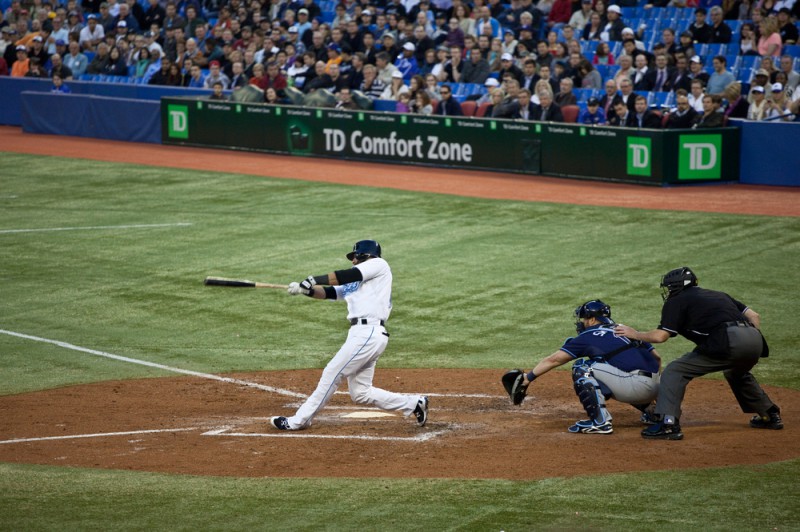 Domenic Gareri – Shutterstock.com
Okay, baseball is… ahem, an acquired taste—the rules are complicated and it feels like you have the time to call a friend between each inning. Oh, and baseball terminology is cryptic (do you know what an inning is, by the way?). 
Don't watch baseball on TV, go see a game and suddenly, the sport will make sense. Well, kind of. But seriously, live games are super fun. It's a chance to spend hours eating junk food and drinking beer with friends. It's a unique opportunity to meet people who are excited to see the Blue Jays play at the Rogers Centre (and also, the stadium is pretty cool).
Tickets are affordable (you don't need front-row seats to enjoy the experience) and the baseball season is long, so don't hesitate to explore this side of Toronto culture—you won't regret it.
Marvel in front of Niagara Falls and tour the Niagara region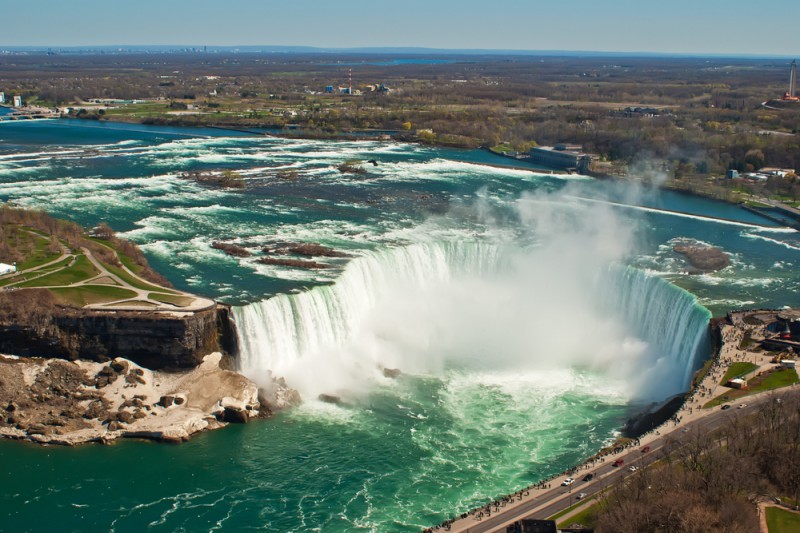 If you've never stood in awe in front of the falls in person, put it on your summer trip list—it's only an hour's drive from Toronto (and there are buses too if you don't have a car). Take the Maid of the Mist for the full experience, get soaked and take way too many pictures. If you're lucky, you may get the double rainbow view over the falls.
And if you've already seen the falls (don't forget to check out the American side, just check the latest entry requirements!), explore the Niagara region. For instance, you could rent a bike and take the 56-kilometre-long Niagara River Recreation Trail to enjoy the view and a very different atmosphere than Niagara Falls proper. Check out Niagara-on-the-Lake, a quaint town, and take a winery tour to taste some of Canada's best wines (psst, ice wine is a great souvenir to bring home!).