1
Ice-based outdoor winter activities in Canada
Yes, winters are cold in Canada. No, minus-way-too-cold temperatures are not a valid excuse to stay home from November to March (ahem… to May, or even June in some parts of the country…).
Winters are cold, and winters are long, so may as well make the most of this legendary season. After 15 Things to Try During Your Working Holiday Adventure in Canada you can do year-round, let's focus on typical winter experiences and activities, both outdoors and indoors.
First thing first, here's a special offer for outdoor enthusiasts and PVTistes members—5% off with the promo code AFPVT when booking fun activities like Skidoo tours, dog sledding experiences, heli-tours and more on Ceetiz.com. Enjoy!
Ice-based outdoor winter activities in Canada
Ice hockey and skating
Ice hockey is a national passion and skating is second nature to many Canadians.
If you've never skated before, don't feel self-conscious when seeing toddlers who seem to be more comfortable on the ice than on the ground! Practice makes perfect and you will have plenty of opportunities to test your balance on one of Canada's many free public rinks.
One of the most famous natural rinks is the Rideau Canal Skateway in Ottawa, the world's largest skating rink. In Winnipeg, The Forks is said to be the world's longest natural outdoor rink—8.5 kilometres! You can also skate on lakes, rivers and ice trails through forests. Just check current ice conditions to make sure it's thick enough!
These natural skating rinks are generally free but you will need to buy or rent skates. Keep in mind that the ice isn't as smooth as at indoor skating rinks. Watch out for cracks! Indoor rinks may be a safer environment for complete beginners.
Once you've mastered speed, acceleration and agility, you can join a local ice hockey team. Most cities have "learn to play hockey" programs for beginners, as well as practice opportunities for intermediate and advanced players. Check out your local skating rink, arena or community centre… or follow anyone walking with purpose with a hockey stick on their shoulder. 
And if you've decided your Canadian ice experience should focus exclusively on watching NHL games, head to your local sports bar where Hockey Night in Canada is a lively celebration. Just don't cheer for Montreal in Toronto, for Toronto in Winnipeg, etc.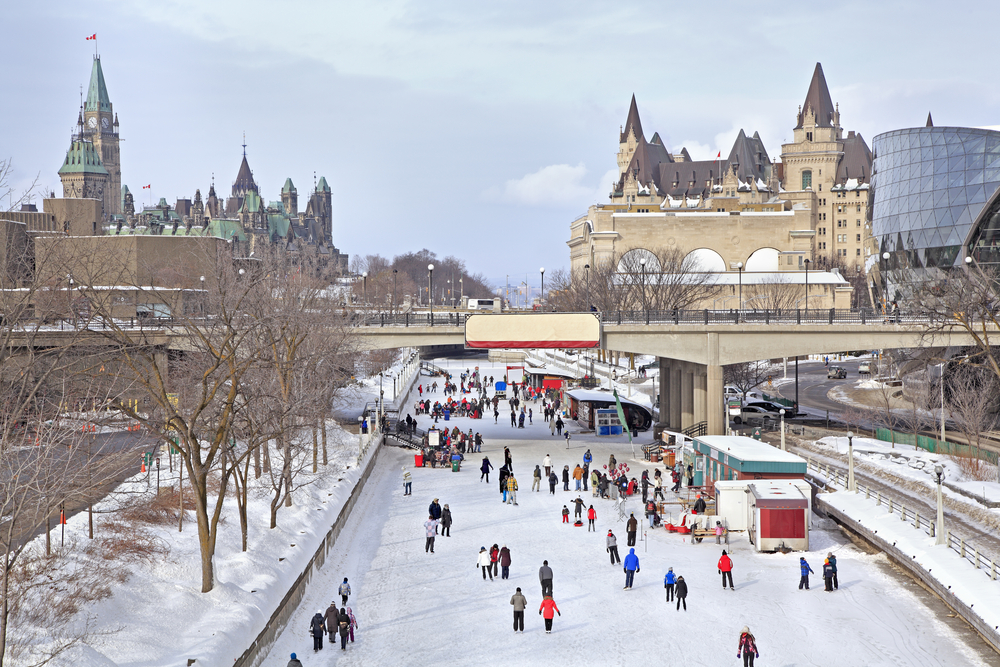 Where can I skate in Canada?
In Montreal, use the free Patinoires Montréal app (Android, iOS) developed by two former Working Holiday holders to find outdoor and indoor rinks.
Most cities offer indoor and outdoor rinks. Check out your local arena or community centre.
The most famous, fun and scenic outdoor rinks are the Rideau Canal Skateway in Ottawa, The Forks in Winnipeg, the Old Port Skating Rink in Montreal, Lake Louise in Alberta, Lake Windermere Whiteway in British Columbia, and many other iced trails and lakes all over Canada.
Ice fishing 
Depending on whom you ask, ice fishing can be a fun tradition, a rewarding experience or a spiritual way to connect with the land. It's been around for a long, long time and practised by countless generations of Inuit and First Nations groups before Canada became a country.
Ice fishing gear is pretty specialized because you will have to dig a hole into the ice—power tools may be necessary! Once done, it's much like regular fishing, except you're standing on the ice. Many ice fishing spots offer (paid) amenities, like the opportunity to rent a heated shack. Rates vary widely depending on what's included—shuttle off/on the lake, guide, equipment rental, etc. 
Where can I go ice fishing in Canada?
You will find great spots all over Canada. Check out these top destination picks from an expert!
Ice climbing
If rock climbing is too boring for you, try ice climbing! You will need an ice tool, crampons, picks and a lot of energy to conquer ice waterfalls and other formations.
In Quebec, ice climbers head to the Parc de la Chute-Montmorency and its 83-metre-high waterfall. In Alberta, the top destination is (duh!) the Icefields Parkway with plenty of ice climbing opportunities in a very picturesque location.
Beginners can start with ice climbing 101 lessons in Alberta (about $400 for two days). Make sure your Working Holiday permit travel insurance covers this activity first.
Where can I go ice climbing in Canada?
Ice climbers will find the most opportunities in Alberta—Canmore, Jasper, Banff, all the top spots are in this province!
Curling
If you've ever watched the Winter Olympics, you must have noticed teams sliding stones on a sheet of ice while shouting "hurry hard!" Well, this is curling. 
This surprising sport is actually Scottish, but Canada has one of the best curling teams in the world. Curious? You can always join a local team and become a sweeper!
Where can I go curling in Canada?
Ask around, it's a popular sport in Canada and many cities have a curling team and program. As usual, your community centre (and Google!) should be able to help out.