How can l apply for my TFN?
The first rule of TFN application is "TFN application is free and should be done on the ATO website." If you Google TFN application, you will see third-party websites offering to handle the process for a fee (up to $99!). Don't fall into the trap!
The online application process takes about 20 minutes and it's straightforward. You can follow our step-by-step guide (screenshots included!) but if you're having issues and need to talk to an expert, you can visit one of the four Australian government services bureaux in the following cities:
You can also visit a Department of Human Services (DHS) service centre, available in the following locations:
New South Wales: Parramatta, Albury, Corrimal, Rockdale (south of Sydney), Newcastle, Chatswood (north of Sydney) and Penrith
Victoria: Footscray (west of Melbourne), Dandenong and Geelong
Northern Australia: Darwin and Alice Springs
Queensland: Townsville and Biggerra
Tasmania: Hobart and Launceston
Australian Capital Territory: Woden
Western Australia: Joondalup (north of Perth)
You can also refer to the ATO face-to-face services page to access support for tax enquiries.
What's the tax rate for travellers with a Working Holiday Visa?
As of July 2017, the working holiday makers tax rate is different from the tax rate for Australian residents.

| | |
| --- | --- |
| Income range (earned during the fiscal year – i.e. July 1 to June 30) | Tax rate |
| $0 to $45000 | 15% |
| $45001 to $120000 | $6750 + tax rate of 32.5% for income above $45001 |
| $120001 to $180000 | $31125 + tax rate of 37% for income above $120000 |
| $180001+ | $53 325 + tax rate of 45% for income above $180000 |
Example: You're in Australia from July 3, 2020, to June 27, 2021. You make a total of $47,000. The tax rate applied for the first $45,000 is 15%, so you owe the ATO $6,750. Then for the last $2,000 of your income earned, the tax rate is 32.5%, so you owe the ATO an additional $650. During your year in Australia, you will pay $7,400 in tax in total.
However, to get the working holiday maker tax rate of 15%, your employer must be registered with the ATO as an "employer of working holiday makers." If not, a tax rate of 32.5% for "foreign residents" will be applied. Registration with the ATO is free for employers—in fact, penalties apply for employers who don't withhold tax at the working holiday maker tax.
For more info on tax returns, tax refunds, tax rates and anything "tax," including superannuation, read Taxes and superannuation 101 for working holiday makers in Australia.
I'm starting a second or third Working Holiday Visa, do I need a new TFN?
The TFN issued is your identifier for life for everything related to taxes, so no, you don't need to apply for a new TFN.
If you don't remember your TFN when you start your second or third WHV in Australia, no worries—there are different ways to locate it. First, check your old pay slips, tax return and super documents, it should be on it. Otherwise, give the ATO a call at 13 28 61 (8 am to 6 pm, Monday to Friday). Not comfortable enough in English? Dial 13 14 50 to use the ATO Translating and Interpreting Service! Remember it's best to call these numbers once in Australia otherwise extra charges can apply. The ATO will need to establish your identity, so have your passport (including any former passport used during your first WHV to Australia) and visa documents handy.
Where can I get more info about the TFN?
The ATO provides up-to-date info on the TFN and tax-related matters:
Ready to apply for your TFN? Come on, let's do it together!
Step-by-step guide for a TFN application
What documents and info do I need?
Before starting the online application process, make sure to have:
Your passport (you will be asked to enter personal details)
A mailing address in Australia where your TFN will be sent to (if you don't have your own place yet, use the hostel's address, your Airbnb, host, etc.)
A phone number and an email address
Disclaimer and reminder pages
Don't use a third-party website, make sure to complete your application on https://iar.ato.gov.au.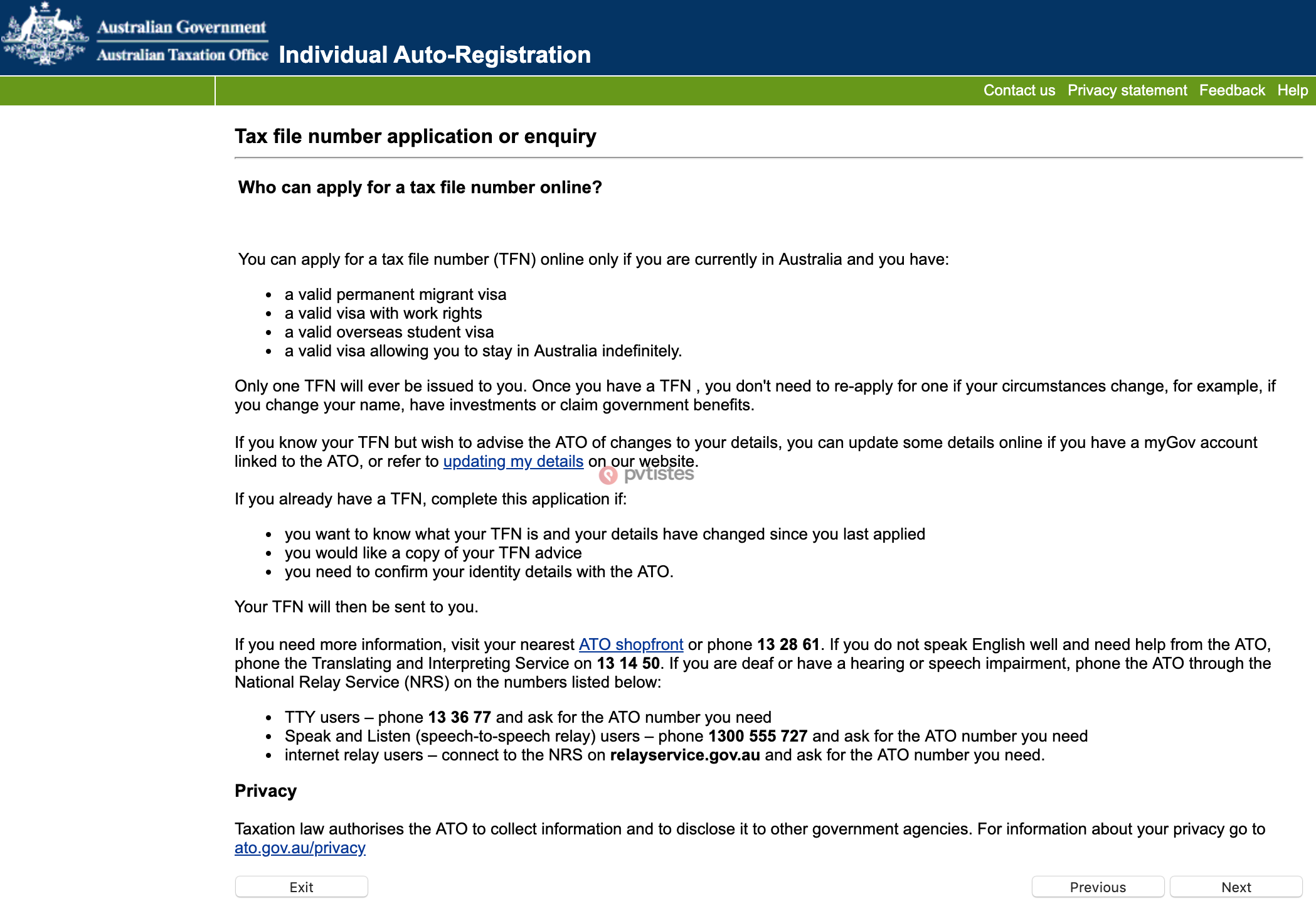 The first page is basically a reminder that you have to be in Australia to apply for your TFN, that you will keep the number issued to you for life and that you can contact the ATO if you need help.
Click "Next."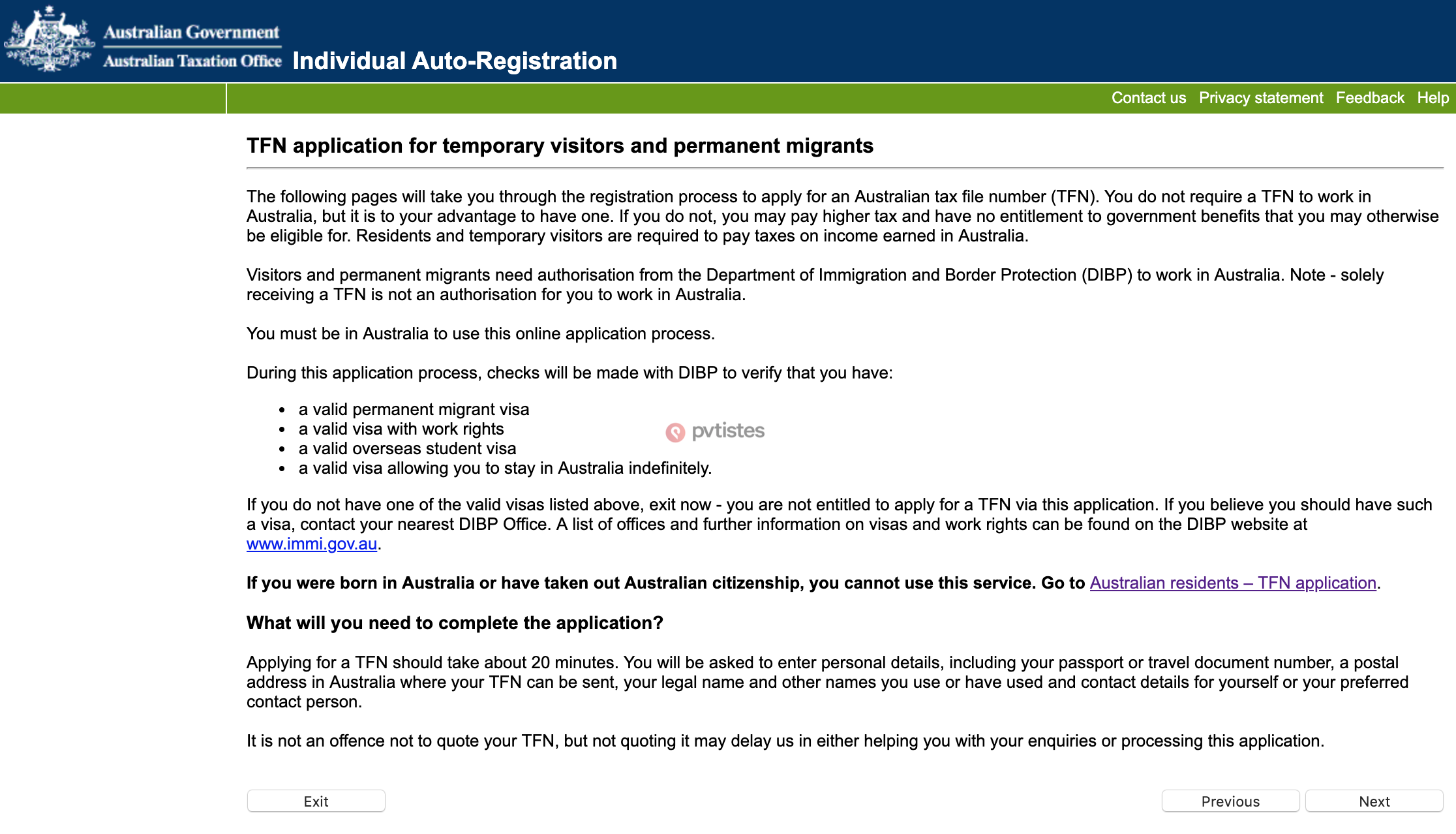 The ATO will check with Department of Immigration and Border Protection (now the Department of Home Affairs) to make sure you're legally allowed to work in Australia. You're all good if you have a Working Holiday visa (Subclass 417) or Work and Holiday visa (Subclass 462).
Click "Next."

Travel documentation details section
Enter your passport number. It's usually in the upper right-hand corner, on the personal info page. You may want to check the number format your country of citizenship uses to make sure you got it right. For instance, a Canadian passport number has two letters then six digits (i.e. AB123456), while a UK passport has nine digits.
Choose your passport issuing country from the drop-down menu.
Answer "yes" or "no" to "Have you ever visited Australia before?".
Click "Next."
Personal details section
The information you enter must match the information on your passport and on your WHV.
"Other given names" is an optional field. If you do have several middle names enter them without commas.
If your first name is hyphenated, enter it as shown on your passport (i.e. "Anna-Maria").
You can't use special characters (é, ê, ç, etc.). Type the letter without accent or special character, i.e. enter "Sebastian" for "Sebastián" or "Veronica" for "Verônica."
Answer the question "Are you, or have you ever been known, by any other names?" The question makes sense if you have a maiden name or if your name was anglicised when you immigrated to another country.
Enter your birthdate and specify your gender, "male," "female" or "indeterminate."
If you have a spouse (i.e. you and your partner have entered into a marriage which is legally recognized and documented) enter your spouse's family name and given names.
Not sure about your relationship status? Remember to enter the same info as when you applied for your WHV. If you applied as "single," "never married" or "de facto" (you currently live together with your partner, opposite or same sex, without being legally married), don't fill out this section.
Can't remember what you entered during your WHV application? Go check! Log into your ImmiAccount using your email address and password, then click on "view details." You will be able to download a PDF version of your completed WHV application.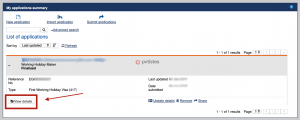 Note: if you amended personal details (new passport info, etc.) after submitting your WHV, use the new info!
Click "Next."
Existing TFN info section
You must answer "yes" or "no" to the first two questions: "Have you ever applied for a TFN or Australian Business Number (ABN) before?" and "Have you ever had a TFN or ABN in your name before?"
Answer "yes" only if a TFN or ABN number was issued. Most applicants will probably answer "no." However, you must answer "yes" if you're on your second or third WHV to Australia—if you do remember your nine-digit TFN or 11-digit ABN, enter it. Can't locate it? Don't worry, it's okay… but do answer "yes" regardless.
Applicants on their second or third WHV to Australia may answer "yes" to the question "Have you ever lodged a tax return in Australia?" This is less likely, but answer "yes" as well if you own property or have business interests in Australia.
The last question is about Centrelink, a government service delivering social security payments and services to Australians. WHV holders aren't normally eligible to such services so it's unlikely you will have to answer "yes."
Click "Next."
Address details section
Your TFN will be mailed to you within 28 days of the application (and often faster) so you must provide a mailing address in Australia. The requirements are pretty flexible, a PO box is okay.
Your current home address is your address in your home country.
Providing a mailing address in Australia is a recurring dilemma for WHV holders who've just arrived or for backpackers who roam around the country. You can use a friend's address, your Airbnb or Couchsurfing host's, the hostel's… just make sure you will be able to get the mail when it arrives.
Another great option is the poste restante service, a free counter delivery service offered by Australia Post. Backpackers without a permanent Australian address can have letters and parcels delivered to any Australian Post Office for collection over the counter. Individual mail items will be held for 30 days, after which time they will be returned to sender—make sure you pick it up fast enough! You must register for the service in person (to register online, you'd need two pieces of Australian ID).
To find the nearest post office, go to Find a location or service.
For instance, if you choose to receive your mail at the Australia Post office on George Street in Sydney, this is the address you will use:
Your first and last name
C/O Poste Restante
Sydney Post Office
Gournet Circle 264A-278 George Street
Sydney 2000
NSW, Australia
So if you're using the poste restante service for your TFN application, this is how you fill out the fields:
Address line 1: Last name and first name
Address line 2: C/O [Name of the poste restante, e.g. C/O Poste Restante Sydney Post Office]
Town or Suburb: poste restante city (e.g. Sydney)
State or Territory: poste restante state or territory (e.g. NSW)
Postcode: poste restante postal code (e.g. 2000)
For more info about the poste restante service, read Your first steps in Australia with a Working Holiday Visa .
Click "Next."
Contact details section
You must provide your own contact details (phone number, email address) for the ATO to reach you or send notices if needed.
Alternatively, you may provide a contact person details to deal with the ATO on your behalf. Few WHV holders will need to have an authorized representative, so you will probably answer "No" to the question "Do you want to provide an alternative contact person?"
Click "Next."
TFN application submission page
Read the declaration, acknowledge the information given is true and correct then click "Submit."
You will be redirected to a confirmation page. Write down your application reference number. This is NOT your TFN number but you may need it to follow up on your application.
TFN application processing time
You should receive your TFN within 28 days of your application.
Occasionally, things don't go as planned—you didn't get your TFN, you can't pick it up, etc. In this case, call the ATO at 13 28 61 (Monday to Friday, 8 a.m. to 6 p.m.). After verifying your identity, you will get your TFN over the phone. Write it down and keep the info handy, you will need to provide it to each of your future employers.