18
Completing your application — Form IMM5707 (Family Information)
Completing your application — Form IMM5707 (Family Information)
Form IMM5707 or Form IMM5645
Download the Family Information Form (IMM5707) from the list of required documents. Depending on your citizenship, you may be asked to fill out Form IMM5707 or Form IMM5645.
To open this form, you must save the PDF file on your computer and open it OUTSIDE OF YOUR INTERNET BROWSER. If you try to open it directly on your Internet browser, you will come across this error message:
If you are asked to fill out Form IMM5645, tick "Worker" box for "type of application"—you are applying for an IEC work permit.
IMM5707 is a two-page form—one page needs to be filled out and the other page contains instructions.
Tick "Yes" or "No" to answer the question "Will accompany you to Canada"? The first row refers to you, the applicant, so the question may sound strange. You can leave the box empty or answer "Yes." Then you need to state if family members (spouse, common-law partner, parents, children) will be coming with you to Canada.
Your answer won't affect your application. However, keep in mind that these family members won't benefit from your IEC work permit. In other words, if you're granted a Working Holiday, a Young Professionals permit or an International Coop Internship work permit, your partner won't automatically be granted a work permit as well.
This is what the IRCC says regarding spouses or common-law partners listed:
Will my spouse or common-law partner get a work permit under International Experience Canada to come with me?
"No. If your spouse or common-law partner wants to work in Canada, they have two options:
1. Submit a profile to the International Experience Canada (IEC) program. They will have to meet the requirements and follow the application steps if they are invited to apply for a work permit.
2. Apply for a work permit outside the IEC program. For more information, see Can my spouse or common-law partner work in Canada?
For both options, your spouse's or common-law partner's work permit application will be assessed separately from yours.
If your spouse or common-law partner is not eligible for a work permit, they may be able to come to Canada as a visitor.
See also Can my spouse or common-law partner and dependent children come with me to Canada?"
Your accompanying child(ren) could apply for a visitor status or a study permit.
Relatives accompanying you to Canada must have their own immigration status in Canada (visitor, student, worker). If they want to work or study in Canada, they must apply for a work or study permit. Your relatives cannot benefit from your own work permit. They won't automatically be granted a work permit and permission to come with you.
Section A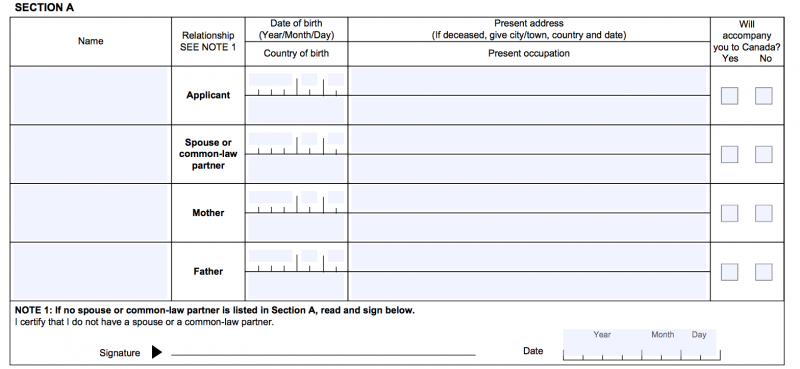 Enter your personal information and personal details for your spouse or common-law partner (if applicable) and for your parents. Make sure to fill out all the fields (name, date of birth, country of birth, present address and present occupation).
Common error: many applicants forget to fill out a few fields in this form, e.g. country of birth and present occupation.
Spouse or common-law partner
If you are in a common-law relationship (i.e., you're not married but you've been living together for at least a year and you can prove it), you can enter personal details for your partner in the "spouse or common-law partner" row. There is no additional form to fill out and no proof of relationship is required.
Parents
If you have more than two parents (for example, if you were adopted), only list your adoptive parents. If you don't know the identity of one or two parents, enter "Unknown." If your parents are retired or unemployed, enter "Retired" or "Unemployed" for "Present occupation." If one of your parents passed away, enter "Deceased," then the date and city where they died in the "Present address" field. If you're estranged from one of your parents and if you don't know his current occupation or address, write "Unknown."
Section B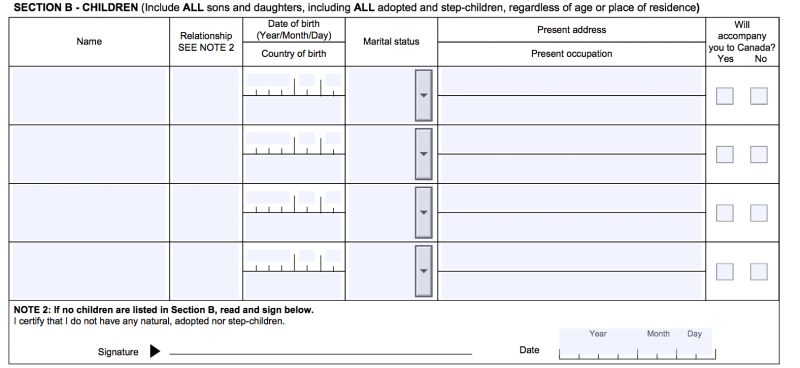 Reminder: There are two lines to fill out per person ("date of birth" and "country of birth," "present address" and "present occupation") in addition to questions about the relationship to the applicant and family status. If your children are in school, enter "Student" for "Current occupation." And if they are too young to go to school, enter "N/A," "Not applicable" or "Unemployed."
If your children come with you to Canada, they must get:
A tourist status, usually automatically granted upon arrival in Canada for most visa-exempt nationals. A border services officer at the port of entry will make sure they meet entry requirements (which isn't an issue most of the time) and authorize their stay by stamping their passport. They cannot work in Canada with a temporary visitor status. Note that effective March 2016, Visa-exempt foreign nationals need an Electronic Travel Authorization (eTA) to travel to Canada.
A study permit if they are six or older (i.e. school-aged children).
There's an additional "Section C" for brothers and sisters on Form IMM5645. If applicable, enter their personal details.
Section C

Document signature
The Government of Canada has two approved ways to sign your application.
Option 1 (recommended)
Skip printing, signing and uploading—you just type in your name and answer a security question to submit your application. This is your electronic signature and it applies to the entire application, including this form.
#DYK? The electronic signature when submitting your IEC application online applies to all related documents. There is no need to print and sign. https://t.co/BkrRuyocHf pic.twitter.com/1bOjHZLcpF

— IEC (@IEC_EIC)
Option 2
The form can be filled out electronically, then printed out, signed by hand, scanned and uploaded with the rest of the documents:
Applying for #IEC? Be sure to print and sign the IMM5707 Family Form. Once signed, you can upload to your app.: https://t.co/3HnmKLOynt
— IEC (@IEC_EIC)
If you don't list a spouse or common-law partner, you also have to sign Note 1.
If you don't list any children, you also have to sign Note 2.
Make sure your signature on the form matches the one on your passport. This is the only way for IRCC to authenticate it.