1
Lyon – City Overview and History
Lyon – City Overview and History
Lyon is always competing against Marseille for the title of the second-largest French city after Paris. But second of third, after all, who cares! Lyon is a very dynamic place and an exciting base city for the WHV holders who chose France as their destination.
Lyon has been described as the "world capital of gastronomy" and the "capital city of French who aren't Parisians." It was also the capital of the Gaul and the centre of the French resistance. The Lyonnais are very proud of the city's history—it was ounded in the Neolithic Era and it grew considerably during Antiquity. The different historical layers and vestiges can be spotted strolling through the city, and it's easy to tell upper-class bourgeois neighbourhoods from traditional working-class ones.
The Rhône and Saône rivers running through the lovely city. There are many urban parks and a stroll along the riverbanks is always a tempting option. Some say that the Lyonnais are difficult to approach, a statement I can neither confirm nor deny since I'm a local! Each neighbourhood is a piece of history and tells a story—Croix-Rousse was the home of Canuts (Lyonnais silk workers), religion influenced the district of Fourvière, successive waves of immigration shaped Guillotière. Lyon has always been a welcoming and dynamic place.
In addition to being an economic, cultural and gastronomical city of importance, Lyon is the perfect starting point to explore this big corner of France because of its location at the crossroad of the Alps, Provence with its access to the Mediterranean Sea, and Massif Central. To understand and appreciate Lyon, you must master its topography! More on this later…
A bit of local slang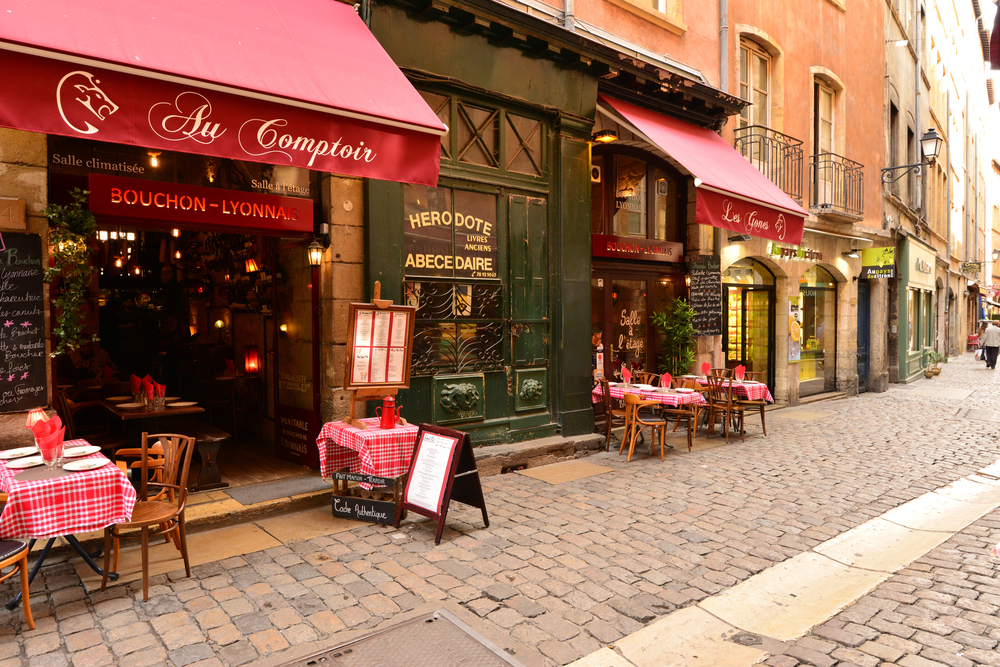 A touristic restaurant in a pedestrian street in Old Lyon (photo credit: Pack-Shot/Shutterstock.com)
Only in Lyon you use words like "Canut" (silk worker), "bouchons" (typical Lyonnais restaurant), Guignol (a hand puppet character).
Like every French city, Lyon has its own dialect and local particularities. You will quickly hear the word "canut" mentioned—this is how 19th-century silk workers were called here. La Croix-Rousse is architecturally marked by silk-weaving activity: apartments still have soaring ceilings, high enough for looms. In Old Lyon, you'll find noticeable signs of the Florentine merchants during the Renaissance. Buildings and palaces of that period make you think you're in Italy!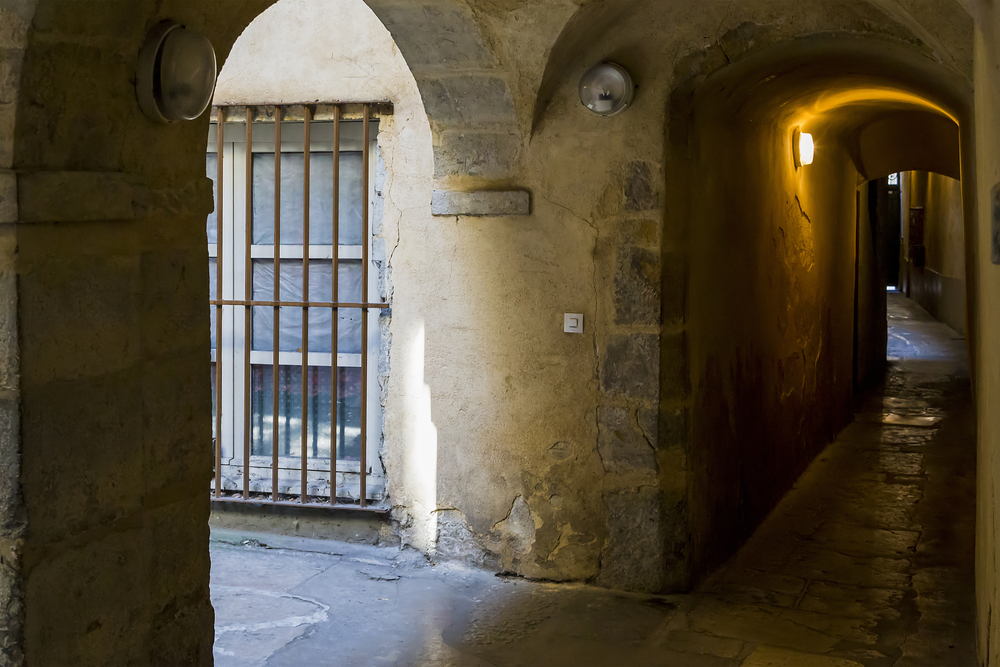 A "traboule" (photo credit : goga18128 / Shutterstock.com)
Lyon has always had a strong gastronomic culture. "Bouchons" (typical Lyonnais restaurants) are a good example: "canuts" would go to the "bouchon" at dawn to share a "mâchon," the high-calorie meal they needed to work through the morning.
Guignol is one of the icons of the city. The main character of the puppet show was created in 1808 as a satyr typical of the Commedia dell'arte. There are still a few puppet theatres in town. The expression "faire le guignol" ("clown around") derives directly from this show.
If you meet Lyonnais in love with their city, chances are they will invite you to "trabouler. " Don't run away—it just means exploring the city through the "traboules," these pedestrian passageways concealed on the sides of some buildings' courtyards. Most of the 500 traboules in Lyon are closed to the general public, but locals will take you to the remaining ones. Most of the traboules are located in Old Lyon and Croix-Rousse. They are both architectural gems and very useful shortcuts!
In Lyon, "gone" isn't a loanword but a French noun meaning "kid" or "child". Moreover, Quebeckers will not feel lost in Lyon from a linguistic perspective because several phrases in Lyonnais French are the same in Québec French. For example, a Lyonnais tends to say: "Dis-moi pas ça" instead of "Ne me dis pas ça."
There are "vogues" in Lyon at various times during the year and the most famous one is the "vogue des marrons" on the Plateau de la Croix-Rousse. Oh, we're just talking about "fun fairs" here! You won't be able to find "bugnes" ("angel wings") there, though—this treat is only sold for Fat Tuesday. These fried dough pastries are a typical local treat, don't confuse them with "oreillettes provençales", a southern specialty.
Why choose Lyon for your WHV destination?
Lyon is the place to be if you are looking for an easy-to-access city with many opportunities to discover a way of life and an entire corner of France. You should choose Lyon if you want to live in a big, lively city less stuffy than Paris. You will love Lyon if you like getting around by bike, on foot, or using a not-too-crowded public transportation network. Even as a big city, Lyon has quiet neighbourhoods. And don't forget it offers many job opportunities, an asset if you're planning to use the "W" of WHV.
However, don't pick Lyon if you are looking for that "southern France" feel. Despite its location on the map, Lyon has neither the character nor the landscape of a Southern city. You can also skip it if Paris is your favourite place on earth—the way of life is very different down there.
Finally, Lyon is not an excessively expensive city for its size. Rent is generally higher than in Chambéry or Brest but about the same as Nantes or Annecy!
Fast facts on Lyon:
A city of 500,000 inhabitants (2.2 million with the metropolitan area
An area of 48 square km
The 2nd (or 3rd, depending on who you're talking to…) biggest French city
A city founded … in the Neolithic Era
A continental climate with four distinct seasons, cold in winter and hot during summer