Activities
Cultural activities
There are six main museums to enjoy:
Musée des Beaux-Arts (Fine arts museum, Place des Terreaux)
Musée d'Art Contemporain (Contemporary art museum, Cité Internationale)
Musée Gadagne (museum of the history of Lyon, Vieux-Lyon)
Musée de la Résistance et de la Déportation (chronicling the French Resistance as well as Jewish deportation in WWII, Centre Berthelot)
Musée de l'Imprimerie (heritage of printed books and graphic arts, Presqu'île)
Musée de la Confluence (museum of sciences and anthropology, Confluence-Perrache)
As of 2016, you can buy your carte Culture in various branches of the public library as well as in museums. It gives you a one-year access to all the permanent and temporary exhibitions featured in five of the museums above (Confluence isn't included), as well as borrowing privileges in library branches. Indeed, Lyon has a wide network of public libraries (at least one in each neighbourhood)—admission and Wi-Fi access are free and you can use various resources on site. Carte Culture is €38 full price, €15 for 18-25 years old and it can even be free if you meet certain criteria. But even at full price, it's a great deal because it also offers discounts on concert, opera or theatre tickets.
Music Venues
There are many venues offering very affordable concert experiences. Tickets to events hosted Halle Tony Garnier and at the Transbordeur are typically more expensive, and the artists more famous.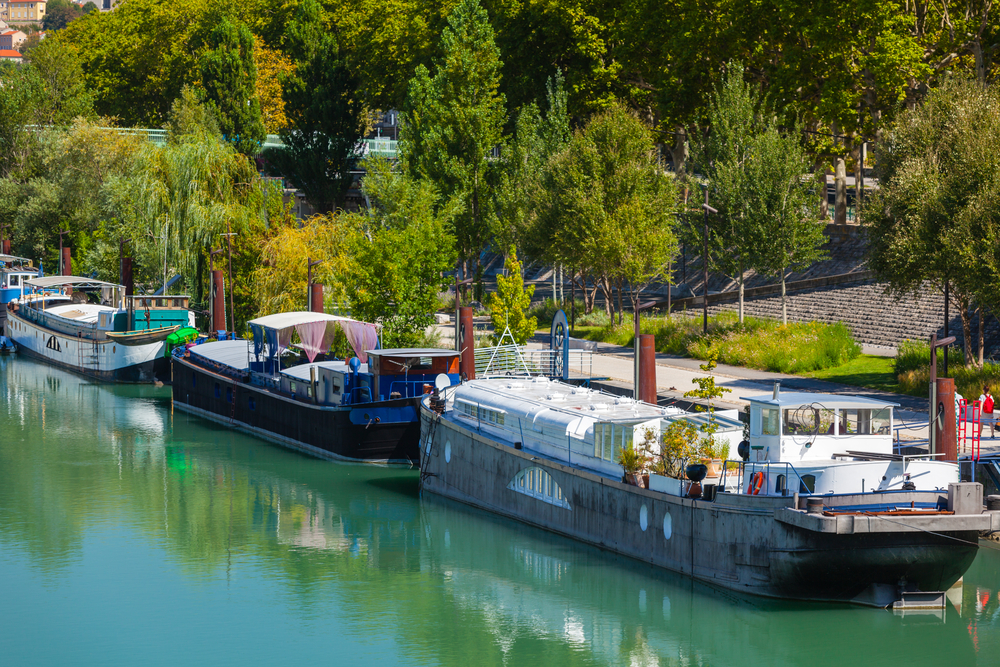 Ever felt like grabbing a drink on a boat? In Lyon, that's just a normal evening out!
Check out these barges on the Rhône River (the full list is even longer!):
Le Sonic
Le Radiant
L'Epicerie Moderne
Le Marché Gare
Le Périscope
Check out the list of current events or concerts in the Petit Bulletin.
Restaurants, bars and entertainment
Among other activities, note stand-up comedy shows (there are many theatres in Croix Rousse, for instance), plays (a partial list of them can be found on the Petit Paumé guide), opera, the Auditorium de Lyon for classical music…
There are tons of restaurants and bars offering different styles of cuisine (traditional, international, gastronomic, etc.) and atmosphere (dancing venues, wine bars, beer bars, etc.). Each neighbourhood has at least a gem to discover. For a list, check out the Petit Paumé guide or read Lyon CityCrunch's reviews.
Fitness and Sports
There are private gyms and sports clubs, plus cultural and activities offered by the Maison des Jeunes et de la Culture, a national association with many branches. This map provides an overview of what's available. Runners will probably love the paths along the Rhône River, as well as the Parc de la Tête d'Or. On top of city pools, you can enjoy a dip in the city's riverfront swimming pool, with two 50-metre-long pools.
Social Activities
It's not easy to meet people when you're new to the city. Locals already have their own social circles and it may feel difficult to join an existing group of friends, especially as a short-term resident. But don't stay all alone, especially if you don't have roommates! Go out and meet people.
Here are a few tips to find new hangouts and friends:
As you've seen through this overview of Lyon, the city is ideally located in the middle of a region bursting with cultural and outdoors activities. You'll need a guidebook to sort through them! Yet, the best way to discover the area is probably to ask a local for tips and advice. And if you're still undecided, just check out how far you can go by bus or regional train. Settling in Lyon for a few months or longer is a true opportunity to discover a new scenery and many major French destinations. After all, you're only minutes away from Beaujolais region, Monts du Lyonnais, Forez, Pilat, the Alpes, or just a bit further, from Puy-de-Dôme, Bourgogne, Ardèche and Drôme provençale.